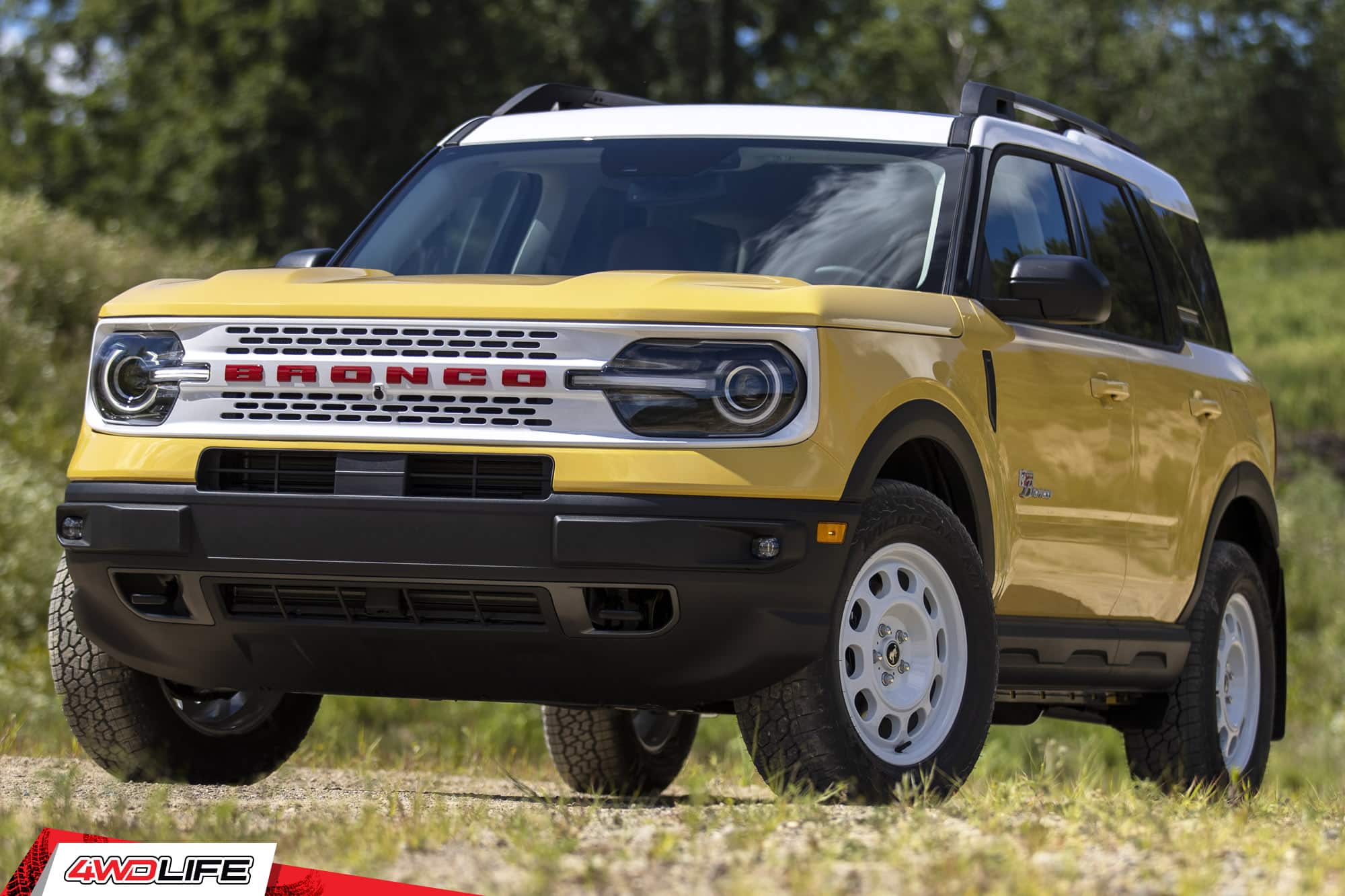 The Ford Bronco is an SUV that has been part of the Ford lineup since its introduction in 1966. Ford phased out the marquee in 1996 to introduce the Expedition as its full-size SUV but the automaker revived the Bronco in 2021.
Known for its rugged style, versatile performance, and good predicted reliability score, the Bronco has gained popularity among consumers looking for an affordable, reliable vehicle that can tackle challenging driving conditions. As a compact SUV, it went toe-to-toe with the likes of the Jeep Wrangler. We always liked the two-door variants from the 70s.
While reviews of the new Ford Bronco have generally been positive, there has been some concern about its overall reliability. According to industry reports and customer reviews, the new Bronco does not perform as well as earlier models in certain areas. Chief among the complaints is catastrophic engine failure – primarily in the V6 versions of the 2021 Ford Bronco. The NHTSA is currently investigating the matter.
Despite these issues, the Ford Bronco remains a popular choice for drivers looking for an affordable SUV with all-terrain tires and a 5-star highway safety rating. The Ford Bronco Sport is perhaps the highest-rated among all iterations of the vehicle. So whether you're looking for a reliable commuting vehicle or an off-roading adventure companion, the Ford Bronco Sport is a great option.
But just how long do these popular SUVs really last? Let's take a look at some key reliability metrics and find out.
Ford Bronco Lifespan
In the sections below, we'll take a look at the expected lifespan of Ford Broncos and discuss just exactly how long they typically last.
Warranty
Standard: Ford Bronco Sport and standard Bronco come with a 3-year/36,000-mile warranty against manufacturer defects.
Rust: In addition to the standard warranty, you get 5 years of rust coverage, regardless of how many miles you've driven. This means you can rest assured that your Ford Bronco is protected against rust damage, even if you've racked up considerable miles in the first 5 years.
Accessories: Ford Broncos come with a 12-month/12,000-mile warranty for accessories. This applies only to factory-installed accessories, such as Android Auto, heated front seats and rear seats, automatic climate control, rear cross traffic alert, and rear parking sensors. So you'll need to check with your dealer before installing any aftermarket upgrades.
Major Components
Engine: Most Ford Bronco engines are expected to last at least 200,000 miles. With proper maintenance and care, you can get even more mileage out of your engine.
Transmission: Similarly, most Ford Bronco transmissions are designed to last 200,000 miles. With regular maintenance and quality repairs, your transmission should continue to perform reliably for many years to come.
Suspensions: The suspension system on a Ford Bronco has been shown to last between 50,000 and 100,000 miles.
Will a Ford Bronco Last 200,000 Miles?
Yes, as long as you maintain the suspension system (especially the independent front suspension), which typically has a shorter lifespan than the other components like the engine and eight-speed automatic transmission. But in general, Ford Broncos are known for their reliability and longevity, making them a great option if you're looking for a vehicle that will last you many years.
Will a Ford Bronco Last 300,000 Miles?
There have been several instances of owners getting more than 300,000 miles out of this Ford model. There are plenty of specimens of Broncos from the 60s to 90s that are still very functional today. Obviously, the ones in tip-top shape have either been well-maintained or are restored. We'd say, 200,000 miles is the typical lifespan for a Ford Bronco.
Maintenance to Extend Ford Bronco Lifespan
One of the best ways to extend the lifespan of your Ford Bronco is to perform routine maintenance on it. Regularly changing the oil and filters, replacing worn-down or cracked belts, checking tire pressure, and performing basic tune-ups will help ensure that your car lasts as long as possible.
Preventive Maintenance Service Intervals
Here, you'll learn how often you need to perform these routine maintenance tasks to keep your ride running smoothly.
Oil Change: At around the 10,000-mile mark, it's recommended to change the oil and filters in your Ford Bronco. This can vary depending on a variety of factors, including how often you drive and which type of oil and filter is used. Using synthetics can prolong the interval between oil changes.
Tune Up: You should also perform regular tune-ups once you reach 30,000 miles. This typically includes replacing the spark plugs, air filters, fuel filter, and belts. Not only will this help your fuel economy, but it will also ensure a smoother ride overall. Your fluids should also be topped up. Your drive belts should also be inspected at every maintenance.
Fluid Changes: In addition to tuning up your car regularly, you should also check the transmission fluid, coolant levels, power steering fluid, and other fluids every 100,000 miles. This can help prevent any major problems or leaks from developing over time.
By being proactive with your vehicle's maintenance and taking these tips into account, you can help extend the lifespan of your Ford Bronco and keep it running smoothly for years to come.
Lubrication: It's recommended that you lubricate the four-wheel drive components every 8,000 to 10,000 miles.
Other Components that Need Replacement
Battery: It's best to replace the battery in a Ford Bronco every 3 to 5 years, as this helps to ensure that it has ample power and doesn't wear out prematurely. Technicians can check battery voltage and its chargeability during every service. Or, you can do it yourself using a voltmeter.
Brake Pads: The brake pads on a Ford Bronco can last anywhere from 30,000 to 70,000 miles, depending on driving conditions and habits. They should be checked regularly and replaced as needed.
Fuel Pump: The fuel pump in a Ford Bronco typically lasts anywhere from 75,000 to 125,000. It's important to keep the fuel tank at least half full and perform regular maintenance to ensure that it remains in good condition over time. This will benefit the Bronco's fuel economy.
Timing Belt: The timing belt usually needs to be checked every 100,000 miles and replaced as needed.
Ford Bronco Common Problems
One of the most common problems with the new Ford Bronco is engine failure, especially in newer models. Another issue drivers report across several model years is the check engine light coming on. This can be caused by various faults so it's best to have a qualified mechanic inspect the vehicle at every preventive maintenance service. Older Broncos often have problems with ignition faults and driveshaft failures.
These can be quite frustrating for owners and can cost a significant amount of time and money to repair. For this reason, it is important to do your research before purchasing a used Ford Bronco from your local Ford dealer or a private seller. Make sure that any potential problems have been addressed by the previous owner.
Is It Worth Investing in a Ford Bronco?
The Ford Bronco is a vehicle that should last owners a long time, providing a decent daily drive. It offers plenty of cargo space, good ground clearance, and is available as a four- or two-door Bronco. If you can avoid more modern, high-tech models, you'll likely be able to get years of reliable service out of your Bronco.
However, if you're looking at newer models, remember that the 2021 V6 Bronco has numerous complaints of catastrophic engine failure. If you're in the used car market, you may want to wait until there are more definitive findings about this issue. Will the same problems arise in the 2023 Ford Bronco, such as the Outer Banks or Big Bend trim?
Time will tell.