One of the key advantages of owning a Jeep is riding it without the hardtop. After all, enjoying the cold breeze blowing through our face and hair and the warmth of the sun is something jeep owners cherish. Unfortunately, the hardtop is not a small thing that you can easily lift without assistance. And even with a pal to assist, you might still experience some back issues after removing the hardtop.
But then, those times when no one is there to assist you make you wish you had purchased a rag top instead!
Luckily, we live in an innovative era, so instead of a ragtop, you simply get a hardtop hoist. With the right hoist, you can lift the jeep top within five minutes and be on your way. Plus, it provides a perfect place for storing the hardtop, the air! But with the numerous options available, choosing the right hardtop hoist can be quite a pain. That's why we know you'll love the following review of the best jeep hardtop hoist to help you narrow your search.
So, let's dive right in…
Top Pick
Our favorite is the Harken hardtop overhead garage storage hoist as it is compatible with a wide range of vehicles.
The Best Jeep Hardtop Hoists Are
1. Harken Hardtop Overhead Garage Storage Hoist for Jeep Wrangler and Ford Bronco — Best Overall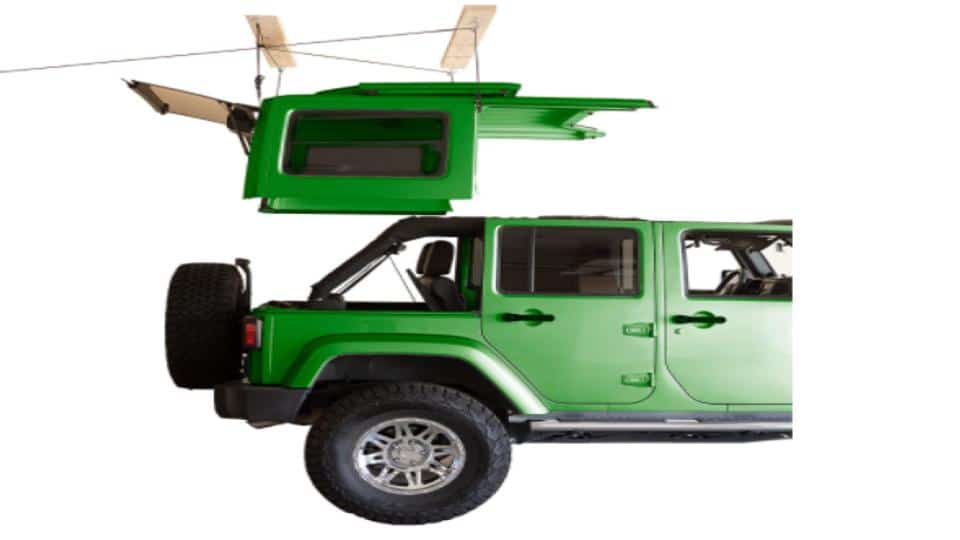 Harken has been producing high-quality jeep top lift designs for over half a century and this product is no exception. Harken offers hardtop hoist in numerous sizes, and they are engineered to easily and safely store the hardtop. Commonly used with Ford Bronco models and Jeep Wrangler and Gladiator, this hoist is compatible with lots of vehicle hardtops. In addition, Harken comes with an anti-drop system with a self-locking cleat that grips the hardtop instantly. This patented system hoists the hardtop and loads evenly regardless of the weight.
To remove the hardtop, all you have to do is park below the hoist, secure the top and lift it. After removing the top, you have more than enough rope to lower the top to the floor. This option makes it a great hoist for individuals who don't want to leave their hardtops hanging from the ceiling. Therefore, based on the floor-to-ceiling height, you can select between the 16, 12, and 10-foot models. Unfortunately, this hardtop hoist has no electric motor.
Specs
Brand: Harken
Item weight: 5.32 pounds
Mechanical advantage: 6:1 pulley system
Pros
Mounts safely to the ceiling
Can also be used to hoist other items, including storage boxes, kayaks, and canoes
Compatible with several jeeps
Inexpensive
Has an anti-drop feature
Cons
Doesn't have an electric motor
Verdict: Harken hardtop overhead hoist is a reliable lift that can hoist the top of a wide range of vehicles. And the fact that it has an anti-drop system means that you will never have to worry about your Jeep's top falling.
Overall rating: 4.5 out of 5
2. Smittybilt 510001 Hardtop Hoist for Jeep JK/TJ/YJ/CJ
Smittybilt 510001 hoist is an ideal hands-free solution for removing your Jeep's hardtop for summer cruises. Thanks to its powerful crane motor, you will never have to worry about bad backs or needing to ask your friend for help. This unit can hoist about 1,000 pounds, which is way more than the Jeep's hardtop's weight. Plus, its 1/3HP, 200 AMP motor guarantees quick hoisting with a push of a button. The easy-glide wheel on this unit's anchor allows you to easily lift the top to secure space.
Its built-in safety stops and scratch prevention features make it the best option that won't ever damage your hardtop. The inbuilt limit stops and internal braking system guarantees safe motor operation. On the other hand, the coated J-hooks cushioned support rollers, and rubber stops prevent scratching. This winch works with all the Jeep Wranglers (1987-2018) like JK, TJ, or YJ models. Unfortunately, it doesn't work with a JL hardtop.
Specs
Brand: Smittybilt
Item weight: 25.2 pounds
Maximum lifting capacity: 1,000 pounds
Motor: 1/3HP, 220 AMP winch
Pros
Easy to operate
Strong and durable
Simple for a single person to use
Quick and straightforward to install
Cons
Not compatible with JL models
Verdict: Smittybilt 510001 is a unique hoist that's easy to operate and install. But make sure it's compatible with your Jeep before purchasing it.
Overall rating: 4.2 out of 5
3. Hoister Direct 7803 Jeep-Overhead Storage Hoist
While this hoist is non-electric, its pulley system is straightforward to use. Therefore, you can remove your Jeep's hardtop without anyone's help. Compared to other brands on the market, the Hoister direct 7803 is affordable. In addition, this hoist can turn the unused ceiling space into an additional storage space in your garage.
There is virtually no limit to the number of things this hoist can lift and store. It can lift and store your Jeep's hardtop, paddleboard, dinghy, bicycle, truck cap, and cargo box, among others. The fact that it's made using the same material as most premium brands means that it is a reliable and durable hoist. The hard part is the installation, which can take more than half a day.
Specs
Brand: Hoister Direct
Maximum lifting capacity: 145 pounds
Mechanical advantage: 6:1
Item Weight: 3.74 pounds
Pros
Remove and hold a hardtop without strain
Simple for anyone to remove and install a hardtop
More affordable than other brands
Can easily be mounted anywhere in the garage
Cons
Takes over 12 hours to install
Non-electric system
Verdict: Hoister Direct 7803 is an easy hoist for individuals looking for a less fancy hardtop hoist. Being a manual hoist, you may need over half a day to install it.
Overall rating: 4.7 out of 5
4. Champion Automatic 440/880-lb Electric Hoist
Champion Automatic Electric Hoist is a powerful electric hoist with a powerful motor that can lift about 880 lbs using 850 wattage. This hoist comes with a reliable remote control which makes removing your Jeep's hardtop easy. In addition, this dual operation machine comes with a pulley hook and an automatic braking mechanism. With that configuration, you don't have to worry about the hardtop falling accidentally when hoisted.
The stop bracket and line blocker ensure that you can hoist your hardtop without worrying about safety issues. The inbuilt stop bracket shuts down this machine anytime the line broker begins pulling upwards. This ensures that the wire cable doesn't retract too far to damage the spool, hoist, and cable. Plus, the fact that it's remote-controlled means that you will never have to handle anything manually. Unfortunately, some folks have complained that the remote control cord is quite short.
Specs
Brand: Champion power equipment
Unit weight: 34.2 pounds
Voltage: 120 volts
Maximum lifting capacity: 880 pounds
Pros
Can easily hoist heavy duty items
Can be used in several places
Easy to install
The remote control makes it easier and safer to use
The stop bracket guarantees your safety
Cons
Some users have complained that the remote control cord is a tad short
Verdict: The Champion automatic hoist has everything you will ever need in a hoist. It is electric, powerful, safe to use, remote-controlled, and can hoist about 880pounds.
Overall rating: 4.7 out of 5
5. Harken Truck Hardtop Garage Storage Hoist
Despite being a manual joist, this Harken hoist is powerful enough to lift over 200 pounds. Plus, two versions of this hoist are compatible with a 16-ft and 12-ft ceiling height. This hoist uses Harken's trademark 4-point hoist kit for its installation procedure. Therefore, installing this hoist can be quite simple if you're familiar with hoist mechanisms and power tools. Otherwise, you may need to hire a professional to help you install this hoist.
This manual Harken hoist features a self-lock system; therefore, it won't drop the hardtop if the rope slips. This unit also offers double braid ropes and many stainless steel accessories including bolts, and thumbscrews. Another excellent benefit of this hoist is that it uses Harken's patented design to lift and lower the hardtops evenly. One drawback is that the installation procedure is a bit challenging.
Specs
Maximum lifting capacity: 200 lbs.
Mechanical advantage: 8:1
Item Weight: 5.2 pounds
Brand: Harken
Pros
Compatible with a wide range of vehicles, including jeeps, Chevrolet, Nissan, Ford, and Toyota trucks.
User-friendly operation
Sturdy build quality
Features a safety lock
Cons
The installation process is a tad challenging
Verdict: Despite being a manual single-person operation hoist, this unit can support about 220 pounds. And the fact that it works with a wide range of vehicles means that you can use it with your trucks.
Overall rating: 4.4 out of 5
6. Neiko 02183A Manual Chain Hoist
Neiko 02183A is a different kind of hardtop hoist. And as its name suggests, you will be lifting your hardtop using chains. But you shouldn't let this fool you. This powerful hoist can lift over 2,000 lbs. Therefore, it can be used to even lift an engine. Neiko 02183A has a 20-ft lifting capacity. Still, you can also get their other product with a lifting capacity of 15 ft. This durable hoist's chains are made from heavy-duty alloy steel treated with a black oxide finish making it rust-proof. The hoist's cover has a bright yellow finish.
This chain hoist has a mechanical load braking system for extra security, plus its swivel hooks have safety latches. The safety latches will ensure that the load is always locked in place. And for best results, you should always lubricate this chain hoist. This hoist is ideal for construction sites, warehouses, farms, workshops, and garages. Unfortunately, the fact that it's fully manual can be a turn-off for some people.
Specs
Brand: Neiko
Item weight: 24.3 pounds
Maximum lifting capacity: 2,000 pounds
Hoisting height: 20 feet
Pros
Can be used for heavy-duty lifting
Budget-friendly
Durable
Rust-proof
Has a mechanical load braking system
Has some safety latches
Cons
Verdict: Despite being a manual hoist, this powerful equipment can safely remove and secure your hardtop. Neiko 02183A is a durable and rust-proof hoist that can serve you for a very long time.
Overall rating: 4.5 out of 5
7. Racor Ceiling Storage Heavy Lift
Originally designed for a garage storage space, this hoist comes with a 4 ft by 4 ft tray supported at each corner using cables. The lifting configurations are 4 ft apart and perfect for lifting a hardtop with straps. Its unique cables can easily lock in place at any position, and its hand crank works perfectly. This lift creates a 16-sq-ft extra overhead storage space without compromising the wall or floor space. In addition, this hoist has a unique pulley system that can easily lift about 250 pounds to the ceiling.
It has an innovative safety locking system that locks the load or hardtop in place when raised. Plus, you only need the winding crank to engage the safety lock after raising the load to the highest point. You can release the lock and lower the platform using the winding crank's integrated hook. Unfortunately, the idea that it can support over 250 pounds is questionable.
Specs
Brand: ITW
Item Weight: 47.1 pounds
Maximum lifting capacity: 250 pounds
Storage space: 16 sq. ft.
Vertical height: 8 ft.
Pros
Adjusts to a slanted ceiling
Easily locks in position after lifting the hardtop
Provides an extra 16 sq. ft.
Cons
Many jeep owners doubt its ability to support 250-pound weight capacity
Verdict: Racor ceiling heavy lift is a great hoist that functions as a hardtop hoist and storage space. It's made using high-quality steel means that it can serve you for a very long time and safely support your hardtop.
Overall rating: 4.6 out of 5
Factors to Consider When Looking for the Best Jeep Hardtop Hoist
Most hardtop hoists can easily remove your Jeep's hardtop and store it. But if you like doing some repair jobs, you may find lots of things that you can lift with your hoist. Therefore, purchasing a machine that can only work on your hardtop is a bad idea. So here are a few factors you need to consider when looking for a reliable hardtop hoist.
Weight Capacity
Since you will remove the rooftop and store it in the air, you need a powerful hoist. Luckily, each hoist has its lifting limit, so make sure your Jeep's hardtop weighs less than the winch's carrying capacity.
A huge percentage of the hoists in the market can support about 250 pounds which is more than enough for your hardtop. But if you need an even more powerful winch that can hoist an engine, then look for an option that can lift over 1,000 pounds.
Compatibility With Your Jeep
All the above factors won't matter if the hoist is not compatible with your Jeep. Even though winches don't have a huge difference when it comes to the working principle, compatibility is normally a great problem. However, there are hoists that work perfectly with certain jeep models, so make sure the hoist you get is compatible with your vehicle.
Types of Hoist
Manual Mechanical Winch
This type of hoist is made up of ropes, pulleys, and levers that give you a mechanical advantage when removing the top. The mechanism is straightforward; the ropes and pulleys increase the force applied and hoist the top. This hoist's mechanism is measured in ratio. This refers to the weight it can lift versus the applied weight. For example, to hoist a 100-lb hardtop using a 5:1 mechanical advantage, you need to apply 20 pounds.
Motor Powered Mechanical Winch
This hoist uses motor power and is ideal for individuals who don't want to use any energy to lift the hardtop. All they have to do is press a button after securing the top, and they are good to go. Some advanced hoists can be controlled via Bluetooth.
These hoists should not be confused with the heavy-duty towing winch: a must-have accessory for your Jeep.
FAQs
How heavy is a jeep's hardtop?
Generally, the average weight of a hardtop is about 218 pounds. So when looking for a hoist, you should consider the weight of your top, which is listed as the shipping weight.
Where should I store my jeep's hardtop after removing it?
Most hoist systems are designed to store the hardtop overhead. But if your garage has a floor-to-ceiling height of about 7 ft, then you should consider storing it on the ground.
Can the hardtop be stored upside down?
You can store the hard top upside down, but make sure that the rear glass hatch is secured. This will prevent it from swinging downwards when you finally turn it over.
Final Thoughts
If you plan on enjoying the advantages of owning a jeep, you need to be able to remove its top whenever possible. Often, removing it by yourself is not that easy. Therefore, you need a powerful hoist to remove and even store your Jeep's hardtop. And with an electric hoist, you will never have to use any force to remove or install the hardtop.
Based on our research, the winner is the Harken hardtop overhead garage storage hoist. This winch is easy to install, use, and is affordable. Plus, its anti-drop feature guarantees that your rooftop will never drop when being hoisted.