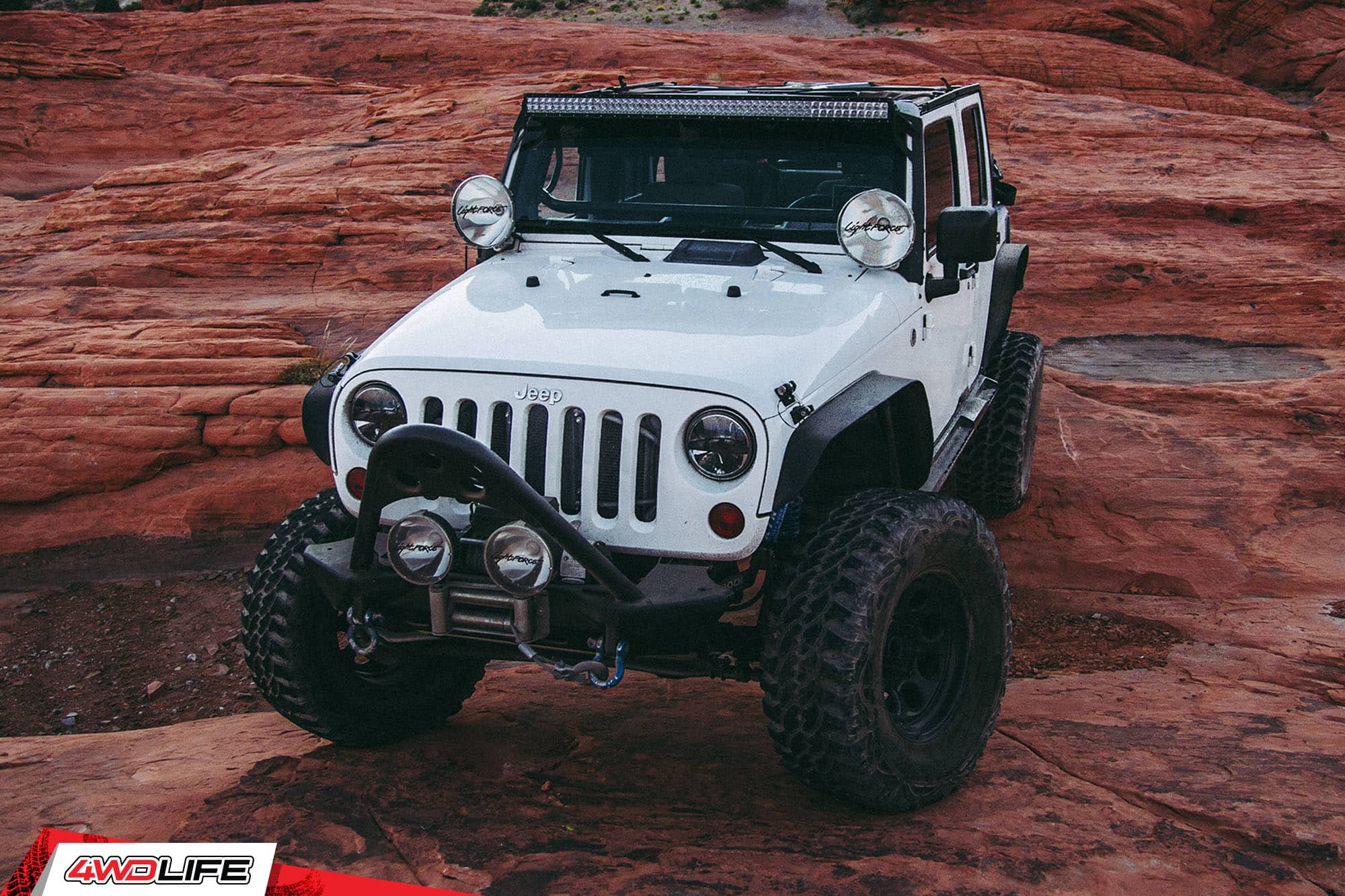 There's no denying the fact that the Jeep Wrangler is a pretty awesome vehicle overall. If you are looking for a rugged vehicle that is fully capable of tackling off-roading, you really can't go wrong with the Wrangler.
However, This model can come with its fair share of issues, making handling it a little more challenging for people without enough experience driving a Jeep. This is where personalization is in order, and it's honestly the most fun part of owning a Wrangler.
Here are some Jeep Wrangler accessories for off-roading that will make sure you get everything you want out of your vehicle.
Roof Rack
The base build of a Jeep Wrangler doesn't come with a roof rack, and we think it honestly should. It's an essential add-on that your off-roading machine must have.
A roof rack is a versatile accessory that doesn't just provide additional storage space for your Jeep Wrangler. It allows you to bring equipment on top of your Wrangler, such as camping gear, mountain bikes, kayaks, and other bulky items that won't fit inside your vehicle.
Adding a roof rack also provides an installation platform for additional accessories, such as extra lights when you're off-roading at night. This add-on is something you must consider investing in.
Recovery Straps or Rope
Off-roading comes with its fair share of risks. So in case you end up in a situation where your Jeep Wrangler might need to be pulled out of some uneven terrain, you'll want to make sure that you have some recovery straps or a rope ready for someone who will lend a helping hand.
Recovery straps serve to help you out more than someone else, but you can still use them to get another vehicle owner out of a sticky situation.
Recovery straps are designed to be slightly stretchable, helping absorb the shock and reduce the stress of a sudden pull on your Wrangler and the rescuing vehicle during the recovery process. They are also designed to be lightweight, compact, and easily storable.
A rope, on the other hand, while also usable for vehicle recovery, doesn't have the stretchability of recovery straps, which can lead to sudden jerking during the recovery process. So when choosing a tool for vehicle recovery, you should consider what your Jeep specifically needs for off-roading.
Winch
A winch is another essential off-roading accessory that can help you get out of tricky situations. It is a powerful tool that can pull your Jeep out of mud, sand, or other challenging terrain.
Most Jeep Wrangler models do not come with a winch as a piece of standard equipment, though there are some special editions like the Rubicon and the 4xe that have it factory-installed.
The rule of thumb when it comes to the winch is that its pulling weight should be roughly 1.5 times the weight of your Wrangler. Of course, that's not going to be an issue if you've got a base Wrangler, but depending on the number of mods installed on your vehicle, you're going to have to go for a winch that fits the situation. Fortunately, getting recommendations for the best winch from other off-road enthusiasts or your local mechanic ought to help you find a more powerful tool.
Basic Repair Tools
Off-roading can be tough for your Jeep, so it's never a bad idea to have a basic repair toolkit ready for use just in case any problems arise. This can include a spare tire if you need it. If you have a roof rack that we talked about earlier, you could store at least two spare tires.
Imagine if you don't have any basic repair tools in your Jeep, what would you do if you decide to go off-roading and something unexpected happens that halts your vehicle? Keep in mind that much like any machine, a Jeep Wrangler is still fallible and prone to issues, so it's better to have a repair kit on hand and be safe than sorry.
Two-Way Radio
It's not really a problem if you're not going off-roading, but Jeep Wranglers don't come with a two-way radio as standard equipment. You'll definitely need one for your off-road adventures or for communication while driving in remote locations.
If you're on the trail with fellow off-roading enthusiasts, a two-way radio will allow you to communicate with them while driving, providing a more fun off-roading experience. It will also help you stay connected with emergency services in case of any accident or trouble on the road.
Dash Cam
Installing a dash cam should be a no-brainer for just about any driver—Jeep Wrangler owners included. The cool thing about dash cams is they can be installed in the front or in the back, and can be integrated into your rearview to give you a better view behind.
Some people aren't the biggest fans of the rearview integration, so it's okay not to have it. What's important is you have the dash cam installed in your Wrangler so you can pretty much record your trips. It can capture accidents, close calls, or any other critical moments on the road. It can also be used as evidence in case of driver disputes. You never know what might happen, after all.
Improve Your Jeep Wrangler's Off-Roading Power 
These must-have Jeep Wrangler accessories will improve your overall off-road experience. You can record everything with a dash cam; you can get more storage and mount extra lights with a roof rack; and with basic repair tools and recovery gear in place, you can be sure that you're prepared for any possible incident you may encounter during your drive.
With these upgrades, you'll have yourself an unbeatable Jeep setup.