If your Jeep's transmission runs hot, your dashboard may flash a "Transmission Over Temp" warning message. This occurs when the transmission fluid temperature exceeds its normal operating range. 
So, what does this message mean? Essentially, it's telling you that your Jeep's transmission is running hotter than it should be and that you must take immediate action.
You shouldn't ignore this warning. Driving with an overheated transmission can lead to severe damage if not addressed promptly.
Why Does "Transmission Over Temp" Appear?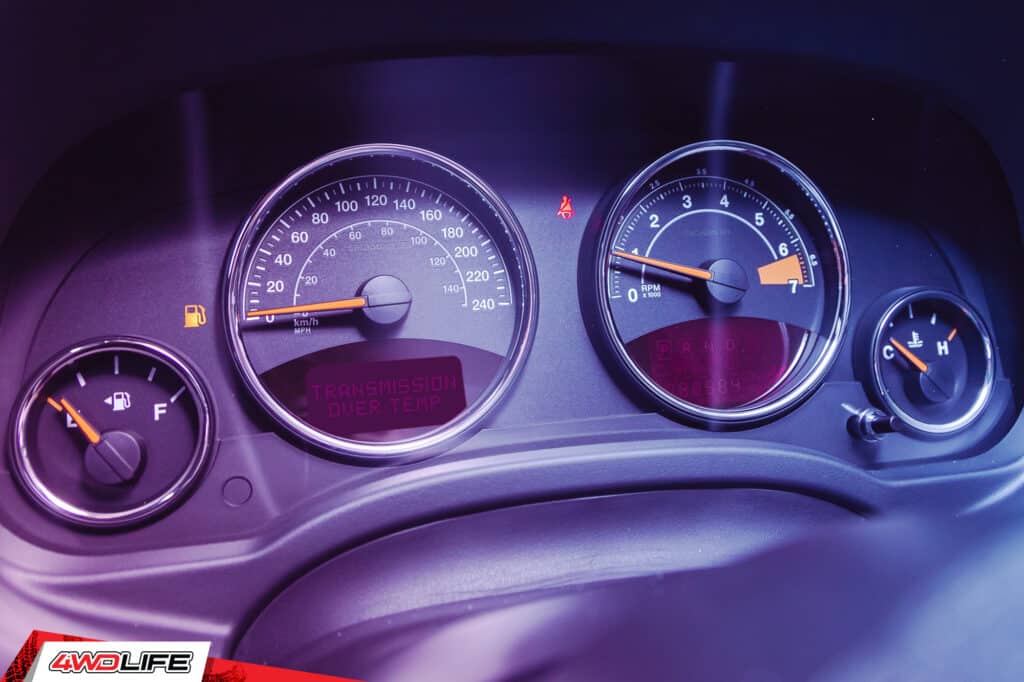 First, let's take a closer look at what causes the over temp message to appear.
If the "Transmission Over Temp" message appears on your Jeep, the transmission fluid has exceeded its threshold temperature. The transmission is a vital part of your Jeep and needs to be kept at a specific temperature to function properly.
There are a few different things that can cause the transmission fluid to get too hot, including:
Bad or Low Transmission Fluid
If the transmission fluid is low or dirty, it can't do its job properly and will start overheating. Make sure you check the level and condition of your transmission fluid regularly and top it off or change it if necessary.
Faulty Solenoid
The solenoid is a part of the transmission that controls fluid flow. If it's not working properly, it can cause the fluid to overheat.
Cooling System Issue
If there's an issue with the cooling system, it can also affect the transmission. Make sure all the cooling system components are in good condition and functioning optimaly.
Overworked Transmission
If the transmission is working harder than usual, it can start to overheat. This can happen if you're revving too much, which can happen if you're forcing your way uphill or hauling heavy loads. Avoid towing heavy loads or using trailer brakes if possible.
Hot Weather or Climate
In hot weather or climates, the transmission fluid can reach its maximum temperature more quickly. Try to avoid driving in these conditions if possible, or at least take a break every few hours to let the transmission cool down.
What Happens If Your Transmission Overheats?
If the transmission overheats, it can cause a lot of damage. The fluid can break down and start to eat away at the internals of the transmission. This can eventually lead to transmission failure.
Signs and Symptoms of Overheating Transmission
There are several ways to tell if your transmission is overheating. These include:
Transmission Over Temp Warning: The warning message flashes on your dashboard readout. This is one of the most common transmission overheating symptoms.
Strange Smells: If your Jeep's transmission fluid is overheating, the smell of burned chemicals may start coming into the cabin. This is because the fluid is breaking down and losing its lubricating properties.
Shifting Problems: If your Jeep is having trouble shifting gears, it could be a sign that the transmission fluid is too hot. The fluid may not be able to properly lubricate the transmission, causing shifting problems.
Furthermore, you may notice that it's hard to get into gear or that the Jeep is slipping out of gear. In either case, it's best to have the Jeep checked out by a professional as soon as possible.
What Damage Can It Cause?
Overheated transmission fluid tends to break down into sludge. This thick gooey mix can clog up the transmission filter and cause the transmission to slip or even fail completely.
And in the unenviable event that you have to replace your Jeep's transmission, you can expect costs to be anywhere between $1,800 and $3,400.
Transmission repair costs are much less, typically ranging between $300 and $1,400, depending on the component to be fixed or replaced. Be sure to compare each repair shop to get the best rates.
So, clearly, it's best to avoid transmission overheating if at all possible.
How Do You Cool an Overheated Transmission Quickly?
If your Jeep's transmission is overheating, you'll need to take action quickly to prevent further damage.
The best way to cool down an overheated transmission is to stop driving and let the engine idle until the fluid has a chance to cool off. You can also turn on the heater in your Jeep to help speed up the process.
If the transmission is still too hot, you can slowly drive your Jeep while continuing to add fluid until the transmission temperature drops to a safe level. Once it has cooled off, be sure to have the Jeep checked by a professional as soon as possible to ensure there isn't any permanent damage.
In addition, you might consider using an additive to help keep the transmission cooler and prevent overheating in the future.
How Do You Prevent "Transmission Over Temp" Warning?
So, how do you prevent transmission over temp warnings? The best way is to keep an eye on the transmission fluid level and always have it topped off. If the transmission is running low on fluid, it will run hotter and be more likely to overheat. You should also check the condition of the transmission fluid regularly. If it looks dirty or smells burnt, it's time to change it.
Another way to help prevent "Transmission Over Temp" warnings is to have the transmission serviced regularly. This will help ensure that the fluid is clean and at the correct level and that there are no other issues that could cause the transmission to overheat.
On Jeeps, it's best to change the transmission fluid every 30,000 to 60,000 miles. This will help ensure that the fluid is clean and fresh and that the transmission stays in good condition.
By following these simple tips, you can help prevent "Transmission Over Temp" warnings and keep your Jeep running smoothly.
Keep Your Transmission Working with Proper Care and Maintenance
The transmission is one of the most important parts of your Jeep, and it's important to keep it in good working order. But has Jeep fixed the transmission problems? Unfortunately, there are still common reports of problems.
So if you think it's time for a transmission flush or other servicing, don't delay. With regular maintenance and care, you can keep your transmission working properly for years to come.