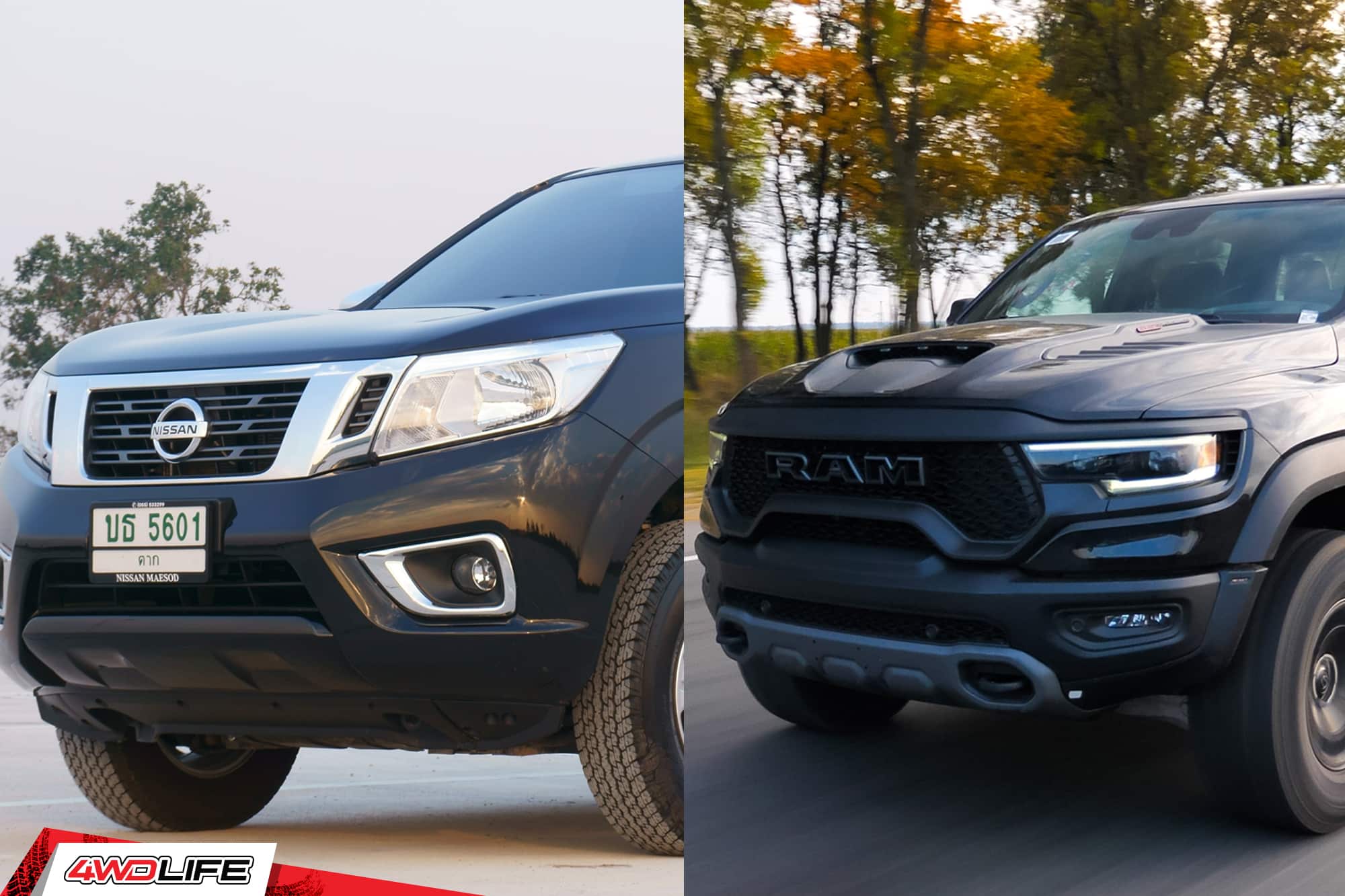 4×4 vs 4×2, what is the best option for your needs?
There are a number of things you need to look at, including the usual environment and terrain you drive on. 4×4 means four-wheel drive, while 4×2 is two-wheel drive. A basic difference is that one is excellent for off-road driving, while the other is good for regular city roads. 
There are benefits to each of the two drivetrain configurations. Both have completely different effects on your vehicle's performance. This is why it is important to know about them before making that big purchase. If you haven't heard of these terms, or you need tips on how to pick, this guide will help you out. 
Let's start with… 
4×2 Vs 4×4
Most pickup trucks and SUVs come in one of two drivetrain options: 4×2 or 4×4. On the 4×2 drivetrain, only two wheels receive torque. It could be the two front or the two rear wheels. The 4×4 vehicle, on the other hand, gets torque on all four wheels.
This may not matter to car buyers who are less discerning because the vehicles all look the same. However, if you want to get a new truck, you should know which drivetrain to choose according to your needs. 
Let's cover all you should know about 4×2 vs 4×4 and the pros and cons of both. To distinguish a 4×4 vs a 4×2 vehicle, it's best to know their specific characteristics first. 
What Is 4×4 Drive?
A 4×4 is a type of drivetrain configuration where all four wheels are powered by the engine. These types of vehicles are ideal for bumpy off-road and slick roads. People often refer to all kinds of off-road vehicles as 4×4, but there are distinctions to be noted. 
They are divided into full-time 4x4s, part-time four-wheel drive, and all-wheel drive (AWD). The difference is that an AWD supplies power to the four wheels at the same time, while the part-time and full-time four-wheel types can switch from 4×2 to 4×4 drive and vice versa, depending on the condition of the road. 
What Is 4×2 Drive?
In the 4×2 vehicle or two-wheel drive, just two of the car's wheels are driven by the engine. In some cases, it could be the rear wheels or the two front wheels. So you can choose one of the options. Vehicles that run on two-wheel drive benefit from better fuel economy.
In most cases, they are more affordable than 4WD vehicles. Rear-wheel drive is more common in sports and luxury cars, while modem family cars usually have front-wheel drive configurations. Two-wheel drive can be converted into a 4WD, although this will require a lot of work. 
What Is the Difference Between 4×2 and 4×4?
The 4×2 vehicle's drive system transmits power to the front or rear wheels and not both, while the 4×4 is a four-wheel drive, and power is delivered to the four wheels with a transfer case. When it comes to tough or slippery terrain, the 4×4 configuration is most ideal. However, the 4×2 drive is the top choice when it comes to fuel efficiency and price. That's why, for concrete roads, a 4×2 is much more recommended. For better appreciation of their application, a 4WD is ideal for off-roading expeditions, while a 4×2 is good enough if you're overlanding. 
Four-wheel drive and two-wheel drive are further divided into subtypes. The details can be found below.
What Is the Difference Between Rear 2-Wheel and Front 2-Wheel?
There are two types of 4×2 vehicles: the rear two-wheel drive and the front two-wheel drive. The terms may be self-explanatory, but let's dig deeper into how they really work. 
Rear Two-Wheel Drive
Many SUVs have a rear-wheel-drive configuration because it offers better weight distribution. You can also find this feature in sports cars, pickup trucks, and luxury cars. It is usually an optimum 50:50 ratio. The front wheel does the work of steering while the rear wheels receive power from the engine to propel the vehicle. Two-wheel drive is good for pavement driving and often has traction control features that prevent wheel spin in the snow. 
This type of vehicle also offers quick initial acceleration because of the weight distribution. The weight of the vehicle is transferred to the rear, so when the driver hits the pedal, it increases rear-wheel traction. This makes it ideal for dry conditions. 
Front Two-Wheel Drive
Front two-wheel-drive vehicles receive torque on the two front wheels alone. The front-wheel-drive concept was accepted in crossover SUVs. They use suspension systems and passenger car frames but ride high with the look of other truck-based SUVs. These types of vehicles are the most common ones on the roads today. 
Front two-wheel drive reduces the weight of a vehicle since it doesn't need extra parts. The production costs are a lot lower than most cars because the engine just needs to supply torque to two wheels. This is why they are also cheaper and have excellent fuel economy. 
It offers better traction than rear-wheel drive vehicles on slippery roads and hilly roads. This is because the transmission and weight of the engine are balanced on the two front wheels. Some common compact SUVs include Ford Escape and Honda CR-V. Both are front-wheel drive vehicles. 
What Are the Different 4×4 Types?
There are different types of 4x4s. It is important to note that an all-wheel drive is different from a regular 4×4, and a 4×4 can be part-time or full-time. Keep reading to better understand these somewhat confusing terminologies.
What Is Part-Time Four-Wheel Drive?
With a part-time four-wheel configuration, the driver can switch from two-wheel drive to four-wheel drive. Part-time 4WD can be mistaken for 4×2, but this is not the case. When it is switched to 4WD mode, the rear and front axles sync with a shift lever. This makes it ideal for different weather conditions and road types. 
These vehicles have low and high-speed modes as well. They do not remain permanently in 4×4 drive mode but are switched in necessary conditions off-road. On concrete, it is best for the driver to shift back to two-wheel drive. 
What Is Full-Time Four-Wheel Drive?
Full-time 4WD vehicles can operate in both modes, but the default is the 4×4 mode. They are driven in four-wheel-drive mode all the time, but users can switch when they are on smooth roads or save gas. 
A four-wheel-drive vehicle transmits power to the four wheels using two-speed transfer cases and drive axles. The transfer case can drop into lower gear ranges to allow the vehicle to navigate through uneven trails, winding, snow, and desert terrain. In older models, there are part-time four-wheel-drive systems or shift on the fly systems. 
This 4WD allows the driver to shift from two to four-wheel drive manually. The driver does not need to stop the car, but must be driving under 60mph. The more recent automatic models shifted to 4WD without the driver changing it manually. When the condition necessitates it, it changes. 
What Is All-Wheel Drive?
The all-wheel-drive (AWD) system delivers power to every wheel on the car. The SUV has better stability and traction. However, they do not feature reduction gear transfer cases that shift the vehicle into low gear for off-road conditions. This means that the vehicle may not be able to push itself off soft sand or climb trails.
Find out in detail how to know if your vehicle is 4×4. 
What Are the Pros and Cons of 4×2 Vs 4×4?
Depending on how you will use the vehicle, a 4×2 can be the better option over a 4×4 type. Let's look at the pros and cons of both two-wheel drive and four-wheel drive in more detail. 
What Are the Pros and Cons of 4×2 Drive?
Cars with a 4×2 drivetrain have just two propelled wheels. Most types of passenger vehicles, some types of SUVs, pickup trucks, and commercial vehicles come with this drivetrain. 
A 4×2 vehicle has fewer moving parts and this is an advantage. It makes it easier to manufacture, repair, design, and maintain. You may not need a specialist to fix your car if it has a problem. Also, you won't need to spend a fortune to get it fixed. This is why most mid-level and entry-level models of SUVs come with the 4×2 drivetrain. 
There are special edition variants for people who prefer them. Such special edition models may be cheaper, but they do not contain all the parts to reduce the manufacturing cost. For instance, it may lack a comprehensive safety kit and may not contain enough onboard entertainment.
There are cons to this drivetrain. For one, they are not good for slippery terrains since they have only two driven wheels. It doesn't matter if it is a pickup truck or SUV—the same applies. The vehicles may have ground clearance, but will always have less traction. Also, it is important to note that some trucks and SUVs use the rear-wheel-drive mode and this makes it even more difficult to control when the terrain is slippery.
If you want a pickup truck or SUV for your family's daily trip, then it would be good to get a 4×2. 4×2 vehicles are also better for long-distance travel since they have better fuel economy. 
What Are the Pros and Cons of 4X4?
A 4×4 drivetrain means that the four wheels of the vehicle are given torque. Some pickup trucks and SUVs today allow drivers to activate or deactivate the systems with a button to give them the advantage of extra traction when it is needed. 4×4 vehicles weigh more than 4×2 regardless of the way the drivetrain turns on or off. This also means that 4×4 vehicles use more fuel.
Bad fuel economy is one of the top disadvantages of the 4×4 drivetrain. It is one of the main reasons why people prefer to get a 4×2 drivetrain. Another drawback is that the vehicles are more difficult to manufacture. This makes them more expensive than others. Hence, only top-of-the-line pickup trucks and SUVs come with a 4×4 drivetrain. 
Another disadvantage is that 4×4 drivetrain vehicles come with higher beds. It is designed this way to create space for drivetrain parts beneath the vehicle. This is an advantage because it makes it more difficult to unload and load the truck. However, it comes in handy front-wheel-drive when the truck needs to wade through water. It has an aftermarket suspension system that makes it easier to pass through rocky terrain and deeper water.
The 4×4 system is a lot more difficult to maintain. Since it has so many moving parts, it may require specialized tools to fix. This means that you will spend more money to fix a 4×4 drivetrain model. The numerous moving parts also mean that more things could go wrong while fixing. They also come with high tech and this could also be costly to repair and fix.