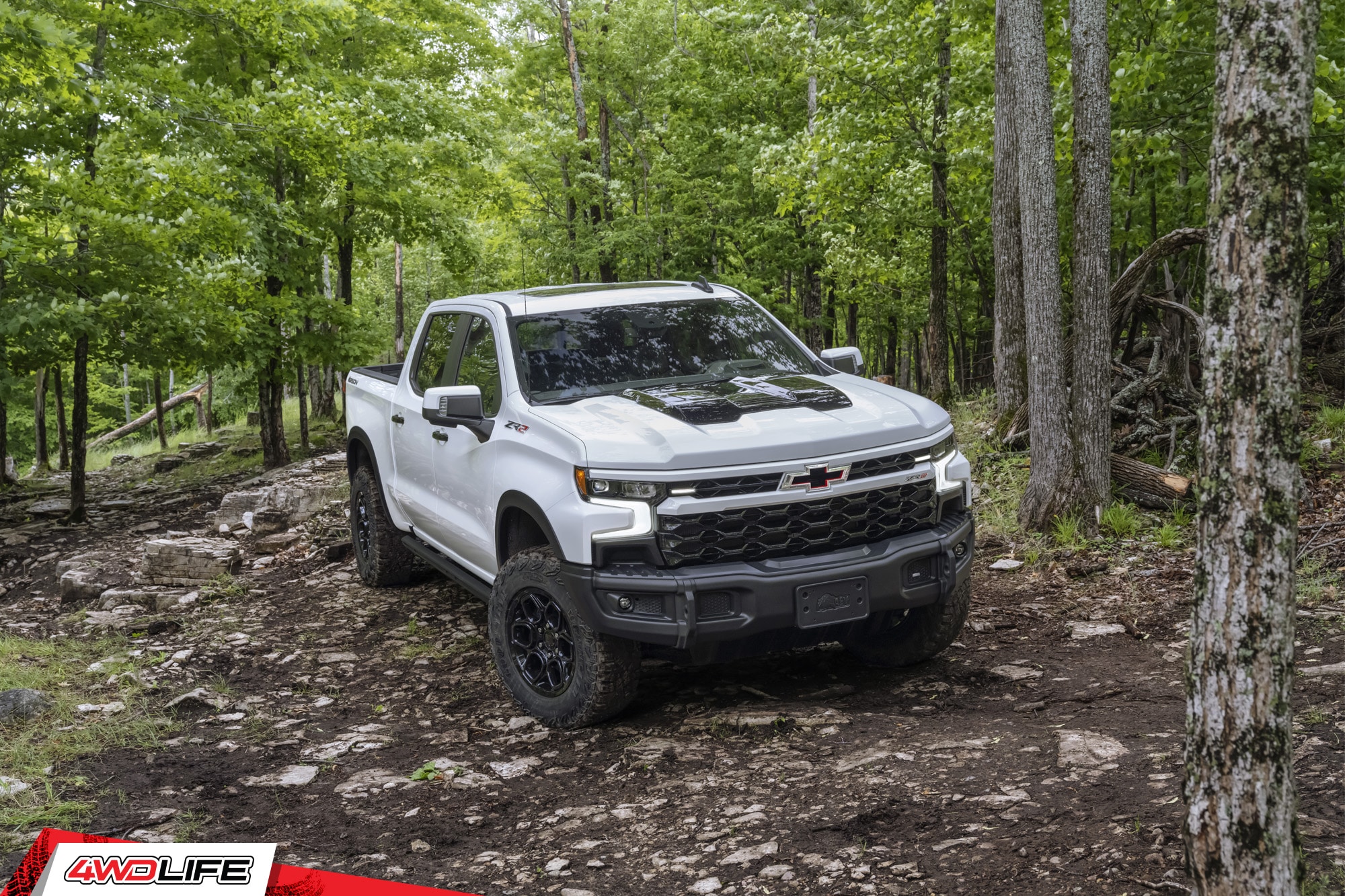 We do like full-size pickup trucks here on 4WDLife and we've always had some affection for the Chevrolet Silverado 1500 (and its virtual twin, the GMC Sierra). In this take, we feature the best Chevrolet Silverado years.
This staple Chevrolet truck made its debut with the 1999 model year. Initially only available as a three-door cab with a tiny rear seat, the Chevrolet Silverado year models wouldn't gain a crew cab version until 2004 with the new model. Despite this, the first couple of Chevy Silverado year models were well-received, targeting the blue-collar demographic and competing directly against the F-150, the RAM (still Dodge RAM at that time), and later, the Toyota Tundra.
We went over its history to pick out model years that are considered the most reliable and provided the best performance and value. Interestingly, our picks spanned generations. Like most vehicles, things were hit or miss with the Silverado 1500. Some model years did suffer from design and factory faults. The best ones, however, had few or none at all, with complaints stemming from individual cases rather than widespread ones.
Here are our picks for the best Chevrolet Silverado 1500 model years.
1999 Model Year Chevrolet Silverado 1500 (1st Generation)
The Chevy Silverado didn't waste any time staking its claim as a force in the pickup industry. In its first year in production, the Chevrolet Silverado 1500 won MotorTrend's truck of the year award. This first generation Chevrolet Silverado also happens to be arguably the most reliable Chevy Silverado. In addition, this used Chevrolet Silverado fetches a high price for being the oldest among Silverado model years – but you won't find one at a car dealership. These are highly revered and hard to come by.
Engine options include a 4.3L V6 and 4.8L V8 for the short bed variants and a 5.3L V8 for the extended cab models. Depending on the engine, the 1999 Silverado can generate anywhere between 200 and 270 hp and 260 to 315 lb-ft of torque. These come mated to either a 4-speed automatic or a 5-speed manual transmission.
The structurally sound body laced with hydro-formed steel rails combined with one of the most popular V8 engines of all time, in turn, makes this Chevy Silverado a memorable pickup truck.
In addition, this Chevrolet Silverado 1500 had exceptionally efficient fuel economy – especially for its time. Additional interior storage was another amenity with this version of the Chevy Silverado, with cubbies all throughout the cabin, as well as a generous amount of room in the bed.
And with each upgraded trim, this first generation Silverado got better and better. The truck came in seven trim levels: base, Z71, LT, LS, Extended Cab, Extended Cab LS, and Extended LT.
Price
MSRP $18,770
Used: $8,659-$11,493
2006 Model Year Chevrolet Silverado 1500 (1st Generation)
2006 was one of the best years for the Chevy Silverado, as this model closed out the 1st generation of this reliable pickup truck. This year the Chevrolet Silverado 1500 experienced major upgrades, including additional towing capacity, cruise control, and substantially more room in the cabin for cargo and passengers.
Engine choices include: 4.3L V6, 5.3L V8, 4.8L V8, 6.0L V8, 6.6L Duramax V8, and the massive 8.1L V8. The smallest-engine 2006 Silverado dishes out 200 hp and 260 lb-ft of torque while the ones sporting the 8.1L V8 beast are capable of 360 hp and 450 lb-ft of torque.
Despite its age, this pickup truck is still quite reliable. Owners had no problem going well beyond 250,000 miles without any major problems.
The 2006 Silverado came in five variants: LS, LT1, LT2, LT3, and the Work Truck.
Price
MSRP $19,725
Used: $3,015 – $4,347
2009 Model Year Chevrolet Silverado 1500 (2nd Generation)
The 2009 set of Chevy Silverados included the all-new, upgraded 6.0L V8 Vortec Max engine, which avoided excessive oil consumption and included active fuel management. This second generation Silverado had no problem going well over 220,000 miles, especially in the 5.3L V8 version.
The second-generation Chevrolet Silverado 1500 came with a diverse engine lineup which include 4.3L V6 (195 hp, 260 lb-ft), 4.7L V6 (295 ho, 305 lb-ft), 5.3L V8 (315 hp, 338 lb-ft), 6.0L V8 (367 lb-ft), and 6.2L V8 (403 hp, 417 lb-ft). Transmission options include a 4-speed automatic, a 2-speed (hybrid transmission), a 6-speed manual (available in select regions), and a 6-speed automatic.
Trim levels for the 2009 Chevy Chevrolet Silverado 1500 include: LS, LT, LTZ, Work Truck, and Extra Fuel Economy.
e models did have sparse reports that included problems with the Chevy Silverado transmission, but these were few and far between. This year also included an upgraded Silverado nameplate.
Price
MSRP $19,725
Used: $3,015 – $4,347
2015 Model Year Chevrolet Silverado 1500 (3rd Generation)
The 2015 third generation Silverado is considered by many Silverado owners to be one of the best pickup trucks of all time. These Chevy trucks received multiple upgrades and were revered for their upscale interior, excellent handling, burly engines, and top-tier safety features.
Chevy streamlined the engine options in this generation, which only included a 4.3L V6 (285 hp, 305 lb-ft), a 5.3L V8 (355 hp, 383 lb-ft), and a 6.2L V8 (420 hp, 460 lb-ft). One of the most game-changing mechanical upgrades includes the addition of the 8-speed 8L90 transmission (for the models with the 6.2L V8), offering superior ride quality in this iteration of the Silverado.
Heated leather seats, heated steering wheel, and climate control air conditioning in the back seat are some of the best comfort features. For a 2015 model year, it does come with some of the basic technologies expected of vehicles today. The LS and LT trims do come with BlueTooth, Wi-Fi, and keyless entry. Optional safety packages include a rearview camera, front and rear parking sensors, collision warning, and GM Safety Alert.
It comes in five trim levels: High Country, LS, LT, LTZ, and Work Truck.
Price
MSRP $27,000
Used: $9,000 – $23,000
2020 Model Year Chevrolet Silverado 1500 (4th Generation)
This fourth generation Silverado was a pickup truck that went back to the mid-2000s strategy and included more than three engine options. The new lineup include a slew of gasoline and diesel options: 3.0L Duramax (277 hp, 460 lb-ft), 6.2L EcoTec3 V8 (420 hp, 460 lb-ft), 5.3L EcoTec3 V8 (355 hp, 383 lb-ft), 4.3L EcoTec3 V6, (285 hp, 305 lb-ft) 2.7L turbo (310 hp, 348 lb-ft).
The 2019 version of this pickup truck was a huge bust, with plenty of transmission issues. However, this model came back strong and free of any transmission problems. Some of the best additions included trailering mirrors, additional engine options (new smaller turbo option), and top-level infotainment and technology features.
Trim levels include: High Country, LT, LT Trail Boss, Custom, Custom Trail Boss, LTZ, and the base model Work Truck.
Price
MSRP $28,300
Used: $26,000 – $53,000
Best Chevy Silverado Years: Pride of Chevrolet
Overall, the Chevrolet Silverado is a reliable and capable pickup truck that is well-suited for a wide range of tasks. As Chevy's full-size truck, it's set to compete against the best Ford and Ram have to offer. The Silverado will always be a contender and these model years are a testament to the truck's capabilities.