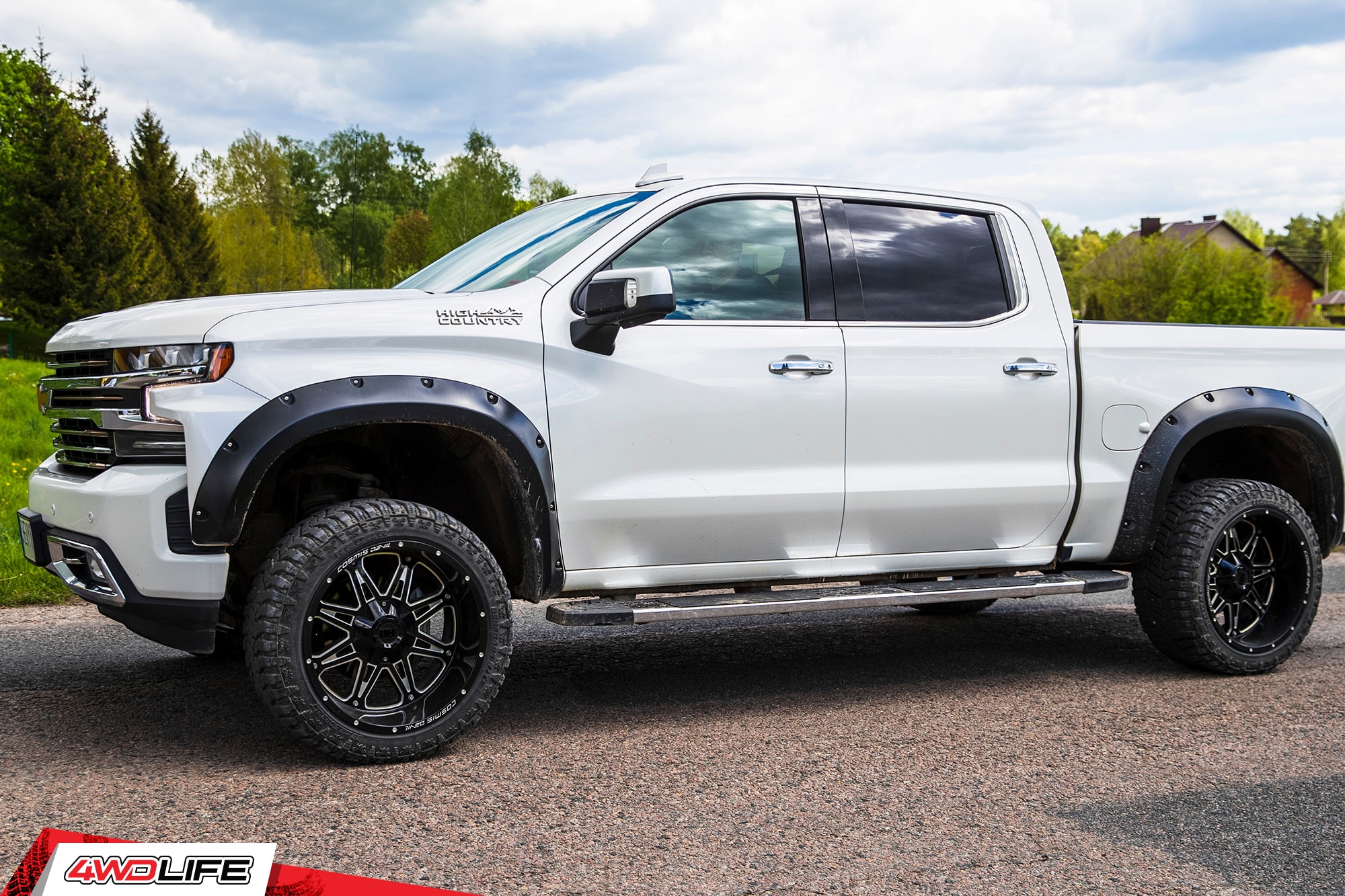 One of the main benefits of owning a Chevy is the potential to upgrade and even improve it, especially if you love off-roading. The most common modification most truck owners do is installing bigger tires. With bigger tires, you enjoy improved ground clearance and it gets easier to tackle rough terrains without damaging the truck.
So if you're planning to upgrade your truck, you may be wondering how big of tires you can fit on your Chevy 1500. 
You may also be wondering what modifications you will have to make for the new tires to fit perfectly. Also, how will massive tires affect the fuel consumption and performance of the truck? For answers to all these questions, please read on.
Do Larger Tires Ride Better?

Lift kits and big tires are the most common upgrades Chevy 1500 owners to their trucks. Large tires can do wonders in certain situations like high-speed driving and off-road excursions. Plus, the new tires' extra weight can improve handling, making the drive easier and fun. 
Unfortunately, large tires can also make it hard for you to control the truck in certain scenarios. So, it's best that you hire an expert who knows the safety risks associated with oversized tires. 
Before installing the new tires, you must understand that the enormous tires can affect how the speedometer works. After all, the readings of the speedometer are based on the diameter of the wheel and tire.
What Are the Biggest Tires That I Can Fit on My Chevy 1500?
The standard tire for a Chevy 1500 has a diameter of 31 inches with a dimension of 255/70-17. The largest tires that can fit the third and fourth-generation Chevy Silverado 1500 with factory rims and stock suspension is 33.5 inches. If you're not ready to cut and trim your truck and are still using the stock suspensions, then the largest option for you are 33.5-inch tires.
Fortunately, lifting the truck a bit can allow you to install larger and broader tires without modifying them.
Can You Install 33-Inch Tires Without Lifting the Truck?

If you have asked yourself this question, then you're not alone. The internet is filled with Chevy owners wanting to find out if they can run 33-inch tires on stock suspensions. And they also want to know who has done it successfully and what modifications they made. 
It is possible, but most people use wheel spacers or leveling kits to create better clearance in the wheel arches. Wheel spacers can also increase the clearance from the upper control arm (UCA).
A 2-inch suspension upgrade can help sort the issues associated with bigger tires while still using the stock rims. Therefore, the biggest tires you can fit into your Chevy 1500 without a suspension kit is 33-inches. But you will have to modify the wheel wells a bit for the tires not to rub. 
If you go for the aftermarket option with a negative offset, you can easily manage 33-inch tires without doing any modification.
Trimming and Cutting the Truck to Fit Wider Tires
The main issue with trucks running Independent Front Suspension is wheel spacing and clearance from its UCA. And even though the Chevy 1500 is a huge truck, the manufacturer limits you when it comes to wheel arch clearance. This restricts you from installing wider 33-inch tires or larger 35-inch tires. Running wider 33-inch tires on stock rims and suspensions will rub.
Therefore, if you are installing wider tires, you should be ready to cut and trim some parts of the wheel wells. That's because the plastic fender inserts and mud flaps will touch the tires when you're driving. So you will have to massage and pull them back a bit for the wheels to clear at full lock. 
To massage and mold the plastic fender out of the way, you will require a heat gun. But this will depend on where the wheel touches the wheel wells, especially when reversing.
Can You Install Huge Tires Without Modifying or Lifting the Truck?
If you don't like the idea of modifying your truck but you want ground clearance, then you can go for a skinny tire upgrade. 
With skinny tires, you will never have to worry about massaging and trimming the plastic liners in the wheel wells. Skinny huge tires will guarantee you improved ground clearance since they are taller than the stock tires.
The size of the skinny tire is about 32.7 inches, and they are available in the form of a 255/80r17 or 255/85r16. The skinny tires can fit the stock suspension perfectly with little-to-no rubbing and no lift. The width of 255 tires works perfectly, but make sure you don't use thick wheel spacers or negative offset rims. 
So, if you're okay with skinny tires, you should try skinny 33-inch tires on the stock wheel. However, it might look weird on such a huge truck like the Chevy 1500.
If you need 33-inch tires with a width of 285 on stock suspensions, then you may need to add some wheel spacers.
Will Wheel Spacer or Small Leveling Kit Help in Installing Wider 33-Inch Tires?
If you don't want to trim your truck, then lifting is the only option. There are two types of lifting kits: suspension and leveling kits. The leveling kits are designed to make the height of the back and front of the truck even.
Unfortunately, many people aren't fond of the idea of adding wheel spacers to their trucks. In fact, they usually say that it's a terrible idea. But the truth is that they are not as bad as some folk claim they are.
Wheel spacers can offer improved backspacing and will allow you to install wider tires. Plus, they are an affordable option for increasing the ride height and improving the aesthetics of your truck.
Another solution for getting additional wheel clearance is adding a spacer kit on top of the springs and coil struts. Spacer kits won't improve the truck's off-road performance, but they will improve the approach angle. With this solution, the body of the truck will be slightly higher than average. With a leveling kit, you are still bound to 33-inch tires, but you won't have to modify the wheel wells.
If you want to fit bigger tires and have a 2-inch leveling kit, then you may have to trim the fender liners a bit. These leveling kits are pretty famous, and Chevrolets have a first-party lift kit that can help make the process comfortable.
Can You Install 33-Inch Tires With Suspension Kits?
The best solution for adding huge tires without modifying the truck is using suspension kits. The suspension kits will determine how tall or wide you can go. 
The suspension kits have no maximum height, but you may have to make some changes to your truck. When done correctly, you can convert your Chevy 1500 into a monster truck.
A 2-inch suspension kit will make it easy for you to install 33-inch tires without any major issue or modification. If you plan on installing bigger tires, then you can look for a 3-inch suspension package.
Can Huge Tires Increase Your Truck's Fuel Consumption?
Any upgrade comes at a price, and tire upgrades are no exception. Installing heavier and wider tires can be disadvantageous. For example, since the tires are below the suspension, they automatically become part of the unsprung weight. 
Remember, the fastest way to increase fuel consumption is by adding unsprung weight. The mass of the heavy tires will have an impact on fuel consumption when you're pulling off.
Therefore, before increasing the size of the tires, you need to understand how it will affect fuel consumption. The truck may look great and tackle rough terrains, but you lose out on other aspects. 
Depending on the size of the tires, you will notice a reduction in pull-off performance because you're pulling along the heavy tires whenever you drive. The huge tires may add over 4kgs per tire, which can make a huge difference in torque transfer.
Advantages of Bigger Tires
More ground clearance
Better control on gravel, dirt, and pavement due to more contact between the pavement and the rubber
Improved load capacity
Overall reduction in wear and tear
Disadvantages of Bigger Tires
The lift kits and huge tires can be quite costly
With huge tires, you may end up spending more on fuel
The huge mud tires tend to produce more noises when driving
Conclusion
Huge tires can make it possible for you to tackle a wide range of terrains comfortably. Unfortunately, you will have to do some modifications to the truck if you plan on installing tires with a diameter of about 33 inches. If you don't want to trim the wheel wells and have stock suspensions, you can install skinny 33-inch tires. But skinny tires look weird on Chevy Silverado 1500. If you don't want to trim the wheel wells, you need a leveling kit or suspension upgrade.