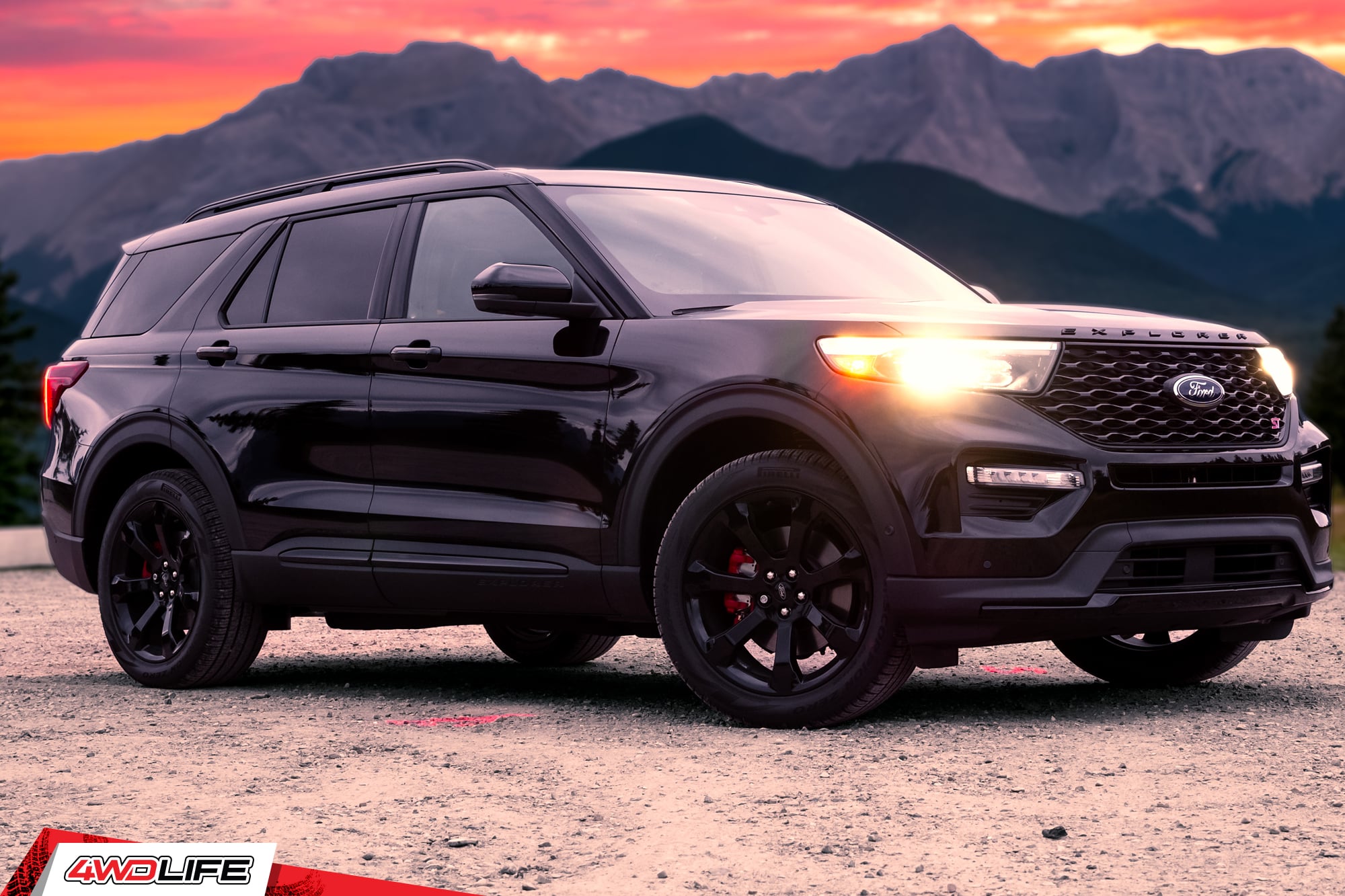 The Ford Explorer is an SUV that has been part of Ford's lineup since 1991. It has mainly occupied the mid-size SUV role and is currently built as a mid-size crossover. Due to its size, it has catered mainly to an urban demographic. Often, the Explorer is hardly recognized for its capabilities as an off-road vehicle.
However, this Ford vehicle does perform well as an off-road vehicle, even for overlanding. Bunking in a Ford Explorer gives the outdoor type one option, with multiple configurations available including making the front passenger seat into a bed or incorporating the rear seats using a bag or blankets and pillows.
If you're not keen on using the front seat or the third row seats for resting, this Ford SUV also allows you to carry enough weight on the roof for more traditional overlanding. Alternatively, the rear door of this SUV opens high enough, allowing for plenty of room for sitting, and eventually flattening the 3rd row of seating and placing a sleeping bag here, or use this space for more permanent fixtures.
In this article, we discuss the Explorer and whether sleep comes easily in this SUV.
Can You Sleep Inside an SUV?
Using the interior of a sport utility vehicle to bunk down for the night has been an acceptable alternative to tent-camping on the ground. In fact, camping in a Ford Explorer has several advantages that might make a trip more comfortable. There are plenty of Ford Explorer camping conversions (like a Ford Explorer sleeping platform), but let's look at the advantages of actually using the cabin to rest when you're enjoying the great outdoors:
Advantages of Using Your Explorer to Sleep
Maximum shelter from the rain or bad weather
The option to use your air conditioner or heater in extreme temperatures
You can convert it into a permanent camp vehicle by constructing a Ford Explorer with a bed or Ford Explorer with a mattress.
Using a vehicle also keeps you protected from other dangers you might potentially encounter during an off-roading or overlanding trip. These sport utility models offer a buffer between you and bears and other predatory animals if you're in an area they're known to frequent.
Disadvantages of Using Your Explorer to Sleep
There are drawbacks when sleeping inside your SUV's cabin which include:
Leg room can be a bit limiting for taller people.
The cabin can get stuffy if you don't crack a window open. But if you do, you need a screen to keep bugs out.
How Can You Make the Ford Explorer More Comfortable?
If you're using your Explorer for overlanding or other outdoor adventures, there's certain gear you can bring to make the experience more comfortable and enjoyable. In the event you're seriously thinking about using your car as a makeshift campsite, make the following preparations, in addition to bringing some of the highlighted items along.
What to Bring Along
Be sure to have a blanket. It will help keep you warm during cool nights.
Bring some type of additional light to help you see when it's dark so conserve your battery/fuel as much as possible.
Ensure everybody has a pillow packed in their gear.
Always bring a first aid kit. This should be mandatory regardless of where you sleep.
Configurations
The following arrangements can be made on the inside of the car when it's actually time for lights out:
The two front seats can both recline, from the "sit" position. This gives you two beds without much hassle.
If you're accommodating a larger party, you have several options for the back seats. One person can use the second row seats, and another person can use the 3rd row seats, giving you space to bed four people total.
Another option is to lay down the 3rd row of seats, giving you room for two, and allowing someone to still use the 2nd row of seats, giving you plenty of room for five people.
If it really came down to it, you could lay all the seats flat with two people in the very back, and two more positioned perpendicular, laying in the same direction as the seats. Realistically, you could accommodate six overnight without everyone being cramped.
Can You Fit a Bed In an Explorer?
If you're looking to build a bed in the back of your Explorer, this task is easily accomplished with some simple measurements. You have two options in this situation – either place a mattress on the floor for temporary use, or pull the seats out semi-permanently to construct a bed box over the wheel well area.
You'd have to measure your vehicle specifically, but the average Ford Explorer is 59-inches at the beltline, and 48.1 at the wheel house. You have two main options if you're looking to place a bed in your Explorer.
Using a Platform
You can purchase premade platforms that either already have padding, or allow you to add some type of mattress on them. These often aren't as efficient because they're foldable and aren't created specifically based on the specs of your vehicle. The DIY method allows you to use your space efficiently and maximize what you have to work with.
If you build your own platform, you'll need to keep in mind that you'll have to either keep your structure less than 48-inches wide, or you'll need to build it over the wheel house. This also depends on the type of mattress you plan on using.
Mattress
A queen mattress is 60-inches wide and 80-inches long. With the back of the vehicle stripped, you'll have 83.9-inches of length – more than enough for a queen. However, you'd have to squeeze a queen mattress in because of the width – even going above the wheel house you've got 59-inches to work with – about an inch short. Otherwise, a full-size mattress is 54-inches wide and 75-inches long, giving you plenty of space to work assuming you build above the wheel-housing.
Outdoor Sleeping Tips When Camping
If you must use anything that requires power from the battery, be sure to start the engine.
Avoid running your engine for extended periods. If it's a must, bring extra gasoline.
Use battery power if you can. This helps you avoid over-using the engine and having to purchase additional fuel.
Always keep the doors shut while you're not getting in or out. Leaving the doors open means an interior bulb is lit. Killing power with open doors is one of the fastest ways to kill your battery overnight.
The Explorer "RV"
Sleeping in your Explorer during your outdoor adventures might be unconventional, but is certainly possible. Just be sure to use the tips above and make the correct preparations, and you'll find that it can actually be fairly comfortable!