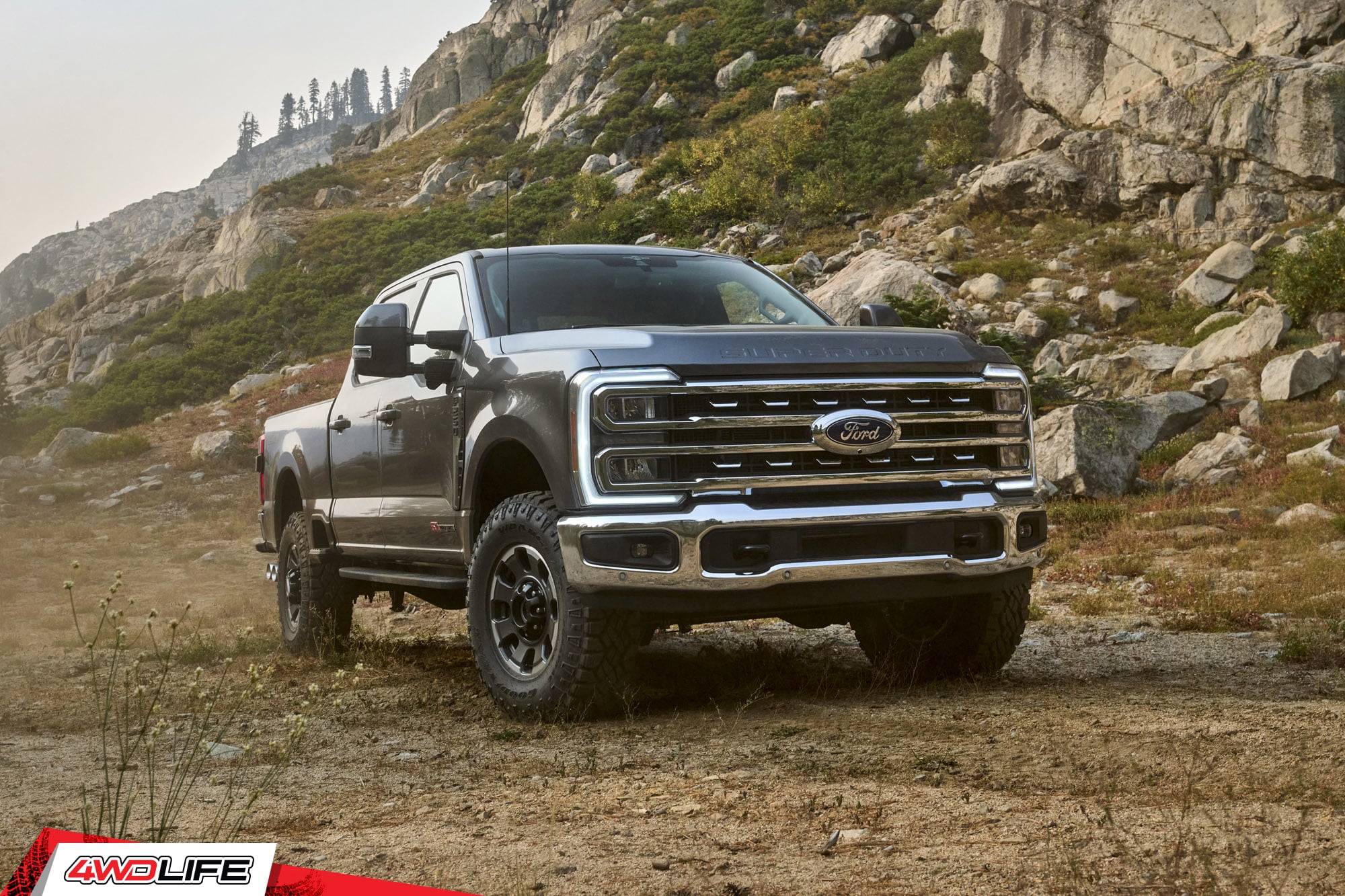 The Ford F-250 has been in production since the 1960s, and it is still going strong! It is a part of the Ford Super Duty lineup, and it occupies an important segment in the full-size truck market.
The F-250 is renowned for its ruggedness and dependability, making it a popular choice among those who need a reliable work truck. The F-250 is powered by a variety of engines, from the classic (and massive) 7.3L V8 diesel engine in the early years to more powerful diesel and EcoBoost engines today. It's a highly versatile heavy duty pickup that's able to tackle a wide range of tasks. The newer iterations even have options that provide passenger comfort, making it a workman's luxury car.
Some reports suggest that the F-250 can last up to 15 years with proper maintenance and servicing. J.D. Power gives the F-250 an impressive reliability score of 84/100, making it a reliable choice for heavy duty pickup owners. However, this number can vary according to the model year and type of engine used.
Overall, the Ford F250 is a dependable and versatile truck that can last for many years. But let's explore some specific factors to get a more accurate picture of Ford F250 reliability.
Ford F-250 Lifespan
Below, you will find data on warranty-related components, including accessories, rust, and more.
Warranty
Standard: The standard warranty for the 2020 Ford F250 is 3 years or 36,000 miles. This includes coverage for components such as the engine, transmission, and other major mechanical components.
Rust: If rust perforation of sheet metal occurs due to corrosion, this is covered by a 5-year/unlimited mile warranty from the date of purchase.
Accessories: Ford provides a 2-year/unlimited-mile warranty on accessories installed by the manufacturer. This includes items such as bed liners, trailer hitches, and other aftermarket fixtures.
Overall, a well-maintained F-250 will last for many years beyond the standard warranty period. The truck is designed to withstand tough terrain and heavy usage, and its components should last for a long time if properly maintained.
Major Components
Engine: Ford's F-250 engine should easily last 100,000 miles or more with proper maintenance. The 6.7-liter Power Stroke diesel V8 is especially resilient, as it's designed to handle large loads with high towing capacity and extended power bursts throughout its lifespan.
Transmission: When maintained properly, the F-250's transmission should last at least 130,000 miles. However, many owners have reported their transmission lasting 220,000 miles and beyond.
Suspensions: With regular routine maintenance and proper alignment, the F-250's suspensions can last for 100,000 miles or more. Additionally, Ford recommends that you check the suspension system every 50,000 miles to reduce wear and tear.
Will a Ford F-250 Last 200,000 Miles?
Many Ford F-250 owners have seen their heavy duty trucks make it well past the 200,000-mile mark. This is pretty common and many owners report their F-250s lasting even longer.
Will a Ford F-250 Last 300,000 Miles?
There have been many reports of Ford F250 Super Duty trucks lasting well over 300,000 miles. With proper maintenance and care, a Ford F250 can easily last that long – or even longer. Some owners have reported their vehicles clocking up to 400,000 miles with no major issues.
Maintenance to Extend Ford F-250 Lifespan
To ensure the Ford F250 lasts as long as possible, it's important to keep up with regular maintenance. Things like checking and changing oil, replacing spark plugs and filters, rotating tires, and more should be done according to the manufacturer's recommendations.
Preventive Maintenance Service Intervals
Be sure to follow the manufacturer's recommended preventive maintenance intervals for your Ford F250. This includes regular oil changes, tune-ups, and fluid changes.
Oil Changes: Depending on your driving habits, oil changes are typically recommended every 3,000 to 5,000 miles or 6 months (whichever comes first).
Tune-up: Most Ford F-250s require a tune-up every 30,000 to 50,000 miles or 2 years. However, this can vary depending on the year and model of your F-250.
Fluid Changes: It is recommended to change the transmission fluid at least once every 30,000 miles. Other fluids, such as the power steering, brake, and coolant, should be checked regularly and topped off or changed as needed.
Lubrication: Lubricating your rear wheel drive or 4WD components is an often overlooked maintenance task. It is important to lubricate your four wheel drive system regularly to ensure that all components are functioning properly and last as long as possible. Most manufacturers recommend lubricating the transfer case and drivetrain every 30,000 miles or 2 years.
Overall, following preventive maintenance intervals for your Ford F250 is the key to keeping it running in tip-top shape for years to come. With proper care, most models can last up to 200,000 miles and beyond.
Other Components that Need Replacement
Battery: It's good practice to replace your battery every 3 to 5 years, especially for Ford F-250s. If your battery is over 5 years old and you're experiencing slow starts or dim lights, it's time to replace it.
Brakes Pads: The average maintenance interval for brake pads is every 50,000 to 70,000 miles. For Ford F-250s with heavy-duty towing and hauling, it's a good idea to inspect your brake pads every 25,000 miles.
Fuel Filter and Pump: The fuel filter should be replaced every two years or 20,000 to 30,000 miles. A fuel pump can last up to 100,000 miles in some F-250s, but it's important to have them inspected regularly for any signs of wear or reduced fuel economy. Replacing a fuel pump can be expensive, so it's best to take care of any potential issues before they become more serious.
Timing Belt/Chain: Depending on the model year and engine, your F-250 may be equipped with either a timing belt or chain. Fortunately, newer engines with a timing belt can last up to 100,000 miles on some Ford F-250s. However, it is good practice to replace them at the 60,000-mile mark. Timing chains typically last the lifetime of the engine. If your engine is making unusual noises, you should have your timing belt or chain checked as soon as possible to prevent any serious damage down the line.
Ford F-250 Common Problems
There are three common owner complaints associated with Ford F250 trucks that have been reported among owners. Let's look at these specific complaints, so you know what to watch out for.
The first of these common issues is known as the "Death Wobble," which is an oscillating movement felt in the steering wheel. This can be caused by excessive wear on suspension and steering components, leading to premature failure due to stress or inadequate lubrication.
Moreover, it will affect your available adaptive cruise control and torque when driving. The F-250 comes with plenty of safety equipment. But if you experience the Death Wobble, you risk losing control of your vehicle.
The second common issue is a leaking sunroof, which can be caused by age and wear on the seals around the glass panel. This often leads to water seeping into the interior of the vehicle, causing damage to the upholstery and electronics.
Finally, broken drive shafts are another common problem with Ford F-250 trucks. Excessive wear on the drive shaft components can cause them to bend or break, making it difficult to control the vehicle and its performance.
Should You Buy a Ford F-250?
Common problems aside, many owners are satisfied with the F-250's performance and longevity. Even newer models like the fourth generation crew cab Ford F250 are designed to last for years, but there are always potential problems that can arise.
Be sure to do your homework before buying one to ensure that you are getting the quality and reliability you desire. Overall, the F-250 is a great truck with lots of safety features, like forward collision warning, lane departure warning, and blind spot monitoring.
Add to that plenty of cargo capacity, fifth wheel capability, and high payload ratings, and you're looking at a well-rounded truck for a variety of needs.