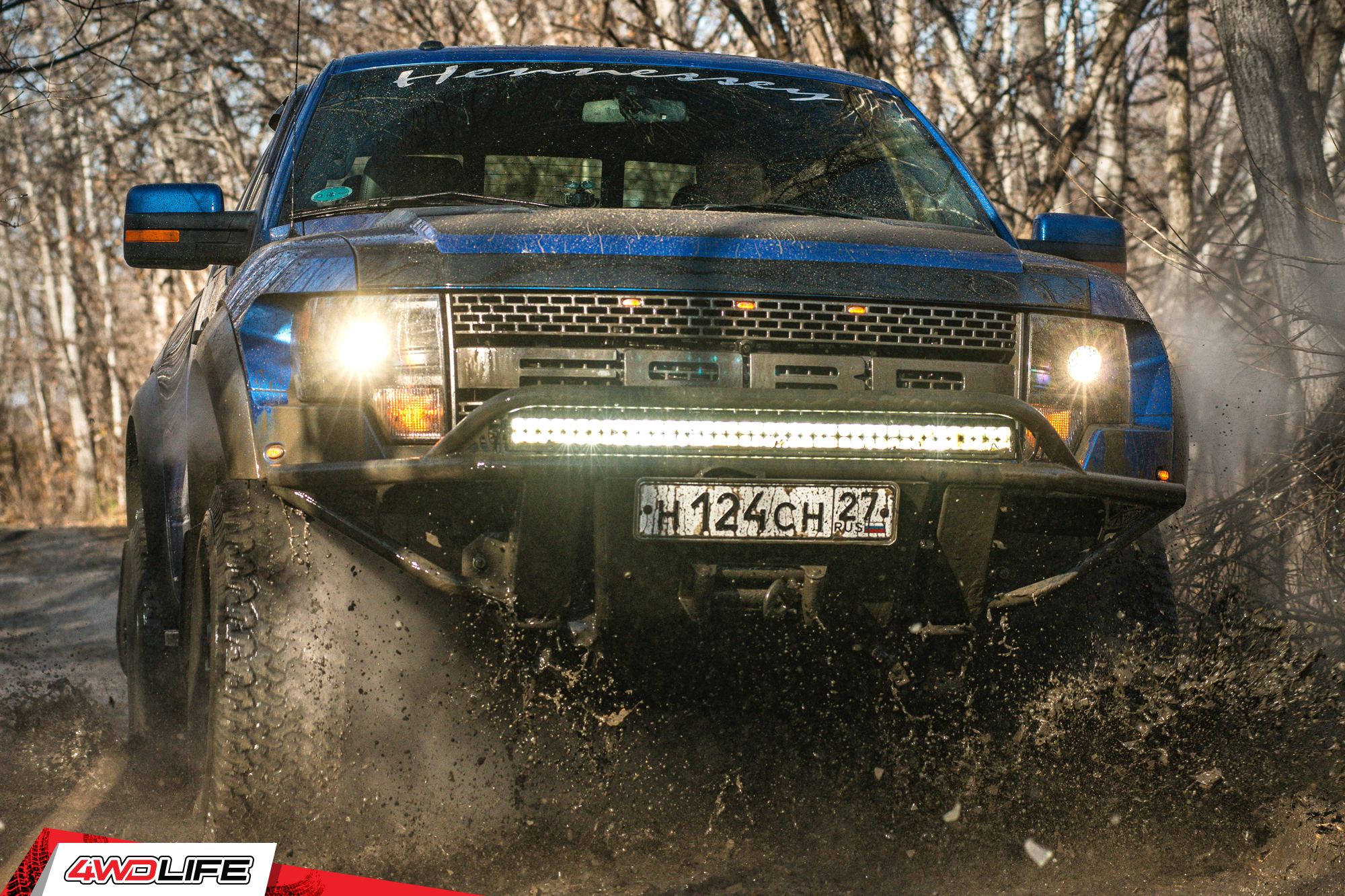 The Ford F150 is not only a great passenger vehicle, but it also has a solid reputation when it comes to cargo loading and towing. We load them up with all sorts of heavy items. Other times, it's the perfect vehicle to pull boats and trailers. 
Some simply want better ride control performance than what came with the truck originally. You can get the performance you want by replacing the stock with the best shocks for F150.
But there are just too many choices available out there, and it's easy to be confused if you don't know what to look for. Don't worry though. We've looked at the various products available to narrow down your search.
We have seven top recommendations for demanding conditions, driving needs, and preferences.
Let's get started.
Top Pick
Bilstein B8 5100 Rear Shocks are the most-liked and the bestseller, thanks to their monotube design that provides consistent, fade-free performance. They come equipped with OEM-certified mounting hardware for exceptionally easy and quick installation on your f150. Loaded or unloaded, on or off-road, these shocks will deliver a controlled and comfortable ride.
The Best Shocks for F150 Are:
1. Bilstein B8 5100 Rear Shocks — Best Overall

Bilstein has always been a trusted choice for shock absorbers and they really did it right with their B8 5100. This particular model is specifically engineered for 15 to 18 Ford F150. So, you are getting the best valving and the best drive possible.
These shocks are zinc-plated for superior corrosion resistance and durability. These dampers have a monotube design, which is great because it ensures the working chamber is constantly filled with pressurized oil, avoiding foaming or aeration problems. 
The high-pressure gas charge of this model also increases the reaction rate of the shock absorber, and thereby, the truck grip and control.
This model will arrive quickly and well-packed. It is also quick to install. It should take you roughly half an hour to complete the installation after going through the video tutorial. 
Key Features
Monotube design
Gas pressure technology
OE quality
Zinc coating
Road-tested
Lifting and fits lift kits
Pros
Monotube design improves strength and dampening
They increase the reaction rate of your vehicle
Maintain a comfortable, stable, and controlled ride
Zinc coating improves corrosion resistance
Larger diameter body resists heat on longer drives
Cons
It is possible to receive a model that is firmer than the stock
The increasing grip may make the ride bumpier
Verdict
These shocks are a life-changing upgrade for F150. Just make sure you receive a model that is softer than the stock. Not to mention that the increased grip provides superior performance for lifted vehicles.
Overall Rating: 4.9
2. Bilstein 33-186009 5100 Series Shock — Best for Preventing Shock Fading

Are you looking for extreme versatility on and off-road when driving your F150? Just add Bilstein 33-186009.
Like most models in the 5100 series, the 33-186009 features a heavy-duty monotube design that allows for easy lower mounting. The fluid and the gas are kept separate, so there is less chance of cavitation. The monotube design that comes with this model is more of a high-pressure dampening system. This means you are going to get a little more of a firmer ride. The valving, on the other hand, tends to be a little more consistent.
The digressive piston technology offers consistent handling in all conditions. Another great thing about this shock is the heavy-duty seals that are incredibly durable compared to conventional dampeners.
Key Features
46mm ID smooth body
Monotube design
Lower mount type
Zinc plated
Eye 12mm upper and lower mount
14mm shaft diameter
Pros
Monotube keeps F150 handling at its peak
Does a great job of eliminating shock fading
Patented digressive valving is perfect for a taller stance
Zinc plated finish improves durability
Has heavy-duty seals that don't wear out easily
Cons
The shock tends to provide a firmer ride
Could be more economical if the model was available as a pair
Verdict
For the ultimate handling, control, and towing adventures, just replace the stock with this model. Get the best performance when going over bumps and rough terrains.
Overall Rating: 4.8
3. Rough Country 0-6-Inch N3 Rear Shocks — Best 10-Stage Variable Valving

These ten-stage variable valving shocks provide a superior blend of off-road action and smooth highway ride quality for your F150.
With a chrome-hardened piston rod and faster cooling large-diameter shock body, the N3 shocks offer outstanding performance under any condition. You've got a heavy-duty seal for a seriously long lifespan. The dampeners are fluid-rated to -40 degrees Celsius. Each shock is equipped with rubber bushings for remarkable vibration dampening. 
These high-performing dampeners are nitrogen-charged at 200 psi, which helps with prolonging the durability of the shocks. The nitrogen charge also helps prevent foaming. Each shock features a sensitive valving for the best performance.
Key Features
10-stage variable valving
Fast-cooling shock body
Nitrogen charged
Spring-loaded piston
Fluid rated to -40°C
Rubber bushings
Pros
They are incredibly easy to install
Great for energy absorption during suspension extension
Nitrogen charged design prevents foaming
Mounts body-up for a more unique look
The fast-cooling shock body dissipates heat faster
Cons
Not the most reliable warranty
Verdict
Whether you are tackling smooth city streets or tough off-road terrains, this amazing model from Rough Country will deliver the expected results. Just be on the lookout for products with design issues.
Overall Rating: 4.7
4. Monroe Load Adjusting 58643 Shock Absorber — Best Coil Spring Design

Have you finally decided to ditch your stock shocks because of poor performance? This great model from Monroe is the ideal replacement for your F150.
These shock absorbers are equipped with a heavy-gauge calibrated spring, which is great because it adjusts to weight and road conditions. This guarantees you superior control and handling under more demanding conditions. The shocks are great for occasional towing and hauling.
The cylindrical springs are specifically tuned to deliver the best performance under load. The spring does an exceptional job of reducing sag under load. The full displaced valving, on the other hand, automatically adjusts to extreme road conditions to improve ride consistency.
Another exceptional design feature is the inclusion of a PTFE banded piston, which helps eliminate friction between the pressure tube and the piston. This helps improve responsiveness to different road surfaces.
Key Features
Monotube design
Gas-charged
Eyelet upper and lower mount
Self-lubricating fluid seal
PTFE banded piston
Full-displaced valving
Pros
The vehicle sits perfectly level with no tail drop
Less sway when driving past larger trucks
The rubber bushing protects your vehicle against the spring
They offer extra support to the suspension system
They do a great job of eliminating rear-end squat
Cons
They don't come pre-compressed (no compression banding)
Verdict
These shocks are uniquely designed to improve the performance of your F150. Just keep in mind that they don't come with compression banding.
Overall Rating: 4.7
5. KYB 349108 Excel-G Gas Shock — Best Twin-Tube Design

This shock will do more than just give you a comfortable ride. It does a great job of restoring the F150's original control and road traction capabilities.
The KYB Excel-G is engineered to help restore the control, handling, road traction, and steering response of your F150. This model features a twin-tube design, which is great because it provides less vulnerability to denting and damage, larger diameter piston rods, better compression control, and simpler sealing technology.
The piston rods are chrome-plated to reduce seal wear. You've got a synthetic oil seal that does a good job of keeping contaminants out. The solid seamless bolt bushings and mounting eye rings eliminate rattles.
Key Features
Twin-tube design
Eyelet upper and lower mount
Rubber bushing
Nitrogen gas-charged
Vehicle specific
Electronic stability control
Triple chrome-plated piston rods
Synthetic oil seal
PTFE band
Pros
It ensures less vulnerability to damage and denting
The shock offers superior compression control
Great for improving stopping distance
Very effective at restoring design stability
Good for maintaining wheel alignment
Cons
The package only comes with one shock
The twin-tube design has a tendency of foaming
Verdict
This amazing shock absorber from KYB is very effective at improving lane change, stopping, and stability responsiveness. It does more than just restore designed performance.
Overall Rating: 4.7
6. Detroit Axle Rear Shock Absorbers — Best for Preventing Noise Transmission

Have you been looking for shocks that are uniquely engineered to meet and exceed the performance levels of your stock model? Look no further than these great shocks from Detroit Axle.
Premium quality materials are used to engineer these high-performing rear shocks. They are designed to exact stock quality and specifications. We appreciate the fact that they provide wide coverage of suspension ride control. The shocks' heavy-duty parts are ready to meet the demanding conditions of on and off-road terrains.
You've got high-quality bolts, nuts, and bearings that match the exact specifications of your stock upper strut mount. We truly appreciate the hollow bumper that does a good job of preventing components from getting damaged. Not to mention that the bumper helps to strengthen shock absorption.
Unlike conventional coilovers, the coil spring on this model features premium quality steel engineering and precision calibration. This provides superior weight support and helps maintain the appropriate height position.
The design is incorporated with an upper spring seat for preventing the transmission of vibration or noise into the chassis. You've also got lower spring isolators for preventing the vibration caused by metal-to-metal contact.
Key Features
Coilover design
Lower spring isolators
Upper spring seat
Hollow bumper
Upper strut mount
Electrophoretic coating
Pros
OE manufactured for superior form, fit, and function
Uniquely engineered to support weight and restore ride height
Great at strengthening shock absorption
They don't transmit vibration or noise into the chassis
They have decent oxidation and corrosion resistance
Cons
Some models may miss certain mounting hardware
Verdict
With these shocks, you will restore as well as exceed stock performance. Just make sure you get all the mounting hardware.
Overall Rating: 4.7
7. Gabriel 81750 Guardian Shock — Best Leak-Proof Piston Seal

If you want to restore your F150 to its stock performance level, these good-quality shocks from Gabriel are a great replacement for you.
They give great performance and great value, and here is why. They are nitrogen gas-charged, which provides a superior response because it helps keep your F150 tires in constant contact with the road. This means better safety, handling, and performance.
The shock absorbers are incorporated with 9-stage valving technology and each design is specifically tuned to deliver new-vehicle-like performance. The shocks have a super finished chromed piston rod, which most conventional shocks don't have. 
So, why is chrome so important? When compared to untreated rods, chromed piston rods offer exceptional protection from rust and corrosion.
We appreciate the twin-tube design. The primary advantage of these shock absorbers is that they are not prone to foaming, compared to conventional models. This means you get better ride control by reducing roughness, noise, and fade.
Key Features
Twin-tube design
Front position
Chromed piston rods
Down-over-mandrel tubing
Leak-proof piston seal
9-stage valving
Nitrogen gas-charged
Pros
Twin-tube design reduces noise, fade, and roughness
The best for improving stability and restoring ride height
Chromed piston rods prevent rust and corrosion
They ensure your tires are in constant contact with the road
Have leak-proof piston seals for extending product life
Cons
Some models may not be able to take repeated hitting of bumps
Verdict
As long as you make sure that you don't receive short shocks, this model from Gabriel is built to perform and last. Not to mention that the chromed piston rods and leak-proof piston seal guarantee long-lasting durability.
Overall Rating: 4.2
Things to Consider When Looking for the Best Shocks for F150
Types of Shocks
Here are the various types of shocks you can consider buying for your f150:
Monotube
A monotube shock uses a single-wall shock tube to encase the pressurized gas, shock oil, and piston. The gas and oil are separated by a moving piston with an O-ring seal. The damping valves for both the rebound and compression stages are located on the piston. 
Monotubes are much more precise at dampening compared to twin tubes because of the higher level of precision they are engineered to. They are not prone to foaming.
Twin Tube
A twin-tube shock is fitted with two chambers inside the body of the shock (inner and outer chamber). The inner chamber consists of the oil and the piston. There is a valve on the end of the piston.
Most twin-tube shocks cycle the same volume of oil back and forth through the control valve. Full-flow twin-tube shocks are usually equipped with extra check valves to prevent heat control issues. Some conventional twin-tube models may be vulnerable to foaming.
Coilover Shock
This is a type of suspension that allows you to adjust different aspects of your f150's ride height. A coil-over-shock replaces the stock shock and spring. The spring rate is determined by your f150 weight and intended ride quality. The coil is placed on the shock and allows for easy height adjustment of your truck. Both monotube and twin-tube designs are available as coil-over shocks.
Hydraulic Vs Gas-Charged Shocks
Not all vehicles are the same, and that is why shocks are engineered specifically for each application. Some vehicles may have low gas pressure and high hydraulic control. The hydraulic part offers control while the correct gas pressure ensures steady performance. Hydraulic shocks provide a smoother, softer ride, while gas-charged shocks deliver a sportier ride.
How to Measure for the Right Shock Fit
Shocks have two directions to travel. They have rebound as the shock extends and compression as the shock compresses. You don't want to have your shock completely bottomed down when sitting at ride height, nor do you want it to be fully topped out. Any of the two extremes could cause damage to the shock and your vehicle.
So, how do you measure for shocks?
The first measurement is going to be the length of the shock extended. So, you are going to take it from the eye to the end of the piston. The second measurement you have to take is the compressed length. With the two measurements, you can easily find the best fit for your f150.
How to Do a Shock Inspection on Your F150
Your stock shocks may not display any signs of wear. But we advise you to request a ride control inspection when your vehicle is in service. This will help ensure your vehicle is operating at optimal condition. 
During the inspection, make sure you assess how you use your f150 and conduct physical and ride assessments. Take your f150 for a test drive to ensure that the stability, stopping, and steering of your truck are not compromised in any way. 
Make sure you check for any symptoms of wear like:
Vibrations when driving
Cracked bushings
Leaking fluid
Uneven tire wear
Poor braking performance
Nose diving when braking
Bouncy ride
Squat in the rear during acceleration
Truck sways or rolls when cornering
See also our roundup of the best batteries for F150. 
FAQs
How regularly do I need to change my F150's shocks?
You can find the manufacturer's recommendations in your owner's manual. But the average maintenance schedule ranges from 50,000 to 100,000 miles.
What are the common indicators of worn-out shocks?
The most common warning signs you should look for include unusual tire wear, tire bouncing, leaking fluid, rear-end squat, and instability at high speeds.
How long should I expect my F150 shocks to last?
Shocks that have really been put to use should last roughly five years. But if you don't use your f150 regularly, you should expect a lifespan of approximately 10 years.
What Are the Overall Best Shocks for F150?
For this roundup, the winner is Bilstein B8 5100 Rear Shocks. What makes these shocks stand out is their ride height adjustable design. They are a superior upgrade over your rear stock shocks. They will provide a smoother ride and ensure that your f150 doesn't jump around. 
If you are planning to haul a camper of about 5,000 pounds, these are great shocks for improving stability and ride height while towing. The monotube design doesn't foam. They feature outstanding gas pressure technology for consistent performance. They also offer great value for the money and they are an ideal alternative to conventional coil spring spacers.
If you also want to upgrade your brake pads for your F150, check out our top picks. for the best F150  brake pads and rotors.