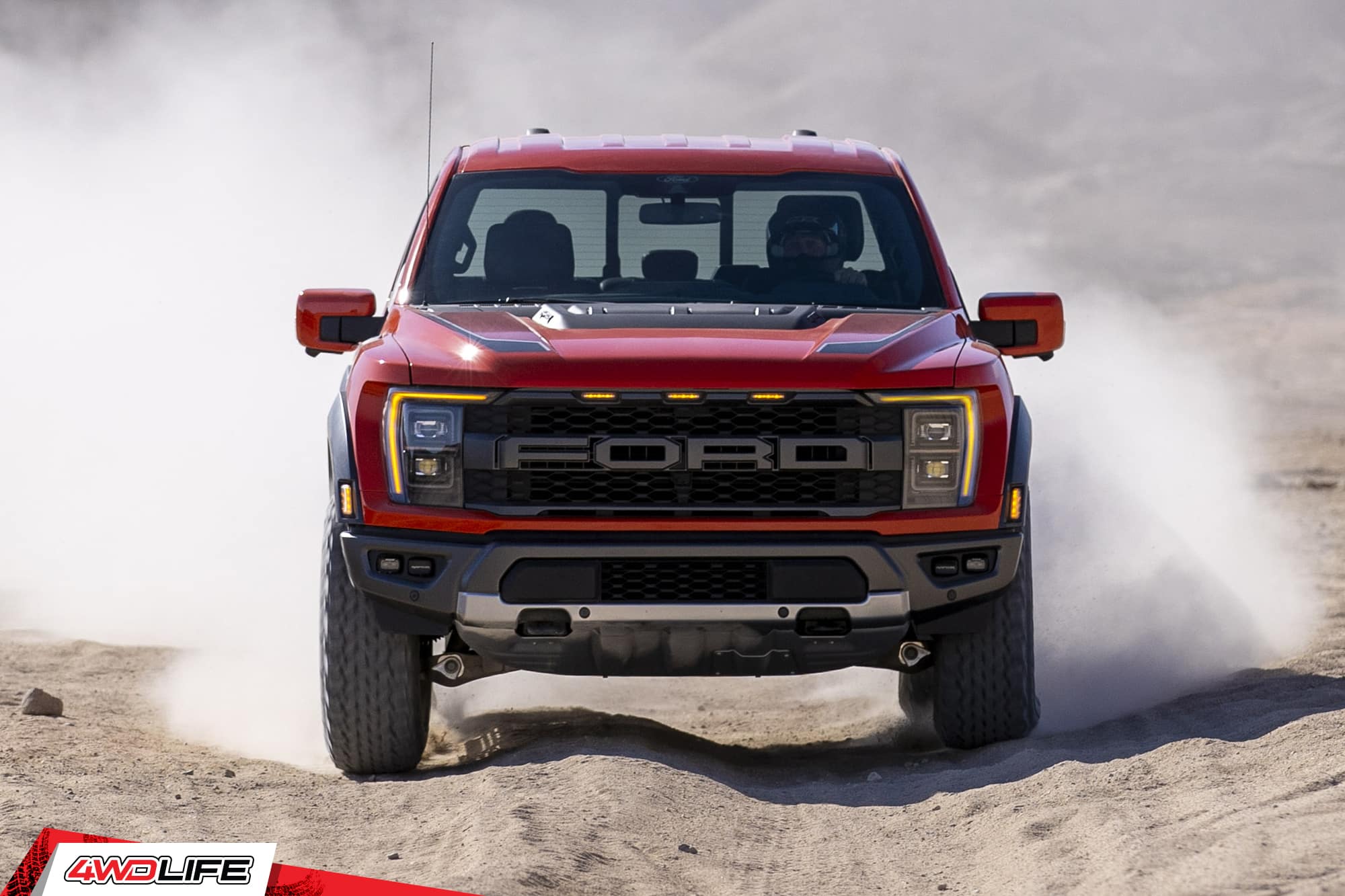 Ford calls the Raptor the ultimate truck. It is born ready to perform and conquer any terrain. From the ultra-rigid frame to the high-speed engine, it packs plenty of innovations. But, how does it perform when it comes to towing? 
With a suspension inspired by desert racing, the Ford Raptor is a beast. Speed is one of its best assets, so its towing ability is underwhelming for some people. Despite such, the truck can still be capable, depending on what you make out of it. 
Read on as we talk about Ford Raptor towing capacity. Plus, we'll share some tips on how you can make the most of the truck when hauling a heavy load. 
Ford Raptor Towing Capacity 
Even truck enthusiasts will agree—Ford Raptor isn't the first that comes to mind when it comes to towing. It has top-notch torque and horsepower, which makes it fast even in difficult conditions. Plus, it looks like a beast. Meanwhile, as for towing, you will find better options. 
Below, we'll look at the different generations of Ford Raptor, including their towing capabilities. 
First Generation – 2010 to 2014 Ford Raptor

Towing Capacity: 6,000 to 8,000 pounds 
The F150 Raptor was introduced in 2009 but was called the 2010 model. The first of its kind has a Super Cab configuration, which came with a 5.4-liter V8 engine. 
Later that year, the 6.2-liter V8 engine was introduced. A year later, the company brought to life the Super Crew model. It was also the time when the 6.2-liter engine became the norm. 
For the first generation, the Super Cab model had a rated towing capacity of 6,000 pounds and 8,000 pounds for the Super Crew model. The maximum payload, meanwhile, ranged from 930 to 1,180 pounds. 
Second Generation – 2017 to 2020 Ford Raptor

Towing Capacity: 6,000 to 8,000 pounds 
Ford had a two-year break before it re-introduced the Raptor truck in the market. Significant improvements have been made for the second generation models, which were released from 2017 to 2020. They had a more powerful engine and more wheel travel. 
However, despite the improvements, the towing capacity remained. It was still 6,000 pounds for the Super Cab model and 8,000 pounds for the Super Crew version. 
Third Generation – 2021 Ford Raptor

Towing Capacity: 8,200 pounds 
The newest version of the Ford Raptor was the 2021 model, which already belongs to the truck's third generation. It is reflective of new developments and technologies that go beyond aesthetics. 
The standard engine was a 3.5-liter high-output Eco Boost V6, which is the one mainly responsible for its incredible power. 
There was a slight improvement in the towing capacity of Ford Raptor's third generation. The maximum weight it can tow increased by 200 pounds, which is now 8,200 pounds. The maximum payload also jumped, which is currently at 1,400 pounds. 
How It Compares With Others 
To give you an idea of how the towing performance of the Ford Raptor compares to others, here is a look at the pulling capabilities of popular vehicles. 

If you are looking for a compact truck with great towing prowess, it is hard to go wrong with the 2022 Ford Maverick. It has a maximum towing capacity of 4,000 pounds. This is lower than the pulling capacity of the 2021 Ford Raptor, but given the Maverick's smaller footprint, such a difference is understandable. 

For something more powerful than Ford Raptor, the 2022 Ram 1500 is one vehicle that should be on your radar. This ½-ton truck has a maximum towing rating of 12,750 pounds. Plus, it offers superior ride comfort, so you can enjoy the overall experience. Not to mention, it has super-charged engines, which will depend on the specific version. 

This is another large truck with impressive towing capacity, which reaches a maximum of 13,300 pounds. For the best performance, choose the Duramax diesel option, which has been optimized to have excellent hauling capabilities even when you are in challenging environments. 

If you would rather have a 3/4-ton truck, the Ford F250 is not to be missed. The maximum towing capacity with a conventional hitch is 20,000 pounds. The Super Duty model is a workhorse. You can choose to upgrade the engine. The added cost will be worth it as it effortlessly tows trailers, boats, and other heavy objects. 

A monster on the road, this is a great alternative for those who find the towing capacity of the Ford Raptor to be too small. The Ford F450 is a one-ton truck that has a maximum tow rating of 37,000 pounds. It also comes with a ten-speed automatic transmission, so you can choose the best gear that works best with towing. 
Compare it with the towing capacity of Jeep Gladiator here. 
Tips for Towing With Ford Raptor 
While the Ford Raptor isn't as powerful as the trucks mentioned above, you can do some things to make it more capable. Below are some tips to maximize the truck's towing performance. 
Inspect Before You Go 
Do not leave without thoroughly inspecting both your truck and the trailer. Check the tire pressure, including the wheel nuts or lug nuts. See to it that they are all secure. Test the hazard lights, brake lights, and turn signals. 
Pay Attention to Proper Equipment 
Setting up your Ford Raptor for towing is one of the most important. You will need basic equipment, which includes a trailer hitch receiver and mount. Know how to make proper connections with the right tools. Otherwise, your truck may end up inefficient and unsafe. 
Distribute Weight 
Whether you are towing a boat, trailer home, or anything else, proper weight distribution is a must. Otherwise, the object that you are towing will end up wobbling. Not to mention, your truck will have a hard time achieving optimal performance. Plus, you might end up being a road hazard to other motorists. 
Maintain Your Tires 
The tires are some of the parts of the truck that suffers from significant strain when towing. It can have cracks and other issues as a result of the weight of what it tows. Inspect after towing and mind its maintenance. Also, see to it that it has the right pressure when you are towing to stay safe on the road while also making your fuel consumption more efficient. 
Use Your Mirrors 
Make the most of your Ford Raptor's mirrors when towing. The mirrors must be extending past the width of whatever you are hauling. This way, you can have a better vision of what is on your back. When the mirrors are too short, you won't be able to see blind spots and it will be more challenging to turn. 
Go Slow 
Speed is one of Ford Raptor's strongest suits. Nonetheless, when you are towing a trailer, speed should not be your priority. Rather, the goal is to get to your destination safely. Watch your speed since you cannot go as fast as you want to be. Going too fast can result in flipping or skidding since it is more difficult for you to control the trailer or the truck. 
Be Attentive When Driving 
You should be more attentive when you are pulling a trailer. One of the most important is to have a wide turn. Consider the size of whatever you are towing so you will know how much allowance there should be as you turn. There is no room for error, especially if you are on narrow and busy roads. 
FAQs
Is a Ford Raptor good for towing? 
Yes, Ford Raptor is good for towing, although not as powerful as high-powered trucks. Nonetheless, as long as you observe the weight limit, it is incredible. It has adjustable live valve shock absorbers, which improve shock absorption and stability even if it has to carry the weight of whatever you are pulling. 
Can you pull a fifth wheel with a Ford Raptor? 
Yes, you can pull a fifth wheel with a Ford Raptor. However, take note of the weight limit to ensure efficiency and safety. Going above the 8,200-limit in the newest generation is a big no. We recommend using a larger truck if you are pulling a fifth wheel. 
Why is Ford Raptor towing capacity so low? 
The suspension is the biggest factor that contributes to the low towing capacity of the Ford Raptor. It has a Fox Racing suspension with coil springs. It withstands high-impact hits and delivers impressive speeds even on difficult terrains. To achieve the latter, the company has to limit its towing capacity, but that does not mean that it is inferior. 
The suspension is softer than what you will find in many other trucks. Hence, it might sag when it is carrying a heavy weight. The heavier the load, the more unresponsive the truck, and this will hurt hauling. 
If you're thinking of getting a Raptor, these are the best Ford Raptor years you should consider. 
Conclusion 
The towing capacity of the Ford Raptor ranges from 6,000 to 8,2000 pounds, depending on the specific generation. Hauling is not its best asset, but that does not mean that it is inferior overall. As long as you stick to the limit that the manufacturer specifies, Ford Raptor will prove to be an incredible vehicle.