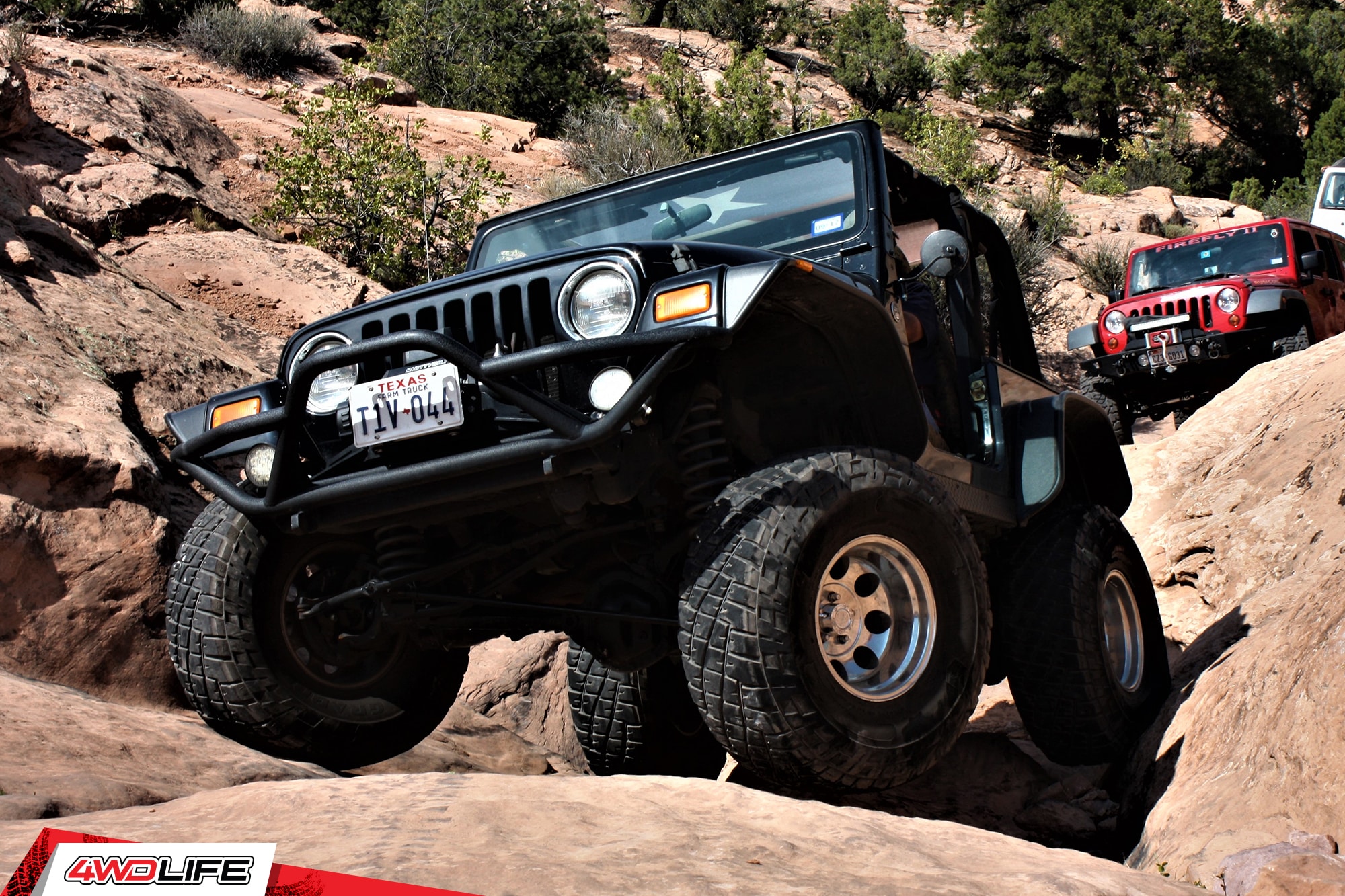 If you're planning to go off-road on your Jeep Wrangler, then you need tires that are ready to tackle all sorts of off-road challenges. These tires must provide the best traction on rocks, mud, snow, sand, dirt, and even boulders. They should also flex without cracking on the sidewalls, and they should have excellent puncture resistance.
Tires with this set of features are available on the market. But selecting the best 35" tires for Jeep Wrangler may not be an easy thing for everyone. No need to worry because this guide will help you during your search.
Keep on reading to get to our top recommendations!
Top Pick
Toyo Tires Open Country MT 35" Tire is our top pick. This mud-terrain tire will give you the best performance on muddy terrain and will prevail on rocky and other types of off-road terrains. It comes packed with an aggressive tread design, scalloped open shoulder blocks, deep siping, and tread-wear indicator. We think it is a great option for your Jeep Wrangler.
Here Are the Best 35" Tires for Jeep Wrangler

The great tire from Toyo has gained the respect of many experienced drivers out there. And that's why it is taking the top spot in our roundup of the best 35" tires for Jeep Wrangler.
This legendary off-road performer exceeded our expectations out there when we took it for a ride. One of the things that gave us incredible performance is the aggressive attack tread design as well as the hook-shaped blocks. We really liked how the treads were effortlessly cruising over different off-road surfaces, especially over muddy terrains.
The scalloped, open shoulder blocks are the next impressive feature, which provided continuous traction when we drove into ruts. They made maneuvering and getting out of ruts surprisingly easy.
We like the decent tread life this tire has, considering that it is an MT tire. With this tire, you can typically expect about 35,000 to 40,000 miles. The miles it can cover, however, depend on your driving habits and style. If you drive a little bit harder, it will wear out faster compared to someone who drives a little bit softer.
Another thing that we really like about this tire is the siping, which should give you a pretty reliable performance on the snow.
Key Features
12-ply construction
125 load index rating
Q speed rating
Radial design
Tread-wear indicator
Aggressive tread design
Scalloped open shoulder blocks
Deep siping
Pros
Aggressive treads conquer off-road trails
It offers good steering responsiveness and handling
Easy to maneuver out of ruts thanks to its scalloped shoulder blocks
Deep siping improves traction on the snow
It can effectively last up to 40,000 miles
Cons
It may not be the most fuel-efficient tire
Some models may get cracks on the sidewalls
Verdict
We think this tire can get you up to 40,000 miles with good driving habits.
Overall Rating: 5.0

With this great tire from Falken, you can take on the hardest conditions whether it is rocks, sand, snow, or even the pavement. This tire is built to last.
The first thing that we like about this tire is the three-pitch tread design, which gives a quiet and comfortable ride on the road. The second thing that stood out is the rigid tread block with step-down supports, which help enhance handling and stability while ejecting stones.
The rock and mud defense features are just incredible. On the trail, this tire did a great job of shedding mud from the grooves to enhance traction. The stone ejectors lived up to their name, preventing rocky trails from puncturing the tread.
Other features that impressed us are the aggressive upper sidewall and offset shoulder blocks that helped protect the tire from sharp rocks.
Key Features
Radial construction
Load index rating of 123
Duraspec sidewall technology
Precision manufacturing technology
Three-pitch tread pattern
Rigid and rugged tread blocks
Stone ejectors
Aggressive upper sidewall
Heat diffuser technology
Pros
Rides smooth with very little noise on-road
Rips easily through mud
Offers great traction and flex for maneuvering rocky trails
Has excellent protection against sharp rocks
Sipping on the tread improves wet traction
Cons
It is a costly tire that may not fit a tight budget
Verdict
We think this tire will provide you with advanced off-road handling, rugged off-road protection, great mud and rock protection, and a quiet highway ride.
Overall Rating: 5.0

If you plan to conquer the off-road, this tire from Yokohama can help you with the challenge. You can go strong with your Jeep Wrangler with intimidating looks, crushing performance, and outstanding tread life.
We took a closer look at the performance of this tire—from silt, rocks, dirt, and paved surface. It gave us a better feel of what this new tire has to offer. We really like the aggressive tread with high voids, which provide strong traction as well as performance on off-road surfaces. The stone and mud ejectors on this tire were excellent, considering how effective they were in self-cleaning.
The advanced variable pitch tread is another great feature as it did a good job of reducing highway noises for a comfortable, quiet ride.
Another impressive feature about this tire is the triple polymer blend that provides improved wear as well as chip and cut resistance. Not forgetting that this is a 10-ply tire and we all know that the 10-ply construction comes with extra layers for sidewall protection and durability.
The only thing that could make us remove a star or two from its rating is the DOT rating date, which is older by a few years.
Key Features
10-ply construction
Radial design
125 load index rating
Q speed rating
Stone and mud ejectors
Geo-shield technology
Advanced variable pitch tread
High-density rubber compound
Multiple sidewall plies
Pros
Designed to be durable and long-lasting
Incredibly quiet on the road
It can tackle all kinds of off-road surfaces
Uniquely designed to self-cleaning on muddy trails
It performs well on the snow
Cons
The DOT rating date may be older by a few years
It may feel a little bit squirrely at first
Verdict
This tire is surely a beast on and off-road. We think it could exceed your expectation, especially off-road.
Overall Rating: 4.8

Attention off-road warriors, you can boost the performance of your Jeep Wrangler with this incredible 35-inch tire from Cooper. The Discoverer STT Pro is one of the all-time best tires we have installed on our Jeep.
One of the reasons why we like this product is because it is a good-looking tire. But it does have some technology in it that's pretty cool. The first thing that we like is the three-two-three inner tread lock pattern that provides less rolling resistance, making the ride quieter. It also has alternating siping on the outer tread blocks for better traction and braking.
We really appreciate the unique stone ejectors that will eject any stones on a rocky trail and the mud release dimples that help push mud out of the treads. We've got very aggressive sidewalls with little ribs that help boost heat dissipation.
The Armor Tek3 construction is quite an impressive feature, which does a good job of reinforcing the strength of the tire in the tread and sidewalls. The stud holes on the tire are also great as they provided the extra grip we needed on ice.
Key Features
All-season off-road traction
Armor Tek3 construction
121 load index rating
Radial construction
Three-two-three tread pattern
Rock climber sidewall technology
Stone armor technology
Heavy-duty stone ejectors
Mud release dimples
Pros
Grips through mud with ease
Has less rolling resistance for a quieter ride
Large shoulder lugs and scoops dig deeper into the trail
Designed to withstand abuse from sharp rocks
Offers excellent trail performance
Cons
It may not offer the best wet traction
May produce bad vibration
Verdict
Although it is not specifically designed for mud terrain, we believe this tire can be a very good investment, considering its excellent dry traction, winter traction, off-road performance, durability.
Overall Rating: 4.8

If you like driving off-road with your Jeep Wrangler but you also need great street performance, then you will appreciate this great model from Nitto.
We like the seamless transition this tire offers from road to off-road terrain. You get the performance of a mud terrain and the life of an all-terrain. We appreciate the tightly packed interior tread pattern that features a combination of z-shaped voids and stepped block siping that do a good job of keeping road noise minimal without sacrificing traction.
The next impressive thing about this tire is the shoulder lugs, which feature an oversized design with staggered exterior texture and stone injectors in the large voids between each lug pair. This gives the tire an excellent bite on off-road low traction conditions, especially when aired down.
We tested this tire on our 2020 Jeep Wrangler and it helped make it the capable vehicle we wanted it to be. The Ridge Grappler was able to pull our Jeep Wrangler through the thick snow. The Jeep did handle everything from mud, loose dirt, rocks, snow, and sand-covered trails.
During our street driving, this tire is nice and quiet with only a hint of noise at higher freeway speeds. This hybrid, however, doesn't have the off-road capability of a troop mud terrain.
Key Features
Radial construction
Speed rating of E
Dual sidewall design
Reinforced block foundation
Stone ejectors
Staggered shoulder lugs
Step block edges
Pros
Provides a smooth and quiet highway ride
Very good at clearing mud and maintaining traction
Has superior rigidity for reducing flex
Stone ejectors do a good job of preventing stone drilling
Offers good traction in off-road terrains
Cons
It is on the expensive side of the hybrid spectrum
The wet traction may not be the most ideal
Verdict
We were more than pleased with this tire because it did everything we asked of it. We think this could be a great option for you.
Overall Rating: 4.8

This tire will give your Jeep Wrangler the much-needed strength to tackle the toughest of terrains. It is uniquely designed to meet your expectations.
This model is a replacement for the previous generation, the KM2. The brand made some big improvements for better performance. The first big change that we have noticed is the main tread block design, which has been modified. The shape and sipping of the tread have been redesigned to allow superior channeling through the mud.
We really like the hook-shaped shoulder blocks that help grip rocks, mud, sand, and any other thing along the trail. The huge evacuation channels are quite impressive and do an excellent job of preventing hydroplaning.
The next great upgrade of the KM3 that we truly like is quieter on-road performance. The core-guard technology improves the strength of the sidewall. We admire the super aggressive shoulder lugs along with the alternating sidewall lugs, which will come in handy off-road when you air down.
On the trail, this tire proved to be a beast during a climb, thanks to its Krawl-TEK compound, which improved the traction of our Jeep Wrangler on a rocky uphill trail. When we aired down a little bit, the tire enveloped rocks for additional grip when climbing.
Key Features
Radial construction
113 load index rating
CoreGuard max technology
Krawl-Tek technology
Mud-Phobic bars
Tread attack design
Speed rating of Q
Pros
This tire is incredibly quiet on-road
The tread is designed to excel in mud terrain
It has good traction for climbing a hilly terrain
Can flex and envelop rocks when aired down
Provides quieter performance on paved surfaces
Cons
The construction isn't the most durable
It may not be the most economical option for some people
Verdict
We think this is a great tire for the money that will give you good performance on and off-road.
Overall Rating: 4.7

In the never-ending quest for off-road traction, most guys have to choose between a hardcore off-road tire and something a little more at home on the street. The Patagonia from Mickey offers the best of both worlds.
We took this tire for a drive with our Jeep Wrangler and the first thing that we really like about it is how silent it is on paved surfaces. The next thing that we like about this model is the performance and durability off-road. The 3-ply construction on the sidewalls improves toughness on rocky uphill terrains. When you air down, the sidewalls flex extremely well to easily climb slippery uphill rocky terrains. It takes on obstacles pretty easily.
The good performance of this tire is mainly attributed to the tread design. We like the combination of the all-terrain style tread at the middle and the more aggressive mud-terrain style tread on the outer. This combination gives it good traction on mud and rock trails.
The enormous siping on the tread makes this tire great for wet and snow traction. This is a softer compound tire, which means you have to rotate it with the other tires more frequently to get the most out of your lifespan.
Key Features
Radial construction
Load index rating of 113
Speed rating of Q
High-void tread design
Staggered tread blocks
3-ply construction
Enormous sipping
Pros
Aggressive biting edges improve traction
Ride incredibly silent on the street or highway
It allows for easy climbing on a slippery rocky terrain
Flexes pretty when maneuvering big obstacles
Lots of sipping provides great wet and snow traction
Cons
Soft compound construction isn't the most durable
It may not perform great on gravel
Verdict
If you are the kind of person who likes climbing rocky uphill trails, then we think this is a great tire for you.
Overall Rating: 4.7
Things to Consider Before Buying
If you are new to off-road driving, the choice for the best 35" tires for Jeep Wrangler can be mind-numbing. Today we are going to break it all down for you.
Types of Off-Road Tires
There are several types of 35-inch tires you can consider for your Jeep Wrangler.
All-Terrain (A/T)
These tires are made to be used both on-road and off-road. These are all-around tires that will work just fine on the street, snow, rain, and light off-road. But they may not perform very well on muddy and rocky terrains.
You basically get reliable traction off-road and a smooth ride on-road. If you like switching between on and off-road surfaces most of the time, then the all-terrain tire is the type you should consider.
Mud-Terrain (M/T)
These off-road are specifically designed for muddy terrains. They have unique design features for self-cleaning.
They usually have large tread blocks with aggressive tread patterns and more voids compared to all-terrain tires. The distinctive pattern offers superior traction in the sand and deep mud. The sidewalls of M/T tires feature great puncture, tear, and abrasion resistance.
These tires are not the most comfortable ones on the road and they are a little bit noisy.
Hybrid Tires (R/T)
These tires provide the best of both worlds. They simply bridge the gap between mud-terrain and all-terrain tires to provide you with a much better performance. Hybrid tires are known to be among the best performers when climbing rocky terrains.
Types of Tread Patterns
The type of tread on your 35" tires has a huge effect on the performance. If you are the kind of driver who likes mud bogging, a good set of tires with an aggressive tread pattern is what you should consider.
A tire with aggressive treads has a larger void ratio (percentage of the total tread block area in comparison to the area of the total tire tread). The downside to having extremely aggressive tread is handling and noise on the road.
Sidewall Design
Another important thing to consider when looking for 35-inch tires for your Jeep Wrangler is the design of the sidewall. When driving on side slopes, in ruts, or on rocks, the sidewall tread must provide a good grip. If the tires show a lack of grip, they can slide sideways off the edge of a rock.
The sidewall should be able to flex to conform to the off-road terrain and to have a design that allows rocks and snow to be easily ejected from the tread pattern. You can achieve the ideal flex if you air down your tires.
Siping
Siping refers to the little grooves or cuts in the tread that helps add more edges for more traction. Siping allows the tire tread to separate slightly, which improves traction on snow and ice. It can also increase lateral grip, depending on the pattern. This helps to hold the tires sideways in ruts, on side slopes, and on rocks.
The Material
Just because they are off-road tires it doesn't mean that they all come with the most durable material.
All-terrain tires usually feature harder rubber compounds compared to mud-terrain tires. So, this means MT tires wear out more quickly. It is usually recommended to rotate the tires to improve their durability.
The harder nature of the all-terrain tire material makes them ideal for hard surfaces. The softer compound of mud-terrain, on the other hand, offers excellent traction on soft surfaces like mud. So, you've got to choose the material based on the terrain you will be driving on.
Related: What makes 35-inch tires different from 33-inch tires? See this comparison of 33 vs 35 tires. Also, check out the difference between 33-inch and 285 tires.
Final Thoughts
Toyo Tires Open Country MT 35" Tire is the winner of this roundup. What makes this tire stand out is its mud-terrain design. It has a softer tread compound, which makes it a great choice for muddy terrains. The aggressive attack tread pattern provides the much-needed traction when you are trying to get off a mud pool.
You don't have to worry about ruts because the scalloped open shoulder blocks will provide all the traction you need to get out of them. Deep sipping, on the other hand, improve wet and snow traction. The tread-wear indicator lets you know when the tire needs changing.