The Jeep Wrangler is one of the best off-road vehicles popular among outdoor enthusiasts who love exploring up-trails and rugged terrains.
If you are a seasoned Jeep Wrangler owner who loves taking your vehicle off-road, you might have experienced some windshield problems. Putting the vehicle through the paces outdoors can subject the windshield to harsh elements and rocks, and the occasional low-hanging branches.
Is it common for Jeep Wrangler windshields to crack? Jeep Wrangler models feature flat and vertical windshields that are susceptible to cracks on impulse from flying rocks and other road debris. It's always best to repair any minor chips or cracks before the damage worsens to necessitate a complete replacement.
For those experiencing a cracked windshield for the first time, you could be wondering – how much is a replacement windshield for Jeep Wrangler? A Jeep Wrangler windshield replacement cost falls within the $200 to $1200 price range, depending on several factors. These include the model, brand, vehicle year, damage location, servicing location, and the type of glass material used.
If your Jeep Wrangler windshield has a crack and you want to replace it, we have covered all the information you need to make the right decision. We have also discussed windshield replacement cost variations and how you can minimize windshield cracks and chips.
Why Do Jeep Wrangler Windshields Need to Be Replaced?
As we mentioned, one of the main reasons is the orientation of the Jeep Wrangler windshield. It's just one of those design issues that owners have to deal with. Another factor contributing to the notorious cracking is the lack of a roof to keep out the sunlight. This often leads to heat buildup and stress on the windshield glass. Rugged terrains and bumpy roads may also cause more stress on the windshield glass and can eventually cause or worsen the existing cracks.
As the owner, you should know when to replace your Wrangler's windshield before it's too late. You wouldn't want your windshield to crack catastrophically while driving. Besides, it's usually illegal to drive around with a severely cracked windshield.
Here are some critical signs to look out for:
The crack is large and deep. If the crack penetrates the outer and inner layers of the laminated windshields, you need to get a replacement. In some instances, you can repair a long crack that's shallow.
There are many chips or cracks. If the cracks or chips on the windshield are more than three, replacement is the only viable option. This is because the cracks may cause lines of weakness that cannot withstand further impact.
You are using tempered glass. A windshield glass comprising a plastic middle layer will often deform badly upon impact. Instead of breaking or shattering into fragments, it breaks into granular pieces. Replacing such a glass is often the only viable option.
The crack/chip is on the driver's side. Windshield repairs often result in residual markings, which can interfere with the driver's vision, especially at night or during rainy/foggy weather. Cracks in such a critical spot call for replacement.
Apart from the cracking and chipping, the other common problems that call for immediate windscreen replacement include fogging in cold weather and adverse leaking due to old sealants. Failing to replace your faulty windscreen increases the safety risks, especially while driving.
How Much Does Replacing the Windshield Cost?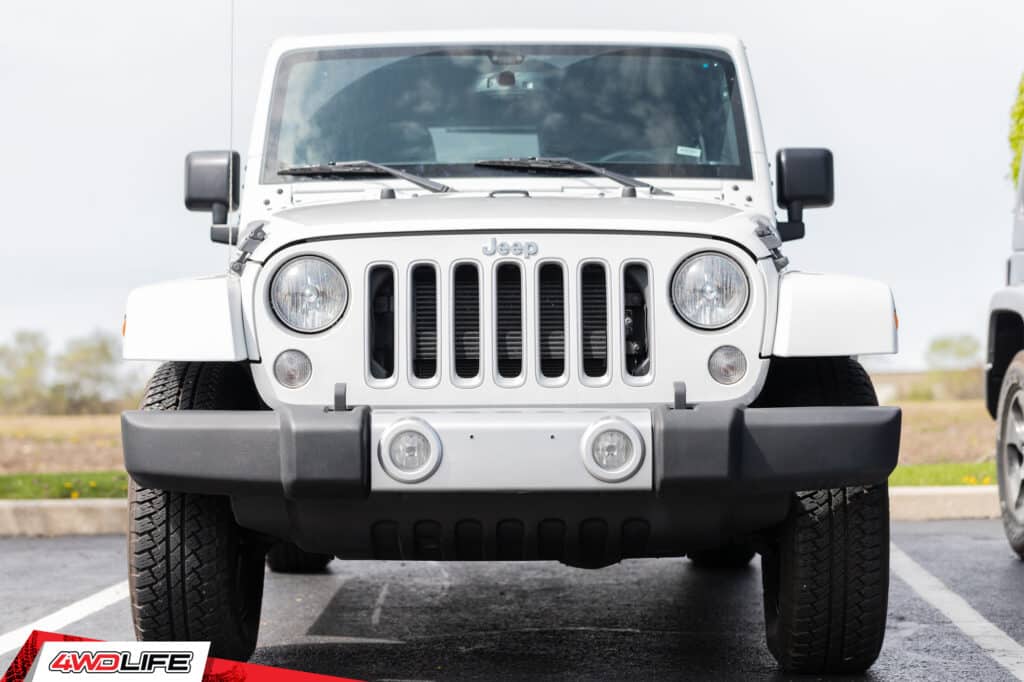 The cost of replacing your Jeep Wrangler's windshield varies depending on specific factors. For instance, if you choose to do the replacement yourself instead of hiring a professional, you can save about a couple of hundred dollars.
Here are the other conditions that determine the cost of replacing your windshield:
The year your vehicle was manufactured. Older Jeep Wrangler models from 1995 to 2010 have relatively cheaper replacement costs than newer models. However, the exact pricing depends on the details, such as the brand, glass coating, and if you are getting a professional repair technician to do the work.
Whether or not your Jeep has some advanced driver assistance system attached to the windshield. The sensors behind your vehicle's windshield are only compatible with specific glass types, i.e., those from particular manufacturers. This may limit your replacement options.
The type of windshield glass. Windshield glass falls into three categories. These are Original Equipment Manufacturer (OEM), Original Equipment Equivalent (OEE), or Aftermarket glass. OEM bears the same features and quality as the original windshield but is expensive. OEE is a cheaper option with acceptable quality. Aftermarket glasses are cut to fit your Jeep, but the quality, features, and cost vary depending on the glass manufacturer.
Another thing to note is whether you are replacing a front or rear windshield. Typically, front windshields are more expensive to replace than rear windshields due to their size and features. You can also go for the used windshields from salvage yards, which could be cheaper, original, and in relatively good condition visually. However, we usually don't advise getting salvage parts unless you have absolutely no choice since you wouldn't know if it had been subjected to impact before and how long it will last.
If your budget allows, you can upgrade to Gorilla Glass, which is a specific brand of strengthened glass. You may be more familiar with their products used on electronics and phone screens. But they do make automotive windshields as well.
How much is a gorilla glass windshield for a Jeep Wrangler? The price ranges from around $750 to $950, depending on where you shop. To find out how much it costs to replace a windshield in your area, you should do proper research and check customer reviews from reputed third-party sites.
How Are Windshields Replaced?
Jeep windshield replacement is not difficult if you have the necessary skills, tools, and experience. However, if you are new to windshield replacement, it is a good idea to seek help from a veteran DIY enthusiast or a licensed car repair professional so they can guide you properly.
So how long does it take to replace a Jeep Windshield? It depends on who handles the replacement procedure, but the typical duration is one hour.
Here's a step-by-step windshield replacement procedure:
Protect your car's dashboard or other parts of the car interiors before removing the windshield. Proceed to remove the wipers and set them aside.
Remove the cracked windshield carefully and dispose of them properly. This involves removing plastic moldings around the windshields, separating the windscreen from the pinch-weld, and cutting the urethane.
Prepare the pinch-weld by cleaning away any dust and rust, trimming excess urethane, and priming any bare metal.
Apply urethane primer to the window socket and windshield and let it dry.
Using a primer gun, apply urethane uniformly and quickly throughout the frame to ensure it doesn't dry.
Carefully install the new windshield and push it gently into place while wiping off the excess urethane.
Allow the sealant to dry naturally for about an hour before driving your vehicle.
Is Windshield Replacement the Only Option?
For windshields with minor dings or cracks, you can opt to repair them instead. This often involves cleaning the spot and applying resin to fill the crack. A special mold and applicator is used to force the resin into the cracks. After the resin dries, it will be leveled and buffed. There are also DIY kits available for this.
Other windshield issues also exist, which may need professional intervention. For instance, a scratched windshield glass can obstruct vision and may distract you while driving. The other windshield issues are fogging leaks and problems resulting from poor installation. You should seek professional help to ensure these issues are well addressed.
Always Put Safety First
Windshield chips, cracks, and dings shouldn't be ignored. They can result in larger cracks that can compromise your entire windshield. If the problem is really bad, consider replacing your Jeep Wrangler's windshield.
It is possible to replace your windshield yourself. You wouldn't want to be a cheapskate if it's your safety that's on the line. If you are not confident with the exercise, it's best to always look for a reputable windshield repair professional, especially those who have experience with Jeep automobiles. Quality services don't necessarily have to be costly.