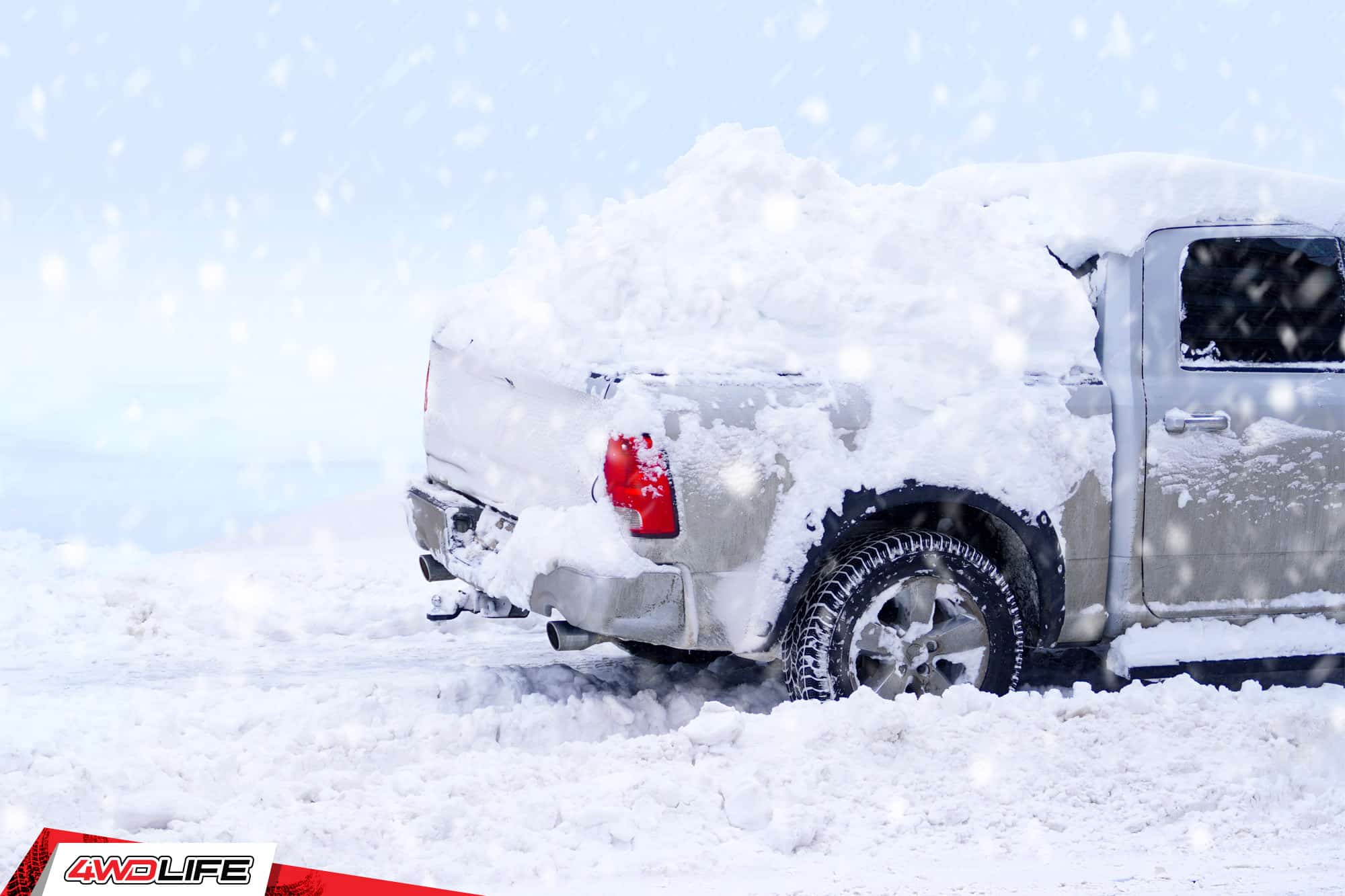 For years pickup trucks have been associated with the ability to power through winter weather and handle snow – making them the preferred option for icy conditions. Modern pickup truck designs include fancy additions like a heated steering wheel, heated seats hill descent control, and a solid build quality that improves every year.
Currently, several automakers have designed pickup trucks that are suited for deep snow, with a high ground clearance, four wheel drive, and compatible with upgraded winter tires with built-in studs. In this article, we'll highlight the best trucks for snow and ice, and explain what makes a truck efficient for snowy conditions.
Are Pickup Trucks Good In Snow?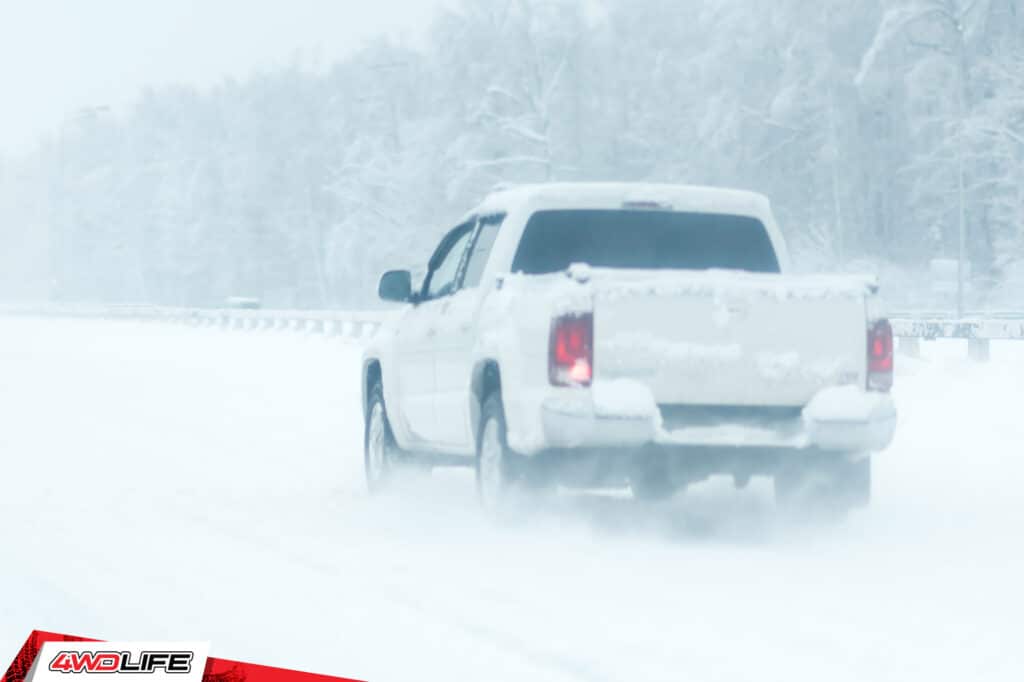 Are pickups good in snow? The efficiency of pickup trucks in snow sometimes gives drivers a misguided sense of security, and the assumption that all trucks are efficient in winter weather. But that's not the case. It totally depends on the type of truck, and what type of features are available. For example, a light duty truck that lacks four wheel drive may not do well in the snow at all.
This doesn't mean trucks without four wheel drive are completely incapable of driving in snow and ice. A FWD truck can potentially handle light to moderate snowy conditions. But in heavy snow, you'll probably want something with all wheel drive. The problem is, most 2WD trucks are RWD, so you'll want to go with a 4WD version 99% of the time.
Two or three decades ago, trucks were usually the go-to option for driving in the snow. However, more recent releases that have the best features for hazardous conditions, including better response time and more advanced all wheel drive options, have proven to handle just as well in snow and ice.
Large and mid-size SUVs, and even mid-size and some compact crossovers are becoming more attractive to those who live in areas partial to snow and ice. That said, the best trucks are still more capable of holding their own – with the right features. What makes a good truck for wintry conditions? And what's the best pickup truck for snow plowing?
Features to Look for in a Pickup for Driving on Snow
The best trucks for winter have several features that put them in the winter-ready category. Most of these features – like four and all wheel drive – come stock from the factory. However, there are some modifications or installations you can make that prepare a truck for winter even more.
If you're looking for the best truck for slushy conditions, you'll want to be mindful of the following:
Drivetrain
Power going to all the wheels. A 4WD or AWD is a must – and come standard – with the best trucks for hazardous roads. A 4WD distributes power equally to every wheel, while the AWD can distribute power based on which side of the vehicle needs it most.
Height or Ground Clearance
You want a truck that's got a decent amount of height. If conditions on the road get dicey, even if road crews scrape the pavement – snow can pile in the middle of the road and cause what's known as "high burn." This is when snow piles in the middle of the road or between lanes, often going high enough to touch the undercarriage of a car. This can cause vehicles to get stuck, and even lift a wheel or two off the road so they're completely immobile.
Wider Base and Weight Distribution
A wider, solid base is preferred. The wider the base is, the more stability you'll get, making the truck easier to handle and turn. Cars with a more narrow build are more susceptible to spinning, and even rolling over. This also makes for better weight distribution, which is important driving in inclement weather.
Transmission
It's not mandatory, but a manual transmission can help if you're efficient at driving one. With a manual, you can control your velocity more, shifting down to low speeds instead of using your brakes. It's best to stay in 2nd gear, as 1st gear may cause wheel slippage. Ultimately, you'll have better traction and control.
Tires
Adding studded winter tires is one of your best options if it's in the budget. Your pickup truck's snow tires can make a significant difference when you're driving in the elements.
Driver Assist Systems
Driver assist packages are also great if you can secure a truck that has one. The best models have features that give you more control driving down hills, and better traction control with less sliding.
Best Pickup Truck Models for Snow
These are the top three models for driving in hazardous winter weather.
1 – Toyota Tundra
The Tundra is a best seller from Toyota. It's long been considered among the elite pickup options with each new model year. Potentially one of the most capable pickups when it's snowy, the Toyota Tundra actually underwent an overhaul for the new 2023 model year. After 14 years straight of contending with the same engine and performance package, Tundra enthusiasts were introduced to a new motor – which actually stunned long-time fans.
This year's Toyota Tundra is the only full-size pickup that doesn't have a V8 engine option. This is the first time the Tundra has ever gone without a V8, making it new territory for the oversized Toyota truck. However, while more efficient, the engine still delivers plenty of power thanks to the twin-turbo system.
Engine: 3.5L Twin-Turbo V6
Horsepower: 389 HP
Torque: 479 lb-ft
Drivetrain: FWD Standard, Optional 4WD
Weight
The Toyota Tundra is a popular pick in the snow for several reasons. The 4WD is preferred for obvious reasons. In addition, the weight of the Tundra provides a significant advantage for drivers attempting to navigate the snow. The more weight – assuming it's evenly distributed, the more a truck is able to grip, providing more traction.
TCS
Traction Control System (TCS), otherwise known as Vehicle Stability Control, is another helpful function on these Toyota pickups. When you're driving in the snow, the Tundra applies brakes to every wheel, sending power to the tire with the most traction at the time. This helps the Tundra to consistently remain in control when the truck reaches its handling limits.
Brake Assist Technology
The brake force is automatically boosted when you press the pedal during a snowstorm. It's estimated these shave off about 30% of stopping time in bad weather.
2 – Ford F-150
The Ford F-150 is a staple American truck, and one of the most popular models in history. With this Ford model, drivers have multiple options for different trims, some better in the snow than others. Over the years the F150 has seen various configuration changes, including multiple engines and transmission pairings. Let's look at the latest F150 specs.
Engine: 3.3L V6 with Available 5.0L V8
Horsepower: 290 lb-ft or 400 lb-ft
Torque: 265 lb-ft or 410 lb-ft
Drivetrain: RWD with available 4WD
So what gives the F-150 its ability to navigate snowy terrain?
ESC
Electronic Stability control sensors constantly monitor the movement of the wheels. If the sensors detect that the wheels are spinning at a high level (like when you're stuck or sliding), the ESC system snaps the brakes down on each wheel. In some cases, the engine brake is also applied to cut power to the wheels.
TCS
TCS reduces the speed by using the engine brake to reduce power sent to the wheel that's spinning.
Brake Assist/ABS/EDS
The brake assist system maximizes the pressure on the brake pedal when you push the pedal. It decreases your stopping time. ABS is your anti-lock brake system, which stops your brakes from locking. The electronic brake force distribution (EBD), which ensures proportionate brake pressure to each wheel.
3 – GMC Sierra/Chevrolet Silverado
The Chevy Silverado/GMC Sierra (they're basically rebadged versions of the same vehicle) has historically been a workhorse and a go-to in snow and other inclement weather. This versatile truck has a high usability factor, and is one of the most efficient on the market for a variety of tasks. Even the engine configuration options for the current model year gives drivers four powerful choices. Let's look at the standard specs.
Engine: 2.7-liter Turbo V6
Horsepower: 310 hp
Torque: 342 lb-ft
Drivetrain: RWD or 4WD
The Silverado also has two different V8 motors and a 6-cylinder diesel option. So what gives the Silverado/Sierra its stripes in the snow?
Weight
This GM model's weight is distributed evenly, and there's plenty of it. These hefty trucks are weighted down in the snow, giving you more traction.
Height
Silverado trucks have plenty of height to drive over the snow and avoid high burn. It's one of the taller trucks on the market.
Torque and HP
The generous amount of torque and horsepower give these trucks plenty of power to maintain a solid grip and plow through the snow. If you have the equipment, the Silverado may also be one of the best pickup trucks for plowing snow.
Tips for Driving In the Snow
Steer Into a Slide. If you begin sliding, don't make the mistake of steering out of it. Try and steer into the slide to avoid overcorrecting and spinning out of control.
Use Thicker Areas of Snow to Your Advantage. At stop lights and stop signs, snow typically piles up in higher amounts because of plow trucks and cars pushing it as they stop. Use thicker, deeper areas to help you stop sooner.
Anticipate. Anticipate your next move ahead of time. Pay attention to what the rest of traffic is doing and your next turn or stop, and give yourself plenty of time to brake.
Does the Truck Still Reign Supreme?
In an automotive market where drivers have become obsessed with crossovers, more people are turning toward mid-size and compacts for driving in the snow. However, the best pickup truck for snow still outpowers even the most efficient crossover, giving you the advantage when you're driving in nasty winter weather.