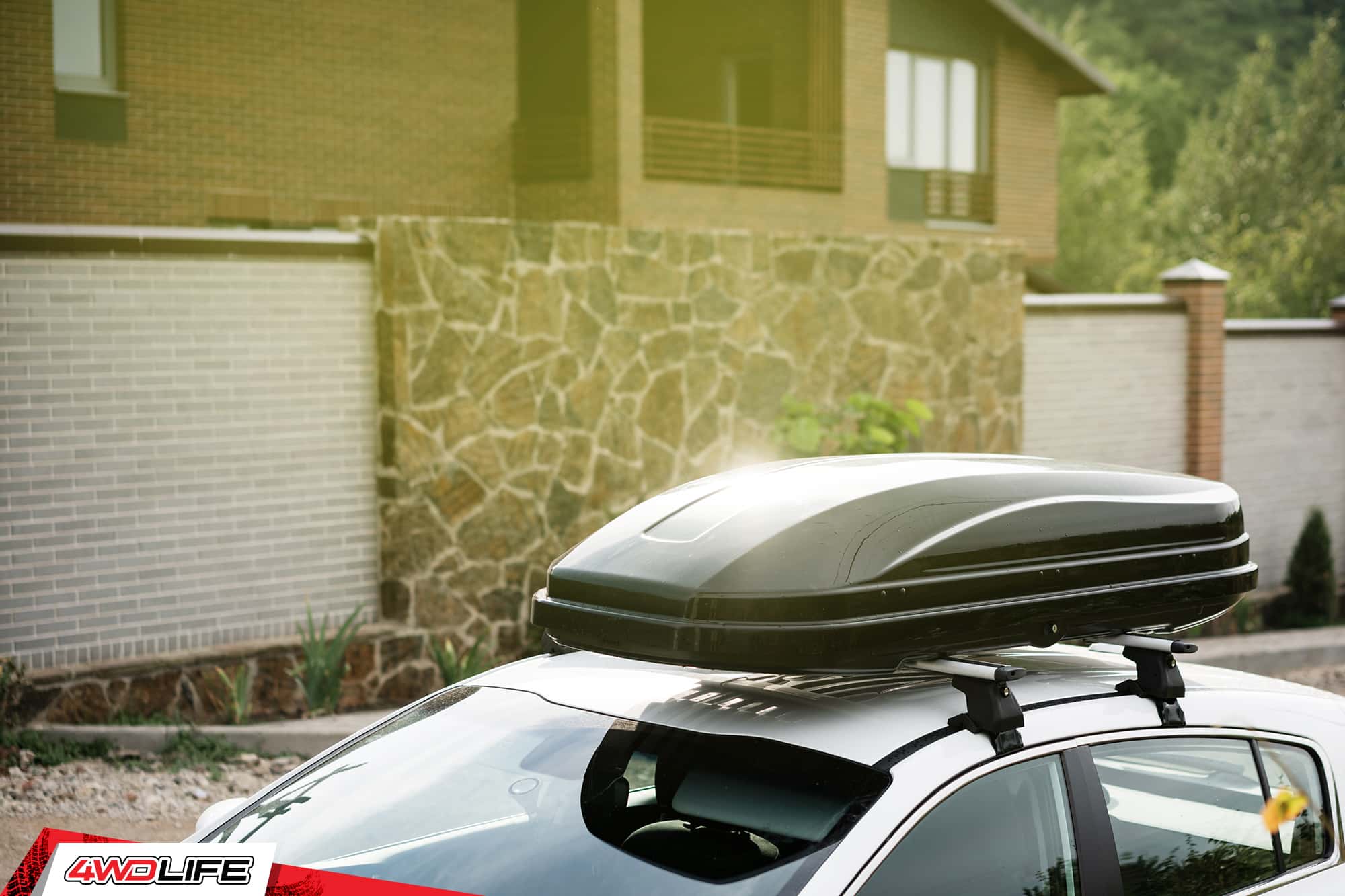 So, you have a good-size 4×4 SUV, but you may be thinking that adding a cargo box on the rooftop will go a long way. Well, you're spot on!
A cargo box will help you carry more, and more importantly, will help you better organize what you're packing for your trip. Rooftop cargo carriers come in a wide range of sizes and designs to accommodate your luggage and gear, including fishing reels and even skis or surfboards. 
Many models are designed by top brands, such as Yakima and Thule, so we understand if you get stuck when deciding which is the best rooftop cargo box. To help you out, we went out and picked the leading rooftop cargo boxes, and reviewed them. 
Keep reading to learn more about them and find out the best rooftop cargo box for your car. 
Top Pick: Thule Pulse Rooftop Cargo Box, Medium is my favorite. The rooftop cargo box comes with awesome features that make installation easy. Plus, its safety and durability are unrivaled. It is the best you can find in the market.
Top 6 Best Rooftop Cargo Box for You
1. Thule Pulse Rooftop Cargo Box, Medium —First choice
Since it's built with rugged ABS thermoplastic material, you can expect the Thule Pulse rooftop cargo box to sport top-notch style and functionality. That's why it grabs the first position on our list. 
We love the additional 14 cubic feet of packing space it provides. This means you can fit in an assortment of items, from camping gear to skiing equipment. The design should also make it a perfect pick for you because it works with most cars. 
One unique feature of this Thule Pulse Rooftop Cargo Box is its easy passenger-side opening model. This makes it easy to load and unload your items. 
The designer also did an awesome job when it comes to safety. That is, the box comes with a central locking system, which features a locking key that can only be removed when all other locking points are securely closed. 
Installing the Thule Pulse Roof Box is also pretty easy because it is attached to the roof racks using Easy-Grip knobs along the raised grooves. The tool-free mounting further makes it easy for you to install the rack. It will take you less than five minutes to install this rooftop box correctly. 
Specs 
Material: Plastic 
Dimensions: 67 x 35 x 16 inches
Load capacity: 110 pounds 
Pros
High-quality materials
Fits multiple snowboards/skis
One-handled operations 
FastGrip makes mounting easy 
Durable
Cons 
Won't fit very long items 
Only available in one color 
2. YAKIMA – SkyBox Aerodynamic Rooftop Cargo Box—Runner-Up

Coming close to our first choice is the YAKIMA – SkyBox Aerodynamic Rooftop Cargo Box, another popular rooftop box designed for wagons and SUVs. The rooftop box is made to withstand the rigors of the road when hauling large cargo of up to 16 cubic feet. Therefore, whether you are planning to go off fishing or camping, this rooftop cargo box will give you more space to bring more friends with you. 
If a rooftop cargo carrier is installed, it's important that it does not cause a lot of air resistance to slow down the vehicle. Well, YAKIMA engineers put a lot of thought into this, and that's why this cargo box features an aerodynamic design. 
Although it is true that you will be adding some weight on the rooftop, which can raise the center of gravity, we found the ride very smooth with our cargo up inside the rooftop box. 
You will also love the unique SuperLatch security. The system ensures the lid is firmly secured to the rooftop base and will not come out easily, even when running at top speed. Again, the cargo box fits all types of racks, from round to factory and square bars. On top of that, the cargo box also comes in an attractive design. 
Specs 
Dimensions: 94 x 29 x 18 inches
Material: Carbonite 
Box Weight: 54 lbs 
Pros
Comes in a wide range of sizes for different cars 
Tool-less mounting 
Versatile design 
Durable 
Attractive design
Cons 
The turn handle requires a lot of force to open 
Expensive 
3. SportRack Vista XL Rear Opening Cargo Box

The next one on our list of the leading rooftop cargo boxes is the SportRack Vista XL Rear Opening Cargo Box, a highly rated model that does not disappoint. It is an 18-cubic-foot cargo carrier designed for strength and high versatility. 
It is pretty easy to install and works well with most types of racks. We can say that whether you are headed for a short vacation or simply want to expand the carrying capacity of the car, this box will not disappoint. 
When you attach a cargo box on the rooftop, it means it will be exposed to more UV radiation compared to other parts, such as the trunk and inner upholstery. After so much exposure, UV radiation can damage the box, resulting in rapid fading and depreciation. However, this is something you need not worry about because the SportRack Vista XL Rear Opening Cargo Box is made with UV-resistant ABS material.
This cargo carrier deviates from the common passenger-side opening design. Instead, it opens from the rear, which is impressive, especially if you need to access the box in traffic. So, whether you packed on the street or just got a flat tire, opening from the rear means you are safer from the traffic. You cannot be too careful when it comes to safety on the road! 
Specs 
Dimensions: 63 x 38 x 19 inches 
Load capacity: 100 pounds 
Material: UV-resistant ABS material
Pros 
Durable 
Easy installation 
Waterproof storage 
Integrated lock for better security 
Cons 
May be a bit pricey for some 
4. YAKIMA – RocketBox Pro, Multi-sport Rooftop Cargo Box, 11

Another YAKIMA box makes it to our list. The RocketBox Pro Multi-sport Rooftop Cargo Box, 11 is a highly rated rooftop box made to fit a wide range of cargo. We found it an excellent pick, especially when targeting longer loads, such as snowboards and skis. 
If you are a pro-green economy fanatic like us, you will also love this cargo box because it is made with 80% recycled material. That's an awesome way to extend the use of materials to protect the planet.
The most notable thing about the YAKIMA – RocketBox Pro is its aerodynamic design. This design helps reduce drag with the forward-mounting hardware for improved hatch clearance. With its construction, we found the cargo box an excellent pick for small cars like saloons and hatchbacks. 
We also found the dual-side opening and push-button security very innovative. The opening makes it easy to access the box on either side of the car and the lid secure. In addition, the box works with integrated push-button security and SKS Locks to keep it firmly secured to the base. 
Specs 
Dimensions: 89.5 x 25 x 16 inches
Weight of the box: 48.8 lbs 
Material: ABS Injection-molded plastic  
Pros 
Available in different sizes 
Cons
The aerodynamic design is not very effective in reducing drag 
5. INNO Ridge Cargo Box
If you have a small car, one of the questions lingering in your mind might be, "what is the best cargo box to pick?" Well, the INNO Ridge Cargo Box is something you could consider. 
This box is designed by INNO, a Japanese brand that has made a name for its relentless focus on quality in all its products. Despite its compact size, the cargo box is designed with high-quality material. 
What caught our attention when we first acquired this rooftop box was its sturdy construction. Apart from its firm design, the surface is made of three layers that make the box strong and water-resistant. We also liked the way it closes to form an airtight chamber for carrying your cargo. 
Although small, the box has a nice construction and an aerodynamic design, which makes the car travel without making unnecessary noise or drag. When installed properly, you might not even realize any difference in drag between driving the car with the rack and without it. 
Specs
Dimensions: 138.43 x 72.39 x 35.56 cm
Box weight: 20 lbs
Material: Hardened plastic 
Pros 
Affordable 
Easy to install 
Aerodynamic design 
Water and dustproof 
Durable 
Cons 
Designed for small cars only
Will not support long cargo 
6. Waterproof Heavy-Duty Hard Shell Roof Top Mount Car Storage Travel Luggage Box

One of the concerns that you might have about your car is security, and that is why every door comes with a key. Because the rooftop cargo box is another chamber for carrying personal items, it should have the same high-level security as the car. 
The strong focus on security is one of the reasons this Waterproof Heavy Duty Hard Shell Roof Top Box from Auto Dynasty has become the go-to option for people heading out for holidays. 
The design of the rooftop cargo box allows it to distribute the weight so that your car does not become unstable. Once installed, you can carry up to 110 pounds. Remember to ensure that the installation is done well on the roof racks for optimal performance and durability. 
Another useful attribute of the box is that it is impact-resistant. Therefore, unlike other boxes on the market that can only protect your items from rain, the Waterproof Heavy Duty Hard Shell Roof Top storage box provides protection against rain, ice, dirt, snow, and freezing temperatures. 
Specs 
Cargo box weight: 39 lbs 
Dimensions: 54 x 34 x 15 inches
Opening: Opens to 14 inches 
Capacity: Can carry up to 110 lbs
Pros 
Cons 
7. Thule SideKick Rooftop Cargo Box

The last rooftop cargo box to make our list is this Thule SideKick box. This one's a top-rated model that you can count on for enhanced versatility and durability. 
Thule wanted to make a unique piece that car owners could use in all types of weather, and they did not disappoint. It is particularly feature-rich as well as easy to install and use. Let's look at some of the features. 
The most notable of these features is the sturdy connection design. You will agree with us that boxes that simply clip into the rack can easily become loose with time, raising the risk of it falling off or causing accidents. However, this cargo box uses sturdy U-bolts with reinforcement plates to provide a secure fit to the rack. This implies that once installed, the cargo box will firmly remain in place unless you remove it. The maintenance of the box is also pretty easy. 
Specs 
Dimensions: 54 x 25 x 15.5 inches 
Box load capacity: 75 lbs
Pros 
Space-saving design for easy loading and unloading 
Works with most types of roof racks
Installation is easy and fast
Cons 
low weight carrying capacity
Best Rooftop Cargo Box: Buying Guide
Now that we have looked at the best rooftop cargo box options on the market, have you identified the best option? If not, this guide is for you. 
Check out the main types of cargo boxes and the things that you need to factor in to narrow down your search.
The Main Types of Rooftop Cargo Boxes
There are tons of designs and styles to suit different needs. Although most of them are likely to work well on any vehicle type, the top consideration is understanding the best option for your car. For obvious reasons, a longer cargo box will not be the best pick for you if you're driving a small car.
So, here are some of the common model types that you should consider: 
Longer cargo boxes: These boxes are designed to fit longer items, such as snowboards and skis
Shorter cargo boxes: Unlike the longer cargo boxes, the shorter models won't fit skis but will comfortably take camping or road-tripping gear
Waterproof cargo boxes: This category of cargo boxes means that once closed, the items inside will not get wet in case of unexpected showers.
Passenger-side opening rooftop cargo box: After installation, these rooftop cargo boxes only open and can be accessed from the passenger side. Based on the design of the opening, you will also get dual-side opening models and real-side opening designs. 
Things to Consider When Selecting a Rooftop Cargo Box
When selecting a rooftop cargo box, it is important to note that it will require a roof rack with crossbars for installation. Indeed, most cargo boxes come complete with mounting hardware, but it is important to confirm before placing an order. 
The right rooftop cargo box is the model designed to work with all types of racks, from aerodynamic to square and round types. Other considerations include: 
Dimensions 
The dimensions of the rooftop cargo box are very important because they determine what you can carry. So, start by thinking about the items that you will want to pack more often. For example, if you regularly go out camping, a cargo box that will take the bulk of the camping gear, including your tent, portable stove, pots, and pans, will be an excellent find. 
The best approach when it comes to dimensions is to think about the size of the largest load that you will need to carry with the box.
Features 
Like any other car accessory, you should go for the rooftop cargo box model rich in features that improve functionality and ease of use. 
Let's highlight the three most important features: 
Rooftop cargo box opening: Look for the box that makes it easy to open and close. Common opening designs include passenger-side, real-side, and dual-sides opening models.
Aerodynamic design: This has a lot to do with the shape of the box, and it should be a top consideration if you don't want issues related to drag and noise while driving. 
Styling: Although this is a very personal consideration, it is a good idea to look for a rooftop cargo box that matches the car's color and texture. 
Waterproofing
The last thing that you want is an unexpected rainshower drenching all your stuff in the cargo box. Even if you think you'll use the cargo box only when the weather forecast says that there will be no rain, there's really no guarantee, right? 
Other Features
These features above are the main ones that you need to check, but there are other items that you should check. You should also think of installation, cost, anti-theft protection, and warranty. It will also be an excellent idea to buy the boxes from top brands for quality assurance. 
Final Thoughts
To extend the carrying space of your car, we've highlighted some of the top rooftop cargo box options that you should consider. The boxes have varying designs, so you should pick based on personal needs, car type, safety, and strength. 
The models we have highlighted above are also made by the top brands on the market, from Thule to YAKIMA, and you can count on them for top quality and high value for money. 
Although we stand by the seven rooftop cargo boxes reviewed on this post, we think the Thule Pulse Rooftop Cargo Box, Medium is the best one. Apart from being strong and durable, the rooftop box boasts top-of-the-range features that you would want to see in a premium rooftop cargo box.