What tires you put on your truck will ultimately affect its off-road performance. Two of the biggest names in the truck tire game right now are BF Goodrich and Goodyear. Both have their all-terrain tire offerings in the BF Goodrich KO2 and the Goodyear Wrangler DuraTrac. No matter the season or road condition, you can be sure these tires for off roading are ready for whatever you put them through. But in this head-to-head of the DuraTrac vs KO2, we're finding out which one is the best.
KO2 vs Duratrac Comparison Table
Here is a comparison table containing the information you need to know about the Goodyear Wrangler DuraTrac vs BF Goodrich KO2 match up. It includes both all-terrain tires' specifications and features.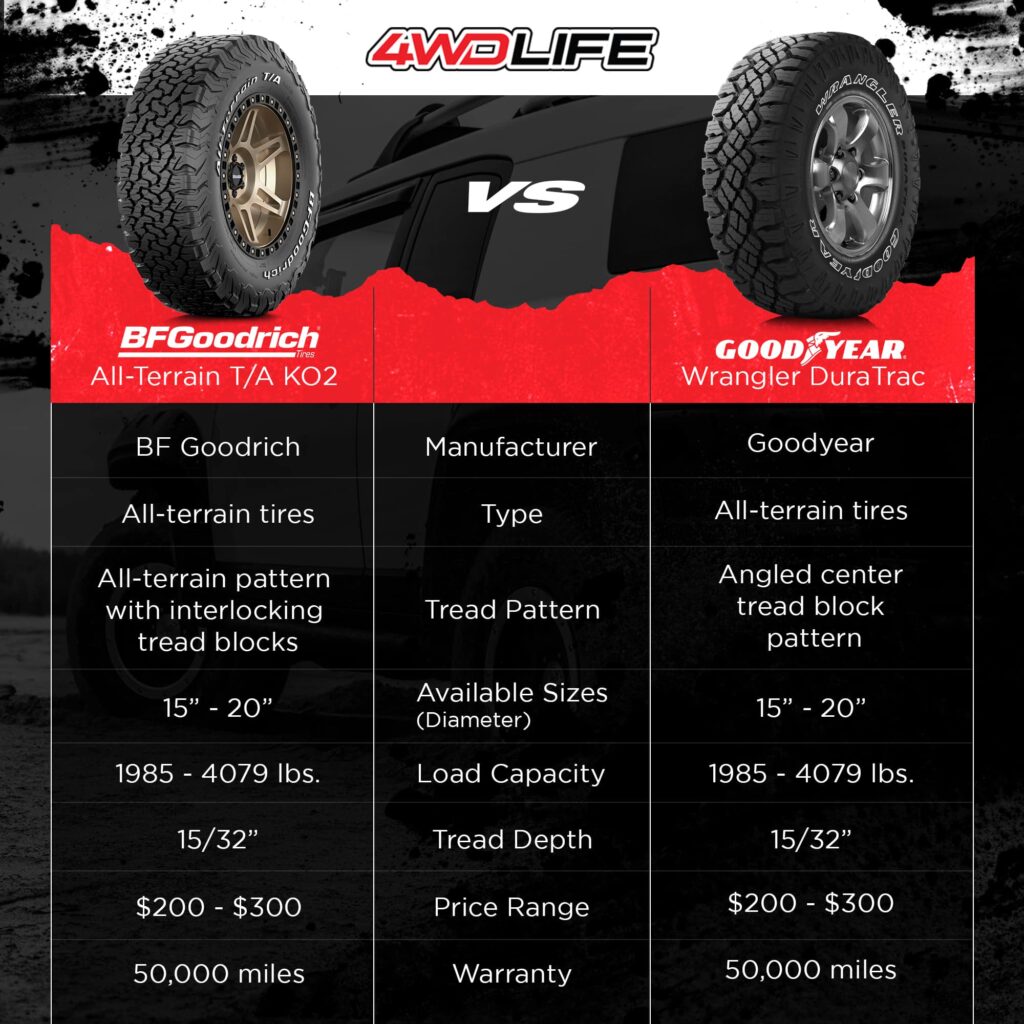 Manufacturer
Most truck and SUV owners might be familiar with BF Goodrich and Goodyear Tires. They're two of the biggest brands in truck tires and commercial tire production.
BF Goodrich has been around since 1870, beginning as one of the very first rubber tire manufacturers in the US. The company has made a name for itself producing off-road tires for professional use since the early 1970s. With decades of off-road tire manufacture experience under its belt, BF Goodrich continues to produce dependable tuck tires.
Meanwhile, Goodyear got its start nearly three decades later than BF Goodrich, yet it has managed to become a bigger name worldwide. While it is known primarily for its on-road performance tires, the company also offers a wide lineup of all-terrain tires for light trucks and SUVs.
As both brands currently manufacture some of the most popular all-terrain tires in the market today, neither one gets the edge. It's a tie for the first DuraTrac vs KO2 category.
Winner: Draw
Available Tire Sizes
Both the BF Goodrich KO2 and Goodyear Wrangler DuraTrac come in a range of all-terrain tire sizes. BF Goodrich sells the KO2 in off-road tire sizes ranging from 15″ to 20″ diameters. Goodyear has similar offerings ranging from 15″ to 20″ diameters.
The two products offer mostly identical rim size selections. Goodyear does offer an overall wider range of variants for width and height, especially for light trucks. Truck and SUV owners should have little problem finding a size that fits their particular make and model.
Winner: Goodyear Wrangler DuraTrac
Tread Pattern and Depth
When it comes to tread pattern and depth, most all-terrain tires will offer you better grip and deep grooves for handling off-road conditions. However, the BF Goodrich KO2 and Goodyear Wrangler DuraTrac feature some of the best specs in the market for off-roading.
With the BF Goodrich KO2 tires, you get a distinct tread design with extended sidewall durability. The all-terrain tires feature large, interlocking tread blocks with a serrated sidewall design that allows for powerful biting force during all-terrain driving.
The Goodyear Wrangler DuraTrac tires don't fall behind. These come with deep, aggressive-looking tread blocks with large sidewall sections and smaller interior tread sections. The deep treads can handle uneven surfaces and rocky roads without a hitch.
Both options can give durable tire performance for off-road driving. The BF Goodrich KO2 has a superior tread design while the Goodyear DuraTrac tires promise a better tread life, so this round of DuraTrac vs KO2 ends in a draw.
Winner: Draw
Traction Capability
When buying off-road tires, traction undoubtedly comes as one of the biggest considerations. You need something that can give you a firm grip no matter the surface you're driving on.
In that regard, the BF Goodrich KO2 tires give you better traction and ample cornering stability. Whether it's on dirt roads or muddy tracks, these tires will inspire confidence.
The Goodyear Wrangler DuraTrac tires offer similar traction performance as the KO2. It will perform admirably in most off-road conditions, but the tread design makes it slightly inferior in some areas. That said, you won't experience significant traction loss during regular all-terrain driving.
As we'll explore in the next section, the BF Goodrich KO2 tires provide a superior on-road performance. In terms of traction capability, that puts it ahead of the Goodyear DuraTrac.
Winner: BF Goodrich KO2
On-Road Performance
If you're getting all-terrain tires, you're likely driving on roads as much as you are off of them. As such, these tires must perform well on paved roads, wet pavements, and icy surfaces during winter conditions. You want to look for a smooth ride that most tires just can't match.
Wet Roads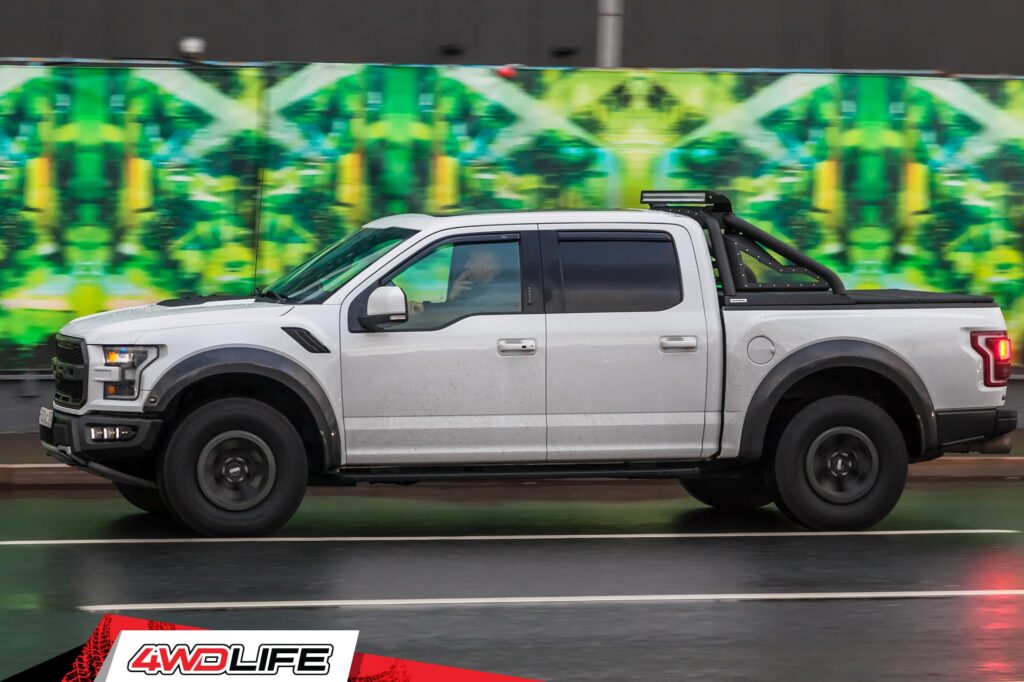 You'll have no problems driving on wet roads with either the BF Goodrich KO2 or Goodyear Wrangler DuraTrac. However, BF Goodrich's tread compound construction features a better contact patch. This means more of the tire tread will be touching the ground when driving on wet surfaces.
That's not to say the Goodyear DuraTrac doesn't feature great wet performance, as it's still a reliable all-terrain tire. So the DuraTrac vs KO2 pulls ahead slightly with better traction for wet road conditions.
Winner: BF Goodrich KO2
Icy Roads
Heated tires can be a problem when driving on snowy or icy surfaces. Look closely at the BF Goodrich KO2 tire and you'll find the 3-Peak Mountain Snowflake (3PMSF) symbol. This means that the tire offers improved performance compared to other all-weather tires. Whether it's light snow or extreme winter conditions, the KO2's innovative 3d sipes technology makes driving on icy surfaces a breeze.
Of course, the Goodyear DuraTrac is no slouch in light snow or deep snow conditions. The deep treads will give you good control and snow performance. But the KO2 simply has it beat in terms of frozen road traction and sheer winter performance.
Winner: BF Goodrich KO2
Paved Roads
Most tires get much of their action on paved roads. So, a good all-terrain tire must also work well on city streets and highways. You'll find the BF Goodrich KO2 and Goodyear Wrangler DuraTrac offer comparable performance on the tarmac.
While both will return considerable road noise due to their respective tread patterns, neither one rides inferior to the other. You can expect good grip and cornering stability whichever one you pick between the DuraTrac vs KO2 tires.
Winner: Draw
Off-Road Performance
Buying all-terrain tires means looking for something that can handle anything you throw at it. That includes off-road driving through rocks, muddy areas, and sandy locations.
Rocks
When driving off-road, you'll likely encounter a fair amount of rocky areas. Gravel, or loose stones, can take a toll on ordinary tires. The BF Goodrich KO2 and Goodyear Wrangler DuraTrac each have features that make them especially capable of rock crawling.
BF Goodrich equipped the KO2 tire with a serrated shoulder design for improved off-road traction. Combined with an upper shoulder sidewall armor, the KO2 gives you durable clawing action for aired-down off-road driving.
Meanwhile, Goodyear designed its DuraTrac tires to withstand driving through rocks for extended periods. Apart from a long tread life, the Goodyear DuraTrac doesn't have the same special features as the BF Goodrich tires.
Winner: BF Goodrich KO2
Mud
You need tires with good gripping power for driving on muddy roads. This type of road condition calls for tires that won't lose traction on soft terrains. Both the BF Goodrich KO2 and Goodyear DuraTrac do the job, but one is a better tire than the other.
The KO2 comes with specialized raised bars or mud buster bars. This feature helps the tires eject trapped mud while improving traction in soft soil. That makes it a better choice than the DuraTrac as pure mud tires.
The DuraTrac tires don't particularly do badly with muddy tracks. However, it doesn't come with special features to help it better compete with the KO2.
Winner: BF Goodrich KO2
Sand
Sand is where the Goodyear Wrangler DuraTrac tire gains its footing. It features a wider design than the BF Goodrich KO2, making it especially suited for sandy terrain.
Goodyear packed the DuraTrac with 'TractiveGroove' technology. This feature gives the tires an enhanced gripping ability for off-road driving. It's also what helps the tires keep a good traction capability with age.
Conversely, the KO2 lacks a similar feature to keep it from negotiating sandy tracks effectively. It's still a stellar pick, but the DuraTrac gets the better of it this time.
Winner: Goodyear Wrangler DuraTrac
Treadwear and Warranty Coverage
The best all-terrain tires can last you for many years and thousands of miles. Typically, the BF Goodrich KO2 tires will last you up to 50,000 miles. The manufacturer guarantees the tread life only up to this mileage.
With the Goodyear Wrangler DuraTrac, the mileage rating stands at 50,000 miles. This figure represents the warranty period for the tires. Both manufacturers produce solid products that tend to have a longer tread life than the rest of the tires out there.
Due to the similar long-lasting natures of both tires, there's no one clear winner here. Besides, tires are conventionally changed after six years from manufacture date for safety reasons. If you put your truck through its paces, you're likely to replace them within this period.
Winner: Draw
Price Range
Tire prices vary depending on the variant and size. The BF Goodrich KO2 and Goodyear DuraTrac both retail around $200 to nearly $300 per tire depending on the actual variant. Since both products have a similar price range, the cost might not be a major factor when choosing between the two. Deciding based on specs and performance could serve as the better option.
Winner: Draw
And The Winner Is: BF Goodrich KO2
From everything we've learned in comparing the DuraTrac vs KO2 tires, we can confidently say that the BF Goodrich KO2 tires offers the best value and performance. It beats the DuraTrac in terms of traction capability as well as on-road and off-road performance.
Now, are Goodyear Wrangler DuraTrac tires good? Well, yes. Our choice doesn't mean that it isn't, nor does it mean that the BF Goodrich KO2 doesn't have its faults. It's still a solid choice for off-road tires especially if it's the one that's available when you need it. It is available in a wide range of sizes and can hold its own against the KO2 for all-terrain driving.
The KO2, however, edges it in almost all our factors, making it our choice when buying tires in this all-terrain tire shootout.