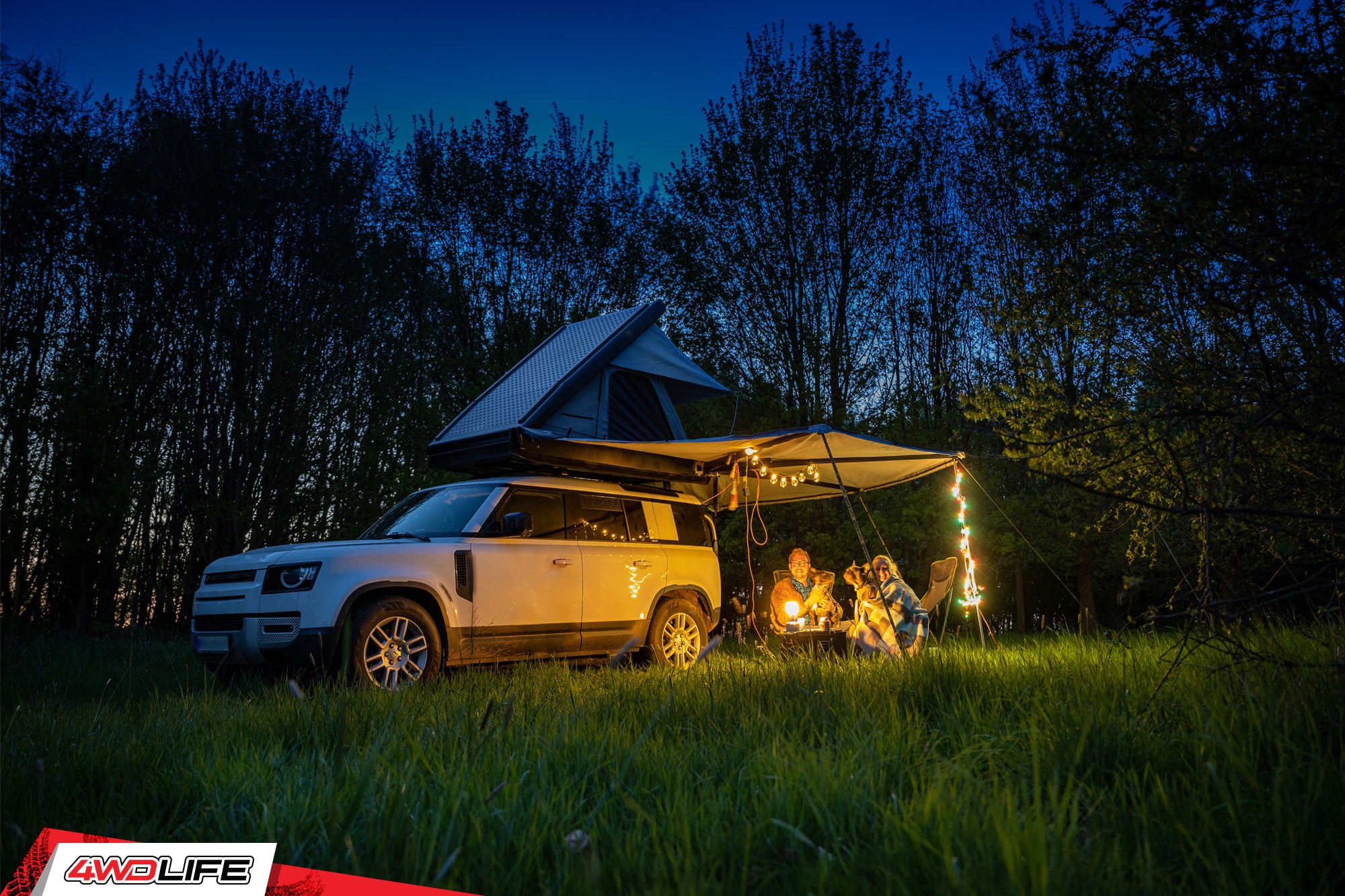 For some people, it's easy to forget that when you're overlanding, you still need solutions for many basic needs. Just because you have the luxury of staying in a premium roof tent doesn't mean it comes with a bathroom. Luckily, multiple solutions exist for using the restroom while overlanding.
It helps to be prepared before it's time to do your business. And remember, you'll need some supplies regardless of how you choose to answer the call of nature. Whether it's a portable toilet with some poo powder or a dump station with a simple bucket for a holding tank, you need a suitable liquid and solid waste disposal method to leave no trace.
Whether you're new to overlanding or a seasoned outdoorsman, you wouldn't want to be caught with your pants down in the elements. This take outlines several ways you can use the bathroom while overlanding.
How Do You Pee While Overlanding?
Let's start with number one – urinating. Do you need to set up a camp bathroom to go pee? Can't you just do your business quickly, where you are, and be done with it?
Technically, yes.
However, this isn't recommended for several reasons. It's always good practice to separate an area for an outdoor toilet from your living area. It's more sanitary. You don't have to deal with odors. Certain animals might be lured closer to your site because of the urine smells. You wouldn't want to deal with predators and pests near your camp.
Considering the differences and physiology, let's distinguish how males and females can go pee.
Males
You may think that men are much luckier in this regard when going number one outside. There's no need for squatting, wiping, or special implements. So does this mean you can hang outside the tent and pee, doing quick work without needing specialized bathroom duties? Not quite.
Remember, you don't want to go anywhere near your eating and sleeping area. After peeing once or twice, the site will smell terrible, there are higher chances of animals being attracted to the scent, and who wants to step in pee and track it into the tent?
Have a Walk and Go Pee. This is the simple and easy method. Walk a few hundred yards away, and pee with plenty of distance between you and the campsite. However, you also may want to consider the elements and the weather. What about if you wake up in the middle of the night and it's pitch black and raining? Taking a walk doesn't seem as refreshing anymore.
Toilet Kits or Waste Bags. Waste Bags are a neat little invention that allows you to pee anywhere, at any time. They're just zipper bags with a better seal. They even include a powder that helps eliminate any scent. These are good for use in the middle of the night or when it's raining.
Females
For females, it can be a bit trickier to go number one, but here are a couple of ways to do it while on a camping trip:
Portable Toilets. There are plenty of portable outdoor toilets that you can purchase. Do a simple Google search, and you'll get many camping toilet products. While some can be comfortable and luxurious, they can also get pricey.
Bucket. An alternative to portable toilets is simply a bucket with a sealable top. Fill the bottom with some deodorizer or even cat litter. After you do your business, put the sealable top on. The good part about the sealable top is that it can be used inside the tent at night or when it's raining.
Waste Bags and Pee Funnels. If setting up any hardware proves difficult, you can consider using a combination of waste bags and pee funnels. Pee funnels make it easy for women to catch their pee and direct them into waste bags.
Squat and Go. If you're perfectly comfortable walking outside, you can also just squat and go. Make sure you have a bit of distance from your tent for safety and privacy.
How Do You Poop While Overlanding?
Going number two while overlanding is a bit more complicated. Pooping is messier and more smelly than peeing. But not to worry – there are plenty of realistic and sanitary solutions.
Catholes
The simplest and most cost-effective way is to dig a cathole. Just dig a simple hole and squat to do your business. You can dig a hole deep enough to hide the feces and cover it with enough dirt to help with the smell. All you need is a shovel or a trowel. You can even get poo powder gel to absorb the matter and mask more of the scent.
Waste Bags
Waste bags are beneficial when you're on the go, such as when you're in the middle of the drive or hiking and can't hold it in before you make it back to camp. You can use these bags by themselves to line your cathole, cover the inside of a plastic bucket, and even use them on a portable toilet.
Portable Toilets
Aside from handling your pee, you can use portable toilets to go number two virtually anywhere – in your overlanding rig, outside, or on your truck. They're easy to clean and virtually mess-free. Combining the poo powder gel and waste bags with the portable toilet gives you the best and most sanitary option out of all your choices. This tackles the clean-up, the smell, and the disposal all in one. Portable toilets come in various shapes and sizes, from models that look like simple plastic buckets up to fancier models that look like actual toilets.
Things to Keep In Mind
Use the following tips for using the bathroom while overlanding, especially for going number two.
Always use some solution for the smell. If you don't, you'll be kicking yourself later. Exposed feces can literally make your campsite nearly uninhabitable. Nobody wants to smell poop all weekend.
Remember to bring toilet paper. This has to be one of the most forgotten items during camping trips. Bring a few extra rolls, just in case. We like to keep a full stock in our camping vehicle, so we never run out. Take inventory each week to know what you're running low on.
Make sure you bring something to clean your hands with. Dish soap works or any other type of hand washing detergent. However, the most convenient item for germ-killing is plain old alcohol-based hand sanitizer. Plus, you can purchase travel-sized bottles you can store in your pocket to make things much simpler.
Bring baby wipes. These come in handy, especially if you lack a way to shower. It's much easier to keep yourself clean and free from odors by using baby wipes every so often.
How Do You Shower While Overlanding?
Showering or bathing while overlanding isn't as tricky as you'd think. With so many advances in camping gear and technology during the last decade, you won't have any problem finding a solution to this problem. These are some of our best suggestions.
Collapsible Shower
These large vertical tents have been around for some time now. They're basically a tall version of a one-man tent, allowing you enough room to stand up, with zippers for privacy. These usually have some type of drain on the floor so the water can flow out of the structure. You'll also find that most have spots for hanging a water bag or a place to hang your water source (if it doesn't come with one already).
Portable Water Heater
If you've never seen one, these propane-fueled heaters are awesome. They heat your water up to a temperature you're used to at home, and they hold and pump a great deal of water, so you get plenty of pressure. These usually come with the hose and shower head/nozzle, so you shouldn't have to purchase anything extra. Just fill them up with water, power them up, and let them work their magic.
Bodies of Water
Get a hygiene kit for camping if you're looking to do things the old-fashioned way and wash in a body of water like a lake or stream. It has everything you need to stay clean while you're overlanding. Commercial camping hygiene kits usually include soap, body wash, shampoo, cleansing wipes, and towels – basically everything you need to wash away grime and your body odor.
Clean Water
Maybe you're not sure about the cleanliness of the water you're using to shower or bathe in. While this is perfectly normal, you do want an efficient way to clean the water. You can use purification tablets to clean your water. After capturing it in your water jugs, just drop the recommended number of tablets in the water. Some tablets may require you to wait since their cleansing mechanisms allow sediments to settle.
Things to Keep In Mind
Bring plenty of towels to help you dry off.
Be sure to pack a washcloth so you can actually scrub yourself.
If you want to save money and resources, purchase one of the smaller camping water heaters that come in a plastic bag and use the sun to heat the water.
The Scoop On Poop
Using the bathroom while overlanding doesn't have to be as difficult as you might have imagined. In fact, you can turn a pretty crappy situation into one that works in your favor (pun intended).
If you have the budget, you can buy the same amenities you enjoy at home. Otherwise, all it takes is a little elbow grease and some ingenuity, and you've got yourself a makeshift restroom that any overland camper will appreciate.