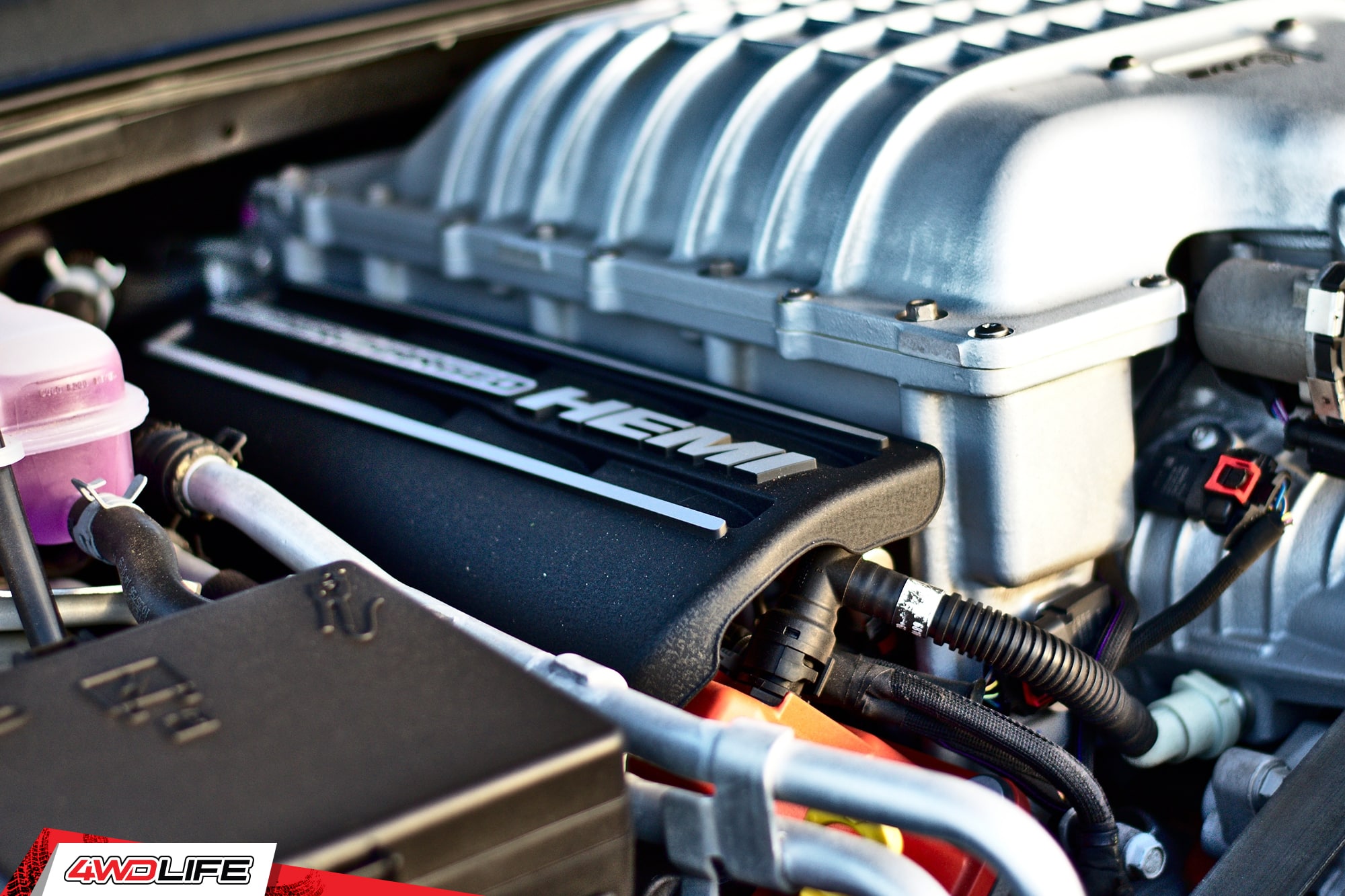 The 6.4 Hemi engine found in modern day Dodge Ram trucks was revealed way back in 2005. It was first made available as a crate engine. In 2011, it was finally slapped on to production vehicles starting with the 2011 Dodge Challenger SRT8 and then on several special edition Chargers and Challengers. In the 2011 Challenger, this 6.4L V8 gasoline engine produced 470 hp and 470 lb-ft of torque.
In the truck and SUV community, it's more popularly known as the engine underneath the Dodge Ram Trucks (the Ram 2500 and Ram 3500) and Cab Chassis starting 2014. Hence, Ram owners refer to it as a "Ram 6.4 Hemi." Which other vehicles use the 6.4 Hemi? Well, it's also used in the Dodge Durango SRT, the Jeep Grand Cherokee SRT, the Jeep Grand Wagoneer, and the Jeep Wrangler Unlimited Rubicon 392.
Since the engine's used across several makes and models under Chrysler's umbrella, it's known by several monikers including: 6.4 Hemi, 6.4L Hemi, 392 Hemi, 392 Apache, Ram 6.4 Hemi, Chrysler 6.4 Hemi, Jeep 6.4 Hemi, and Dodge 6.4 Hemi. They all refer to the same engine.
The 6.4L Hemi received different settings depending on the vehicle using it. In the RAM 2500, for example, it only produced 410 hp and 429 lb-ft and was fitted with an multi-displacement system (MDS) to achieve better fuel economy and become a more practical and reliable engine for towing and hauling.
The Ram 6.4L Hemi engine is actually a pretty decent one. Chrysler wouldn't have opted to use it across a number of their models if it weren't. However, like most engines, it isn't perfect and does have its quirks. So what are the most common problems of the Ram 6.4L Hemi? Perhaps in the top are the MDS solenoids, the Hemi tick noise, and stalling and misfiring.
In this list, we explore five common Ram 6.4 Hemi problems that people have encountered with the engine and how they're addressed or fixed.
1. Multi-Displacement System (MDS) Issues
One of the things that's commonly blamed for issues with the 6.4 Hemi is its multi-displacement system (MDS). The system works by deactivating several cylinders to make the engine more fuel efficient. The system kicks in during driving conditions where lumps of power aren't really needed, like after getting up to speed on the highway. The MDS turns off the fuel and the valve lifters in four cylinders (the 6.4 Hemi has eight).
The problem with the 6.4 Hemi engine's MDS is that the solenoids can fail from time to time. When they do, the engine might get stuck functioning with limited cylinders. This isn't good when you're in situations where power is needed like when you're towing or hauling.
Others also speculate about potential long-term effects of the MDS on other engine parts. Even if some cylinders are turned off, other parts of the engine still work. There's some debate on whether or not this can cause uneven wear in the long term. But no definitive studies have been made concerning this.
How to Fix: If fuel economy isn't an issue, the MDS can be fully turned off manually. Otherwise, faulty solenoids can be replaced but they can be tricky to DIY.
2. HEMI Engine Tick Noise
Among the reported 6.4 Hemi problems is the engine tick issue. It's basically a ticking or knocking noise from the engine when it's running. Since engines typically produce such a sound when something has gone wrong with the motor, it can be an alarming sound to hear for those unacquainted. For Hemi enthusiasts though, it's a relatively known issue. The 5.7 Hemi was quite notorious among owners for this tick. Unfortunately, the 6.4 Hemi also seems to be affected.
Pinpointing the cause for ticking or knocking noise in the engine can be quite the challenge. Poor maintenance in general can result in damaged engine parts, which in turn can cause the knocking noise. Ticking noises can also come from exhaust leaks.
For the Hemi, it can be caused by faulty lifters or lifter rollers. It appears to be a design flaw in the engine's where not enough lubrication can get into these parts when the engine is at low RPM. This fault can result in the engine damaging its own cam parts, causing the knocking noise.
How to Fix: You can cause a mechanic's stethoscope to check where the sound is coming from. If the noise is coming from the engine, you'd hear it if you place the end of the stethoscope on the engine while it's running. If there's no noise from the engine, it's likely an exhaust leak. From there, you can then try to isolate the issue. The vehicle should throw certain error codes that can help you diagnose other issues. An inspection of the cam, especially the lifter and lifter rollers, will allow you to see visual damage on these parts. They should be replaced if damaged.
3. Rough Idling, Misfiring, and Stalling
Other noticeable problems with the engine can come in the form of rough idling and misfiring, both of which can also be attributed to the MDS and the tick noise issues. However, you shouldn't discount other probable explanations for these problems.
Rough idling and misfiring in the 6.4 Hemi can be caused by fouled up spark plugs. With bad spark plugs, the engine can't ignite the fuel efficiently, resulting in poor performance, reduced power, bad mileage, misfires, rough idling, and even stalling. Bad fuel injectors also cause similar symptoms, but the injectors in the 6.4 Hemi are rarely the issue.
Another but more worrying cause is a damaged powertrain control module (PCM). The PCM is basically a chip that processes all the information from the various sensors in your truck (such as air flow, coolant temperature, speed, etc…) and uses these parameters to optimize performance. It can be damaged due to improper aftermarket modification or by shorts in the vehicle's electrical system. Since the 6.4 Hemi engine is used in performance editions, some enthusiasts try to modify their stock engines to squeeze out more power for the 6.4L Hemi powerhouse. Unfortunately, amateur tuning can cause damage to certain electrical components.
How to Fix: Bad spark plugs can easily be diagnosed by pulling them out and checking them are easily remedied by changing them. This should be done at regular intervals as part of preventive maintenance. The kicker though: The 6.4 Hemi has sixteen spark plugs (two per cylinder). A damaged PCM will throw check engine warning lights and codes. Replace the PCM if it's bad.
4. Exhaust Leak
Exhaust leaks happen when gasses from the engine's combustion chamber escape anywhere along the exhaust system. Depending on the source of the leak, it can cause a variety of symptoms. Most commonly, these include ticking or hissing, other noises especially when accelerating, vibrations, poor fuel economy, and strange odors.
Since the exhaust system is made up of different components, it's necessary to check the entire length of the system for any faults and issues. You may try to drown out the noise or dismiss it as your routine engine tick issue but gas leaks can be dangerous especially if exhaust gasses are entering the cabin. Carbon monoxide poisoning can kill you and it's an odorless gas.
How to Fix: The exhaust system should be checked. While the 6.4 Hemi engine is running, start from the engine bay near the exhaust manifold. Leaks from this location produce a puffing or ticking noise. If the noise is coming from beyond the engine bay and underneath the vehicle, it is likely coming from other components. Have someone rev the engine so that you can observe changes in the exhaust sound. It will help you locate the general area where the gasses are escaping. Just beware of hot and noxious fumes that can come from the exhaust system. Repair or replace the leaking part.
5. Transmission Issues
We know this last item isn't exactly an issue with the engine itself but with the transmissions that are paired to it depending on the vehicle's make and model. However, it's still worthwhile to note that 6.4 Hemi owners have reported transmission issues that you should also be aware of. It's most commonly reported in the Ram 2500 and 3500 trucks.
You may experience issues such as missing gear shifts in manual transmissions. You may also encounter gear hunting or erratic gear shifting in automatic transmissions. You may notice this when the vehicle jerks to move up or move down a gear, possibly accompanied by a clunking sound. The RPM may also become erratic when this happens.
It's important to note that some of these transmission issues may be related to the other engine issues. A bad PCM can cause related symptoms such as erratic RPMs and vibrations. If the MDS fault happens under heavy load, unnecessary stress may be put on the transmission. But transmission problems can be caused by a variety of other issues as well. In some cases, you may experience premature transmission failure.
How to Fix: Diagnose, isolate, and fix engine issues if you have any so that you can effectively isolate the cause for a jerky ride. Transmission-specific issues should throw specific error-codes which can help you determine which part of the powertrain is suspect.
Still Pretty Good
This might be a worrying list of 6.4 Hemi problems. But if you happen to own one, don't fret. It's actually a pretty good engine. Chrysler wouldn't have continued slapping this on their popular makes and models if it was such a potato of a motor. How many miles will a 6.4 Hemi last? It's usually rated for 250,000 miles. That's plenty of driving to be enjoyed.
Knowing these issues should at least guide you when looking out for potential issues with your vehicle. Regular preventive maintenance and routine changing of parts that have met the ends of their operational lives should help you prevent most problems with your vehicle. Qualified Chrysler, Dodge, and Jeep mechanics should also be aware of the proper ways to maintain and fix your vehicles.
There are worse engines out there. Just check out Ford's 6.4 Powerstroke and drown in the list of issues that the engine has. All things considered, the 6.4 Hemi engine is pretty good and is a reliable engine.