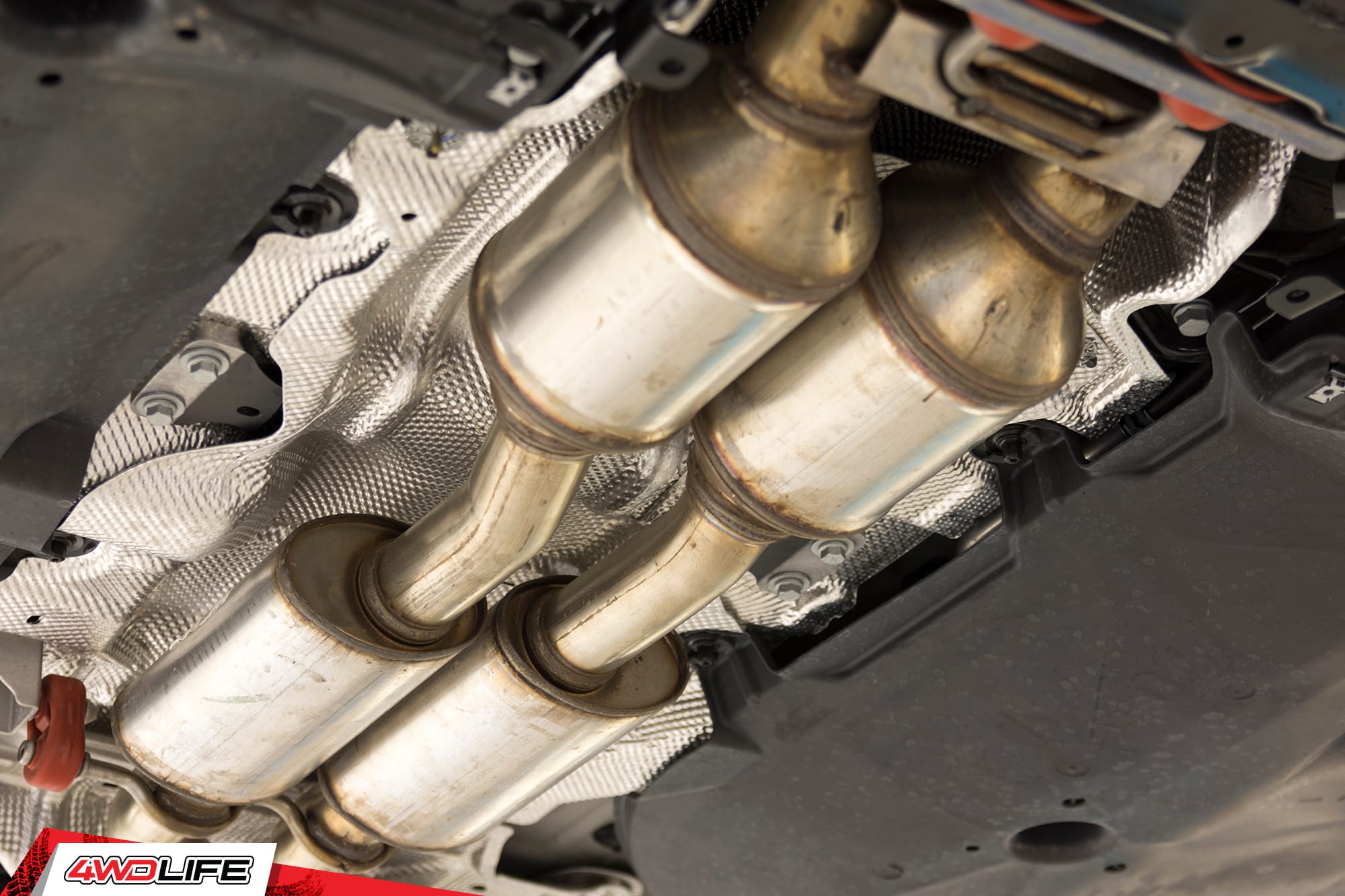 A number of problems can damage your OE catalytic converter (cat), leaving you with no choice but to replace it with a new one.
At peak conditions, your catalytic converter converts toxins produced by your car into less harmful byproducts like carbon dioxide or water. A bad catalytic converter will lead to several problems, including dark smoke, sluggish engine performance, excessive heat under the car, reduced acceleration, and even an awful smell that's like rotten eggs.
You can solve all the aforementioned problems with a high-performing aftermarket cat. But finding the best catalytic converter can be a pain with all the choices in the market. Lucky for you, we did detailed research and found 9 selections that could meet your requirements.
Keep on reading to get to the reviews!
Top Pick 
AutoSaver88 High Flow Series Catalytic Converter is our top pick. This high-flow cat is a direct fit for 2004 to 2009 Toyota Prius 1.5L. It is EPA-approved but has non-CARB compliant status. It is also uniquely engineered to meet or exceed original equipment quality and performance.
Our Best Catalytic Converters Reviews

Intended for Toyota Prius, the AutoSaver88 High Flow Series accommodates engine sizes of up to 1.5L and will hardly introduce backpressure.
The stainless steel outer shell construction does a great job of shielding the inner components of the converter as well as protecting the lower parts of your car from high temperatures. The precious metal loading and internal substrates have been carefully designed for maximum efficiency.
This model comes with all the necessary mounting hardware (bolts and springs) and bolts fairly easily onto the exhaust manifold. You just have to ensure that the old pipe and the new catalytic converter pipe are compatible.
But the thing is, it is possible to experience some leaks over time. So, make sure the gasket is in good condition and the long bolts are properly tightened.
Key Features
2004 to 2009 Toyota Prius 1.5L
High flow series
Stainless steel shell
EPA certification
Bolts and springs included
Pros
It is a direct fit for Toyota Prius
High flow design complies with state requirements
The large surface area allows for maximum efficiency
Increases precious metal loading
Sounds just like the stock cat
Cons
It may leak over time
Some installations may require welding
Verdict
The AutoSaver88 High Flow Series is one of the most reliable units on the market and is usually easy to install except for a few occasions that may require some welding.
Overall Rating: 4.6

Older catalytic converters are often restricted, robbing performance. They tend to be bulky and tough to fit under a vehicle.
This heavy-duty cat from Flowmaster is probably what you need to convert toxins into less dangerous byproducts like carbon dioxide and water without difficulty. This non-CARB-compliant catalytic converter meets all the 49-state EPA requirements and comes with a 50,000-mile exterior casing warranty and 25,000-mile internal components warranty.
If you decide to install this cat on your car, you will not have to worry about losing a lot of horsepower. But you will most certainly help save the environment a little bit.
With most direct-fit applications, it normally takes longer to get the old part out and the new part in. But this universal unit makes removal of the old part much easier. All you have to do in most vehicles is cut out the old cat, fit this new unit from Flowmaster, and then weld it up.
Key Features
Universal compatibility
H.F. 2.50 inches
Stainless steel spun body
200 cell metallic substrate
Meets all EPA requirements
Pros
Doesn't rob horsepower or performance
Reliable exterior casing and internal components warranties
The high flow design helps prevent improper fuel mix
The dimensions are correct for most vehicles
Will not damage the bottom of your car
Cons
Installation requires welding skills
The universal design may require some adaptation
Verdict
The universal design sounds like a good fit for most vehicles. But make sure you confirm that it works with your make and model before buying.
Overall Rating: 4.6
3. Factory Style EPA Federal Catalytic Converter
You can upgrade your DX Honda Civic with a powerful intake, heavy-duty exhaust, and a cutting-edge tuner for solid energy gains.
But, if you are driving with the stock catalytic converter, then you are letting power slip through your fingertips. For fast-flowing exhaust and greatly improved engine efficiency, you need to set up your ride with this uniquely engineered cat from Auto Dynasty.
Delivering more performance than the replacement, this catalytic converter is designed to unclog the bottleneck caused by the stock cat. The greater loading of precious metal maximizes the internal surface space to ensure exhaust gases aren't slowed down on their way out.
This vehicle-specific cat is engineered to meet as well as exceed EPA requirements, making it truly eco-friendly. 
Key Features
Compatible with 2006 to 2011 EX, LX, DX Honda Civic
EPA compliant
OBDII and Pre-OBDII compliant
Front position rapidworkers.com
Hardware included
Pros
Helps reduce harmful emissions to the environment
Stainless steel design is resistant to cracking or warping
Has a larger catalytic area for maximum efficiency
High flow design allows for unrestricted airflow
No welding or fabrication is required
Cons
The bolt-on installation may take a while
Verdict
Increase your DX Honda Civic's performance and keep those emissions in check with this EPA-approved catalytic converter.
Overall Rating: 4.5
Have you ever imagined driving your Honda Accord 2.3L without a catalytic converter? Technically, your ride can function without a cat. But you will be breaking the law and it isn't a sustainable option.
You're likely to experience loud vehicle noises (the roaring type), rough driving and acceleration, and pollute the environment with toxic emissions. You can avoid all these by installing this high-flow series catalytic converter from Mophorn.
The stainless steel body assembly is capable of withstanding high-temperature gases from the exhaust, improving durability. The high-load precious metal catalyst in this cat is very effective at oxidizing hydrocarbons and carbon monoxide. It helps improve purification intensity and efficiency. The unit also uses high flow technology to enhance conversion efficiency without sacrificing flow rate.
The flange to flange design of this unit makes bolt-on installation a breeze. The package comes complete with six bolts and two gaskets to help you out replacing the old one.
Key Features
Compatible with Honda Accord 2.3L (1998 to 2002)
High flow series
Stainless steel body
Flange to flange design
OBD III complaint
Ceramic substrate material
Oxygen sensor port
Pros
Superior conversion efficiency and flow rate
Withstands high temperatures for longer service life
Hassle-free flange to flange installation
The oxygen sensor lets you know when the cat is failing
The ceramic substrate provides higher catalytic power
Cons
The package may miss some installation hardware
It is a non-CARB compliant catalytic converter
Verdict
This catalytic converter is a direct and exact replacement of the stock. But it is non-CARB compliant.
Overall Rating: 4.5
Imagine this… you are driving and the P0420 code appears on your dashboard. You might probably panic, especially if it is your first time seeing the code.
You should probably be worried because the code indicates that the catalyst efficiency is below normal and you may have a faulty cat that needs replacement. This universal catalytic converter from Mayasaf seems like a good replacement for your failing original cat.
It is a universal model, but make sure the inlet and outlet pipes on your vehicle have a 2-inch diameter. The unit comes with an O2 port, which is a good thing because it will help you know when your catalytic converter is going bad.
The heavy-duty heat shield that is integrated into the design helps reduce the intensity of interior temperatures to protect the transmission from extreme heat.
But here is the thing, this catalytic converter is non-compliant with CARB. So, you may have to consult the aftermarket converter regulations of your state before buying.
Key Features
Universal catalytic converter
2-inch diameter
Has an O2 port
EPA compliant
HD stainless steel
Pros
It fits most vehicles with 2-inch pipes
Has a heat shield for protecting the transmission from heat
High flow design supplies more oxygen to the engine
Works efficiently to clear P0420 code
Cons
It is non-compliant with CARB
The installation may involve cutting and welding
Verdict
This cat is non-compliant with CARB. Apart from that, it will perform just fine with minimal to no issues at all.
Overall Rating: 4.4
Your original catalytic converter is not fail-proof. It is likely to fail because of poisoning or the contamination of the internal honeycomb substrate. If the substrate is contaminated, it loses its ability to clean up emissions.
This situation calls for a high-performing aftermarket replacement. This Walker universal catalytic converter is one of the best options you can consider. It is a universal cat, so, it works with most vehicles out there. This particular unit, however, is a good fit for vehicles with 2.5-inch pipes and some installations may require butt joint exhaust band clamp sleeves.
No break-in is necessary after installation with this unit. It is ready to operate with mat compression as well as an application-specific converter shell. Don't worry about the excess heat damaging parts at the bottom of your car because the stainless steel body with heat shields and aluminized pipes offer added protection.
The only thing that may make this unit not an ideal choice for you is its non-CARB-compliant status.
Key Features
Universal cat design
Pre-OBDII compliant
Stainless steel body
Heat shields
Aluminized pipe
Expandable bushings
Pros
Fits most vehicles with 2.5-inch pipes
No break-in is necessary after installation
Heat shields protect the undercarriage from excess heat
High flow design improves efficiency
Provides excellent gas treatment
Cons
Does not have an O2 port on it
The installation needs welding
Verdict
You may probably have to make a few pipe adjustments with the help of some reducers, but it will work just fine once it fits.
Overall Rating: 4.4 
7. Auto Dynasty OE Style Catalytic Converter
If your Forester Impreza is showing signs of poor acceleration, failed emission test, or poor fuel economy, these problems are probably caused by a bad stock catalytic converter.
If your detailed diagnosis concludes that you need a new cat, then you can consider this OE-style catalytic converter. It comes highly recommended for the Forester Impreza Sport Legacy Outback 2.5L. 
It is a direct-fit unit that looks just like the original and is engineered to bolt onto your Subaru Forester without any additional adjustments.
Conventional catalytic converters have a crush bending design, which is not as good for flowing air or gas through the inside of a tube. But Auto Dynasty used computerized mandrel bending on this unit to give it a smooth profile for superior air and gas flow. The mandrel bends also enhance strength and durability.
The premium substrate material improves performance and efficiency and the high-technology washcoat provides outstanding oxygen storage capacity.
Key Features
OE style catalytic converter
Direct-fit design
EPA OBDII approved
Stainless steel body
Computerized mandrel bends
High-technology washcoat
Premium substrate material
Pros
Direct-fit design is easy and quick to install
Mandrel bending improves air and gas flow
Has two oxygen sensor ports
Has exceptional oxygen storage capacity
Helps reduce harmful emissions
Cons
It may fail to immediately fix the check engine light
Verdict
This direct-fit unit fits as advertised. But it may not immediately make the check engine light disappear from your dashboard.
Overall Rating: 4.4 
Clean the exhaust of your Nissan Altima 2.5L for a better life with the Yitamotor high flow catalytic converter. It is an EPA-compliant unit that will help your car reduce harmful emissions.
This direct-fit cat, however, may take a while to install. This is so because removing the stock catalytic converter requires you to move a few things out of the way from the topside before you can easily access the bolts. The new cat doesn't come with the bottom studs. So, you have to recycle the ones from the old cat or buy new ones.
But once it fits, the unit works just fine and it may even exceed the original equipment's quality and performance. The precious metal loading and premium internal substrate ensure that you get maximum efficiency, especially when driving over longer distances.
Key Features
Compatible with Nissan Altima & Sentra 2.5L (2007 to 2013)
High flow technology
Stainless steel outer shell
Compliance with EPA standards
Non-CARB compliant
Pros
The heavy-duty outer shell offers maximum durability
The honeycomb structure maximizes the catalytic action
Helps improve exhaust flow for better performance
It's integrated with pipe heat shields for protecting the undercarriage
Cons
The package may miss some important installation hardware
The installation can be time-consuming
Verdict
Getting the old cat out of your Nissan Altima may require a bit more effort. But once you've replaced it with this unit, the performance boost will impress you.
Overall Rating: 4.4 
Evan Fischer offers some of the most affordable yet efficient catalytic converters in the marketplace today. The REPG960301 is one of the brand's best models.
It is a direct replacement cat for Chevrolet Silverado 1500, Chevrolet Suburban, Chevrolet Tahoe, and GMC Sierra 1500, among others. The sturdy stainless steel case, heavy-duty aluminized tubes, and heat shields do a great job of protecting other parts of your car on the underside from high temperatures. Meanwhile, the honeycomb catalyst gives you maximum surface area flow.
When we talk about catalytic converters, we are talking about the environment. And we all want to control the harmful elements that are emitted by your car. That's why this Evan Fischer cat is manufactured to be OBDII as well as EPA compliant.
Key Features
Direct replacement part
Stainless steel case
Aluminized steel tubes
Heavy-duty heat shields
Four sensor ports
46-state legal
Pros
Easy direct replacement fit
All the O2 sensors ports are in factory locations
Airflow is not restricted through the tubing
It's an inexpensive and efficient unit
Powder-coated for added durability
Cons
The unit is non-CARB compliant
Verdict
This model will fit just fine with minimal to no modifications. But make sure the part you receive is not defective.
Overall Rating: 4.4 
Things to Consider When Looking for High-Performing Catalytic Converter
These are the most important factors to consider when looking for the best catalytic converter.
Vehicle's Year, Make, & Model
The first and most important factor to consider is your vehicle's year, make, and model. All direct replacement catalytic converters usually have the year, make, and model in the product's name. Most auto parts stores online have a search system that allows you to look for a specific part using the year, make, and model of your vehicle. 
Identify the Emissions Level
It's important to know the type of emission equipment your vehicle came with from the factory. Most late model cars will come with a vehicle emissions control information tag. The tag will have the OBDII emissions certification information for your vehicle. You can find the tag in your engine compartment.
CARB or Non-CARB Compliant
When selecting a replacement catalytic converter, it is important to purchase the correct unit for both your car and state.
If your vehicle is legally registered and operated within the states of Colorado and California, you must choose a CARB-compliant unit. The California Air Resource Board (CARB) has the strictest standards as far as vehicle emissions controls are concerned. The standards were put in place for the state of California, but they have been adopted by the state of Colorado as well.
If your vehicle is registered in the remaining states, however, a non-CARB-complaint catalytic converter may suffice. This means an OBDII-complaint cat that is EPA-approved will meet the minimum requirements.
Direct-Fit Vs Universal CAT
There are two types of configurations you can choose for your vehicle: direct-fit and universal.
As the name implies, a direct-fit catalytic converter is meant to replace the original equipment directly. This configuration requires the least amount of special skills or tooling. Bolt-on installation is usually enough with no need for welding. This type of configuration, however, is normally limited to a select number of vehicles in the industry.
Universal converters can be legally used on a wide range of vehicles. But some modifications are involved during installation, including cutting, forming, and welding. The average DIY installer may not have the right experience or tools for this type of installation. You may have to spend a significant amount of money to hire the services of a professional.
Grade of the Catalytic Converter
There are only two choices for 49-state OBDII applications. You've got the OEM and HM heavy metal grades.
The heavy metal or HM grade is normally intended for use in the 49-state applications with an EPA or federal certification. The OEM grade, on the other hand, is a must-have for California ARB-certified applications. You can find this information in the emissions tag under the hood.
FAQs
What is a catalytic converter?
This is a unit that is designed to turn dangerous compounds created by your car's engine into safer emissions before exiting the exhaust. The converter is a ceramic piece with a metal coating. When the dangerous compounds pass over the converter, the toxins are converted into harmless byproducts. There has to be the right amount of oxygen in the exhaust, though.
What is OBDII Application?
This is a system that helps to monitor how clean a vehicle is when on the road. OBDII works to ensure that the vehicle remains as clean as possible over its entire life. All 1996 and newer vehicles are expected by law to be OBDII compliant.
Read also: Is the Ford 2.7 EcoBoost Reliable?
Final Thoughts
For this roundup, the winner is AutoSaver88 High Flow Series Catalytic Converter. What makes this cat stand out is the high flow design, which increases passages for the chemical reaction. It also contains more catalysts for a quicker chemical reaction. This direct-fit cat will install easily on the recommended vehicles.
Bottom line, when shopping for a catalytic converter, make sure you confirm the year, make, and model, identify the emissions level, check the state standards, and then decide on the configuration.