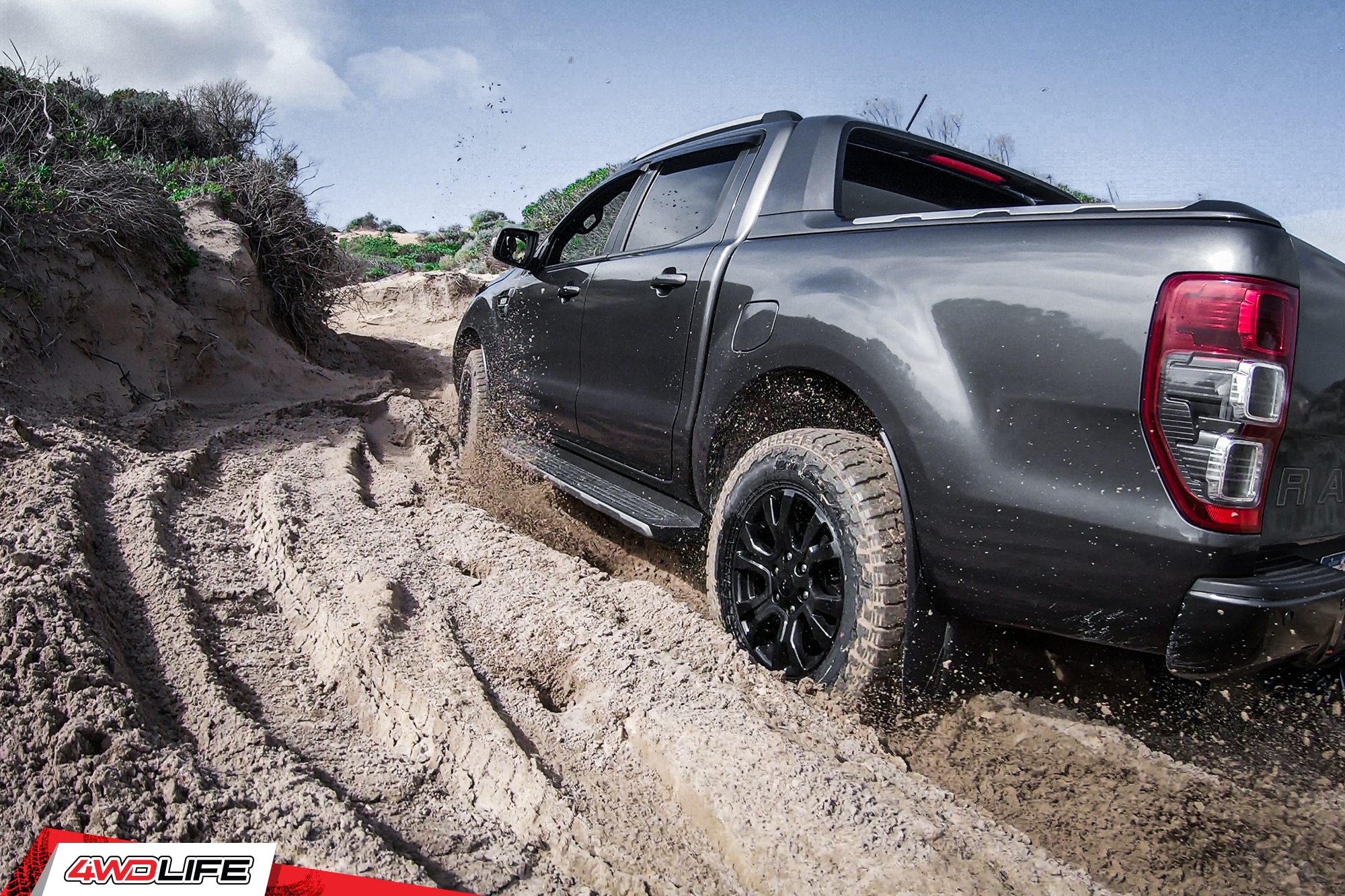 Fuel consumption is always a concern when buying a new car. Who wants to spend more on fuel than it cost to get the car in the first place?
That's why you ought to know what you're getting yourself into by getting either a two-wheel or four-wheel drive.
So, does 4 wheel drive use more gas? Yes, it does. Two reasons for this increase in consumption are weight and drivetrain components. We'll look at these two issues later. Before that, let's first understand:
How 4-Wheel Drive Works

You must have seen this feature on model specifications as 4X4, 4WD, or 4-wheel drive. The three refer to the same thing.
Let's look at how this system works. You see, a four-wheel system has two differentials that sit between the set of front and rear wheels. This set of differentials transfer torque from the driveshaft to the wheels. 
Further, they allow the left or right movements of the wheels as you turn, such that the wheels are at different speeds. On top of that, the transfer case distributes the power to the front and rear axles, ensuring the front and rear wheels are moving at a different speed.
This advanced system is responsible for improved traction and the car's ability to maintain traction in different driving conditions. Instead of the wheel system depending on two wheels, it gets an additional set to propel it. 
4WD is not only for making the car function as its also a safety mechanism when driving on extreme terrain.
You can use 4WD High when you need low traction and high speed, like driving on a dirt road. On the other hand, 4WD Low serves you when you need more torque to pull the car out, such as off-roading in deep sand. 
What we mean is, you can engage your 4WD Low system on,
Terrain with boulders
Deep, soft sand
Thick snow
Steep, slippery, uneven hills
Mountain tracks
Deep mud
Learn more about 4 High vs 4 Low. 
What about a two-wheel system?
A two-wheel system is different because the engine powers two wheels while the other set spins. 
That means it's a lighter system that uses less fuel, which means a 2WD is cheaper to maintain. But, you can't use it in off-road terrain because it lacks the traction to pull your car out if it gets stuck. It may not even survive the arduous process of driving on rocky or uphill terrain.
Four-Wheel & All-Wheel Drive: The Differences
You'll get four-wheel-drive systems in cars meant for off-road driving, such as pickup trucks, crossovers, and SUVs.
4WDs come in three types. We'll look at them briefly.
Permanent 4WD

A 4WD can operate all four wheels throughout as a permanent four-wheel system. You'd need such traction for towing your trailer across the state camping from one mountain to the other.
Part-Time 4WD

This one lets you choose when to use 4WD and switch to two-wheel when the terrain is favorable. For example, when leaving the city for a vacation on mountains, you can cruise on highways with the two-wheel system and switch to four-wheel when ascending to the snowy peak. 
Earlier, we mentioned that a transfer case in a four-wheel sets the speed difference of the front and rear wheels. Well, in a part-time system, the transfer case locks the front to the rear-axle driveshaft. That way, the set has the same spinning speed.
Automatic 4WD

Further, a four-wheel can give you an intelligent system that monitors the terrain and switches from the 2 to 4-wheel. It's called an automatic four-wheel.
So, what's the difference between 4-wheel and all-wheel?
A 4-wheel system handles terrain in water, on hills, and rocks efficiently. It does so because the car gets traction from the four wheels, which means that if the front ones get stuck, you still have traction from the other two to pull the car out. However, all-wheel drive is stable in nastier terrain like mud, snow, and sand. An all-wheel system determines the wheels to give more power when necessary. 
That's unlike other drive systems that power either the front or rear wheels instead of distributing more power to the wheels in need of it. Some cars have advanced mechanisms that identify driving conditions like mud and snow and adjust drive power to the situation. For example, a Honda Passport 2021 has torque-vectoring AWD that adjusts engine torque distribution to the driving conditions. Therefore, it provides better fuel efficiency in SUVs and crossovers.
Overall, four-wheel helps in off-road driving under unfavorable weather conditions that may cause complete traction loss. That's why it's a favorite in trucks and large-sized SUVs with a high towing capacity. You'd need such equal power distribution to control the car in rough mountain terrain when towing a heavy trailer.
Pros and Cons of 4WD
Let's list what's to like or worry about when getting a car with 4WD.
What to like about 4WD
Variety
In most cases, you can switch from a 4WD to a 2WD when you don't need high drive power. Such flexibility lets you use the same car in different terrain and for various purposes. 
Additionally, you're in control of your driving experience, so you can adjust to the most efficient drive system whenever necessary. For example, if you're on vacation and buy something like a kayak or motorbike to tow in your cargo trailer, you have the drive system to do that.
Spontaneity
It makes off-road driving livable. There's no limit to places you can visit since your car can make it through snow, mud, and sand. Plus, you can tow to the maximum capacity and drive through such roads or trails.
Power Distribution
All wheels participate in the drive, and they receive equal power share. A lot of engineering work goes into ensuring all components take up the power distribution equally.
Better Grip
There are more components, which means more weight and better grip when driving off-road. Further, the even power distribution stabilizes the car, unlike when you have a 2WD depending on one set of wheels with the others coasting.
The not-so-good stuff
Since a car with a 4-wheel drive needs more power, fuel consumption will have you rethinking your decision to get a 4WD because,
It weighs more, so it's heavier.
It's pricier than a two-wheel drive.
Reasons Four-Wheel Uses More Fuel
We've already agreed that 4WD consumes more gas than a two-wheel system. Now, we want to understand what causes the extra gas mileage.
First:
Drivetrain Components
A 4WD has several additional components to power the system. These include a transfer case, front axle, side-shafts, driveshaft, and wheels. 
These are heavy parts that a two-wheel doesn't engage. If this drive engages them, they can cause drivetrain friction as these parts don't propel the car forward. Instead, a two-wheel system depends on the rear wheels, driveshaft, side-shafts, and transmission. So, since a four-wheel has these additional components, it uses more power to run them.
Extra Weight
The components we've talked about above translate to extra weight in the car. They may not add too much weight, but they need extra torque to function. 
The disadvantage is that you can't change or disconnect some components to save fuel unless you have a part-time 4WD. Added to the fact it's an off-road car, you'll be towing to the maximum while putting pressure on all components so that you don't get stuck or tip the car over in the snow.
FAQs
Is it okay to drive in 4-wheel all the time?
Yes, if you're hauling cargo across rough terrain. But, it'll not serve you to its maximum when driving on city roads as the way it will on off-road terrain that needs good traction.
On top of that, 4WD is not for flat or smooth roads, plus you'll be using too much fuel unnecessarily.
Is it bad to drive 4×4 on the highway?
4WD helps in mud, rough roads, or on snow trails. When used on other surfaces, it doesn't improve the driving experience.
You can use it if you're towing while driving at low-speed downhill or uphill. But, if you use a part-time four-wheel on dry pavement, you risk breaking the front axle, differential, and transfer case. Therefore, stick to two-wheel on such roads because you don't need to increase traction.
Should you use 4WD in the rain?
You don't have to, as such a surface doesn't need extra traction.
Which is better, AWD or 4WD?
Both send torque to the two sets of wheels so your car's traction can increase. However, 4WD is better on rough terrain; hence, it's the best choice for off-road driving and hauling trucks. Further, with 4WD, you have options of a permanent four-wheel or a combination of 4 and 2-wheel drive.
Final Thoughts
Does 4-wheel drive use more gas? Yes, four-wheel cars use more gas because the engine powers four wheels. Such a car is also heavier as it has more components to run than the case in a two-wheel system. But, it's not all doom and gloom as cars with such a system have better traction control, and that's why you'll get 4WD in off-road cars. 
That's the kind of traction control you need on rough terrain, snow, or uphill. Even though it uses more fuel, you can opt for an automatic or part-time 4WD that switches the system depending on the terrain. That'll save gas.