You would want your truck or SUV's engine to always be at normal operating temperature. An overheated engine often causes your truck or SUV to stall.
Oftentimes, this is caused by driving around without enough coolant in the reservoir. For instance, a bad radiator cap or a leaky radiator hose can let coolant leak and evaporate. Without enough liquid to help circulate and dissipate heat, the car's cooling system won't work effectively and the engine can eventually overheat. A badly overheated engine can even blow up and be destroyed.
Fortunately, most modern cars would have a sensor that triggers a warning light or automatically cuts your engine should the temperature have reached critical levels. So, before anything bad happens, it's always best to check your engine coolant levels and add some if they're low.
How to Tell If Your Engine is Overheating
There are several symptoms of an overheating vehicle.
Temperature gauge is in the red. If the temperature gauge on your dashboard is in the red or hot zone, this is a sign that your vehicle is overheating.
Steam coming from the hood. If you see steam coming from under the hood, this is a sign that the engine is overheated and there is excess pressure in the cooling system.
Sweet smell. If you smell a sweet, syrupy smell coming from the engine, this could be an indication of a coolant leak.
Knocking or whistling noise from the engine bay. If you hear loud knocking or ticking noises coming from the engine, this could be a sign of an overheating problem.
Loss of power. If your vehicle starts to lose power or stall, this could be a sign of an overheating problem.
Running low on coolant is just one of the causes of an overheated engine. Other potential causes of engine overheating are bad or low motor oil, blown gasket, radiator leak or clog, busted water pump, or a faulty fan.
So, if you experience high engine temperatures and low coolant levels often, it's best to have your car checked by a qualified mechanic to determine what causes it.
How to Add Coolant in Your Car's Coolant Reservoir
Here's how to add coolant in your car's reservoir.
What You Need:
Coolant or antifreeze (according to your car/engine's specifications)
Clean rag
Distilled water (optional)
Funnel (optional)
What to Do:
To add coolant to your car, you will need to:
Locate the coolant reservoir. This is usually a plastic tank located near the front of the engine behind the front grille. Take note that the coolant reservoir is distinct from the radiator. The reservoir usually extends from the radiator.
Check the level of the coolant. The reservoir often has low and full markings. Your car's coolant level should be well between these minimum and maximum lines. If the level is low, you will need to add more coolant. If the level is at the full mark, you do not need to add any more coolant. If your car model has a low coolant warning light or gauge on the dashboard, it will light up.
Verify the type of coolant your car uses. Some cars require a specific type of coolant, such as an extended-life coolant, which can last for up to five years or 150,000 miles. If you live somewhere that experiences cold weather or snow, you may need antifreeze coolant. You can find out what type of coolant your car requires by checking the car's manual or by asking a mechanic.
Get the appropriate type of coolant. Coolant can be purchased at auto parts stores or dealerships.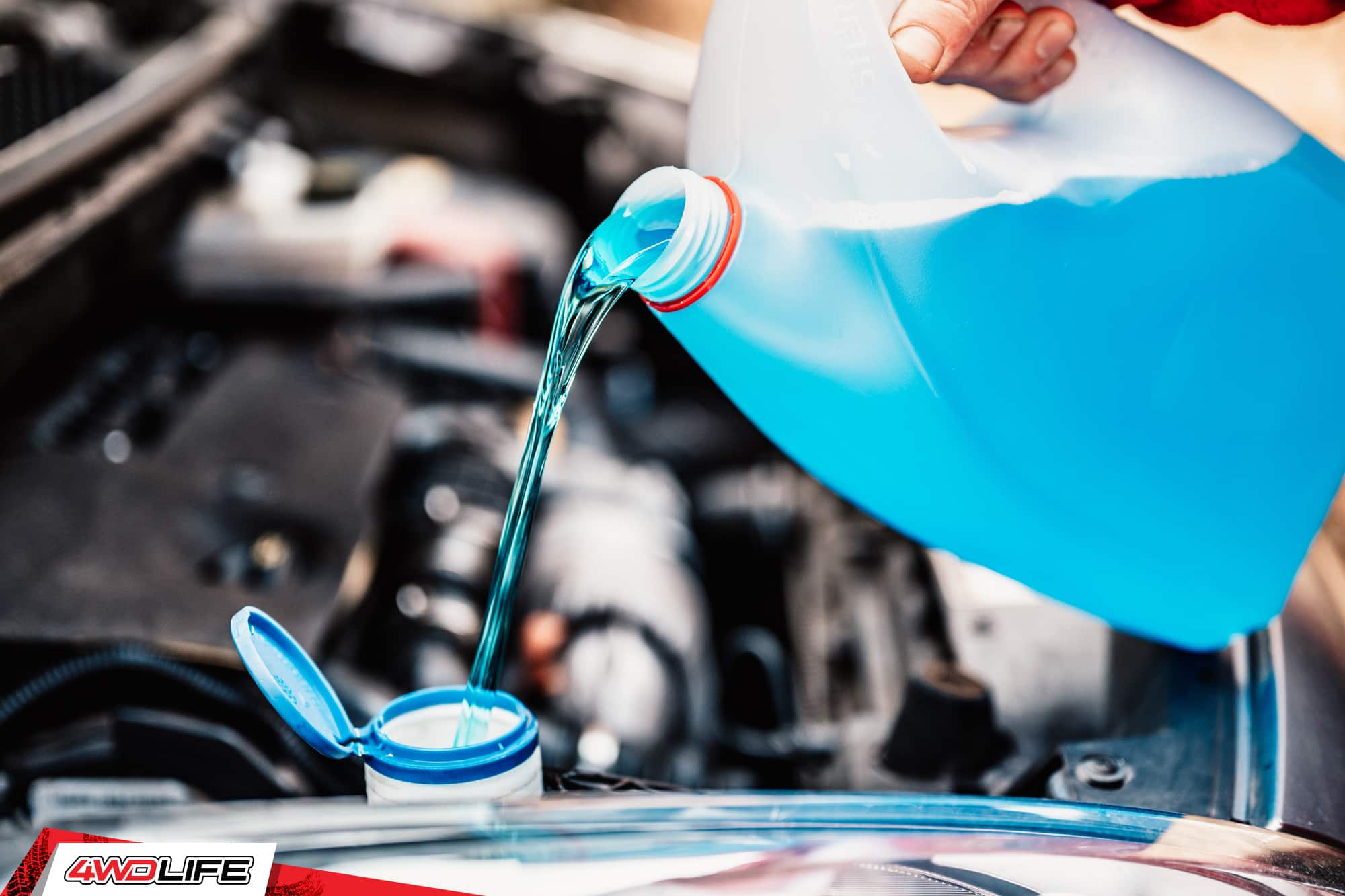 Get the right mix of antifreeze solution. Some coolants are meant to be used directly while others have to be cut or mixed with distilled water. If your coolant mixture needs water to be added, make sure to use distilled water since tap or plain water may have impurities that can clog your radiator or cooling system or cause engine corrosion. A 50/50 ratio of antifreeze mixture is often a start.
Turn off the engine and let it cool down. It is important to let the engine cool down before adding coolant, as the coolant system will be under pressure while the engine is hot and can cause serious burns and severe scalding if it is opened.
Remove the coolant cap. Flip the reservoir cap open. If your reservoir is completely empty, it's better to add coolant directly to the radiator. The radiator cap is a pressure-sealed cap that must be pressed down and turned counterclockwise to release the pressure before it can be removed.
Add fresh coolant to the reservoir. Use a funnel to carefully pour the coolant into the reservoir until the level reaches the full mark.
Replace the coolant reservoir cap. Be sure to tighten the cap securely to ensure a proper seal. Using a clean rag, wipe off any excess that may have dripped or spilled in the engine bay.
Check for leaks. Start the engine and let it run for a few minutes to allow the coolant to circulate through the system. Look for any coolant leaks under the car.
Check the coolant level again. After the engine has cooled down, check the coolant level again to ensure that it is still at the full mark. If the level has dropped, you may have a leak in the coolant system that will need to be repaired.
Check Fluids Before You Go
It's always best to check all your fluid levels, especially your engine coolant, before you drive off. You wouldn't want to be stranded by the side of the road waiting for the engine to cool down. Make sure your coolant levels are where they need to be.