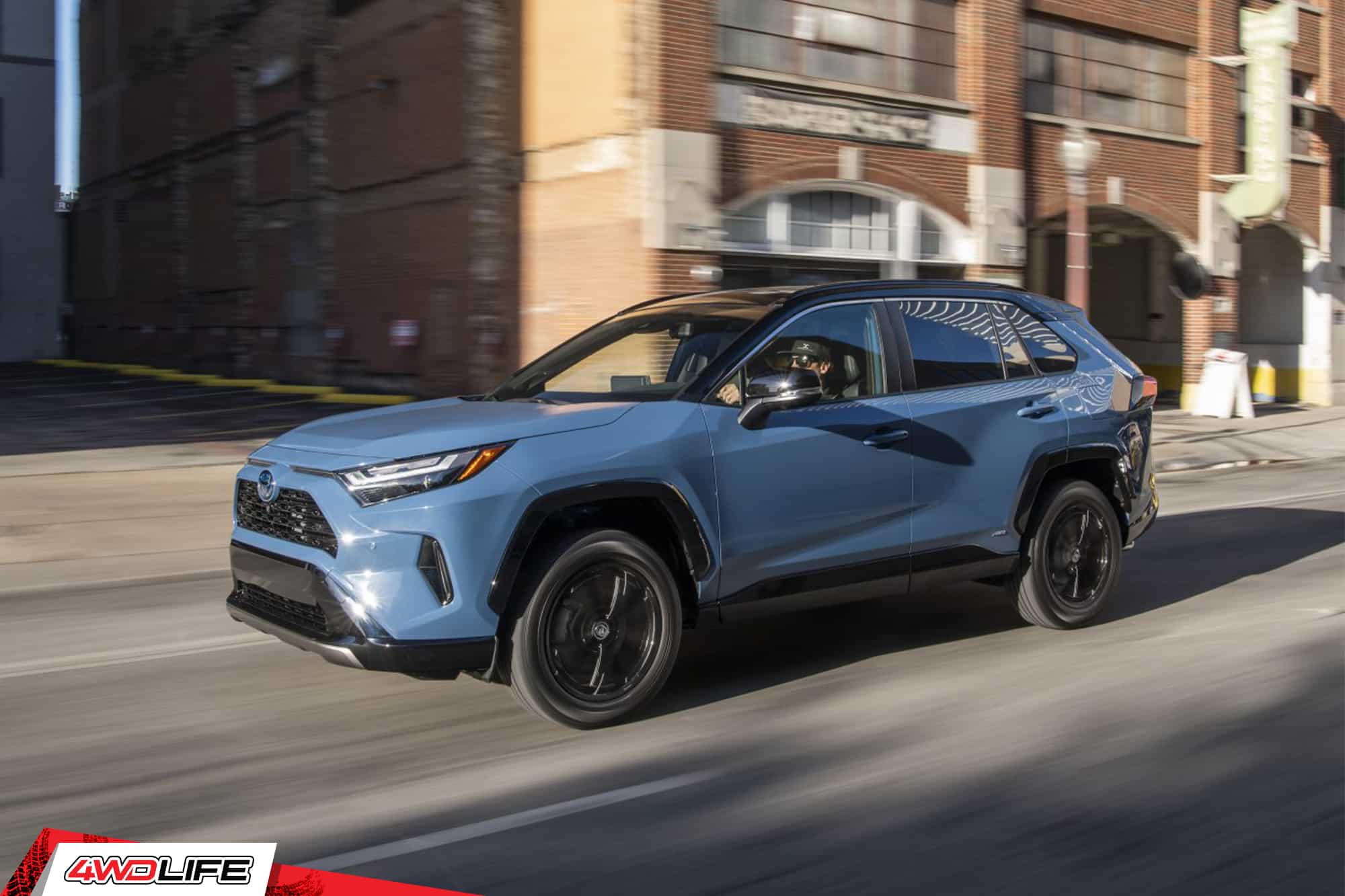 The RAV4 is popular in SUV circles because it's spacious, it has good ride quality, five seats to carry passengers, four-wheel drive, and up to 73.4 cubic feet of cargo space when you fold the rear seats.
That's an excellent ride to take on road trips. Right?
But…
First, let's look at the Toyota RAV4's history and the updates made throughout its five generations. That way, you'll know the best RAV4 year in each generation to avoid going for a model with expensive repairs or safety concerns.
First Generation: 1996 to 2000

The first model had a 2.0 L four-cylinder engine that yielded 120 hp. It had a standard five-speed manual transmission with the option of a four-speed auto transmission. In that era, you'd spot a three-door RAV4 with four seats or one with five seats and five doors. 
Unlike most SUVs at the time, this model had a standard front-wheel drive and the option of using an all-wheel drive. Its rear door swung out. 
The brand also released an electrical model in 1997 to meet the zero-emission requirements in California, and it produced 1,500 such cars.
In 1998, Toyota made some updates to improve the car's safety and engine power. There were also additions like rear lenses. The reception in this generation was so good that the RAV4 competed directly with other known brands like Honda CR-V.
However, there were six recalls in 1999 and three for the 2000 RAv4. In both years, there was an issue with the airbags, the powertrain, and service brakes. The 1999 year model also had a faulty electrical system.
Years to Buy
1998 has more horsepower than other years in this generation. Its interior is also quieter. If you're looking for a convertible, there are 1998 and 1999 convertibles. 
Second Generation: 2001- 2005

This generation's interior was sportier, and the exterior was larger and longer than the previous generation. Toyota was living up to the fame this model was getting. Further, there were two and four-door models, and the transmission didn't change for both auto and manual speeds. But, the horsepower went up by 20 hp. 
Toyota would later add 160 hp and shift to a 2.4 L four-cylinder engine. Still, the swing door was there with the spare tire stuck on it. Other changes were in infotainment with the introduction of a six-disc CD changer. The driver's seat also changed to a height-adjustable one.
The 2004 and 2005 year models had the least recalls combined, standing at nine so far. The issue in 2004 was faulty front airbags whose inflators could explode.
Years to Buy
The 2004 and 2005 RAV4s can give you good service. They have a larger engine than their predecessors, optional side airbags, and they are more reliable.
Third Generation: 2006 – 2012

In 2005, the options for the four-door model were a short and long wheelbase. The size increased again by 15 inches and came with a third row. The standard was a four-cylinder engine, but there was the option of a V6 with 268 hp. 
On top of that, you could get an all-wheel-drive if the front-wheel-drive wasn't to your liking. Other updates included side curtain airbags, a backup camera, and keyless access.
In 2012, Toyota engineered an electric-only version called the RAV4 EV in partnership with Tesla. But it didn't have a spare tire or a third row.
This generation had the most recalls, with over 60 of them. In 2006, there were 11 recalls for faults in the suspension, seat belts, airbags, and speed control. These and more problems caused 15 recalls in 2007, and the number of recalls kept on rising until 2012. 
Car owners made about 600 complaints per year for all models from 2006 to 2008. Most of these complaints were about the steering shaft and excessive oil consumption.
Years to Buy
Models from 2009 have better active headrest restraints than previous cars. They are also more reliable and have a better engine to cut back on excess oil consumption witnessed in earlier models.
Fourth Generation: 2013 to 2018

Toyota did away with a few of the previous updates. For instance, they took out the V6 engine and the third row of seats. But the RAV4 grew longer than the earlier generations. The transmission offered as two variants in the other generations became standard, and they kept the four-cylinder engine. 
Additionally, the spare tire storage changed from the door to under the cargo floor, and instead of a swing door, the new RAV4 got a liftgate.
The most updates were in the 2015 RAV4, which made 2016 one of the best models.
This generation didn't have as many recalls as the third generation.
However, some of the recalls were about the safety of the occupants and other road users. For instance, one of the recalls in 2013 was about faulty software that could detect a false electrical short and turn off power and trailer lights. 
Therefore, there was a risk of a crash. The 2017 Rav4 had an incorrect load capacity label that could cause overloading, thereby increasing the possibility of a car crash.
Years to Buy
The fuel economy of the 2016 RAV4 is better than other models in the 2013 to 2018 period. The 2016 and 2018 models rank higher in safety as Toyota fixed a small overlap front test for the driver's side.
Fifth Generation: 2019

Two notable changes in 2019 were in the length and width of the ride. It grew wider but shorter.
Its 2.5 L four-cylinder engine had 206 hp. A few trims also came into the market. The RAV4 Hybrid offered 219 hp, and its fuel economy was 40 miles per gallon combined. 
Further, it had an eight-speed automatic transmission. Another model introduced in this generation was the RAV4 Prime, which had a combined fuel efficiency rating of 40 miles per gallon. Its hp was higher than other models, at 302 hp, and it had a 2.5 L four-cylinder engine plus an electric motor. 
The cars released in this generation came with new features, including safety updates like cruise control, lane departure warning, and collision warning. They elevated this model in a competitive SUV market, more so with the numerous issues the Toyota RAV4 was facing, sometimes relating to problems in the models before the new millennium.
In 2019 and 2020, there were over 10 recalls for issues like faulty airbags, engine cooling, and engine vibrations when accelerating. Toyota also recalled the RAV4 Hybrid because it had a defective front lower suspension arm that could break off and disconnect from the front wheel.
Years to Buy
The 2019 and 2020 models rank as some of the safest among the RAV4s. However, there were over 350 complaints about the 2019 model because of a faulty fuel tank that'd not fill up and a battery drain. 
Toyota's recalls through 2019 to 2020 fixed such problems; therefore, you may find a good car from this generation.
So, which is the best RAV4? We've listed options based on the updates Toyota made throughout the five generations plus the number of complaints received. Some issues are repairable, but others are safety risks you shouldn't ignore and repair them instead of heading to a recall. 
Overall, we can say you're better off getting 1998, 1999, 2004 – 2005, 2009 -2012, or the 2016 RAV4s.
FAQs
What year RAV4 should I avoid?
RAV4s in the first half of the third generation are avoidable because of the complaints from car owners. That's any model from 2006 to 2008 as there have been complaints about the engine, transmission, reliability, and safety. 
But, overall, look at each year individually, checking the complaints received as some are about safety, which you can't overlook.
Do Toyota RAV4s have transmission problems?
Not all of them have transmission problems, but there have been numerous complaints. One issue with over 300 complaints is the automatic transmission. Car owners noted that the car would start unexpectedly, and in some other cases, hesitantly. The complaints were for 2001 to 2005 models. 
Another issue that resulted in lawsuits is transmission gear slipping, which saw Toyota extending the warranty period. Other transmission problems plaguing this brand include a grinding noise on acceleration and a faulty transmission solenoid. 
What is considered high mileage for a Toyota RAV4?
When you maintain your car, it can reach 200,000 to 250,000 miles. It's an estimate because so many other factors affect mileage. Routine maintenance, such as tire rotations, transmission flushing, and oil changes, is necessary.
Final Thoughts
You can't discuss SUVs without mentioning the Toyota RAV4. It's up there with other crossover SUVs of the '90s to the present. But, the five generations of this model have had some high and low moments, the lowest being endless recalls. It's like there has been a recall for every model since 1996. 
Therefore, searching for a good RAV4 means looking at the list of recalls and complaints to know if the year you like is on those lists. So which is the best RAV4 year? Your options are the classics of 1998 and 1999, 2004 to 2005 cars, or the 2016 model.