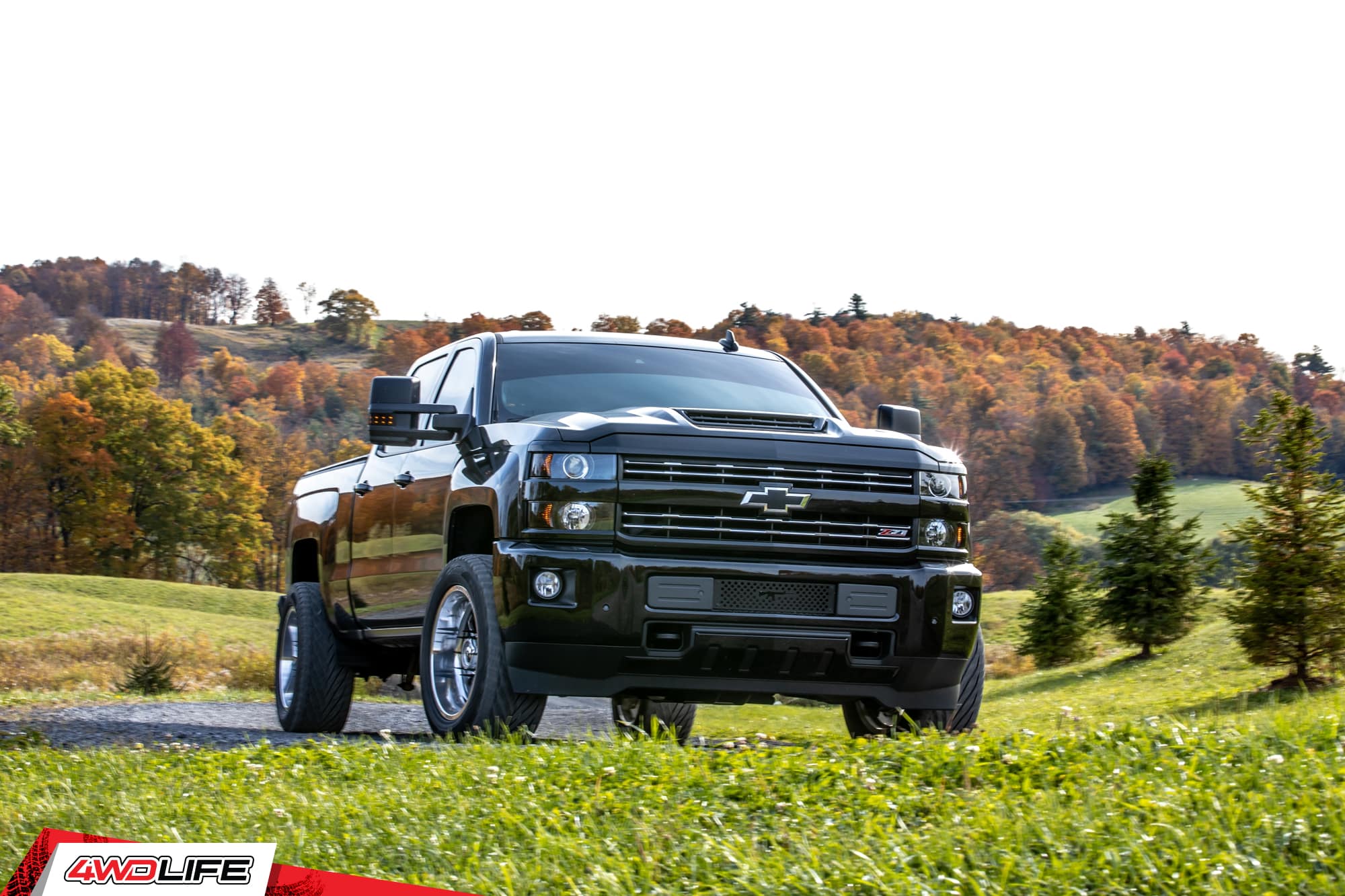 Shocks are known for offering a smooth ride across a bumpy roadway or rough terrain, but it offers more than just a comfortable ride. Whether your riding trails, driving to work, or hauling heavy equipment, the shocks are responsible for how well you can control your vehicle. Without a reliable set of shocks, you would lose control of your vehicle, need longer stopping distances, and put yourself at risk of an accident.
Unfortunately, there are hundreds of shocks on the market, with new ones popping up everyday. This makes it hard to sift through the sea of parts to find the most reliable one for your specific needs. To narrow down your choices and eliminate the less desirable options, I've created this buyer guide to help you find the best shocks for a Silverado 1500.
Photo
Product Name
Features
Bilstein B8 1500

Zinc plated to resist rust
46mm monotube design
Better absorption and stability
Durability and less noise

Fox 2.0 Performance Series

High-performance shocks
Monotube design
Limited lifetime warranty

Rancho R59000 XL

Adjustable shock
Filled with graphite
Nitro-carb rod

Sky Jacker Hydro 700

Chrome plated finish
Twin tube
Polyurethane bushings
The Best Shocks For Silverado 1500
Bilstein B8 1500
Perfect for those lifted SUVs and trucks, the Blistein B8 1500 satisfies the extra demands caused by larger wheels and a heightened stance. Blistein's B8 1500 shocks are zinc plated to resist rust, corrosion, and the effects of harsh elements. For hassle-free installation, each shock comes with OEM certified mounting hardware, and it's available in multiple lift heights for several applications. For added peace of mind, these shocks get backed by Blistein's lifetime warranty.
Performance
Boasting a 46mm monotube design, this shock uses digressive valving that adjusts simultaneously with changing road conditions, giving you fade-free dampening performance. It keeps the gas and oil chambers separate with in-house piston, so there's no foaming to reduce your dampening capabilities. In fact, you'll get better absorption and stability, regardless of your load size, thanks to Blistein's gas pressured technology.
Specs
Paying close attention to the details, each shock's designed with neoprene rubber bushings for added durability and less noise. These rubberized bushings last longer than traditional bushings and can within stand repeated exposure to harsh elements. Additionally, before shipping out to you, each shock gets tuned to your specific application for optimal performance.
Recommedation
The Blistein B8 1500 makes a good choice if you have a lifted truck or SUV or you're sporting larger tires. It's also a great choice for anyone looking for a no-frills shock that's easy to install. Compared to the other options on the list, it offers an average price range for similar features.
Fox 2.0 Performance Series
The Fox 2.0 performance series shocks uses their race-worthy technology to transform the way your truck or SUV performs on any type of terrain. These high-performance shocks house all of its components in a one-piece unit, that gets a hard anodized finish for ultimate protection.
Performance
With the Fox 2.0 Performance series shocks, you'll gain better off-road control and a comfortable ride on the road with its factory-tuned, precision valving. This precision valving helps enhance your ride by counterbalancing the extra mass created by larger wheels or lift kits. In addition, these shocks feature a monotube design with an internal floating piston that separates the nitrogen gas from the oil. This prevents aeration, while maintaining high-pressure, and maximizes the shocks overall performance.
Specs
This shock's clear anodized, aluminium body keeps the internal components cool, resists rust, and prevents corrison on the exterior. It offers an external or internal reservoir, depending on customer preference, and it comes with a billet aluminum clamp to store fluids the way you prefer. More so, the Fox 2.0 performance series shocks serves as a direct replacement for both stock and aftermarket lift kits, and you'll receive a limited lifetime warranty for all the interior and exterior components.
Recommendation
I would recommend the Fox 2.0 Performance series if you're going to spend a majority of time off-road. While it's suitable for a standard roadway, it carries a higher price tag than alternative options.
Rancho R59000 XL
The Rancho R59000 XL is certainly a one-of-a-kind shock you won't find at other manufacturers. It's the first 9-position, adjustable shock to get global recognition for on- or off-road use, towing, and more. These shocks are manually adjusted using the twist-style knob, and it's marked with an adjustment guide for precision tuning.
Performance
Each Rancho R59000 XL features a 2.75-inch, tri-tube design that increases its fluid capacity and keeps it running cooler. As your driving through rough conditions, the rebound bumper reduces the rebound motion and gives your better control as you work through the terrain. Plus, each shock's filled with graphite to allow the piston to travel smoothly and offer better responsiveness.
Specs
On the exterior, you'll notice the 18mm nitro-carb rod that's scuff resistant and won't corrode or rust, offering a longer lifespan. Additionally, these shocks come with a protective boot that prevents damage to the rod and oil seal, and it keeps dirt or debris from getting inside and wearing it down. After you purchase the Rancho R59000 XL, you'll receive a 90-day free ride warranty and a limited lifetime warranty.
Recommendation
The Rancho 59000 XL, in my option, offers the most bang for the buck. It gives you 9-positions that give you the most responsiveness and control on any endeavour. It offers a competitive price compared to other options and offers a wider range of features.
Sky Jacker Hydro 700
The Sky Jacker Hydro 700 shocks come as the most cost-effective option if you're shopping on a budget. These hydraulic action shocks work with your trucks struts or springs when riding through rough terrain, giving you predictable off-road control and a smooth, bump-free cruise on the road. As a no-nonsense shock, its made from bonded iron with a chrome plated finish for ultimate durability.
Performance
Aside from being oversized, the piston's made with bonded iron with a chrome plated finish, giving you superior durability. This shock features a twin tube design with an oversized piston head and a 14mm piston rod, design for maximum stability and reliability. Despite being a non-pressurized shock, the Sky Jacker Hydro gets the job done by using speed sensitive valving that operates on a multiple stage levels.
Specs
To prolong the shocks lifespan and keep it performing at its maximum capabilities, it comes equipped with leak-proof seals and polyurethane bushings. For added protection, these shocks feature a polyurethane boot that keeps dirt, rocks, and debris away from the internal components. Plus, when you pick up a set if Sky Jacker Hydro shocks, you get a limited lifetime warranty that covers faulty components.
Recommendation
I'd recommend this shock for anyone looking for a no-hassle shock on a budget. While it doesn't offer a lot when it comes to features or advanced technology, it gets the job done.
Buyers Guide: Choosing The Best Shocks For Your Silverado 1500
How Do I Know If My Shocks Need Replaced?
Overtime, the shocks on your vehicle slowly deteriorates, and often need replaced before you notice any visual signs of despair on the shock itself. Once it begins to break down, it loses its ability to offer a stable ride over even the slightest imperfections. It can also cause the tires to wear in certain spots, also known as cupping.
The first sign that your shocks need replaced is your vehicle veering off the roadway with mild crosswind. You'll also notice that your steering wheel hops or jerks away from your hands when hitting a bump or pothole. Vehicle pitching when you accelerate, turn, or brake, is also a good sign that your shocks need replaced.
Why Should I Replace My Shocks?
Replacing the shocks on your Silverado 1500 might not sound like the ideal way to spend your weekend. However, replacing your shocks at the first sign of failure saves you from spending thousands of dollars in vehicle repairs down the road. Faulty shocks can lead to damaged tires, misaligned front ends, and stress on nearly every component of your truck. Moreover, driving around with faulty shocks can put you in dangerous situations that could cause injuries to yourself and others.
When you drive with worn out shocks, you don't have the proper handling and control over your vehicle. A small bump could jerk the wheel from your hands, causing an accident. Additionally, if your fond off-road terrain, a sharp turn or steep rock face could land you in a roll-over that injures you and damages your vehicle. While replacing your shocks might seem like a cumbersome task, its one of the most important aspects of a well performing, safe vehicle.
How Often Should Shocks Get Changed?
The standard recommendation is to change the shocks on your vehicle every 50,000 to 100,000 miles. However, if you spend a majority of time on rough terrain, you'll need to change the shocks sooner rather than later. The wear and tear caused by rough terrain cause the shocks to break down at a faster rate, exposing them to damage and harsh elements it wouldn't normal experience on a standard roadway.
Monotube vs. Twin Tube
When choosing a set of shocks, its important to decide which design offers the most benefit to your vehicle. A twin tube design has one cylinder inside of a casing, and a second cylinder houses the piston valve that moves up and down in response to the other cylinder. This type of design's most commonly seen on lighter trucks, SUVs, and cars.
With particular design, there's no barrier between the shocks oil and gas chamber, leaving it open to aeration and foaming. Despite its foaming potential, this design offers low pressure that causes less stress on its seals and reduces friction. Should damage occur to the exterior case, it will not effect the shock or its performance, and its the most cost-effective option for driver's on a budget.
With a monotube design, all the shocks components sit inside a single tube. The outer casing serves as the cylinder that houses the piston valve, gas, and oil. This design has a free piston that keeps the gas and oil separate, preventing air from penetrating the chamber and causing foam. While the Monotube tends to cost more than a twin tube, it offers better stability with a bigger piston valve, wider tube, and better heat dissipation.
In addition, unlike a twin tube, a monotube has no installation restrictions, with adaptability to any angle you need. While this design offers a variety of benefits, it cannot withstand the same damage as a twin tube. Damage to the outer shell casing on a Monotube will damage the shock and cause performance issues, ultimately requiring a replacement.
Material and Durability
One of the most important factors to consider when purchasing a new set of shocks is the material they're made of. The material used to create a shock, determines how well they'll stand up against rough terrain and how long they'll last. Of all the materials, Aluminum and Steel are the most widely used, offering their own set of pro's and cons.
Shocks made of aluminum are often lighter than steel, but cannot withstand the rough terrain commonly associated with rocky terrain. While steel offers better sustainability on off-road endeavours, they tend to offer a difficult installation process because they aren't adjustable. Additionally, aluminum has higher production costs making steel a more affordable option for those who have a strict budget.
Conclusion
Whether you're looking to replace the shock on your daily driver or on your off-road machine, the Rancho R59000 XL proves itself as the most versatile option. It's suitable for standard roadways, towing up steep inclines, or climbing rocky terrain, and it's the only shock with 9-position levels. When compared to other options in its class, it offers a fair price for its features, and comes with two separate warranties for added peace of mind.
Also, look for the best programmer for 5.3 Silverado.