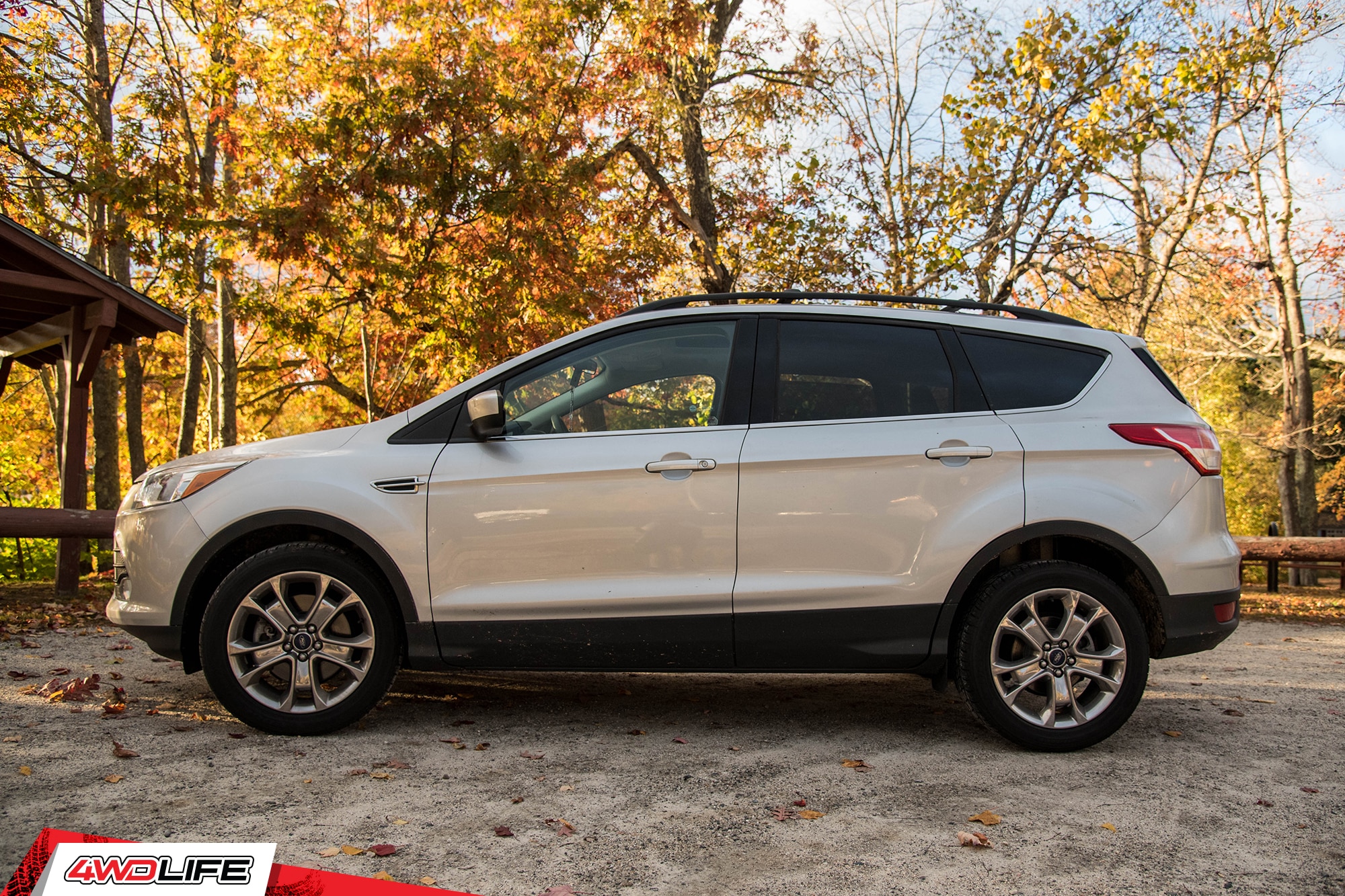 The joy of camping is priceless! It is an opportunity to bond with your loved one, enjoy nature, and take a break from the daily hustle. You can enjoy camping in a car, even in something as small as a Ford Escape! 
A lot of people are hesitant to try car camping. From the sleeping arrangement to the kitchen setup, it seems difficult to plan your temporary shelter. 
With the right knowledge, however, things can be a lot easier. That said, what are you waiting for? Now is the time to try camping in a Ford Escape. 
Read on and I will share some of the best things to do for a memorable time. 
Tips and Tricks for Camping in a Ford Escape

Even if it is a compact SUV, with a little creativity and patience, you can transform your Ford Escape into a comfortable temporary shelter. 
     1. Find an Ideal Location 
Ask any seasoned outdoor enthusiast and they will surely agree that location is one of the most important things when it comes to Ford Escape camping. It will make or break your entire experience! 
Fortunately, a Ford Escape is small enough to fit in many spaces. You won't have the same problem as you would when you have an RV or a campervan. 
You cannot just set up camp anywhere you go. Choose a place that is an authorized campsite. Check the requirements beforehand, especially if you will need to secure a permit.
     2. Mind Your Privacy
Stay safe and private when you are camping in a Ford Escape. One of the best things to do is to hang a curtain inside your car, which you can do by using a binder clip. Put it between the upholstery and plastic. 
Using a privacy screen is another good idea worth considering. It is also a great way to filter the light that gets in your car. If you are feeling hot, you can roll the windows down and keep the screen to let fresh air in. 
     3. Set-up an Outdoor Shower 
Especially if you plan to camp in your car for several days, getting clean and fresh is sure to be a priority. Setting up an outdoor shower is easy. You can buy a portable outdoor shower, which is designed for quick installation outside your car. 
An easier solution is to scout the area for places with a bathroom that you can use for the day. For instance, you might want to check nearby gyms. You can work out and enjoy a warm shower before you return to your SUV and enjoy camping. Meanwhile, if you are in a popular or well-developed campsite, chances are, you will find bathrooms where you can shower. 
     4. Build a Comfortable Sleeping Platform

With the size of a Ford Escape, one of the biggest concerns is the sleeping arrangement. Flatten the back seats and push the front seat as forward as possible. This will create a more generous space where you can set up your temporary sleeping arrangement. 
A must-have when camping in your SUV is an air mattress. Pick a single or full-size mattress, depending on the sleeping space that you need. The best thing about an air mattress is that it is compact and portable, so it won't take too much space. 
     5. Create More Space Outside Your Car 
Aside from maximizing the interior space for you to sleep on, do not forget to also create an outdoor space where you can chill. This is a relaxing place to read a book, enjoy a meal, or simply have an intimate conversation. 
A good investment is a portable awning. It is a suspended waterproof tarp and rope that provides a temporary roof. Do not forget folding chairs and tables as well. You can also convert your trunk into a makeshift dining table. Another thing that you can do is build a tent as an extension of the SUV for more space. 
     6. Gear Up for Your Car Camping Kitchen

Cooking is perhaps one of the most challenging things to do when car camping. You do not have a fully-equipped kitchen, which makes it hard to whip up a delicious dish. A portable stove is one of the must-haves. You should also have at least one pot or pan. Cooking utensils are also necessary. 
If you do not have a stove, you can set up a fire at the campsite so you can cook. First, make sure that you are allowed to do so. Assess the surroundings, making sure that there is minimal risk of fire. 
Hate cooking but don't want to go hungry? Then you can bring packed meals instead. Go for those that won't easily spoil and will not require special storage, such as a fridge. Bring food that can easily make you full, so you won't feel the urge to eat often. 
     7. Stay Organized 
With limited interior space, staying organized is a great way to stay more comfortable in your Ford Escape when camping. Before leaving your home, create a checklist. Let go of the things that you won't need as they will only cramp your car. 
Another important thing to organize before you head out is a first-aid kit. Emergencies can happen when you least expect them, so prepare for the worst. Bring basic supplies, such as tweezers, gauze, alcohol, and medicines. 
At the campsite, keep your things in the proper places. Have bags or containers for food, especially if animals are around the area. Have a bag where you keep personal items, including clothes and toiletries. Bring a separate container for food and kitchen equipment. 
     8. Mind Your Ventilation 
Ventilation is crucial for maximum comfort. Do not sleep with the air conditioning on. This can result in suffocation. Open the window wide enough to let air in but not too open to the point that animals can disturb your turf. 
It is also worth investing in a portable camping fan. Many of them are compact and battery-powered, making them space-efficient. You should also be mindful of your beddings, opting for those that are made of thin and breathable materials. 
     9. Install Temporary Solar Panels 
Electricity is one of the luxuries that you can have a hard time accessing when you are camping. While you can charge some of your essentials in your car, this can drain your battery fast. A great solution is to invest in portable solar panels. As long as you are in a sunny location, it will be a savior.
With compact solar panels, you can have enough electricity to power small appliances, such as a portable fan, smartphone, or camping light. They are cheap, easy to set up, and eco-friendly, so there's no reason not to have one. Additionally, they are quiet, unlike camping generators. 
     10. Clean as You Go 
Leave no trace—this is one of the most important pillars of responsible camping. After having a fun and memorable time, do not just leave the campsite. Take the time to clean the area, making sure that you do not leave any trash behind. 
It is a must to bring a trash bag, so you have a single place to keep everything that you have to throw. When you are done camping, bring the bag with you or throw it somewhere they are allowed. Do not leave food debris behind. Do a final check of the area before you leave, making sure that it looks better than it was when you arrived. 
FAQs
Can you sleep in a Ford Escape?
Yes, you can sleep in a Ford Escape. With the seats down, the maximum cargo space of the Ford Escape is up to 65 cubic feet. This is quite large considering that it is a compact car.
You can rig your car to build a temporary sleeping platform, which can sleep one to two people comfortably. 
What mattress size will fit in a Ford Escape?
A full-size mattress (75 x 54 inches) fits in a Ford Escape if you lower the rear seats and push the front seats. If you want a slightly larger sleeping area, you can also use a queen-sized mattress (80 x 60 inches). Nonetheless, if only one person is sleeping in the SUV, then you can go for a small single mattress (75 x 30 inches).
Related: Can You Sleep in RAV4 Comfortably?
Final Thoughts 
Camping in a Ford Escape is possible, although a bit tricky. The biggest challenge is how you can maximize the use of its small space, especially if two people are camping. With the seats down and pushed forward, however, you can fit a comfortable air mattress and sleep comfortably. 
Aside from the sleeping arrangement, there are other important things to consider. For instance, you should set up an outdoor shower and additional space for you to hang out. It is also crucial to have a makeshift kitchen, so you will have a place to cook your camping food. Staying clean and organized are equally vital for a fun time. 
Ready to take your Ford Escape on a camping adventure? Head out and take note of the things mentioned above!