Your car is your greatest asset when you're camping out of state or visiting a park some miles from home. Sure, you can sleep in a tent on the ground or your car's roof, but you should also prepare for the unexpected by prepping some sleeping space inside your car.
But then, is sleeping in a Rav4 comfortable? Can you fit in there better than in a Toyota 4Runner or the truck bed of a Tacoma?
That's what we want to look at below, comparing the specifications of these three cars. Read on!
Camping in a Rav4

Let's look at the specs that make it a great camping car, such as:
Towing Capacity
A Toyota Rav4 will tow about 3,500 pounds and about 1,500 when powered by a 2.5-liter four-cylinder engine. Unfortunately, that's half the towing capacity of a Toyota Tacoma, which is the kind of car you invest in for off-road excursions as it has a high-strength body, a powerful engine, and a range of in-car technologies. It has engine options giving you a choice between a 3.5L V6 and a 2.7L four-cylinder engine. 
Remember, your choice between the two engines dictates the maximum towing capacity, with the 2.7L limiting you to about 3,500 pounds. The V6 engine can tow between 6,400 and 6,800 pounds, depending on whether you have an Access or Double Cab. 
Additionally, Toyota Tacoma has Trailer Sway Control for stability on winding roads or driving in windy weather. Even a Toyota 4Runner's towing capacity is worth noting, as it can tow up to 5,000 pounds with a V6 engine.
Thus, if you're carrying a lot of cargo, you'll have to consider using other luggage features of the Rav4 to supplement the cargo trailer capacity.
Fuel Economy
It's the highlight of the Rav4 specs as the cost of maintenance comes down to how much fuel your car consumes per road trip.
The Toyota Rav4 clocks 30 MPG combined, which is arguably higher than the 17 MPG of the Toyota 4Runner and 21 MPG the Toyota Tacoma yields. 
On average, you'll save on fuel whether you're in the city or on a highway. If CO2 emissions are a concern to you, you'll be glad to know that the emissions from the RAV4 are lower than those of the other two Toyota cars we're discussing.
Fuel Tank Capacity
A Rav4 Toyota has a smaller fuel tank capacity of 14.5 gallons that can cruise for a little over 500 miles on a highway. It's a commendable range given that the Toyota 4Runner and the Toyota Tacoma have fuel tanks with a capacity of over 20 gallons. However, their cruise range is under 500 miles.
Ground Clearance
The Rav4 has a ground clearance distance of 8.4 inches, which isn't outstanding compared with the 9 inches of ground clearance in the Toyota 4Runner.
Even if you fall for the towing capacity and the interior comfort of the Rav4, you'll have to consider the terrain of your destination against your car's ground clearance. If rocks are jutting out or the trail is winding on rocky terrain, your Rav4 may not make it through.
Interior Space
You'll enjoy driving your Rav4 for hours without hurting your knees as its legroom in the front seat is 41 inches.
However, there's more seat leg space in a Tacoma and a 4Runner. If you carry passengers in a Rav4, they'll have over 37 inches to move their legs. Don't try such hospitality in a Tacoma, as they'll have about 24 inches of legroom in the rear seat. It's not as tiny in a 4Runner, but it's not as comfortable as in the back seat of a Rav4.
Thus, Rav4 stands out as it caters to both the comfort of the driver and the passenger.
We've looked at the general reasons you'd want to camp in a Rav4. Now, let's focus on how to sleep in a Rav4 and compare that with a 4Runner and Tacoma.
Sleeping in a Rav4
Sleeping in the Cargo Space

Fold the back row and push the driver's seat forward to create your camping bedroom. Unfortunately, a Rav4 doesn't have as much space as a Toyota 4Runner. As you spread your bed on 69.8 cubic feet of space behind the back seat of a Rav4, someone else camping in a 4Runner will have up to 89.7 cubic feet for a sleeping platform.
But it's better than sleeping on the truck bed of a Tacoma, right? In a Toyota Tacoma, you can recline the back seats or sleep in the truck bed. It's not that bad when on short trips or when it's too wet to pitch a tent on the ground. 
It takes a few minutes to recline the passenger seat for more room, and it's also as fast to undo your sleeping space in the morning. Use padding or blankets to align the floor and make it more comfortable. For longer camping trips, you'd have to lay out on the truck bed with a blanket to keep you warm. 
But, such a plan is only for people without back pain. If you're taller than the length of the truck bed, your legs extend on the tailgate.
Adding a Mattress
A mattress can eliminate the discomfort of the truck bed's floor, but it will also need storage in a cargo trailer if you have passengers in your Tacoma. Sleeping on the truck bed is also not possible when it's snowing or raining. Even on warm nights, there's morning dew. 
That's why the more comfortable option is installing a camping shell on the truck bed. If you don't mind the additional expense, then you should choose this option.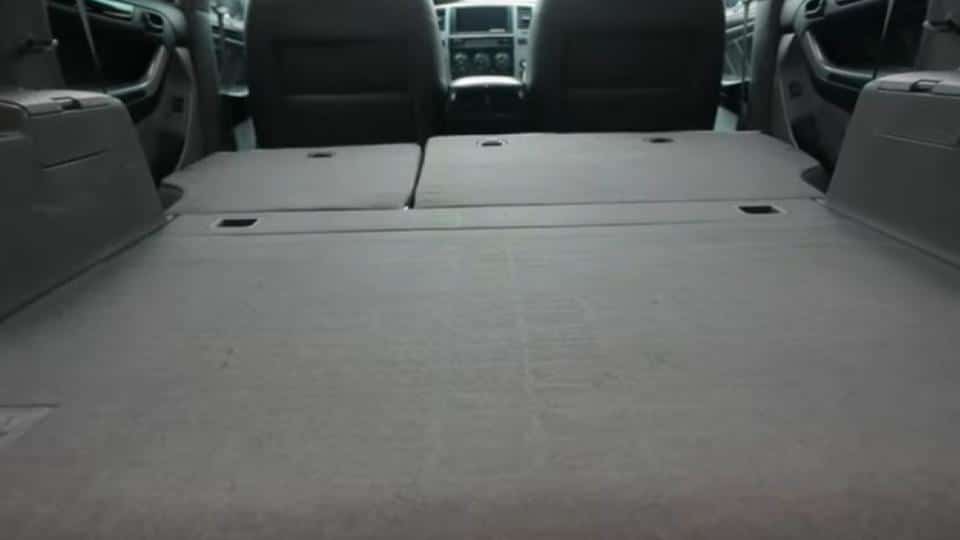 There's sufficient sleeping space in a Toyota 4Runner when you fold the rear seats and spread your air mattress. It has over 6 feet of space and a width enough for two people to sleep at the back comfortably.
Unlike in the Toyota 4Runner, when you sleep in the truck bed of a Toyota Tacoma, you have storage space in the front and passenger seats. However, in a Toyota 4Runner, you sleep inside, away from elements and bugs.
In all three Toyotas, a sleeping platform eliminates back pain from the discomfort of sleeping on an uneven surface. You can also use a sleeping bag. 
Sleeping on the Rooftop
If it feels limiting to sleep in the car, sleep on the roof. A Toyota Rav4 has roof rails to hold luggage or pitch your tent. It's not as high as a Toyota Tacoma such that you feel uncomfortable sleeping on top.
FAQs
Is a Toyota Rav4 Good for Camping?
Yes, as it can tow up to 3,500 pounds if you're going on a family adventure or just alone and carrying as much gear as possible. Plus, you can carry more luggage on the roof rails or in the passenger seat. You'll sleep inside, which is safer than sleeping in a truck bed or on the ground.
Will a Twin Mattress Fit in a Toyota Rav4?
No, because a twin mattress is about 78 by 38 inches, yet a Rav4 measures 74 by 44 inches when you push the front seats and fold the rear row.
Which Toyota Tacoma Has a Long Bed?
The Access Cab of most trims has longer beds than the Double Cab. For example, the 2021 SR Access Cab has a 6-ft bed that is 73.7 inches long. But, don't ignore all Double Cabs as the Limited trim has a Double Cab of the same length.
How Deep is a Tacoma Bed?
It's about 19 inches deep, and that's why you can install a camping shell.
Is the 4Runner a Comfortable Ride?
Yes, the 2021 4Runner has a comfortable interior. The rear seats have space to stretch out, and there's air conditioning too. You can operate all four windows from the driver's seat.
Final Thoughts
Yes, you can go camping in a Toyota Rave4 and sleep in the back with the seats folded. The cargo space is smaller than you'd get in a Toyota 4Runner, but you can't ignore the comfort of driving in a seat that lets you stretch your feet. 
Also, who would want to give up fuel economy in the present times? Let's not forget that you can tow cargo or mount your camping gear on the roof of your Rav4, so there's no need for a Toyota Tacoma when camping.