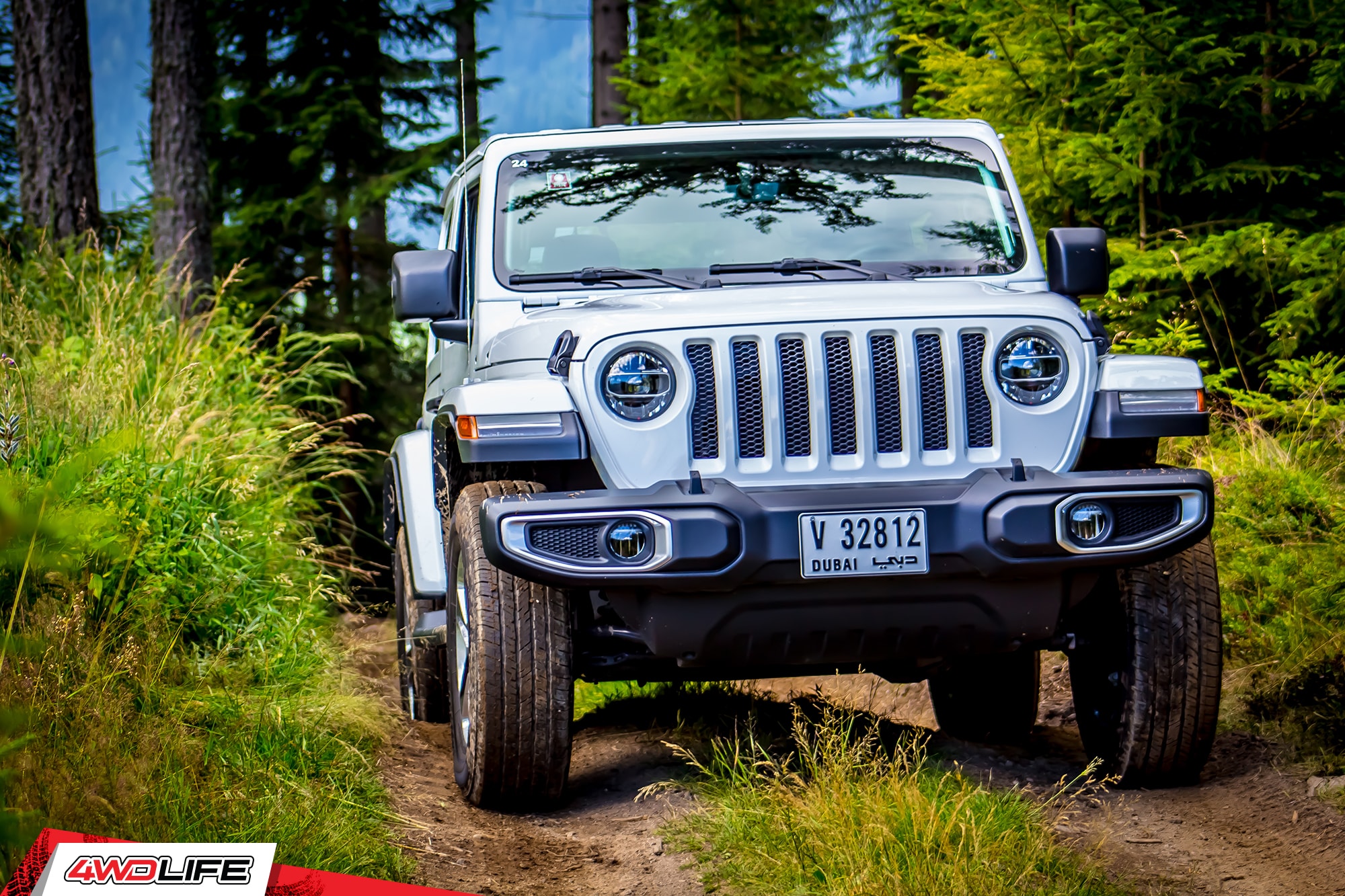 An iconic 4×4, the Jeep Wrangler combines durability and reliability to become one of the toughest cars in the world. It offers comfort and convenience, as well as state-of-the-art features. This workhorse was originally designed for moving troops and artillery during World War II. No wonder, it is strong enough for towing. 
If you are wondering about Jeep Wrangler towing capacity, read on! We'll share how much it can pull and also look at some of the features that make it great for hauling. Plus, we'll give you some tips for maximizing its towing performance. 
Jeep Wrangler Towing Capacity 
The Jeep Wrangler's towing prowess is exceptional, although it isn't as high as pickup trucks or larger 4×4. On average, the Jeep Wrangler can tow anywhere from 2,000 to 3,500 pounds. 
The exact number will depend on several factors, with the most significant influence being the specific model or variant. 
2-Door vs 4-Door

If you are buying a Jeep Wrangler, one of the first things to decide upon is whether you will go for the two- or four-door models. The two-door variant is cheaper, smaller, and has fewer configurations available. More so, they are also different in terms of their towing capacity. 
A two-door Wrangler can tow a maximum of 2,000 pounds. Meanwhile, the maximum towing capacity of a four-door version is 3,500 pounds. 
Pay Attention to Axle Ratio 
As you try to understand Jeep Wrangler towing capacity, you need to learn different terms, and one of the most important is axle ratio. It refers to the gears in a vehicle that links to the driveshaft and engine. The higher the number, the better it is for towing. 
For instance, if a Jeep Wrangler has an axle ratio of 3.21:1, it means that the driveshaft rotates 3.21 times every time a wheel spins. A higher numerical ratio corresponds to better hauling capability, so such is what you should be looking at when comparing different models. 
However, take note that a higher axle ratio isn't always ideal. Among others, one of the most significant drawbacks is that it increases fuel consumption. Nonetheless, even if it uses more gas, for many users, the benefits can outweigh the cost. 
The Most Tow-Ready Models

Not all Jeep Wranglers are the same in terms of their towing readiness. Some models have features that make them stand out.
Command-Trac 4×4 
It is the most capable for towing because it features a neutral option, which comes in handy when you are towing on flat surfaces. This is perfect for highways and other places with paved roads. The 2.71:1 low-gear ratio is also a plus, especially when you are driving in more challenging conditions. 
Rock-Trac 4×4 
With a low gear ratio of 4:1, this is another Jeep Wrangler version that is ideal if you need a 4×4 for towing. Plus, an electronic front sway bar and electronic locking differentials, which are both influential in increasing the vehicle's pulling power. 
Select-Trac 4×4 
When you are on a clear path, the system runs on 2×2 mode. On the other hand, as soon as you transition into rougher terrains, it activates the 4×4 function. This makes a great towing vehicle during inclement weather. 
Features That Make Jeep Wrangler Great for Towing

Through the years, Jeep Wranglers have been redesigned to introduce an array of new technologies and state-of-the-art features. That said, below are some of the things that make this 4×4 a great option for towing. 
Hill Start Assist 
This is one of the best innovations that can help protect your Wrangler and cargo on the road. If you are traversing an incline, this technology comes in handy. It assists you on hilly terrains while also maintaining the right brake pressure. This will prevent your Wrangler and cargo from rolling backward, which is also important for the safety of other motorists. 
Tru-Lok Locking Differentials 
The Jeep Wrangler has front and rear locking differentials. They are responsible for balancing the speed of the wheels on both sides. As a result, the vehicle is more stable and delivers great traction, which will also help enhance its towing performance. 
Electronic Front Sway Bar Disconnect 
Off-road enthusiasts will appreciate the electronic front sway bar disconnect in Jeep Wrangler, which helps in improving suspension articulation. It is a handy feature when you are navigating sharp corners. It comes with a torsion metal spring, which makes the Jeep Wrangler more responsive in different environments. 
Class II Tow Receiver Hitch
A typical configuration that you will find in cars, mini-vans, and crossovers, a class II tow receiver hitch is 1.25 inches and has a gross towing capacity of up to 3,500 pounds. It is designed for light-duty trailers, so make sure to watch out for your load. 
What You Need for Towing With Jeep Wrangler 
To prepare your Jeep Wrangler for towing, you will need several things, including those we'll talk about below. 
Trailer Hitch Receiver 
The tow hitch connects to the Jeep Wrangler's chassis, making it possible to haul cargo. It acts as the connector between the towing vehicle and whatever it is that you are pulling. There are two types of hitches that you can mount on your Wrangler. 
Receiver Hitch: If you opt for this hitch, you will mount it on the frame or the back crossbar. It is located under the bumper. More so, it has a 1.5- to 2-inch opening and will bolt using the existing holes. There is a tube where you will link the ball mount and other hitching accessories. It is also the most common type of hitch. 
Bumper Hitch: Coming with a conventional two-inch ball mount, it attaches to the rear of the Wrangler's bumper. You will need to replace the bumper with the hitch, so make sure to find one that seamlessly blends with the look for your 4×4. It is effective for towing light loads, such as domestic vehicles and RVs. 
Ball Mount 
This receiver hitch accessory has a ball platform and shank. The latter links to the hitch receiver tube. Meanwhile, the former creates a mounting platform for the ball. It can be a single piece fixed in its position or will have multiple parts and offer adjustability. The latter is a better option since it will let you customize the position based on your towing needs. 
Hitch Pin 
The main function of a hitch pin is to secure the position of the trailer hitch receiver and ball mount. The size of the receiver dictates the size of the hitch pin you should use. It is usually L-shaped and made of spring steel. 
Trailer Hitch Ball 
Also called a trailer ball, it directly connects to the trailer hitch and is responsible for creating a coupling point between the Jeep Wrangler and whatever it is that you are towing. Most of them will have a washer and nut. Meanwhile, some are in a one-piece weld. 
Wiring Harness 
The wiring harness is a part of a towing set-up that connects to the Jeep Wrangler's electrical system. It has a standard connector like a four-way flat plug. This part is essential for powering 
the components of the trailer, such as the brake and rear turn lights. 
Tips for Towing With Jeep Wrangler 
When towing with your Jeep Wrangler, take note of the following tips for optimal performance: 
Pay Attention to Proper Weight Distribution 
When loading cargo on the trailer or whatever you will tow, distribute weight evenly. Using a weight distribution hitch will address the problem. This will make the trailer more stable. In turn, you can pull more efficiently and safely. Having sway control is also beneficial in terms of minimizing the impact of the wind while minimizing the stress on the Jeep Wrangler. 
Use a Transmission Cooler
When you carry small stuff on a Jeep Wrangler, its weight does not put too much strain on the vehicle. However, when the weight increases, such as when you are towing, it can put too much burden on the transmission fluid, resulting in overheating. The transmission cooler will keep the fluid at the optimal temperature, preventing problems on the road. 
Understand the Payload Rating 
Aside from the towing capacity, the payload rating is another technical specification you should know. This is the maximum weight that the Jeep Wrangler can carry. Going beyond such will have significant safety repercussions. 
Maintain the Jeep Wrangler 
Proper care and maintenance are crucial to ensuring a safe towing experience with a Jeep Wrangler. Towing will put a lot of stress on your vehicle, so make sure that it is up to the task. From changing oil and filter to maintaining the brake pads, see to it that all parts are in good condition to avoid problems on the road. 
Know Your Route 
Research your intended route before leaving. Use your mobile phone or laptop to see the map, as well as the road conditions. This way, you can prepare for the demands of the trip. Otherwise, there can be unforeseen circumstances that will give you a nightmare. 
Practice Driving 
Driving a Jeep Wrangler under normal conditions is different from driving it when there is a loaded trailer. The additional weight can make the drive more challenging. If you have never pulled a trailer before, it is important to practice driving in a safe area. 
You can compare the towing capacity of the Wrangler with that of the Ford Raptor here. 
Conclusion 
The Jeep Wrangler towing capacity depends on the specific version of the 4×4 that you are using. If it is a two-door model, it can tow a maximum of 2,000 pounds. Meanwhile, four-door models can tow up to 3,500 pounds.