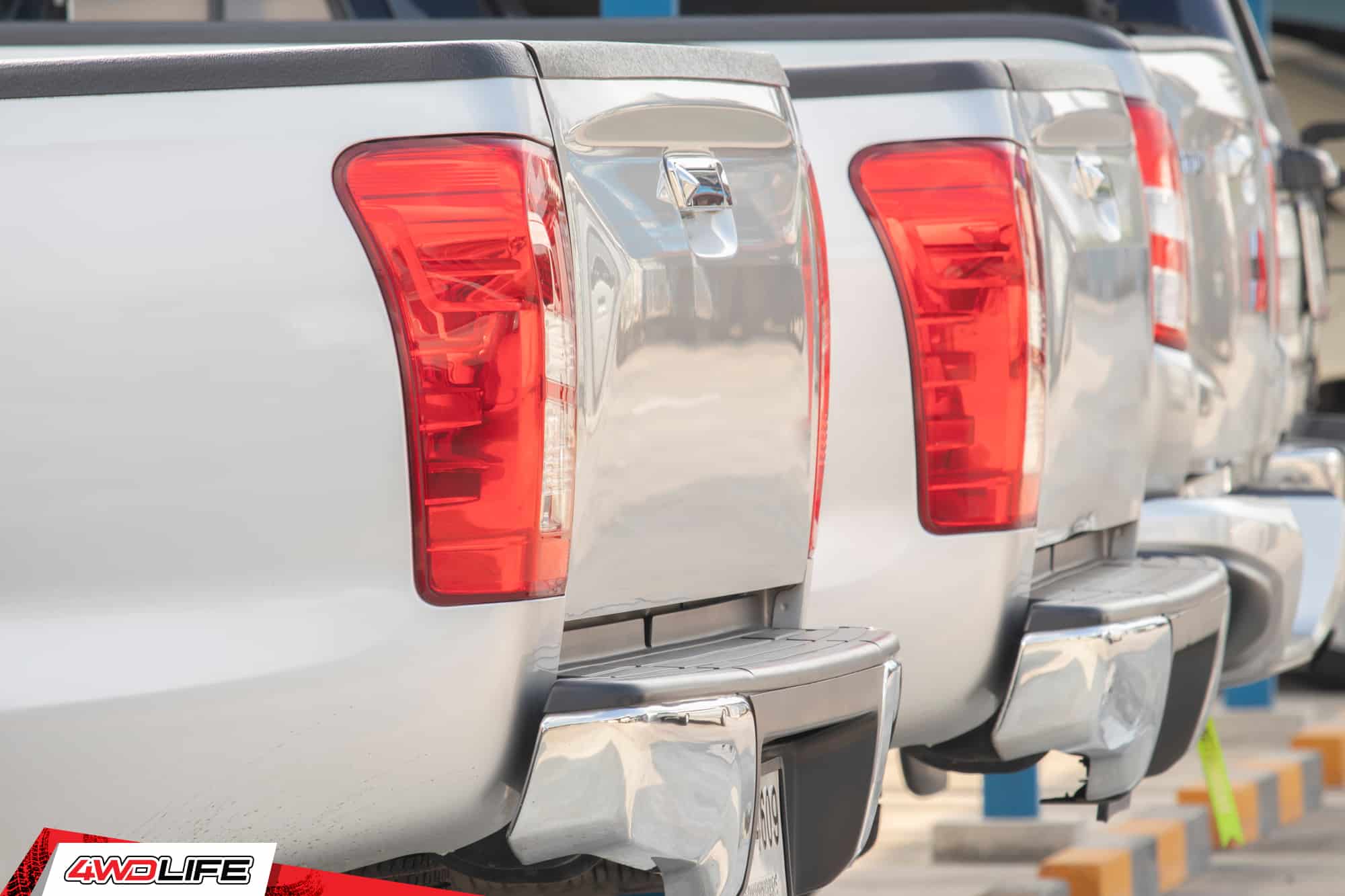 Tailgate light bars merge function with appearance. On the one hand, light bars/stripes function as signal lights: brake lights, reverse mode lights, and as tail lights (right and left turn). On the other hand, tailgate lights beautify your vehicle, turning it into a fully customized and unique vehicle.
This article deals with tailgate light burs in several ways. First, we will present you with the list of the best tailgate light bars, and review them objectively and neutrally. Then, we'll provide you with our Buyer's Guide, where you'll find important features and factors related to the tailgate light bars/stripes.
The goal of this article is to inform, not to indoctrinate. We want you to understand the role tailgate light bars play in the automotive world: only then will you appreciate the product you buy, if you decide to buy it in the first place.
At A Glance: Our Top 4 Picks for Tailgate Light Bars
Best Tailgate Light Bars – Reviews & Recommendations For 2023
7 Best LED Tailgate Light Bars for Ford F-Series, Dodge Ram, Chevy Silverado, GMC Sierra, etc
IMAGE
PRODUCT
DETAILS
 

Our Top Pick

Partsam

72 / 90 LEDs
IP67 silicone
Warranty 1 Year
Very bright

CHECK PRICE →
OPT7 Redline

72 / 90 LEDs (Redline)
788 / 1200 LEDs (Redline TRIPLE)
IP67
Warranty 2 Years

CHECK PRICE →
RECON

IP67
90 days limited warranty
White and red LEDs
Available in 60 or 49 inches

CHECK PRICE →
Putco Switchblade

2000+ LEDs
IP69K
Warranty 3 Year
Beautifully crafted

CHECK PRICE →
1. Partsam LED Tailgate Light Bar – Most Inexpensive Light Bar
Partsam Truck Tailgate bars are available in two sizes: 60 and 48 inches. The 60-inch is compatible with more massive trucks, such as with Chevy GMC or Dodge Ram. The 60-inch also works with RVs and SUVs. The 48-inch bars work with vehicles like Fords (150, 250, 350), Chevy Silverado, and so forth.
These products differ in size, price, and in lights number. The 60-inch bars feature 60 red LEDs and 30 white LEDs, while the 48-inch version 48 red LEDs and 24 white LEDs. But when it comes to other features, such as the durability, design, functions and so forth, they are the same.
Partsam LEDs are very bright, helping you see the road and assisting others to view you on the road, regardless of weather conditions (heavy rain, snow, mist, etc.) The product (strip) is made of a robust and elastic material, resistant to water, oxidation, and shocks.
Partsam fills their strips with IP67 silicone, which seals any gaps within the strip. More importantly, it makes the bar more resistant to harsh weather and conditions.
Simple to Install
When it comes to installation, you have two options: you can either use the 3M adhesive tape (just peel of the cover) and paste it on the truck or, you can use the screws and bolts for more secure installation. We suggest that you use the 3M tape until you are sure that you want to use them.
Functions as:
RED LED Driving Lights
RED LED Brake Lights
RED LED Turn Signals
WHITE LED Revers Lights
Available in the following sizes:
But, the lights aren't airtight, which means that the outer air will enter the LEDs and cause condensation, which will reduce the quality of these lights. They aren't the most durable either, but that is to be expected when you compare the price of these LEDs with other, more expensive ones.

Pros
very inexpensive
bright
easy to install
operates in harsh conditions
Cons
not airtight
not that durable
2. OPT7 Redline Flexible LED Tailgate Light Bar – Very Bright LEDs Even in the Daytime
OPT7 is a very notable light manufacturer, offering excellent products at a fair price. Here, we'll review two of their products: the OPT7 48″/60" Redline LED Tailgate Light Bar and the OPT7 48″/60" Redline TRIPLE LED Tailgate Light Bar. Before you start reading about the OPT7 light bars, consider this: one forum discussion portrays the OPT7 robustness and endurance: a forum member posted a picture of the rear-ended vehicle, but the OPT7 lights were functioning even after the crash, which is quite unusual (read the discussion here).
OPT7 48″/60" Redline
This light bar is arguably one of the most popular bars on the market, due to its durability, features, brightness, and cost-effectiveness. The OPT7 Redline enhances your truck's appearance but also improves its (and yours) safety.
The lights are very bright, and sync with the ones on your vehicle (factory lights). These are tri-core Alpha LEDs, very potent and vivid, allowing you to be seen on the road during day and night. The lights will function for 30 000 hours and can endure heavy rain, snow, and other natural elements.
The bar features IP67 silicone in combination with an aluminum body. It is lightweight, extremely robust and resistant, but also highly protective (regarding LEDs). These lights will function in cold temperature, up to -20 Fahrenheit degrees.
Installation is rather simple: peel the 3M tape, stick it to the dedicated spot, and wire the system. It will take you some time, but you'll get there. Note that this bar feature no drilling, no bolts or screws; all you have to do is tape it to your vehicle. After you connect the wires, plug it in the 4-pin connector and enjoy the show.
Most people noticed that, when you use the lights as turn signals, both sides will flash. If you want to turn red and turn the signal, the left side will flash too, but barely. Still, you can see it flashing if you pay attention to them. This won't cause any significant problems but may frustrate you a bit.
Functions as:
RED LED Driving Lights
RED LED Brake Lights
RED LED Turn Signals
WHITE LED Revers Lights
Available in the following sizes:
Pros
extremely cost-effective
well-built and durable
excellent brightness
easy to install (no drilling!)
Cons
not airtight
the turn signalization is slightly bugged
OPT7 48″/60" Redline TRIPLE
The TRIPLE LED is a bit more expensive than the previous OPT7 product, but it does offer you some unique features. For starters, you can select the turning color: amber or red. Note that red also functions like braking and turning color, while the white operates during reverse driving.
This light bar is among the most potent bars on the lights, extraordinarily bright and durable. Brightness is impressive and attractive, and the installation process is relatively simple (paste the bar via 3M tape, no drilling required).
Frame is aluminum made, stable and protective. It is waterproof, resistant to harsh weather, and can endure up to -20 Fahrenheit degrees. You can use the four pin connector or hardwire it to your vehicles' electrical system. The expected lifetime is 50 000 hours.
This bar features Mustang-style sequential turning system, which will separate you from everyone else on the road. But it's not just about appearance: the TRIPLE LED lights are noticeable during day and night, helping you avoid collisions. The bar uses the power of 788 tiny LED's, merging it into one powerful LED bar.
I have one complaint regarding this light bar. Incidentally, it uses 4-pin connector, but it should use 7-pin connector. Why? Well, when you pair this bar with your factory lights, there is a slight delay between the two. The bar has to check the function (for instance, whether you pressed brakes or turned the turn signalization because they are on the same pin), which causes the delay.
That's the only issue we have with the product. Make sure you pick the right size and signal/brake color if you do decide to buy this product.
Functions as:
RED LED Driving Lights
RED LED Brake Lights
RED or AMBER LED Turn Signals
WHITE LED Revers Lights
Available in the following sizes:
Pros
value for money
Mustang-style signalization
bright and durable
easy to install
Cons
slight delay in signalization
3. RECON Tailgate Light Bars – Versatile And Sophisticated
Here, we want to discuss three different models, each offered by Recon manufacturer: Recon with amber "Scanning Lights", Recon Line Of Fire LEDs, and Recon Tailgate Bar (with Red for braking and White for running).
All Recon Tailgate Bars feature new, 3mm LED lights, which are more colorful and more durable than the conventional SMD LEDs. When it comes to longevity and the durability, Recon delivers.
Installation is simple because the bar features 3M adhesive tape. Or, you can use provided screws and bolts to fixate the bar. Just plug into 4-pin connector and turn it on. Ideal spot for this bar is above the bumper, but below the tailgate.
It also features integrated protective fuse, which activates in the event of overheating/overcurrent (the fuse is replaceable).
RECON with Amber "Scanning" LED Turn Signals
Recon "Scanning" is a tri-colored LED bar: amber is for scanning, white for reverse driving and red for braking/running. The product is available in 2 sizes, the 60 and 49 inches.
Functions as:
RED LED Running Lights
RED LED Brake Lights (6x brighter than running lights)
RED LED Hazard lights
***Scanning AMBER LED Turn Signals***
WHITE LED Reverse Light
Available in the following sizes:
This light bar is unique, with amazing functions and colors. However, the durability isn't that great. The durability wouldn't be a problem if the product weren't that expensive; when you pay a lot, you should expect a lot in return.
RECON Hyperlite Red LED "Line Of Fire"
Much like the Recon 26411/26412, the Recon Hyperlite Red LEDs "Line of Fire" lights feature new, 3 mm diode. The Line Of Fire lights are all-red, and function as running, parking, breaking lights, and so forth. These are also available in 49 or 60 inches.
Functions as:
RED LED Running Lights
RED LED Parking Lights
RED LED Brake Lights (6x brighter than running lights)
RED LED Hazard Lights
RED LED Turn Signals
Available in the following sizes:
These red lights are ideal for cars with red brakes and running lights (which are always red). Installing the lights just slightly above the bumper will ensure optimal position because the bar will act as a bridge between the two sides and two lights.
RECON Tailgate LED Bar (With Red Brake And White Reverse Lights)
Last Recon product on our list is the 26416 LED bar, available in 60 or 49 inches. It is a mixture of white and red colors: white functions as a reverse light, while red functions in all other driving modes (brake, parking, turn signals, etc.)
Functions as:
RED LED Running Lights
RED LED Parking Lights
RED LED Brake Lights (6x brighter than running lights)
RED LED Hazard Lights
RED LED Turn Signals
***WHITE LED Reverse Light***
Available in the following sizes:
This mixture of white and red LEDs make it unique. Of all the Recon lights, I like this one the most, due to the color combination (the red is too dull, and the mixture of amber-red-white is too much for my taste).
4. Putco Blade LED Tailgate Light Bar – Highest Brightness and Maximum Visibility
Last light on our list is the Putco BLADE LED LIGHT BAR. The product is available in 48 and 60-inch size, featuring 2000 LED lights. Lights work together with powerful channel beam, ultimately providing bright and beautiful light effect.
The BLADE LED features five functions: running and brake (red), reverse (white), and turning left and right (amber). The LEDs are adequately protected, encapsulated in an IP69K (see IP table) polycarbonate tubing. The material is weatherproof, waterproof and shockproof.
Putco BLADE is the most expensive product on our list, but also the most durable one. It features COB technology, which delivers impressive brightness and light effect. The bar is entirely sealed, protected and safe. It is also very slim so that it doesn't cause headaches when you are opening or closing the tailgate.
It functions together with factory lights with no delay whatsoever. The lights are tiny in diameter, but extremely powerful when put together. It should also work with most full-sized trucks and SUVs. Installation is simple, featuring 3M taping.
You won't have to wire the system manually if you don't want to: just plug in and play. Once you install it, you'll enjoy beautifully crafted, no-delay tailgate lights. However, there are a few downsides. For starters, it is the most expensive product on our list, but still, it's worth the cost.
Secondly, the instructions are outdated because they don't include contemporary vehicles. Furthermore, some people had issues with installing this system with modern, 2015+ cars. For instance, the F 150 features advanced traffic commands, and the Putco BLADE LED LIGHT BAR doesn't recognize the system.
Functions as:
RED LED Driving Lights
RED LED Brake Lights
AMBER LED Turn Signals
WHITE LED Revers Lights
Available in the following sizes:
Pros
amazing brightness
easy to install
sturdy and stable
value for money
Cons
outdated instructions
doesn't seem to work with some modern cars
A Quick Guide in Choosing the Perfect Tailgate Light Bar
Here, we will talk more about the topic itself; the tailgate light bars: what are they for, how to separate good tailgate lights from the bad ones, what factors you should consider, and so forth. If you are serious about this topic, and if you truly want to buy the optimal product for your vehicle, then go through our guide with patience and care; the time you invest in reading this article will pay out in the end.
What Is The Purpose Of Tailgate Light Bars?
Much like the rock lights, tailgate lights have to roles: functional and aesthetical. Tailgate light bar, which is generally installed in the rear of the vehicle, in between the bumper and tailgate, makes your car more visible. There is a reason why all lightbar manufacturers produce items that are resistant to water, harsh weather conditions, and so forth.
It is because heavy rain or snow decrease the visibility on the road, making it more likely for someone else to bump into your rear. With tailgate light bar, you'll be more visible, even in harsh conditions. Furthermore, one of the advantages of having a pickup truck or an SUV is that you can drive offroad. Consequently, the light bar has to be sturdy and protective to endure such conditions. Because of that, they are often resistant to salt, dirt, sand, and so forth.
Now unlike the rock lights, tailgate light bars allow others to see you, wheres the rock lights will enable you to see the road in front or behind you. Most light bars are highly functional and responsive and will work together with the factory lights. They will often shine a different light, depending on the driving mode (white for reverse, red for breaking or parking, amber for left/right turn, etc.)
But, you can't just blindly select any tailgate light bar. There are things you have to consider before you make your final decision. Here are some of those things:
Compatibility
Compatibility is the simplest, but the most important concept to grasp. First, you have to consider the size of your tailgate and match it with the light bar. Most light bars are purchasable in 48/49 inches or 60 inches. Buying the wrong size doesn't mean that you won't be able to use the product (per se), but you probably wouldn't want to use the light bar that is too short or too long.
Also, you should think about the wiring and installation. Generally, this isn't an issue since most tailgate light bars move along with time. However, not every light bar fits every vehicle. For instance, Putco BLADE LED LIGHT BAR isn't fit for 2015 Ford F150.
For starters, the instructions are outdated; they are decent for installing the bar on older vehicles but struggle with new ones. Furthermore, the Putco BLADE LED LIGHT BAR can't keep up with modern signaling system of the Ford F-150. So, we suggest that you either call the manufacturer and ask about the specific model of your vehicle or browse the web, visit forums, read relevant articles, etc.
Value/Durability
Once you found the product(s) that is compatible with your car, see if the price corresponds with the value, specifically durability. Now, a lot of things affect the rate, and you might not care about each of those things, but you probably think that high prices should deliver high durability.
Durability is affected by a lot of things. First, you have the housing durability, that is, the LED's protective tubes/frames. They are often aluminum-made, but this isn't a rule. The bar, which is the name for the whole system, which includes LEDs, frame, tubing, wires, and so forth, needs to be airtight (to prevent condensation), waterproof (to prevent oxidation/rust), weatherproof (to endure extremely cold or hot weather), and should endure dust, mud, salt, and other chemicals.
Then there is the LED longevity. Most manufacturers offer either 30 000 hours or 50 000 hours. But, you have to realize that these measurements were taken in optimal conditions, without excessive use, harsh environment, and so forth.
Design
Though design can mean a lot of things, we will focus mostly on lights functionality and optionality. Consider these things: What light bars would you like to install? What colors would you love to have? Do you value brightness over anything else?
There is another vital issue regarding design, and that is the installation process. Here's what I like: I like the paste my light bar via 3M adhesive tape and enjoy the lights. And that's it; no drilling, no additional silicone filling, no extra taping, and so forth.
When it comes to the "type of light bars," I prefer the OPT7 design: the simple installation, the brightness, the plug & play (no standard wiring required), and other things. All these things are related to design. Also, consider the number of colors you want to use. I like the combination of white and red colors, white being for reverse driving.
Amber is okay, but not needed. Note that the white is also not vital, but I like. Brightness is far more important than the color optionality; it is better to have a very bright single, red colored light bar than to have a dim multicolor bar (read more about the design in this forum discussion).
Appeal
Will the light bar you wish to buy fit your vehicle? Here, we aren't talking about compatibility, but aesthetics, that is, will the tailgate light bar improve the overall appearance of your truck? Now I do agree that function is more important than the appeal, but appeal shouldn't be neglected.
Consider the number of lights, but also the build of the specific light bar. For instance, would you like an interconnected tiny LEDs, which function as a single illuminated line, or would you prefer dotted LEDs spread across your vehicle?
Other Minor Factors
Of course, you will have to determine your budget and shop within its boundaries. What we can suggest you is that, if you want to experiment with tailgate lights and see if you would like to have them on your vehicle, go for the cheap items. Furthermore, think about the installation process and its difficulty. Maybe you should also consider the Voltage if your vehicle is already overloaded.
Alas, think about the brightness. Much like with truck bed lights and rock lights, the brighter, the better. If you mount very bright LED bar on the back of your truck, drivers behind you will see you even under extreme conditions, such as heavy rain or snow, during day and night.
Conclusion
Deciding to buy the tailgate light bars is simple, but purchasing the bar is a whole other story. There is soo many great choices, each having its pros and cons. The reason why we chose the OPT7 LED Tailgate Light Bar is because this light bar offers excellent value for the reasonable price.
And if you have a massive budget, don't just go for the most expensive product on the list, even if you can afford it. Go through our list and figure out whether the product matches all the criteria we mentioned.
Of course, this is just a suggestion, not an order, but if you want to follow our advice, you'll have to follow our guide. Alas, if you think that there are other things to consider, don't give them up: the more factors you include in your selection process, the better.