So, suddenly, there is this adventure travel trend called "overlanding" becoming more and more popular.
You're probably curious what exactly it is. You see it on Instagram, or you read about people going on an overlanding trip, but don't quite get the concept.
Well, let's start with what it is not. For one, overlanding is more than just camping. It's also not off-roading. It is more of an adventure on the road less traveled, with a sense of self-reliance and lots of new things to discover.
Overlanding is all about exploration and immersing yourself in different cultures in different surroundings. The journey is the main goal in overlanding, whether you are traveling on a truck or a motorcycle. 
This type of adventure involves long-distance road travel to a remote destination. The journey is accomplished with overland vehicles that are suited for off-road transportation. Camping provides shelter during the journey, which lasts for days, weeks, months, or even years. The trip may take you to a faraway location in another country.
Though sometimes adventurous, a guided tour of a park or just camping is not overlanding. You have to travel to destinations where little exploration has previously occurred. The goal is to discover new things when you journey to the unknown.
Can You Overland?
Overlanding expeditions require travelers to be self-reliant. You have to be resourceful, handle repairs, and improvise when the need arises. You also travel self-sufficient; take care of your food and shelter. There will be times when you have to manage your almost-exhausted provisions to survive. Heck, you may also go for days without taking a shower!
Survival is important when you embark on overland adventure travel. You have to consider the extreme temperatures, harsh environments, and wild creatures you could encounter along the journey. Remember to pack enough food, drinks, and other things needed for the trip. You are not likely to get the supplies at your destination.
Reaching that remote location is not the main goal in overlanding but the amazing scenery and the fulfilling sense of discovery. 
Overland adventure travel improves your survival skills and mental toughness. It allows us to experience nature in its fullness. Besides the road trip, overlanding includes other activities such as wading in waters and crawling over massive boulders. 
Is Overlanding the Same as Off-Roading?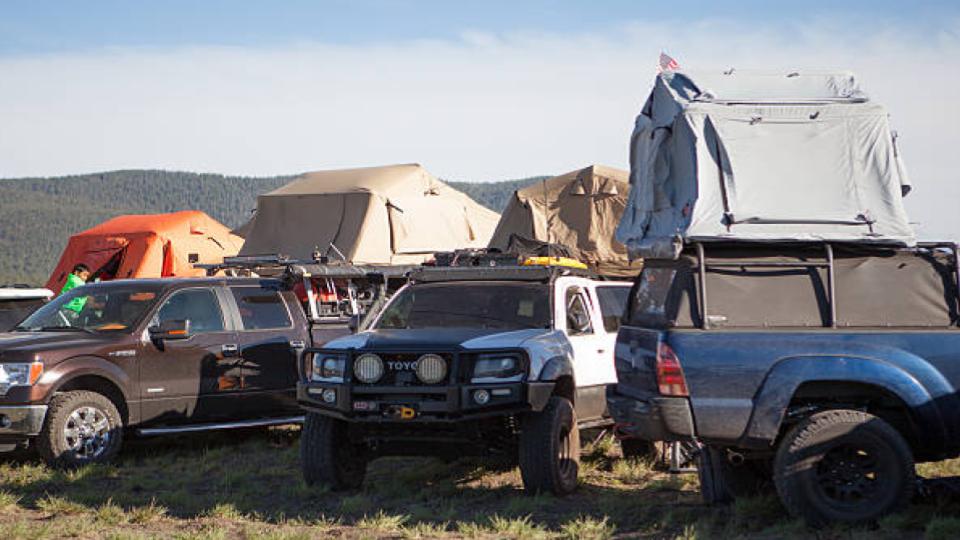 While overland adventure travel may include off-road trips, overlanding and off-roading are not the same. The journey is an overlander's goal but an off-roader travels for recreational purposes. You may be wondering 'what is an overlander?' An overlander is a traveler who embarks on an overland adventure. A description of both types of road trips will help you to understand the difference between them.
Overlanding
It is a road journey to remote locations using a vehicle. An overlander maintains some comfort while traveling self-supported to amazing places to make discoveries. It's all about exploring unknown places and distant parts of the country or beyond. 
This type of adventure travel tests the traveler's resourcefulness and survival skills. Many overlanders do not travel over unsurfaced roads as their vehicles are not modified for such trips.
Off-Roading
It involves traveling over rugged terrain or unsurfaced roads. Off-roading is not just traveling on unsealed, gravel tracks but also going over difficult natural terrain. Often, going 'off-road' refers to traveling on unsurfaced gravel roads or forest tracks. When off-roading you tend to pass through extreme versions of natural terrain such as rugged tracks and rocks.
Off-road travelers use vehicles that are specifically designed with build-outs to go over difficult terrains. Unlike an overland vehicle, such a highly modified 4WD vehicle can only accommodate few amenities. Besides, it requires special driving skills and knowledge of the terrain to drive them. Unfortunately, you can only access some amazing remote locations by traveling over natural terrain.
While the primary goal of overlanding is the journey and the exploration, off-roading focuses on driving skills and traveling over rugged natural terrain. And if you love adventures, you can embark on overland travel to locations where rugged terrain would not be a limitation to having a memorable trip.
What Is a Suitable Overland Vehicle to Use?
Basically, any vehicle, may it be a car, RV, or SUV would do, but remember that your overland vehicle will be used for both living and transportation. The vehicle should be able to accommodate all the supplies you'll need during the journey even if that lasts for an extended period. It could also have room for cooking and other equipment including camping gear. 
Not all overland vehicles are suitable for traveling over natural terrain. Due to the weight of the loads and the balance of the vehicle, it will be hard for it to go over difficult tracks. An overland vehicle with 4WD (four-wheel drive) can go over rugged terrain. However, not all are built for rock crawling and four-wheeling.
Some popular overland vehicles include the Toyota Tundra, Jeep Wrangler, Lexus GX, and Toyota Tacoma. Learn the difference between a 4×4 vs a 4×2 to know which one will suit your overland adventure. 
Tips for an Overland Adventure Travel
If you are planning to undertake an overlanding expedition, you have to prepare for the adventure. Here are some tips that will help you.
Get a vehicle suited for a road trip
Some travelers use their cars or SUVs for an overland adventure trip. Others rent minivans and campervans kitted for the journey. You don't need just any vehicle for a long-distance road trip. An overland vehicle will provide you with the comfort of living space and improve your travel experience. A 4WD overland vehicle can go on backcountry roads and get you to your destination. It will be a big plus if your SUV is great for sleeping. 
Aside from using a suitable overland vehicle, it will be helpful if you can carry out minor car repairs. Pack some basic tools and self-charging jumper cables. Also, travel with one or two spare tires and tire-changing equipment as you may need to change tires along the way.
Remember that you need an equipped overland vehicle to reach your destination. You can have your vehicle modified to suit your specific needs.
The comfort of overlanders is the major focus when customizing a vehicle for overlanding expeditions. Despite weather conditions, you have to be comfortable inside your vehicle.
Pack necessary items
Besides food, drinks, and other camping supplies, there are other items that overlanders need for adventure travel. They include a camp stove, first aid kit, headlamp, portable chargers, extra towels and blankets, and mosquito nets. You also need rags for cleaning mud off your feet and spills. A trowel and toilet paper will be useful when the bathroom is beyond your reach.
A good GPS will come in handy at locations without cell service. Take along waterproof paper maps with you in case the GPS fails. Also, pack games and a book or two. You may need them to keep yourself busy on a rainy day.
Pack clothing essentials
Remember to pack outdoor clothes. You will also need clothes that can protect you from harsh weather conditions. A sun hat, waterproof jacket, hiking boots, and flip-flops are also necessary for an overlanding adventure. Pack smart and take only the clothes you'll need. You don't have to fill a suitcase with clothes when you need only a few for the duration of the journey.
Have a budget
Despite the provisions you have made for the journey, you may need to purchase fresh food items or ingredients along the way. You may also decide to eat at local restaurants or pay for the campground. Besides, unexpected expenses may occur. You must plan how to spend money for the overland adventure travel.
How to Pack for Your Overland Trip
It is not easy to pack for adventure travel. You have limited room to pack the supplies, equipment, and your belongings. Organize everything so that you have easy access to items you'll need. If not, you will have to unpack all the boxes or the entire trunk while searching for a single item.
Make a list
Write down a list of everything you need and double-check that you have packed them all. A packing system that helps you remember where you kept everything is ideal for overland adventure travel. You can use packing cubes to arrange loose items. Label them to make it easy for you to find the packed items. 
Use bags with compartments
You can also use bags for packing. The bags that have compartments will help you separate the items. Keep your water containers upright and tightly closed to avoid spilling the liquid. Your guidebooks, maps, camera, water, and snacks should be placed where you can easily reach them. You can pack them in a backpack and keep them near you.
Don't pack everything
You may not pack all the food you need for the duration of the trip. You can buy more food, water, and gas along the journey if you follow a route where you can easily purchase them. However, make sure you pack enough provisions that will sustain you until you reach locations where you can buy more. Having said that, it is ideal to pack extra supplies as you may experience a delay before you reach a grocery store or gas station.
Availability of food improves your adventure experience. You can cook delicious meals or eat at a local restaurant if there are any. However, you can also pack ready-to-cook meals, you know, those you prepare by adding hot water. 
You can spend a few days, weeks, months, or even years while having a great overlanding adventure. This will help you become a better person, more resourceful and able to improvise when the need arises.