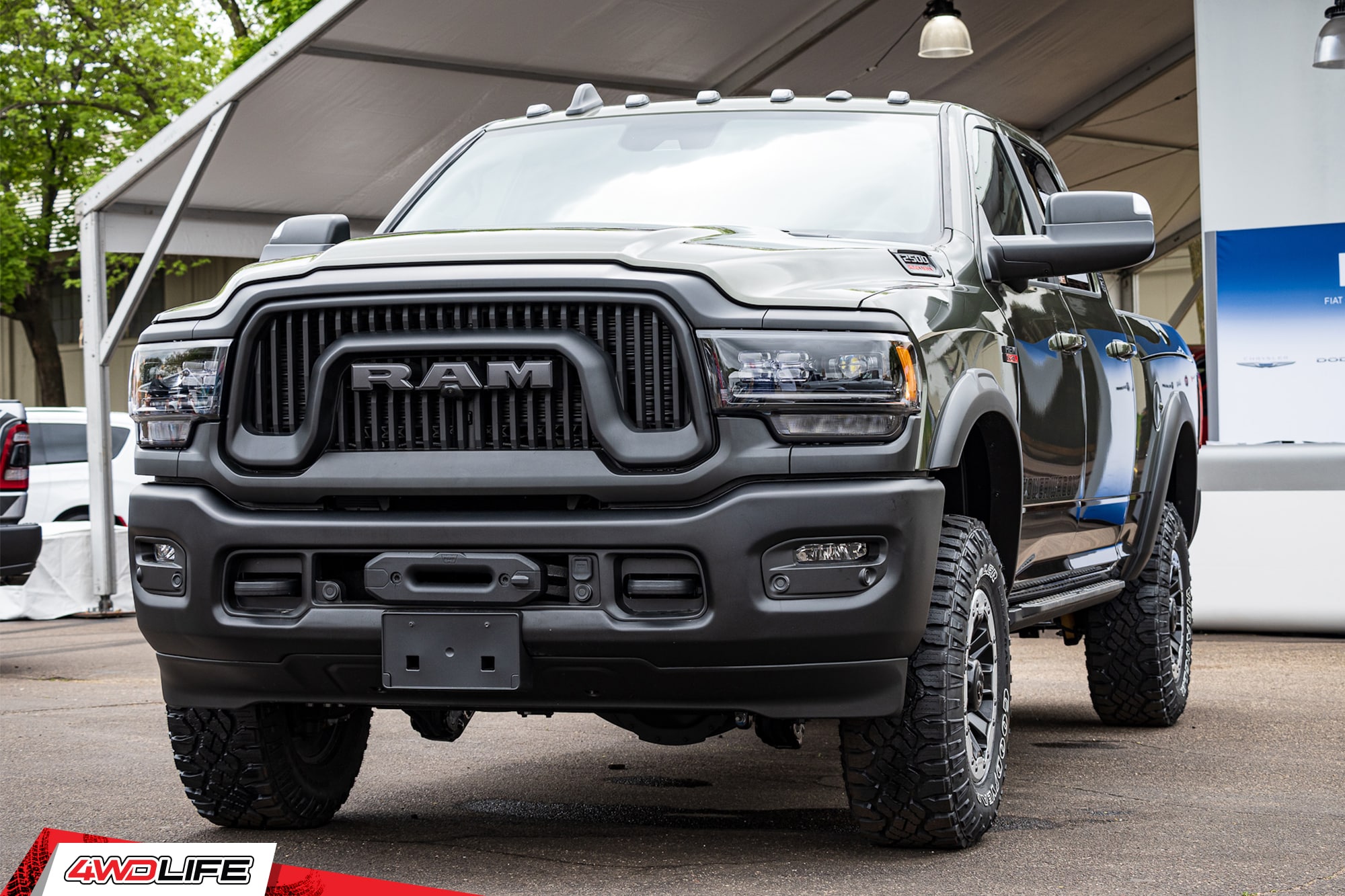 Which features do you desire in a Ram truck?
A 6.7L engine or a 5.9L?
You see, each generation of Dodge Cummins trucks brings something new to the table. The first generation had the basics of this famous truck, such as a 5.9L engine. Some years into the second generation, the engine changed, and a facelift revamped the exterior such that the minivan frame vanished.
Therefore, to find the best year Dodge Cummins to buy, we have to look at all updates in different generations.
First Generation: 1981 – 1993

Most of these Dodges aren't in the market anymore. Some rusted, others experienced transmission failure, while others just gave in. But if you do get one, you're in for some unmatched fuel economy from a 5.9L Cummins engine.
Look out for a 1991 to 1993 Dodge if you need a 5.9L engine with 160 hp and 400 lb-ft torque. This generation's trucks are laid-back, perfect if you're into almost retro-style bodies. If not, the pickup truck may need some work to adjust its interior or exterior to your preference.
Second Generation: 1994 – 2002

So many updates took place in this generation. From 1994 to 1998, the engine evolved from a VE-Rotary pump to a better injection pump called the P-1700. Further, getting a truck from this generation means you'll enjoy more horsepower averaging 175 to 235, which is better than in the previous generation of trucks. Plus, these trucks have the durable, efficient 12-valve engine used in the first generation of the Dodge.
The body design of this generation's trucks improved a lot from the previous bare-body design into one with a rounded, elaborate grille. Hence, if you're looking for an old Ram truck without the minivan design, find a 1994 year truck.
Further, a 1997 truck has hydroboost brakes that work better than the previous vacuum booster brakes that may run out of vacuum. Therefore, the 1997 truck stands out as it was the last one with a 12v engine and the most updates since this generation began in 1994.
The 1998 truck has a better interior, and it has quad cab doors in case you need them. However, some parts of the 1998 year truck are only for that year, so you may not find spare parts in the market. Other changes in this generation's trucks are the 24 valves of the 5.9L engines introduced in 1998 to improve throttle response for better performance.
With this change came a considerable increase in horsepower to a range between 235 and 245. Also, there was a shift from the P7100 injection pump to a VP44 injection pump. Most of the problems of this generation's trucks resulted from this new injection pump as the electric lift pump installed to maintain the desired fuel pressure prevents sufficient fuel supply to the VP44 pump.
Third Generation: 2003 – 2009

Both the Ram 2500 and the 3500 from this generation are worth it. The horsepower in 2002 was 305, which increased to 325 hp in 2004.
A 2006 facelift increased cargo capacity. In total, you're looking at a 12,000-pound towing capacity in this generation. This generation is also loved by many because the brand installed a catalytic converter for the first time, and it had the last 5.9L engines phased out in 2007. At the same time, the horsepower increased to between 350 and 385, and the torque stood at 865 lb-ft.
One of the problems truck owners mention is how easy the seats stain and wear out in the 2006 year trucks though the brakes are better than the ones in the previous generation.
The seats differ from the 2003-2005 seats that had leather and enough foam for comfort. You're also likely to get a 2006 mega cab with over six-foot cargo space, full-screen mapping, and reclining rear seats. The headlights of this Ram truck are also more stylish than the ones in the previous models.
Fourth Generation: 2009 – 2018

Dodge Cummins trucks from 2016 have a 6.7L engine and a 900 lb-ft torque. Another remarkable change was the arrival of a full-size four-door cab to suit buyers who wanted something better than the previous quad-door cabs. However, you can still get mega and quad cab models from this generation.
If you come across a RAM 1500 2013 model, it'll have better infotainment systems than a 2006 model, including a micro SD card slot, AM/FM radio, and audio streaming capability. However, you can get more infotainment features in a 2018 model as it has an HD Radio, an internet hotspot, Android phone integration, among other updates.
Fifth Generation

The 2019 Ram trucks come with 1,000 lb-ft of torque, and there are seven trim levels. This generation's trucks are also lighter, about 225 pounds lighter than previous ones. The Ram 1500 boasts the most sturdy frame of them all, and all trucks offer 12,750 pounds trailering capacity.
To sum up our discussion on various generations of Dodge Cummins trucks, notable differences are in the body design, the engine valve, horsepower, torque, and the engine type. You can get the reliable 5.9L engine in trucks built before 1998. However, horsepower increased from 1998, and torque reached 1,000 lb-ft in 2019.
FAQs
What Year Cummins Is Most Reliable?
The 97-98.5 years stand out if you're looking for a 12-valve engine. These trucks have many updates not found in the first generation, such as excellent horsepower, and they churn about 300,000 miles. Most of the changes took place in 1994 and 1997.
What's more, the emission regulations weren't as stringent as in later years. However, if you're looking for a modern exterior, later years are better, from 1998.5 to the present.
What Is Special About Cummins?
One of the reasons to go for Cummins is the reliable, superior quality engine. You have some trucks with the 5.9-liter engine and others with the more advanced 6.7L. On top of that, these engines have the horsepower and torque to tow heavy loads, and they are durable.
Which Cummins Should I Avoid?
Each generation has advantages and disadvantages. If you're into a modern exterior design, the first-generation trucks would be a rip-off. The 24-v trucks toward the end of the second generation, 1999-2000, aren't as reliable as the 12-v models of the previous generation. Their performance was better, but they had issues like poor fuel supply pressure.
On top of that, all trucks with 6.7L engines are modern designs, but they get many recalls for different issues. For instance, the fire extinguishers of the 2016 year Ram 2500 trucks failed, and the cruise control wouldn't turn off. Even the following year's 2500 trucks experienced some mechanical problems like shattering axle shafts.
Since more recalls plagued these trucks, the best way to know the one to avoid is to find out more about recalled trucks. In there, you'll come across the 2002 Ram 1500 that had leaking brakes calipers, the 2003 Ram 1500 for electrical faults, and the 2004 Ram 1500 that had inaccurate tire information.
Is 5.9 or 6.7 Cummins Better?
The two differ in some areas, and understanding these differences can help you tell them apart. For example, most parts of the 6.7L came from the 5.9L engine, which means it gained commendable features like durability.
The 6.7L has more emission control parts you'll not get in the 5.9L used in the first-generation trucks, such as the exhaust gas recirculation system (EGR) and the diesel particulate filter (DPF). Therefore, this engine lives up to the standards set by the Environmental Protection Agency (EPA).
The 5.9L engine has some advantages over the upgraded 6.7L. For instance, since it doesn't have the advanced emission controls of the latter, it produces less nitrogen oxide.
But, if you need more towing capacity, you still have to go for a 6.7L because it has more low-end torque and exhaust brakes.
There are also similarities between the two engines since they have Bosch high-pressure injectors, though the one in the 6.7 can handle higher pressure.
What Are the Usual Problems With the 6.7 Cummins
As we mentioned above, one of the problems you'll get with a 6.7L is higher nitrogen oxide emission. There's also the risk of head gasket failure caused by increased cylinder pressure as this engine tows more capacity.
Why Are Cummins Engines So Good?
Cummins are durable, and they have the horsepower and torque needed for a truck to tow efficiently. It's no wonder you'll get Cummins engines in different industries, from the defense forces to construction. A 5.9L engine serves up to 400,000 miles, while a 6.7 liter one churns about 350,000 miles.
Final Thoughts
You've set your mind on adding a pickup truck to your fleet, and you're sure you need a Dodge Cummins truck. The next step is browsing catalogs to scrutinize the specs of all five generations of trucks. The first generation won't have much to read about as they were simple trucks, flaunting a 5.9L engine and average horsepower.
The trucks changed in the final years of the second generation after a revamp of the interior and exterior. That's where you'll focus on the changes in horsepower, injection pumps, among other updates. Consequently, the best truck for you depends on the specs you desire.