Most of you are familiar with switching out the batteries gasoline-chugging vehicles, but what happens when you hear the deading click of the starter on your diesel truck? To ensure your truck starts smoothly and has enough power to fuel multiple accessories, you need a powerful source of energy.
How to Find the Best Batteries for Diesel Trucks?
To help you with your inevitable battery purchases, we've combed through hundreds of diesel truck batteries to come up with our top five picks. What's more, we've paired it with our comprehensive buying guide that answers all your need-to-know consumer questions. Enjoy!
At A Glance: Our Top 4 Picks for Batteries for Diesel Trucks
Best Batteries for Diesel Trucks for The Money 2023
IMAGE
PRODUCT
DETAILS
 

Best Product

Odyssey Extreme

Starting & Cycling
Warranty up to 4-years
Cold Crank Amp (CCA)- 850
Spill-proof sealed design

CHECK PRICE →

Best Starter Battery

Optima RedTop

Starting Battery
Warranty 36 months
800 Cold Cranking Amps
Spillproof multidirectional installation potential

CHECK PRICE →

Best Deep-Cycle Battery

Optima YellowTop

Patented spiral cell design
Warranty 36 months
750 Cold Cranking Amps
300+ recharge/discharge cycles

CHECK PRICE →
ACDelco Professional AGM

Starting & Cycling
Warranty 24 months
Quick crank regardless of temperature
Promising longevity

CHECK PRICE →
1. Optima RedTop – Best Starter Battery
The Optima RedTop series features bargain-rate AGM starter batteries that offer stellar performances. Each model can crank out up to 12 volts and between 720 and 800 Cold Cranking Amps of power thanks to their unique spiral-wound cells. The series consists of nine different models, which feature a variety of SAE, GM, dual SAE/GM, and side terminal posts.
The spiral cells consist of two lead plates coated with a layer of energy-dense lead oxide. The spiral shape can be noted from the rounded six-pack shape of the battery. In addition, the battery features thick glass mat separators that ensure this battery is both spillproof and mountable in any position.
Most consumers find the Optima provides a substantial ignition, whether it be in a motorcycle, car, or truck. What's more, it holds up under restrictive conditions, such as frosty mornings. Beyond that, the manufacturer maintains that it is 15 times more resistant to vibrations, ensuring you have full power regardless of the road conditions. What's more, it has an ample reserve capacity of around 100 minutes (not bad for a starter!). Finally, all Optima RedTop batteries also feature a 36-month full replacement period for defective products.
Strongest Starting Burst
Keep in mind the Optima series is primarily suitable for starting vehicles and equipment. While charging your phone and playing some tunes aren't going to siphon off the last volts, if you're looking to power additional toys you may want to upgrade to the Optima YellowTop series.
Depending on the model, the RedTop weighs between 18 and 38.8 pounds, making it easy to leverage for installation and removal. If you're planning on storing it for an offseason or are religious about maintaining your power sources, Optima also makes their own line of chargers.
PROS
36-month warranty
100 hours of reserve
Spillproof multidirectional installation potential
720 to 800 CCA
Inexpensive
SAE, GM, dual SAE/GM, and side terminal posts
CONS
Not suitable for powering extra accessories
Shorter lifespan than comparable models
2. Optima YellowTop – Best Deep-Cycle Battery
The Optima YellowTop battery series consists of deep-cycling 12-Volt AGM batteries with up to 900 Cold Cranking Amps of power. Maintaining Optima's reputation for manufacturing and design excellence, the YellowTop series had no trouble making an appearance at the top of our list. As a matter of fact, this battery offers a generous 120 minutes of reserve capacity to ensure you're powered up and revving to go at all times. What's more, it offers over 300 deep recharge/discharge cycles, giving it a respectable amount of longevity.
Other perks include Optima's claim that, like the RedTop, it is 15 times more resistant to vibrations. This is due in part to the reinforced connections and tightly packed interior components. Moreover, it can be mounted in any direction, making it particularly suitable for custom rides. With the YellowTop you can rest assured knowing you will be provided with a 3-year limited replacement policy to protect you from the unlikely event of a manufacturing or workmanship defect. Beyond that, feel free to cut the engine and still sing along to your favorite tunes thanks to the abundant reserve juice.
Deep-Cycle and Cranking Power
Overall, you'll find that while the YellowTop has fewer CCAs than the red version, it's got more power than most stock batteries. It is important to note that an optional Optima spacer is provided. This may be needed in vehicles where the YellowTop is not a direct fit for the battery box. Nevertheless, a proper installation will ensure your battery will withstand everything from blistery morning cranks to jarring gravel roads.
Like most batteries, the YellowTop is quite heavy. Yet, between 26 and 59 pounds, installation is easy enough. There is no doubt that you will be paying extra to effectively run those power-draining accessories. Still, the YellowTop's powerful starting surge gives it a competitive edge and makes it well worth the money.
PROS
Between 450 and 900 CCA depending on the model
3-year limited manufacturer's warranty
300+ recharge/discharge cycles
up to 98 minutes of reserve power
Patented spiral cell design
weighs between 26 and 59 pounds
CONS
May require spacer (provided) to fit a stock battery box
3. Deka Intimidator – Best Value
The Deka Intimidator series features reliable AGM batteries that offer up to 925 cold cranking amps for an extremely competitive price. The series features extravagant options, such as the Intimidator 9A31PH. This model offers 925 CCA, a reserve of 190 minutes, and a surprisingly low weight of around 31 pounds. Alternatively, models such as the 9A47 offer a more modest amount of CCA, about half the reserve power, for half the weight, and a lower price tag. The series features batteries with SAE, side terminal, and GM ports.
They molded exterior features side ports for the positive and negative terminals, making it one of the easier batteries to install. Beyond that, all the internal components (including the straps, welding points, and posts) are fortified to make it vibration resistant. The glass plates and separators are also packed extremely tightly to guarantee a reliable performance that won't be influenced by regular vibrations.
The Intimidator is a sealed starting and cycling battery that is ideal for diesel trucks. It even includes spacers and a height adapter to ensure it fits snuggly where your stock battery once was. It's also important to note that between the factory seal and safety relief valve, you never have to worry about acid leaks.
For individuals who don't have a lot of dough to shell out for a new battery but want a good starting crank, the Deka Intimidator is definitely worth a peak.
PROS
Sealed system
between 325 and 925 CCA
12 volts
Safety release valve
CONS
Half the life of Deka GELs
4. ACDelco Professional Automotive AGM
ACDelco Professional Automotive AGM is a robust starter batteries with 630 CCAs of juice. Inside the incredibly durable ribbed case, the calcium lead grid offers minimal resistance. Beyond that, an envelope separator provides ample flow area for circulating acid and boasts a puncture-resistant backing. The impressive power source also features a vented cap that prevents potentially harmful acid leaks. As a matter of fact, this battery requires zero maintenance.
It also features a pressure-tested ribbed case that helps prevent messy leaks and increase the longevity of this already outstanding product. ADelco batteries and parts are the manufacturer's choice for GM vehicles, and a cherished replacement part too.
Another perk is the 36-month free replacement policy, in which a defective battery can be exchanged for a new one at no cost to the consumer. Not to worry, all ACDelco batteries are also tested for electrical shorts before being sold.
It's important to note the ACDelco battery will set you back more than a conventional battery. Nevertheless, it offers consistent cranking power, generous reserves, and admirable longevity. Plus, it is a proven success on cold mornings.
PROS
Promising longevity
Vented cap to prevent acid leaks
36-month product replacement policy
Quick crank regardless of temperature
CONS
More expensive than conventional batteries
Dimensions may fluctuate from stock batteries
5. Odyssey Extreme Series – Best Product
There's a lot to like about the Odyssey Extreme Series, including the fact that it offers up to 1225 CCAs of AGM power. What's more, it features an extensive three to four-year product replacement warranty (and we're not talking about the prorated kind). Still, it's not likely you'll even use policy. That's because the Odyssey is known to cycle through 400 or more deep recharges and discharges while maintaining a reserve rate of 80 percent.
Odyssey even claims that the Extreme Series batteries have the fastest recharge efficiency out of all sealed AGM batteries on the market. In fact, it can fully reboot in just four to six hours time. Pair this with a slow-training power supply (it can be stored open circuit for up to two years without needing a recharge) and you have got the perfect recipe for a successful diesel-compatible battery. Plus, when you put that in perspective, it's easy to see how this battery is good for anywhere between three to ten years of life (depending on the extent of your use).
The Extreme Series battery is also incredibly easy to mount thanks to the spill-free design. Since it is factory-sealed, it features zero vent holes (making it ideal for bumpy offroad treks). What's more, it is enclosed in a flame retardant cell container for peace of mind and safety. It also contains reinforced cell connections that help to prevent damage from vibrations. In addition, you've got your choice of SAE, GM, and side terminal posts.
Extreme Combination of Power and Performance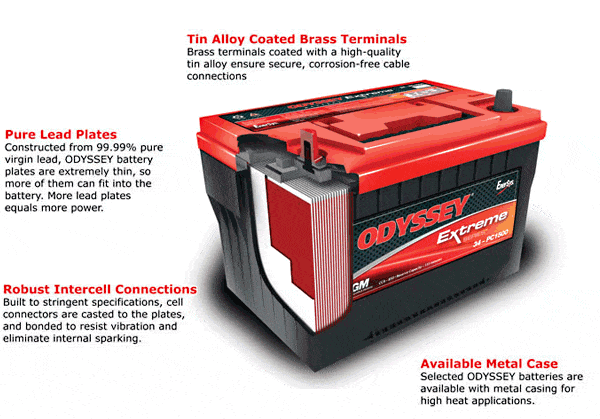 As an industrial grade battery, the Odyssey is designed to withstand harsh conditions. In fact, the tin-plated brass connection terminals are corrosion resistant. Furthermore, it offers a lightning-fast crank and a steady voltage.
It is important to note the battery weighs as much as 86 pounds, making installation a bit complication but not impossible. In fact, the fold-down handle provides a failsafe way of handling the battery. Just ensure that you find the right fit your vehicle and properly clamp down the battery during installation.
PROS
3-10 years of service life
Up to 400 deep cycles with a stable voltage
Charges to 100 percent in 4-6 hours
Spill-proof sealed design
3-4 year full replacement warranty
Made in the U.S.A.
CONS
What You Need to Know About Diesel Batteries
After a few years, most OEM (original equipment manufacturer) batteries will start to diminish. At such a time, it's time to consider what replacement battery you're going to procure. However, in order to make a sound decision, it is important to understand the range of benefits offered by different designs. Read along to learn more about what to look for when purchasing a replacement battery and get the rundown on common battery terminology.
Why AGM Batteries
AGM (or Absorbent Glass Mat) batteries are fully sealed lead acid batteries that are compatible with diesel trucks. AGM batteries consist of flat or coiled fiberglass mats that absorb the lead battery acid. Because of this design, all AGM battery is sealed and maintenance-free.
AGM batteries have several perks compared to the gel and flooded alternatives. For starters, they tend to offer a longer service life. They also tend to maintain a consecutive voltage, even after being deep cycled. Furthermore, they charge incredibly fast. Therefore, they can usually recover quickly after dipping down to a 20% charge.
Depending on the quality of manufacturing and thickness of the plates, they can keep this up for anywhere from three to 10 years. Over the course of this time, they really only need to be maintained every six months or so. At which point, only the connection terminals need to be wiped down.
Keep in mind that because the electrolytes are completely absorbed by the fiberglass, this type of battery will not leak even if it is broken or punctured. AGMs also have a very slow rate of discharge, meaning they can be stored for months and be recharged when needed. They are also a mainstay for trucks in cold climates, where cranking in low temperatures is rarely a problem.
While offering a promising outlook for prospective buyers, AGM batteries do tend to be priced higher than the alternatives (due in part to high manufacturing costs). Beyond that, some applications are better fitted for standard flooded batteries. Nevertheless, they are an economical and reliable option for many truck owners.
About Cold-cranking Amps and Other Characteristics
Cold-cranking amps (CCAs) are the unit of measurement that describes the number of amps a battery can put out at 0 degrees for 30 seconds while maintaining a voltage of 7.2 amps. For many people who live in regions where temperatures frequently dip into the single digits, this number is an essential consideration. That's because harsh temperatures make it more difficult for a diesel engine to start because of a combination of factors, including engine compression and temperature.
Reserve capacity (RC) refers to the amount of time a battery can run successfully with 25 amps of discharge. This measurement often appeals to people who running several accessories or charge electronics with their engine off. Of course, it is more difficult and costly to engineer a battery with a strong reserve capacity. What's more, not all batteries recover equally from deep cycles such as this. With that being said, most AGM batteries maintain 80 percent of their voltage after a deep discharge.
Along these same lines, each battery has an anticipated life cycle. This refers to the number of times the cell can be charged and discharged while maintaining its power. Many manufacturers boast an estimated total number of life cycles. However, this number is largely dependant on the conditions of discharge.
Choosing the Right Fit
Batteries come in a variety of sizes. They differ in length, width, and height. Therefore, when replacing your OEM battery, it is important to ensure the replacement is a good fit. You can find a suitable size by entering the year, make, model, and engine of your vehicle into a compatibility generator on a battery manufacturer's webpage. Alternatively, you can cross-reference your OEM battery for to verify. Upon doing this, you may still find that several different sizes are a match. If this is the case, determine which size offers you the most power and reliability while fitting within the constraints of your budget.
It is important that an aftermarket battery line up with the connection terminals on your vehicle. Beyond that, it must not come in contact with the surface of your hood (as this poses a fire hazard). The recommended hood clearance is around 3.4 of an inch. The battery should also be secured in place, with no risk of coming loose or succumbing to vehicle vibrations. Remember, the connection terminals are an adequate mounting point for your battery.
Other considerations in size and battery dimensions are the locations of the connection terminals. While most batteries have top mounts, there are some that have side mounts or a combination of the two. Sealed AGM battery can be mounted in any direction. However, carefully consider the boundaries and dimensions of your battery before making a final purchase.
About Auto Battery Manufacturers:
There are a handful of popular battery manufacturers on the market. Popular brands from these manufacturers include Odyssey, Interstate, Deka, Exide, Optima, and XS Power, and private label options such as Duralast. These are primarily made by EnerSys, Optima, and Northstar. All of these companies compete to offer competitive statistics, such as high CCAs, generous reserve capacities, and competitive lifespans. However, they often differ in terms of warranties. When shopping for a battery be on the lookout for longterm (1-year to 36-month) replacement policies that are not prorated.
What's more, look for reasonable value for your money. While bargain-rate batteries often boast high power upon initial use, they often feature inferior components that are quick to degrade.
When comparing batteries, you'll find that there are flag-bearers on all sides of the parallax. If a battery is proving difficult, it is sometimes important to dig a little deeper and rule out any issues with the starter or alternator.
FAQ
Do I need a deep cycle or starting battery?
The main difference between the deep cycling and starting batteries is they have lower cranking volume. This is because they reserve the bulk of their energy to run aftermarket accessories and electronics, such as powerful sound systems and televisions. To counteract this issue, you can purchase an oversized deep cycle battery. It's acceptable to use both options. Nevertheless, an AGM with a solid reserve capacity is suitable for most vehicles.
Are AGMs recyclable?
Yes! Over 99 percent of AGM batteries are recyclable. This includes the lead acids, plastic shell, and absorbent fiberglass. The only waste product is the divider linings. Because of the reusability of the materials, AGM manufacturing is considered a sustainable closed-loop process.
Does temperature effect AGM batteries?
Yes. AGMs operate differently depending on the temperature outside. The funny thing is that while batteries have shorter lives in cold temperatures, they have a greater capacity. The opposite goes for when the temperature rises. Pay attention to the cold cranking amps (CCAs) if you're operating your vehicle in a cold climate.
Does my battery have a memory?
While it is popularly known that nickle batteries have a memory effect, the same does not apply to lead-based AGMs. For this reason, nothing good can come of fully draining your lead batteries.
Can my battery freeze?
The electrolyte solution inside AGMs is capable of freezing at below freezing temperatures (below -16 degrees Fahrenheit). To avoid this, keep your battery fully charged.
Final Thoughts
Now that we've officially schooled you on all there is to know about diesel truck batteries, all that's left to do is purchase one of your own. While your specific vehicle and use requirements will help narrow down your list of options, it's safe to say a good battery will offer several years of solid cranks and juice for your accessories, if that's what you're after.
Of course, you can always make things easy on yourself and pick up one of the Odyssey Extreme Series' premium batteries or the more budget-friendly Deka Intimidator instead.
Whatever you choose, let us know in the comments below!