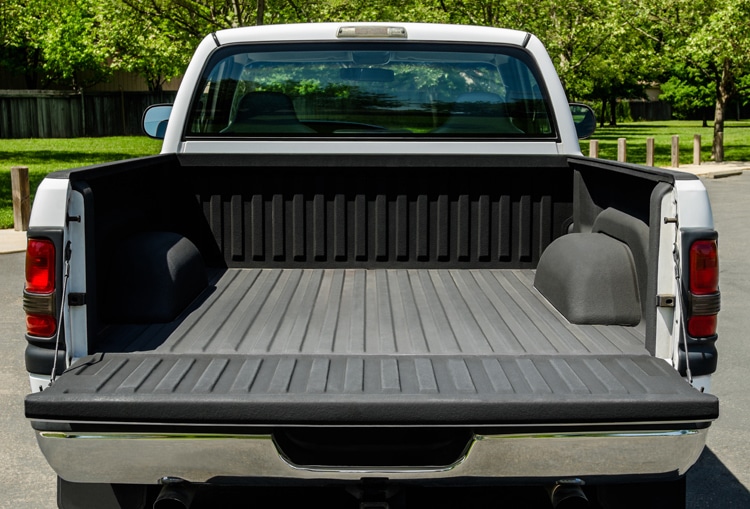 Bedliners are useful in many ways: they protect the truck's inner side from corrosion, UV lights, and other natural elements. Bedliners are also skid-resistant, meaning that the cargo won't dance in your vehicle once you load it in.
However, maintaining the truck is an expensive activity, especially if you are paying someone else to do it for you. In this article, we will present you the 5 Best DIY bed liners, products that are easy to use even if you are a complete beginner in this field.
More importantly, we will also provide you with Buyer's guide, where we'll explain the DIY process of applying the bed liner, from surface preparation methods to bed liner application. If you read this article with attention and care, you will be able to do the job on your own (and save a lot of money in the process of doing so).
At A Glance: Our Top 5 Picks for DIY Bedliners in 2020
5 Best DIY Bedliners in 2022 (Do It Yourself)
IMAGE
PRODUCT
DETAILS
 

Best Choice

U-POL

Spray-On Bed Liner
Urethane Formula
Available Colors: Black, White, Tintable
Available Sizes: 1, 4 liter

CHECK PRICE →
Linerxtreeme

Spray-On Bed Liner
Epoxy-urethane / Polyurethane Formula
Available Colors: Black, White, Tintable Colors
Available Sizes: 1.5 gal, 3 gal Available Sizes

CHECK PRICE →
Al's Liner

Spray-On Bed Liner
Polyurethane Formula
Available Colors: Black, Tintable
Available Sizes: 1 gal, 2 gal

CHECK PRICE →
Custom Coat

Spray-On Bed Liner
Urethane Formula
Available Colors: Black, White, Tintable
Available Sizes: 1, 2, 4, 6, 8 liter

CHECK PRICE →
Herculiner

Brush-On Bed Liner
Polyurethane Formula
Available Colors: Black, Gray
Available Sizes: 1 gal

CHECK PRICE →
1. Linerxtreeme – The Most Protective Bed liner
Linerxtreeme is known for manufacturing quality bedliner products. It features standard, workhorse formula, one that requires no primer application, since it consists of a durable mix of epoxy and urethane paint.
Upon application, you will notice a mild glossy finish. The glossiness will expire over time, but the paint itself won't lose its initial effect (it won't cloud nor peel).
What Comes With Each Kit?
Each kit contains the Part A Base, the Part B activator, the reducer and the Kevlar/rubber additive. The 1.5-gallon kit contains 3 quarts of Part A, 1 quart of Part B, 1-quart reducer and 1 quart of rubber. This makes up the 1.5 gallons sprayable kit. The 3-gallon kit is double this. If you don't know how to use these things, fear not; we will discuss them later.
The black 1.5-gallon kit covers about 50+ square feet. The 3-gallon kit covers 100 square feet. The color kits do not cover as far. The 1.5-gallon color kit covers 40 square feet, and the 3-gallon color kit covers 80+ square feet.
A 6-foot truck bed can be done with a 1.5-gallon kit, but that's considered light duty coverage. An 8-foot truck bed requires the 3-gallon kit.
If you own a truck, boat, quad (or ATV), or any other similar vehicle, you can use this bed liner. And though we wouldn't say that the product is expensive (because you receive all in one kit), it is the most expensive product on the list.
Great UV, Adhesion and Toughness
The liner itself is of high quality. It protects the surface from UV light, it adheres well to the surface and seems rather sturdy. It isn't as thick as the professional liner is, but comes very close to it.
There are two types of rubber—the fine and the heavy crumb. The fine rubber works for 99% of the applications. The heavy crumb is very chunky and abrasive.
And though the product description claims you don't need a primer, we beg the differ (and will explain why surface preparation is crucial).
The spray gun that comes with this bedliner isn't of top quality. If you want to use it, you will have to dilute the liner. And as we already said, the finish is glossy but will lose the glossiness over time. Note that you will also receive an easy to follow the manual, which explains how to prepare the liner adequately.
Pros
relatively easy to use, even for complete beginners
decent, glossy finish
dense (near professional level)
protective and durable
Cons
most expensive kit on the list
the spray gun is not of the best quality
2. Al's Liner – The Most Versatile Bed Liner Kit
Al's Liner Bed Liner Kit is purchasable in several colors (such as black, tan, gray, red, etc.), for a reasonable price. Though it is intended for covering truck beds, this kit can be used on many materials, such as wood, fiberglass, and of course, metal.
The kit consists of three components, labeled alphabetically for user-friendliness. Manual explains the mixing process (in what order, and how much paint should you mix), but experienced painters can play with these numbers, depending on the type of finish you want to achieve.
Three-part Blended Polyurethane High Solids Coating
What's more important is the nature of this liner. It is protective, repels rust and UV light. Furthermore, it is resistant to oil, gasoline and other similar chemicals. It mimics the effect of professional bed liners, granting you versatility, protection, and durability.
The spray gun you receive in this kit is quite versatile, featuring 5-point nozzle, allowing you to customize the finish according to your liking. You can also control the spray volume, depending on whether you want detailed spraying or cover large surfaces. The gun also features trigger control and is relatively simple to disassemble and maintain.
Very Versatile
The main reason why people opt for this liner is versatility. The fact that you can mix the ingredients according to your liking (or needs, depending on how you look at it) is very refreshing. You can make a firm, dense mixture that emphasizes durability and hardness. On the other hand, you can go for softer, thinner mix.
All the kits are tintable. Modify the tint in your Bed Liner kit or discard it and create your own customized color.
The product's biggest downside is its drying speed. There is a reason why the manufacturer included this spray gun in the offer: the spray gun is big enough and fast enough to apply the liner before it hardens. If you want to use your spray gun, make sure that it functions similarly to the one you receive in this kit.
You can also opt for a roller, but more on that in our buyer's guide. All in all, if you are looking for versatility and freedom to mix your personal liner (so to speak), then Al's Liner ALS-BL DIY Polyurethane Spray-On Truck Bed Liner Kit is a good option.
Pros
very versatile, you can mix according to your preferences
highly protective
reasonably priced
kit includes a durable and massive spray gun
Cons
the mixture hardens very rapidly (which can cause frustration and pressure if you aren't experienced)
3. Custom Coat – The Most User-Friendly Bed Liner Kit
Custom Coat Urethane Bed Liner is purchasable in many colors and many quantities. The one we are reviewing is black, 4-liter kit: you receive 3 liters of the liner (4 bottles of 750 ml), 1 liter of hardener, and a spray gun. This liner is urethane based, intended for covering truck beds, metal, concrete, wood, and other material.
Once applied, liner protects the surface from oxidation and rust, and also against the UV light. Though you can use roller or brush, the gun provided in this offer is very easy to use: you add the provided hardener, mix it with liner and spray the gun. If this is your first time using this equipment, you can always refer to the manual for in-detail instructions.
Easy to Use
In fact, this kit is very user-friendly, which is why we recommend it to beginners. You can also select various colors and quantities. The liner itself is very dense, and delivers quite a fantastic finish, together with its protective nature. Good news is that you don't have to apply waxer or another protective layer on top of it.
The liner is resistant to water, repels stains, oil, and other chemicals. It also helps with noise and vibration reduction. Most importantly, it adheres very well, to virtually any surface. Naturally, you should prepare the surface to get the maximum value out of this liner. Together with U-POL URETHANE Truck Bed Liner Kit (which we'll review later), it delivers the best finish.
The only downside is that you'll need a lot of this stuff to mimic the professional coating, which may cost you more than you hoped for. However, you it makes sense to pay more for professional liner, right?

Pros
excellent protectiveness and durability
glossy finish
very easy to apply, perfect for beginners
purchasable in various colors and quantities
4. Herculiner – Best Roll-On Bed Liner
Herculiner Brush-on Bed Liner Kit is the only kit without spray gun (it comes with a brush). It is the most inexpensive product on our list, with fantastic thickness and durability. We won't spend too much time describing this product because there is a separate article titled What Is The Best Roll On Bed Liner Kit, where you can read the full review of this product.
So, why is this product appearing in both articles? Well, it is all about quality and cost-effectiveness. You receive one gallon of highly protective black liner, application brush, and two rollers for even application and paint distribution.
You can apply this liner to metal, wood, concrete and other surfaces. It is very tough and protective (against rust and stains), featuring polyurethane formula. It is also very dense, requiring only one application. If you want to learn more about this product, read about its pros and cons, check our "The Best Roll On Bed Liner Kit" article.
5. U-POL RAPTOR – Best Spray-On Bed Liner
We saved the best for the last: the U-POL URETHANE Truck Bed Liner Kit is by far the most sophisticated product on our list. You receive 4 750 ml bottles of Raptor Liner, 1 l of hardener, and a U-POL gun. The kit is sufficient to cover 8 ft truck bed. Also available the 1-liter kit.
Update: We've prepared an article about this product. Click here to read our complete raptor liner review.
This liner is used to protect the surface (truck bed, metal, concrete, wood, and so forth), but also to reduce vibration and noise, which is a common problem with truck beds (especially when you load and offload the cargo). The entire system is set up for amateurs: mix according to instructions, and you'll be good to go.
Note that you shouldn't premix the paint with hardener; there's no need for that. Instead, mix, shake, spray, and repeat the process. Otherwise, you might ruin the paint. The gun is relatively simple to use too. You can adjust the gun according to your liking, set the spraying pattern and control the spraying volume.
Durable and Protective
The liner covers very well and adheres firmly to the surface. It won't peel and bubble, even after the extended period under extreme environment. It is resistant to water, oxidation, and rust, and also repels chemicals, oils, stains, and so forth.
Make sure you don't overtight the nozzle since overtightening can prevent optimal spraying. The gun will cause overspray, but not too much. And though the manufacturer claims you can apply it atop of original truck's paint (which is true), we still suggest you prepare the surface according to our buyer's guide.
Terrific Finish
U-POL URETHANE Truck Bed Liner Kit delivers the best finish of all the products on our list. It's glossy, professional and stylish. Moreover, the liner retains its look even after an extended period. It is an excellent UV repeller, which helps prolong the glossiness. And the things we mentioned regarding noise and vibration reduction are not jokes!
This liner does help reduce the noise; it's not a silencer, but the reduction is noticeable. Price is reasonable, application simple, and finish professional. The only real problem we have with this product is that the spray gun doesn't reach all the way down to the bottom of the bottles. Because of that, you end up throwing away approximately 1/8 of the paint.
And since this is a bed liner, a very dense one, you can't just pour the leftover paint to another bottle. The paint itself is impressive, the best one on the list when it comes to durability, protection, and professional finish.
Pros
delivers terrific finish
durable and protective
simple to use, easy to follow instructions
very dense, requires one layer application
excellent adhesion
little to no overspray (regarding the spray gun)
Cons
you'll end up throwing some stuff away (because the gun can't reach the bottom of the bottle)
Best DIY Bedliners – Buyer's Guide
In this section, we will explain the factors according to which you should make your choice. More importantly, we will describe the process of surface preparation. Please, pay close attention to this part because it is imperative that you prepare the surface adequately.
We will also discuss the difference between spraying guns and brushes, comparing them, describing their strengths and weaknesses. Understanding this section can make a distinction between successful and unsuccessful application, particularly if you are new to this.
First Things First: Protecting Yourself
Before you even consider buying a liner, deciding between a spray gun or roller, you need to protect yourself. For starters, make sure the area is ventilated. If you are painting in a garage, keep the garage doors open, as well as the windows. Though, it is best that you paint the truck bed outside, especially if it is a sunny day (which can speed up the drying process).
Furthermore, you have to wear safety glasses. Admittedly, the glasses will protect you from any particles that may damage your eyes. Though there is less chance that this could happen with brushing (as opposed to spraying), we still recommend you wear glasses.
Most importantly, you have to wear a respirator. These bed liners contain a lot of harmful chemicals; in fact, that is what makes them so efficient and durable. But, what is good for the truck's bed surface probably isn't good for your lungs! The respirator will filter out any harmful chemicals, allowing you to breathe clean air. You can click here to see which respirator is the best for you.
Alas, you should also consider wearing some form of ear protection. Air compressors tend to be very loud and can damage your hearing if you use them extensively. Of course, if you think the job won't last for too long, then you don't have to wear them.
And of course, wear protective gloves. You can go for disposable ones, or reusable; it doesn't matter, as long as the gloves protect your skin. Note that you should also wear gloves during the process of surface preparation.
Surface Preparation
To make this DIY process as efficient and straightforward as possible, we've divided the process into five steps. Here's how you prepare the surface:
Step #1: Cleaning
Firstly, you'll have to clean up the mess that you probably ignored all this time. We suggest that you remove the tailgate and position it on a trestle, to make the process of cleaning more convenient. Remove the large debris with broom or brush.
Once you removed heavy debris, you can use a vacuum cleaner to remove dust and small debris. Now all truck beds have drain holes for a reason; prevent water accumulation. While this helps prevent flooding during rainy days, it also makes cleaning and maintenance more comfortable. Make sure that the draining holes are unplugged.
Now, make a mixture of water and TSP. In essence, TSP will enhance water's cleaning capabilities, allowing it to remove oil, grease, and other stains. If you can't remove some stains with this mixture, consider purchasing chemical removers, but make sure they won't damage the bed's surface!
Once you thoroughly (and I mean THOROUGHLY) cleaned the surface, rinse it with water. After that, use an ordinary kitchen rag and wipe the surface, and allow it to dry.
Step #2: Protecting The Surroundings
In this step, you'll need a painter's tape (if you don't have it, we suggest you buy it). Use the tape to cover everything you don't want to hide. If you use a spray gun, you need to be even more careful.
No matter how good they are, spray guns produce overspray effect, even if you set low volume flow and tight nozzle diameter. And there is a reason why you need a painter's tape: it adheres to the surface better than any other tape. All you have to do is make sure you firmly attach it to the surface.
Pay close attention to angles, front and back end (near the tailgate). Also, cover the draining holes with the tape, for you don't want to spray the floor beneath the truck.
Step #3: Scuffing/Sanding
The first two steps were warmups: now we come to the essential step. Why is scuffing necessary? Well, to ensure optimal adhesion, to ensure that the liner bonds with the bed's surface, you need to remove anything between the surface and the liner.
You need to remove the stock paint (the one that came with the truck), rust (if there's any rust), and corrosion. We suggest you use standard 150-grit sandpaper, which is conventional automotive sandpaper (see this video to learn more). The process is stressful, perhaps even painful, but it is crucial that you do this correctly.
After you are done with the sanding, remove the dust from the bed. We also suggest you apply some form of primer or sealer, especially on the bare metal surface area. Why? Well, think of it as a surface bonding bridge between the metal and the liner. Not only that, but primers are very protective and can withstand high temperatures, rough conditions, and also help prevent corrosion and oxidation.
Make sure that you buy metal primer, preferably oil-based primer since they offer the best durability. Most primers dry very quickly, so be prepared for the next and final step.
Step #4: Wiping With Acetone
After the primer has dried, it is time to clean the surface with acetone. Since acetone is toxic, it is time to put on that respirator and start wearing protective gloves (if you didn't wear them already, which you should have!). Use a regular kitchen rag and start cleaning the bed.
It is best that you use a spray bottle, though you can pour acetone on the rag and start wiping the surface with it. Start from the front side, and slowly work your way down while covering all angles. Don't let the acetone sit for too long; wait a few seconds, and then wipe it off with a clean rag (not the one you used, it needs to be clean!)
Alas, wipe everything off with non-alcoholic solvent. This will enhance the bonding between the liner and the surface. Make sure you let it dry for 10 to 15 minutes. After all, this is done, you can apply the bed liner.
Brush Or Spray
Brush or spray is a familiar debate amongst painters, both sides claiming the superiority over the other. The truth? Each method is suitable, as long as it gets the job done, which is by far the most important thing when it comes to painting.
In this article, we will talk more about the spray guns, since our products come with the spray guns. If you are more interested in rollers and brushes, you can read our What Is The Best Roll On Bed Liner Kit, where we discuss (in-detail) roll on kits and their features. So, let us first examine the brush method (briefly), and then we will move on to spray guns.
On Brushes
Brushing is an old school method of painting. It's kind of like a ritual since nothing separates you from the paint you are applying. "Spraying with a gun is impersonal," old school painters would say, and they are probably right.
Benefits. For starters, you have so much more control with the brush. No overspray, no mess (assuming that the brush is quality made). Furthermore, you won't struggle with adhesion if you are painting with the brush. Some spray guns are weak and don't spray the paint at high speed, meaning that the particles don't adhere very well to the surface.
With a brush, you can press the paint and adhere it manually. It also allows even covering, if you know what you are doing. Also, brushing helps you reach the corners and pores in the surface. But brushing has its downsides. For starters, it can be very slow and tiring. Hey, not everyone enjoys the meditative nature of painting: some people want to get it over with as fast as possible, which is why they opt for spray guns.
Furthermore, inexperienced painters will probably leave brush marks. Also, they may struggle with leveling if the paint isn't self-leveling, which results in an uneven finish. Also, you will generally use more paint with brush method than you would with a spray gun.
On Spray Guns
Spraying is a new method of painting things. Its users say: "Welcome to the 21st century; we don't have time for brushing or rolling!" Indeed, spraying is a lot faster than brushing. The ones that come in the kits we reviewed aren't airless, meaning that you need to have an air compressor to use it.
Speed isn't the only benefit of spray guns. They generally don't require more than one coat application, assuming that the paint you are spraying is good. Furthermore, the finish is much more professional than with a brush, especially if you are a beginner.
Now, most people would say that amateurs should go with the brushes, but I beg the differ. Yes, you need to set up an air compressor, but the setup is not rocket science: you set the PSI accordingly (most spray guns on our list require 40-60 PSI set up), you connect the spray gun to the compressor, and you start spraying. After all, you can always practice before you start spraying the surface, right?
Spray guns also help you reach those hard to get areas. But, spray guns aren't perfect either. For starters, setup and cleanup can be painful. Also, you have less control (due to overspray). Now, this isn't a problem if you are covering large surfaces (such as walls or fences), but when you are doing a delicate paint job, it becomes troublesome.
Alas, you are generally at the mercy of the paint gun. Assuming you do everything right, you reduce the paint to the optimal level, it all comes down to gun quality: trigger control, nozzle adjustability, leaking, pressure control, and so forth. If interested, you can read more about this discussion in this article.
Which Kit Should I Buy?
Every kit on our list deserved its spot. In the end, it mostly comes down to your preferences. But, here is a list of things you should consider:
Durability And Sturdiness
Durability is by far the most critical factor because you want to protect your truck bed for as long as possible. Not only that, but you want the paint to be resistant, resistant to both natural and human-made elements, including rain, rust, and punches.
Naturally, you don't expect it to be bulletproof, but still, you don't want it to peel off after one month. Consider corrosion protection, UV repelling, waterproof capabilities, and so forth.
Adhesion
The better the liner adheres, the longer it will protect the truck bed. Adhesiveness manifests itself on a long-term basis: bubbling and peeling isn't necessarily a sign of inadequate preparation, but a sign of paint's poor adhesiveness.
We tried to include the best possible kits on our list, making sure that both paint and the gun work together and help the liner adhere to the surface. But, some adhere better than others (the U-POL URETHANE Truck Bed Liner Kit is the best in that regard).
Quantity, Density, Color
How much paint do you need? And what color do you seek? Some kits are purchasable in several colors (and in several quantities), others aren't. Also, the liner's density determines the total amount of paint you need. Generally speaking, if the paint is thin, you need to apply multiple coats to achieve optimal protectiveness. Then again, maybe you want thinner paint, for you seek beautiful finish more than protective coating.
For instance, if you want highly protective, professional coating, you will probably need to apply two layers. Consequently, you will need to order more massive quantities. Or, you can opt for denser liners. And if you seek beautiful finish, perhaps you want a thinner liner. In any case, choose according to your preferences.
Conclusion
Selecting the optimal bedliner kit is not an easy task. And even when you make your choice, you still have to choose painting method, prepare the surface, buy protective material, and so forth. But despite all this, it is much cheaper than paying someone else to do it for you.
And it is not just about the money; for me, it is about pride. Once you get everything done, you can proudly say that you painted the truck bed on your own. You will also enjoy the process, despite the fact that it can be frustrating.
So, choose the method that suits you the best (if you are brush/roller person, switch to our What Is The Best Roll On Bed Liner Kit article), buy the liner that you think is the best for you, and fearlessly dive into the process.