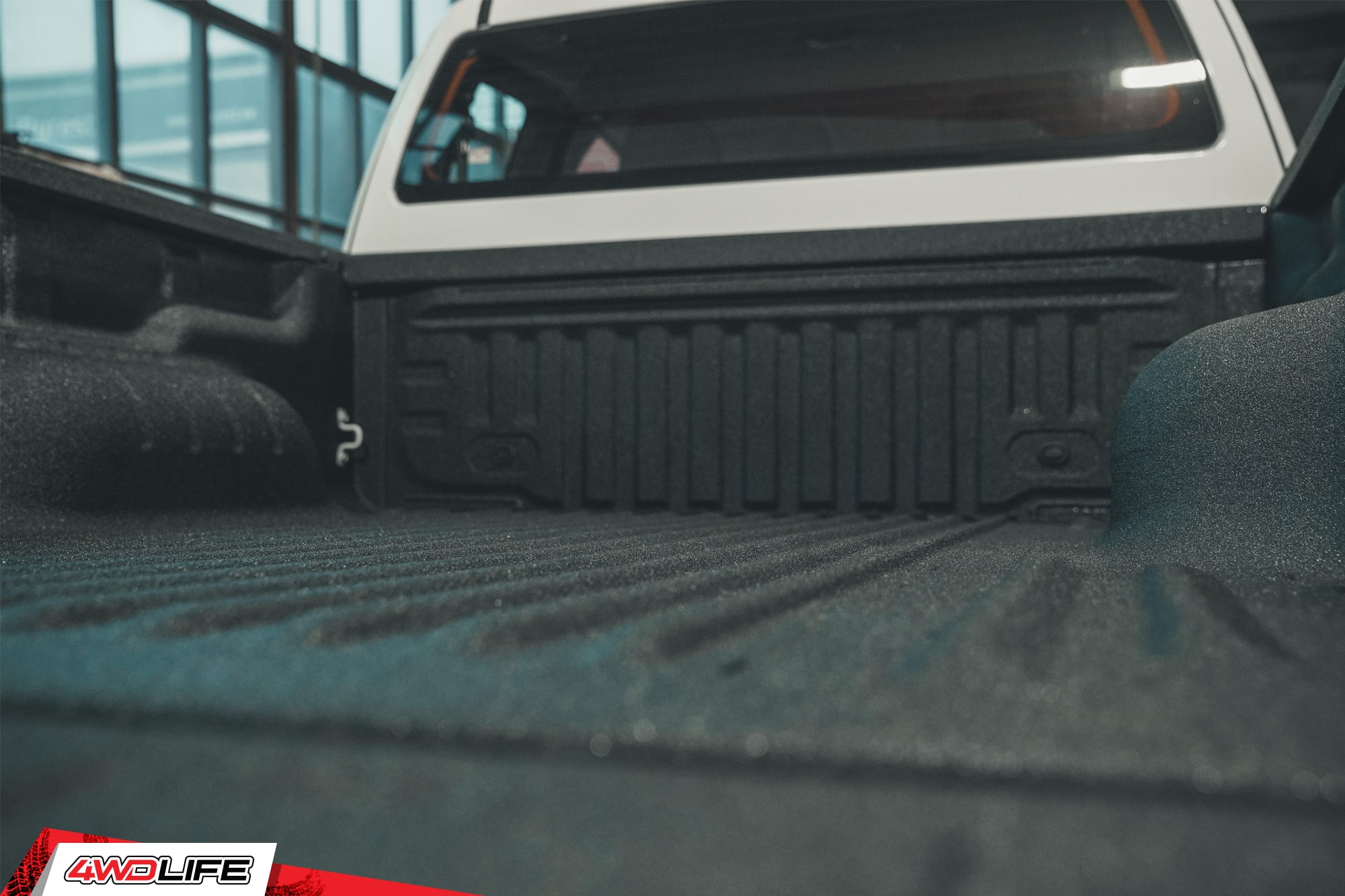 The hardest working part of any pickup truck is arguably the truck bed. Bicycles, firewood, planting soil, hauling dirt, bags of cement, building supplies, lumber, a good friend's apartment. Face it, just about everything has been in the back of your truck. You're reminded of every trip whenever you look back there.
A great way to spruce up your truck bed, increase its utility and add to its protection is with do-it-yourself liquid bedliner. However, deciding which brand to use can be a little confusing. We decided to compare Herculiner brand bedliner with Rust-Oleum's bedliner offering, so you can get a little more clarity on your choices.
Herculiner Bed Liner Review
Herculiner has been around since the 1990s. Old World Industries is a family-owned business that specializes in products designed for extreme conditions. PEAK antifreeze and BlueDEF are OWI brands, and so is Herculiner. It's a thick polyurethane coating with a very rough surface texture.
The Herculiner kit comes with one gallon of Herculiner, which is enough to put two coats on a 6-foot truck bed. The kit also includes a paint brush to apply Herculiner into hard to reach areas, two rollers and a handle, complete instructions on priming and application, an abrasive cleaning pad and a can opener.
Rustoleum Bed Liner Review
Rust-Oleum calls its bedliner Truck Bed Coating + Undercoating, which indicates the company's confidence that their coating can take a beating. This has become one of the main choices in the musclecar restoration world for chassis undercoating, inner sheetmetal rust proofing and for inside fenders and engine bays.
Truck Bed Coating is a black-colored polymer with a good reputation. The brand's literature and website emphasize the Stop Rust additive included in many of Rust-Oleum paint products, including Truck Bed Coating + Undercoating.
Similarities between Herculiner and Rust-Oleum
Both Herculiner and Rust-Oleum are rough textured, durable polymers, and both are designed to be rolled or brushed onto the vehicle. Both products have decades of experience in the market and good reputations among customers. The application kit for either Rust-Oleum or Herculiner costs half or less than typical fees at commercial spray-on bedliner franchises.
These products are both quality do-it-yourself procedures that put the end result squarely in your hands. The results you get are up to you. For enthusiasts who are happy getting their fingers into a little bit of everything with their cars, this is a great skill to learn. The Knowledge to extend the life of your vehicle is within your reach.
Differences between Herculiner and Rust-Oleum
Rust-Oleum Truck Bed Coating + Undercoating forms a fairly thick, hard coat that's less flexible than Herculiner, but more scratch resistant. The finish texture is finer and less rough than Herculiner. Rust-Oleum's product can also be sprayed in addition to brush or roller application. This feature makes it easier to touch up than the Herculiner bedliner. Any future damage to the coating can be repaired easily with Rust-Oleum aerosol cans, a very nice touch.
Herculiner has a rougher, more rubbery surface texture than the Rust-Oleum coating. This helps to diffuse impacts over a wide area, lessening dents. The softer surface offers more friction, meaning more grip when hauling items, less sliding around and less banging around in the truck bed.
Rust-Oleum comes in black, while Herculiner is available in red, gray and white and can be tinted. Herculiner is a premixed product that's ready to use right out of the can. Rust-Oleum comes in two product levels: do-it-yourself and Professional Grade Truck Bed Kit. The DIY version is similar to Herculiner. It's premixed and ready to go, using either a roller or a brush, although it can also be sprayed.
The truly professional Rust-Oleum bedliner is a two-part epoxy that needs to be mixed before application. This version protects sheet metal applications from chemical damage and contact wear. It's too thick to be sprayed. Rust-Oleum Professional Grade Truck Bed Kit contains recycled tire particles, increasing its grip performance and impact resistance. Professional shops usually use a roller to apply this coating, along with a touch up brush to hit the corners and such.
Herculiner or Rust-Oleum: Which Is It?
This is a case of a couple of answers in search of questions. Both Herculiner and Rust-Oleum provide a quality product and each can improve the performance of your truck bed. Some of this decision comes down to price. The Herculiner kit is quite complete, and the fact that it can be tinted in different colors is a definite plus.
The Rust-Oleum application kit is sold separately, but the overall pricing is comparable for either product. The Professional Grade kit from Rust-Oleum costs more and is harder to apply, but provides superior results, potentially at a similar quality to bedliner franchises.
So the questions to the answer are:
What's your budget? The Herculiner roll-on application is one stop, simple to apply and it's premixed. Next up the ladder is the Rust-Oleum Truck Bed Coating + Undercoating. If cost isn't so much of an issue and you have the necessary skills, the Professional Grade from Rust-Oleum can provide far superior results.
How hard do you use your truck? If you only need worry about boxes or an occasional tool box in the bed, Herculiner represents a quick, non-slip and impact resistant surface. If the primary use is occasionally moving friends or appliances, the Rust-Oleum Truck Bed Coating + Undercoating should be perfect.
Hauling parts for the farm or scrapyard, firewood or rocks and you frequently make loads from the lumberyard? Rust-Oleum Professional Grade Truck Bed Kit is the only product in this review that would be suitable for such extreme abuse.
There are significant differences between these products but each offers plenty of protection within its intended limits. As long as you pay attention to the type of results you expect from your truck, you should be happy with either product.
Check out also our other reviews of Rustoleum rust reformer and Corroseal rust converter.