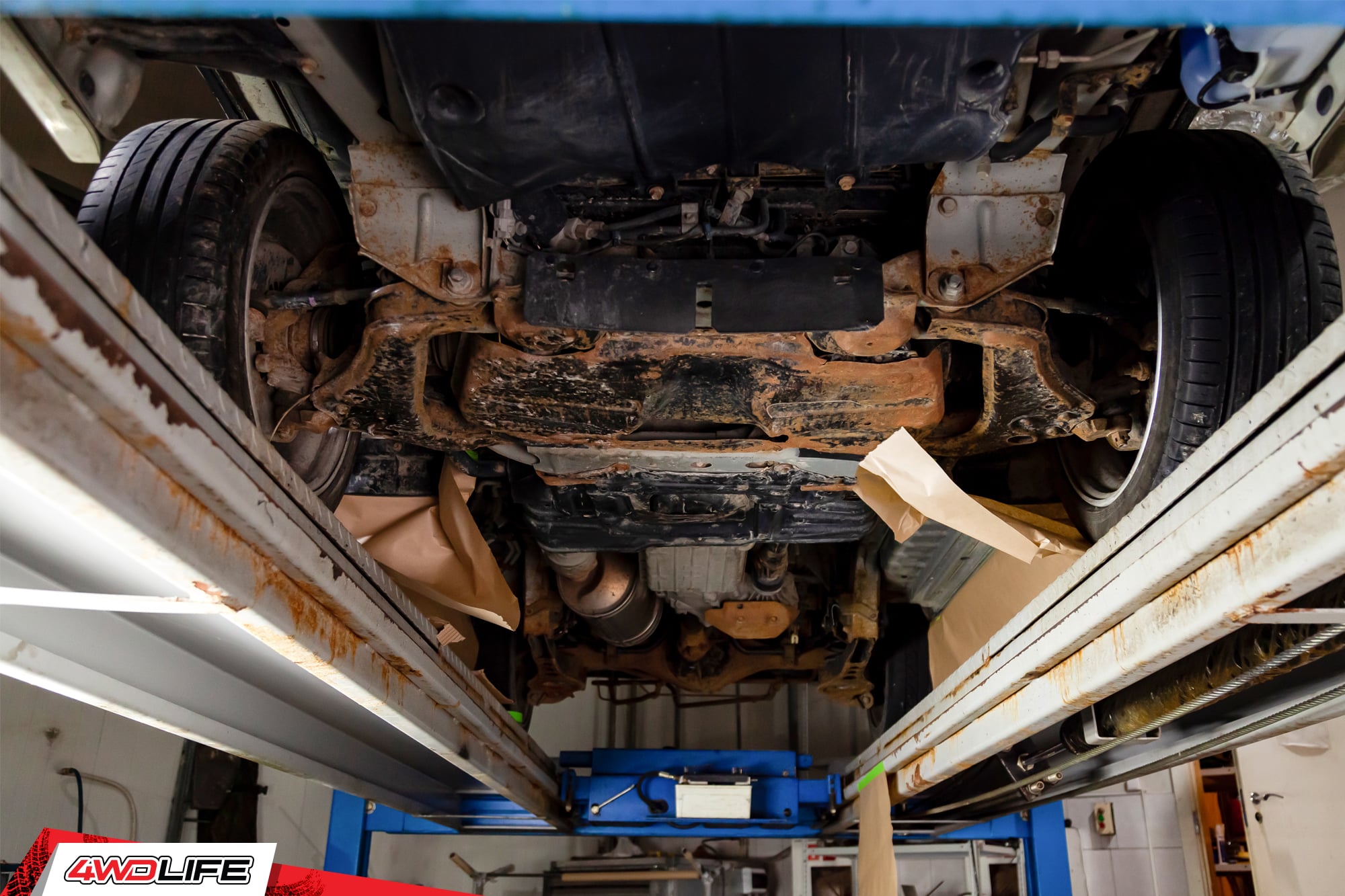 When I'm performing extensive machinery repairs or restoring vehicles, one of the tasks I dread most is rust repair. This is especially true when I'm dealing with old car and truck frames or parts like suspension, steering, exhaust and headlight buckets that have been weathering for decades. There's nothing more tedious than sandblasting an entire vehicle frame, to say nothing of the sanding and surface preparation that follows to produce a proper painted finish.
Thanks to the wonders of modern science, these types of exhausting and morale-killing tasks are no longer necessary. This ray of hope is brought to you by a class of surface protectants known as rust converters. These products treat heavy, scaly rust by chemically converting it and creating a sealed finish that can be painted.
Reform That Corruption
Rust-Oleum calls its brand of rust converter Rust Reformer. According to the company's product description, Rust Reformer bonds with the rusted metal, changing it chemically which protects it and leaves a paintable surface. The product is water soluble and odorless. No specialized safety equipment such as a respirator is necessary to use Rust Reformer. It's not only compatible with automotive paints but works under lacquer and oil-based industrial paints as well.
Anatomy of a Reformation
So, how does this stuff work? Rust Reformer chemically treats the rust through a process known as chelation. Certain acids will combine with rust at the molecular level, creating ions that become suspended in solution. In the case of Rust Reformer, the basis of this conversion is tannic acid. This treatment also contains a large-molecule synthetic polymer epoxy that combines with the chelated rust molecules to create an impenetrable, durable surface that will last indefinitely.
Rust-Oleum's Rust Reformer is just about the best rust converter out there, in my opinion. I say this based on dozens, if not hundreds of applications in a commercial restoration shop. I have used the Rust-Oleum Automotive Rust Reformer on frames, chassis components, exhaust manifolds, engine blocks, bumper mounts, axles and other parts too numerous to recall. In every case it performed exactly as described by the company. You don't have to take my word for it, though.
Expert Analysis: Rust Reformer vs Other Rust Converters
The Canadian Conservation Institute (CCI) performed a study from 1987 to 1992, comparing several different new rust converters. CCI placed steel plates outside in different locations across Canada, including Halifax on the Atlantic coast. After the steel plates had rusted long enough, CCI tested an assortment of nine different rust converters and found three to stand above the rest.
One was Rust-Oleum Rust Convert, the forerunner of Rust Reformer. One treatment is no longer available. The third chemical is called Conquest from Eco-Lab, also known as Chemsearch in Canada. Conquest is far more expensive than Rust Reformer. For me, the main drawback of Conquest is the fact that it's based on a high concentration of sodium hydroxide, which is extremely caustic, requiring extensive protection including a respirator and one-piece chemical suit that covers the head, eyes, hands and face.
This isn't the only study to prove the virtues of Rust Reformer. A more recent study by the National Center for Preservation Technology and Training (based on the earlier CCI study) compared Rust Reformer with four other rust converters. The results? Here is a direct quote from the NCPTT:
"At the end of the accelerated weathering only the samples treated with Rust-oleum® Rust Reformer® showed no or only slight signs of any failure and no active corrosion."
I can't really say it any better than that. Rust-Oleum Rust Reformer is the real deal, kids.
How Do You Use This Stuff?
There are several considerations to keep in mind when applying Rust Reformer, or any other rust converter. This product is not to be confused with another class of rust treatment called "rust encapsulators" that essentially seal the rust in, keeping oxygen from reaching the corroded site anymore. When using Rust Reformer the entire surface to be treated MUST be entirely rusted. Not just a little rusted, and I don't mean a little shiny metal showing through. I mean entirely rusted, and the flakier or heavier the better.
If there is any bare metal, any kind of other material such as rubber, oil, paint or any other chemical, the Rust Reformer's polymer epoxy component will never cure to hardness. With this in mind, it should be pointed out that if your surface does have any decent metal showing, then you need to use rust encapsulator to seal the rust in, or try to remove it entirely using a rust remover and a lot of elbow grease. Rust Reformer and other rust converters are NOT to be used on surface rust!
To prep your surface, a wire brush is sufficient, preferably at low speed. If the piece is small enough, for instance a brake drum or a wheel, you can even use a hand brush. The only thing you're doing here is knocking down some of the high spots where rusty flakes or bubbles have started to lift.
Once you've got a relatively smooth surface, make sure to inspect it closely. You're wanting to make absolutely certain that every bit of the surface you're going to treat is very well rusted. It's the only way to make sure the polymer epoxy in the Rust Reformer is going to cure fully and provide the protection and finish necessary to last. Remember, it's never going to cure fully if it's not applied to rust only.
When you're done with your surface prep and you're absolutely certain it's entirely rusty, apply a thin coat of Rust Reformer with either a brush or a spray gun. Let it dry for a few minutes. I actually prefer to wait more than a few, but not very long, say 10-15 minutes total. Then you can apply another coat, wait another 15 minutes, and repeat for a total of three to five coats. Now you're free to prep the surface as normal for whatever type of finish you're wanting to apply, whether factory satin black, industrial tractor yellow or mirror-finished, pinstriped, custom painted eye candy.
This is the "secret way" professional restoration shops, those that pull those famously high auction numbers, perform their magic. Get yourself some Rust Reformer from Rust-Oleum, follow these instructions, and you, too can become a rust magician, amazing your friends and family with your new rust conversion powers.