Brake issues are among the most common problems truck owners face, especially those that really put their vehicles to good use.
You shouldn't ignore them since your ability to stop when needed can be the difference between life and death. Brake issues can stem from several reasons, including faulty pads and dirty fluids.
Sometimes, they can be from bad brake rotors. Faulty or damaged rotors can impede stopping power and cause your vehicle to vibrate and shake when slowing down. In addition, they can be unsightly if they're rusted.
If you suspect that your rotors may be going bad, here are a few things you can look and listen for.
What Are Brake Rotors?
The brake rotors on your truck are an essential part of the braking system. The rotors are metal discs that the brake pads grip onto to create friction and stop the wheel from turning.
There are a couple of types of brake rotors, but the most common type is the vented brake rotor. The vented brake rotor has small vents or holes that help dissipate heat.
The other type of brake rotor is the solid brake rotor. Solid brake rotors are mainly used on performance vehicles because they can withstand more heat than vented brake rotors.
The main difference between the two brake rotor types is how they handle heat. Vented brake rotors dissipate heat better, but solid brake rotors can take more heat before they start to warp.
What Are the Signs and Symptoms of Bad Rotors?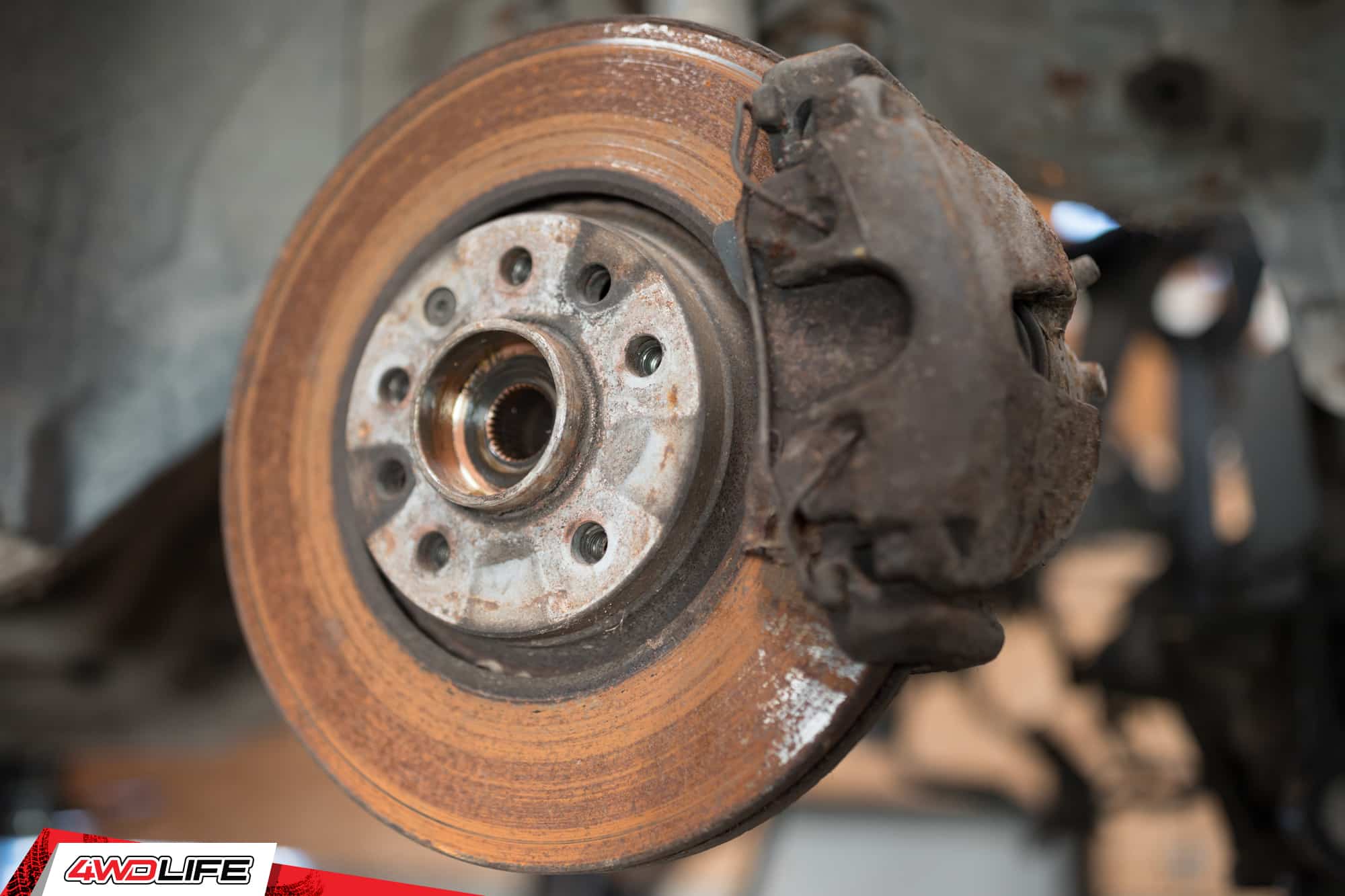 Regardless of type, rotors can become warped or damaged over time. This can cause problems. A damaged or warped rotor can cause your truck to vibrate when you brake. This can be extremely annoying and make it difficult to control your truck or SUV.
Additionally, worn or damaged rotors can cause your brake system to deteriorate more quickly. And a bad brake system can lead to expensive repairs down the road.
Both issues can make driving extremely risky, so it's essential to be aware of the signs of worn or damaged rotors. Here are five of the most common signs that your truck's rotors need replacing:
1. Noise
One of the most common symptoms of a bad rotor is noise. If you notice a squealing or squeaking noise coming from your truck's wheels, your rotors are likely the culprit. Other times, you may hear a grinding or scraping sound. These noises are caused by the brake pads vibrating against the rotor surface.
2. Scratches and Grooves
If you inspect your rotors and notice that they're covered in scratches or grooves, it's a sign that you need a rotor replacement. Over time, the brake pads will wear down the rotor surface, causing these markings.
3. Vibrations
Another symptom of worn or damaged rotors is vibration or pulsation. If you feel a vibrating sensation in the steering wheel or brake pedal, it's likely that your rotors are warped. Warped rotors can cause a variety of problems, including reduced braking power and decreased steering control when braking.
4. Stopping Distance
In what is perhaps the most serious symptom of all, bad rotors can cause your truck to take longer to stop. If you find that it takes longer than usual to stop your truck, or if you have to pump the brake pedal to get them to work, you should have your brake system checked. If you experience this together with the other symptoms, it might be time to replace your rotors.
5. Brake Fluid Leak
Last but not least, another symptom of worn or damaged rotors is a brake fluid leak. If you notice a puddle of fluid under your truck, it's likely that there's a problem with the seals on your rotors. This can lead to decreased braking power and increased wear and tear on the brake pads and rotors.
If you notice any of these issues, it's important to take action right away and replace your truck's rotors. Brakes are an essential safety feature, and bad rotors can jeopardize your safety on the road.
What Happens if You Drive with Bad Rotors?
Bad rotors can cause a variety of problems with your truck. They can squeak and squeal. You may be able to live with the annoying noises for a while but beware of the other likely consequences. Bad rotors can also put a strain on your other brake components. They can cause uneven pad wear, rendering them less effective.
Badly damaged rotors can cause your truck to vibrate when you brake. This is because the rotors are not able to grip the brakes properly, causing them to slip. Excessive vibrations can damage your wheels and tires and your suspensions. They can also cause your truck to pull to one side when you brake. This can be extremely dangerous, as it can cause you to lose control of your truck while braking.
How Long Can I Drive with Bad Rotors?
You should not drive with worn rotors for more than a few days, as they can cause serious problems. If you notice any of the problems listed above, it is important to have your truck checked out by a mechanic as soon as possible.
While some rotor wear is less problematic than others, driving is not something you should risk. You might be able to drive for days without issue. Or, your worn rotors might cause you to get in a wreck right away. It's simply not worth the risk to drive around with rotors that need to be replaced.
How Are Bad Rotors Repaired?
Rotors that have gone bad can often be repaired, but it depends on the severity of the damage.
Rotors that can be resurfaced will need to be removed from the vehicle so they can be machined. The process of resurfacing involves attaching the rotor to a lathe, and a high-speed grinder is used to remove a small amount of material from the surface. This process slightly reduces the thickness and smooths out the rotor so it can make good contact with the brake pads again.
If your rotors have to be completely replaced, new ones will be installed in their place. The brake calipers will also need to be removed so the new rotors can be put in. Once the new rotors are in place, the calipers and brake pads will be replaced, and the brake lines will be bled to remove any air from the system.
Caliper adjustments may also need to be made after the new rotors are installed. This is because the calipers may not be sitting in the same position as they were before. This can happen if the old rotors were severely worn down.
In the event that you need new brake pad replacements in addition to new rotors, your mechanic will likely recommend replacing the brake pads on all four wheels. This ensures that all of the brakes are working evenly and that the brake pads will last for a longer amount of time.
It's also a good idea to have your brakes flushed and replaced when you change your brake pads and rotors. This will help to remove any debris or contaminants that may have gotten into the fluid and will ensure that the brakes are working properly.
How Do You Avoid Rotors Going Bad?
There are a few basic ways to take care of brakes: keep them clean, keep them dry, and keep them cool.
Make sure to regularly check your brake's fluid levels and top them off as necessary. Also, be sure to inspect your brake pads and replace them when they are worn down. If you do all of these things, your rotors should last a long time.
If you decide to paint your brake calipers, take extra care to avoid painting the rotors.
Don't Delay – Fix Your Rotors Immediately
Now that you know what bad rotors look like, don't delay in getting them fixed. If you wait too long, the damage will cause your truck to vibrate more, which will damage other parts of the braking system. In extreme cases, the damage can cause the brakes to fail entirely.
If you're not comfortable fixing the problem yourself, take your truck to a qualified mechanic or technician who can properly diagnose and fix the problem.