Do you own the stylish and powerful Toyota Tundra Crewmax pickup? The truck is a precious investment for any auto owner. As such, you want to give it the best protection. One of the most important upgrades you can add to your pickup is a tonneau cover. But you don't want just a cover; you want the best tonneau cover designed to fit your needs.
With the right cover, you can transport a variety of goods. Apart from protecting your valuable from harsh weather elements and prying eyes, the best tonneau cover increases your gas mileage and boosts the looks of your ride.
While it is important to give the best upgrades for your Tundra, you also don't want to stretch beyond your budget. In this article, we will help you to not only find the best tonneau cover but also save money in the process. Let's get started.
At A Glance: Our Top 6 Picks for Tonneau Covers for Tundra Crewmax
List of Top-Rated Tonneau Covers for Tundra Crewmax
IMAGE
PRODUCT
DETAILS
 

Our Top Pick

TruXedo TruXport

Economical Soft Roll-Up Tonneau Cover
Easy to set and use
High-Quality leather
5 Year Warranty

CHECK PRICE →
BAK Revolver X2

Hard Rolling Tonneau Cover
Made from heavy-duty aluminum
Has automated slam latch
Easy access to the truck bed

CHECK PRICE →
American Tri-Fold Cover

Soft Tri-fold Cover
Comes completely assembled
Has an easy to use latch system
Tailgate seal included

CHECK PRICE →
GATOR EVO

Hard Bi-Fold Cover
Great looking low profile design
Each panel individually locks
3 Year Warranty

CHECK PRICE →
UNDERCOVER FLEX Cover

Hard Folding Cover
Ultra low profile design
Cover can be removed in seconds
EPDM seals

CHECK PRICE →
BAKFLIP MX4

Hard Folding cover
No-Drill, Clamp-On Installation
Universal tailgate seal
Can hold up to 400 pounds

CHECK PRICE →
1. TruXedo TruXport
TruXport is a nice-looking, roll-up soft tonneau cover that comes with several quality features. The cover mounts on top of the bed rails to produce a seamless weather seal. Its simple hook and loop system provides for secure fastening to prevent dirt, dust, and water from getting into your luggage. The cover is also reasonably priced. Besides this, it's simple to install and operate since there is no need for drilling. Don't let the low price of Truxport fool you; it is a secure and long-lasting cover.
The pre-set tension control is integrated into the latching system to ensure the cover remains tight. To access the content in your truck, you need to first open the tailgate then release the latches so that you can roll up the TruXport tonneau cover. The tailgate lock is supposed to prevent unauthorized opening, thus keeping your items secure. Moreover, the cover has a powder-coated aluminum frame to provide extra strength. The coating keeps away mildew and mold from developing in your truck.
Key Features
Spring Loaded Tension Control. When you install the cover, the present tension control help to tighten it into the dual latching system;
Hook and loop system;
Easy to set and use. TruXport comes with simple dual latches that can be fastened from either side of your vehicle to provide a secure cover;
High-Quality leather. The grain fabric offers protection against harsh external elements;
A sleek appeal that accentuates perfectly with truck bed edges.
2. BAK Revolver X2
BAK Revolver X2 is a strong and durable cover that provides stable protection as you drive. Is finding a cover that fits well with 5th wheel hitches important to you? This hard roll-up is equipped with a low profile aluminum rail that works well with most 5th wheel hitches. It is also convenient to use. In fact, you can gain access to the content of the bed without removing it from the truck bed. Besides this, the cover can comfortably hold up to 400 pounds of evenly balanced weight.
Like TruXport, the cover features an easy installation. While installation doesn't require drilling, you need a 9/16 socket wrench to fasten the bolts to the rails. For a secure fit, clamp the side rails on the side of the truck, then roll the cover to the tailgate before latching on either end.
The only downside of using BAK Revolver X2 is that the vinyl coating can get right in cold climates, thus, preventing rolling. During winter the moisture could penetrate the seal and freeze.
Key Features
Made from heavy-duty aluminum to provide maximum security;
Has automated slam latch for easier operations;
Easy access to the truck bed;
The rotational lock protects the cove from all sides of the bed;
The cover flushes to provide no profile look.
3. GATOR SFX Tri-Fold Cover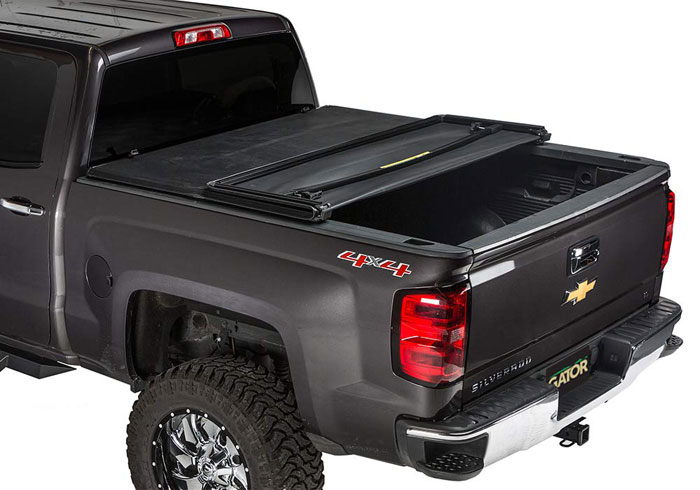 Are you looking for a reasonably priced soft folding tonneau cover? Gator SFX Tri-Fold is not only a money saver, but it is also a great-looking cover. If you are constantly accessing the whole bed, this cover offers much flexibility because it is one side note. The cover protects the bed's content from weather and prying eyes.
The design of this vinyl cover, which is supported by a strong aluminum frame, ensures the snow or rainfall slides off with ease. On the edges of the cover is a continuous seal to prevent moisture from getting into the bed.
Gator SFX Tri-Fold offers a good fit, and it is easy to set up since it requires no tool. Overall, it is a good quality cover for such a price point. Despite corners lacking foam, you are less likely to experience any leaking. The only worry you may have about this tonneau cover is the quality of the material. It has simple plastic handles, which might not last long.
Key Features
The cover fits on top of the truck bed rail to keep water off;
Simplified, tool-free installation;
Has a textured finish that adds a nice appeal;
The support bows provide extra strength to withstand heavy snow;
Secure fastening keep the content safe as you drive;
Quick and flexible protection.
4. American Tri-Fold Cover
American Tri-Fold is a quality, stylish tonneau soft folding cover with plenty of features. Apart from its appealing looks, the cover is simple to use. Plus, you can install it within a few minutes. If you hate piecing together the different pieces, this cover offers much relief since it comes pre-assembled minimizing the installation time. Again, this American engineered tonneau cover comes with a simple latching system built within the aluminum support frame.
This tonneau cover protects your content while giving your truck a much sportier appeal. On top of this, it is easy to use and offers fuel-saving advantages. The Tri-Fold has two clips to hold the bed, which lets you open and close the bed cover without the need to open the tailgate. Furthermore, it is relatively affordable, yet valuable. This might be your ideal cover if you are looking for a cost-effective buy with a balance of appeal and functionality.
What are the things that may affect the value of this cover? While this product seems decent in most aspects, it is not the best quality tonneau cover, especially when compared to other covers with heavy duty material. Also, the corners of the bed cover don't fit exactly yet.
Key features
Simplified installation. Since it comes pre-assembled, you can install it within minutes;
The textured vinyl finish gives your truck a sportier appearance;
The support bows and aircraft grade aluminum frame provide extra protection;
Has an easy to use latch system;
Come with a tailgate seal.
5. GATOR EVO
If the above soft folding tonneau covers haven't impressed you, you may need to consider GATOR EVO cover. This cover offers extra protection. The heavy duty aluminum bi-fold casing ensures your bed cover is safe from prying eyes. After all, who doesn't need peace of mind knowing their valuables are weather and theft-proof?
The bi-fold cover lets you do everything you can achieve with a tri-fold, only with lesser time. But that is not all. The cover looks great on the vehicle, and it comes with a kickstand to allow you to access the cargo at the back of the bed.
Gator Evo is easy to install. Since it uses the clamp-on system, there is no need for special tools. The cover is a low profile because it fits in the bed rails. This means if you want to use a huge section of the bed, you will spend only a few minutes to open the cover.
Unfortunately, this cover is not strong enough to withstand as much weight as the other covers on this review.
Key Features
Has a great looking low profile design;
Has sturdy construction. The panels are made from powder-coated aluminum;
The storage straps let you drive with one side of the cover open, which is useful if you are transporting items that protrude on one end;
The prop rod allows you to reach all sections of the truck bed hands-free;
A clamp-on installation that takes a few minutes;
Each panel connects directly to the side rail;
Comes with drain tubes to prevent water from penetrating into the bed.
6. UNDERCOVER FLEX Cover
The Undercover Flex is another high quality hard folding tonneau with simplified installation; its simple clamp doesn't interfere with rail, and it eliminates drilling. It is important to note that this is not a one-size-fits-all cover, so you might not do much modification.
One likable attribute of Undercover Flex is its sturdy construction. It is made of heavy-duty aluminum and fortified fiberglass polymer. The aluminum offers structural integrity while the fiberglass-reinforced polymer (FRP) offers protection against dents and scratches. Its robustness allows the cover to hold over 300 pounds of evenly distributed weight. To provide maximum protection against harsh weather, the cover uses EPDM rubber seals, solid hinges, and drain tubes.
The clamp-on design simplifies installation. All you need is a half inch socket and wrench. The Undercover Flex offers much flexibility over hinged tonneau covers. With this cover, you can access all areas of the bed without having to remove it completely. Price-wise, the Undercover Flex is slightly expensive than roll-up covers, but it cheaper than most fiberglass hinged covers. The level of protection it offers justifies the cost. The only challenge with using these covers is that you need to get specific cover for your vehicle model.
Key Features
Clamp-on design;
Strong panels made of aluminum;
FRP coated exterior offers nicer appeal;
It is equipped with EPDM seals for maximum water resistance.
7. BAKFLIP MX4
The BakFlip MX4 is a hard folding tonneau cover equipped with better latch components for enhanced resistance. The cover features a flush mount design with aluminum panels that has superior scratch and UV resistance. With an integrated tailgate seal, you can open or close the tailgate without releasing the last panel. This revolutionary feature makes it easier to close the tailgate, especially if you are already holding other things on your hand.
How strong is this tonneau cover? BAKFLIP MX4 is a strong cover, thanks to its robust design and aluminum panels. The cover is designed to withstand most extreme conditions. The matte black coating helps to increase the UV and scratch resistance while the aluminum provides the much-need structural rigidity. Since it uses EPDM hinges and seals, the cover is resistant to snow and rain. The rails help to channel excess water through the drain tubes.
This cover is designed for a stylish, low profile impression. It maintains visibility to break light when folded up. Like most of the covers in this list, M4X features a clamp-on, no-drill installation. But, here are a few things you need to know before you buy the cover. First, a simple push on one side frees up the latches, letting you open the cover with ease, which makes the tailgate pointless. This can compromise on the security of your luggage. Again, it is pricey, so it may not be the first option if you have a fixed budget.
Key Features
Universal tailgate seal;
Simple installation as it doesn't require drilling;
Full truck bed access when the cover is folded up;
Can hold up to 400 pounds of balanced weight;
Comes with EPDM sealing for maximum water resistance;
Strong aluminum panel coated with matte black powder.
Conclusion
Choosing the right tonneau cover can be a challenge, especially if you don't understand the special features of each product. Simply picking the most expensive cover is not a guarantee you will get the best cover. Hopefully, you have learned enough to tell which of the above seven products is the right one for your truck. Roll-up covers are flexible and easy to operate. If you don't transport bulky items, bi-fold covers are ideal.