Nothing can truly compare to the experience of driving around at full speed, and leaving competitors behind to eat your dust. It's exhilarating in a way that is completely unique, and that feeling is exactly why so many car enthusiasts love modding their cars to draw out its peak performance.
Unfortunately for many, with great car power, comes great car noises, and while you may not have any issue with your vehicle rattling the sound barrier wherever you go, others may not be as appreciative of that.
If that is the issue you are dealing with as a gearhead, there is no need to despair, because electric exhaust cutouts can solve that problem of yours.
Thanks to the emergence of those car mods, it is now possible for people to unleash the full potential of their automobile's engine without having to be a disruptive force wherever they go.
In this article, we will talk about everything you need to know about electric exhaust cutouts and how they can improve your car.
Let's move on now to the reviews of some of the top electric exhaust cutouts currently on the market.
Quick Time Performance Electric Cutouts
Regardless of which set of electric exhaust cutouts you ultimately go for, those car mods are going to be subjected to a great deal of stress and some of the inferior options available can get ruined in a hurry.
Knowing all about the conditions that electric exhaust cutouts will be subjected to, the folks at Quick Time Performance designed their offerings with durability in mind.
Built to Last
It starts with the material composition of the exhaust cutout itself. QTP uses stainless steel for the butterfly plate and the shaft. Their decision to work with stainless steel for those parts of the cutout is smart because the material itself is inherently less prone to corrosion. You want these electric exhaust cutouts working for your car for an extended period of time, and they won't be able to do that if they are easily susceptible to that type of damage.
Stainless steel is not the only material used by QTP to impart durability upon their products.
They also went with aircraft aluminum, high-temperature steel, and they even threw in some materials with weather protection into the mix. It's clear that creating something tough and long-lasting was the plan here for QTP and they have largely succeeded on that front.
A cast motor aluminum cover also envelops the exhaust cutout itself. The exhaust cutout receives added durability from that cover, and on top of that, the aluminum makes the whole thing look pretty sleek as well.
A Varied Selection of Cutouts
The folks at QTP offer a variety of options when it comes to their electric exhaust cutouts. The available sizes go from 2.25" at the low end up to 4" at the high end. Having varied options available is helpful because you don't have to shop elsewhere if you're happy with QTP's products.
The Points Against
It's not a perfect product though, and there's a chance you'll have some issue with the valve plate at some point. The issue can be addressed, but it's still quite annoying.
Don't be surprised as well if you see some leakage every now and then. The leakage is nothing severe, but you will need to deal with it right away and check regularly for it to prevent it from becoming a bigger issue.
Key Features:
Multiple durable materials used in the cutout
Cast aluminum motor cover is stylish and functional
Valve opening can be changed beyond just open and shut
Numerous options of varying sizes are available
Sizing & Models Available
PART#
DESCRIPTION
PRICE
QTEC225

Single 2.25" Electric Cutout Kit

QTEC25

Single 2.5" Electric Cutout Kit

QTEC30

Single 3" Electric Cutout Kit

QTEC33

Single Low Profile Electric Cutout Kit with Oval Tube Kit
(fits 2.5" - 3" round pipe exhaust)

QTEC35

Single 3.5" Electric Cutout Kit

QTEC40

Single 4" Electric Cutout Kit

QTEC45

Dual 2.25" Electric Cutout Kit

QTEC50

Dual 2.5" Electric Cutout Kit

QTEC60

Dual 3" Electric Cutout Kit

QTEC66

Dual Low Profile Electric Cutout Kit with Oval Tube Kits
(fits 2.5" - 3" round pipe exhaust)

QTEC70

Dual 3.5" Electric Cutout Kit

QTEC80

Dual 4" Electric Cutout Kit
Recommendation:
Purchase – QTP has made some highly durable electric exhaust cutouts, and they will likely work well after being installed on your car.
Doug's Headers Cutouts
Exhaust leaks are bad news for any car.
They're troublesome because they can potentially expose you and anyone near your car to carbon monoxide fumes.
Beyond that, exhaust leaks can lead to more significant issues down the line. If you leave a leak unaddressed, you shouldn't be surprised if your car's engine starts malfunctioning. Once that happens, guess who will get stuck with a huge bill.
Tinkering with your car's exhaust system can be risky because of that, and that can make the idea of installing an exhaust cutout look like a bad one too. Or at least it could be if the electric exhaust cutout you wanted to install had a severe leaking issue.
Plugging Up the Leaks
The advantage held by Doug's Headers electric exhaust cutouts over its competitors is that it does not suffer from any kind of leakage issue. These cutouts come with a rotating gate that is designed to provide a proper seal every time.
Not having to worry about exhaust leaks is quite relaxing as it turns out.
The components of these cutouts are also fashioned out of stainless steel, and we already discussed why that is a big plus.
An Annoying Noise Is Eliminated
When you install this exhaust cutout on your car, you will also notice that those annoying gasket sounds are not present. That sound can really put a damper on the experience of racing your car at full speed, and that they took the time to address and even get rid of it is very welcome.
The Points Against
You should know though that these exhaust cutouts are on the bigger side, and you'll want to closely examine them first to see if they are even compatible with your car.
It's also regrettable that the motor used in this cutout wasn't protected better because issues with it pop up more often than you would like.
Key Features:
The rotating gate provides optimum leak protection
Stainless steel is used for the different components
Cutout significantly improves exhaust flow
Sizing & Models Available
| PART# | DESCRIPTION | MORE INFO |
| --- | --- | --- |
| DEC250A | Electric Cut-Out 2 1/2" Pair | |
| DEC250AK | Electric Cut-Out 2 1/2" Pair with Hook-Up Kit | |
| DEC300A-1 | Electric Cut-Out 3" Single | |
| DEC300A | Electric Cut-Out 3" Pair | |
| DEC300AK | Electric Cut-Out 3" Pair with Hook-Up Kit | |
| DEC250A-1 | Electric Cut-Out 2 1/2" Single | |
Recommendation:
Purchase – These cutouts doing so much to prevent leakage is the number one reason why you should get them.
BadlanzHPE Cutouts
You want good flow coming from your exhaust because that helps ramp up the power produced by your car. Electric exhaust cutouts are designed to improve that flow, but not all of them excel at that.
The exhaust cutouts from BadlanzHPE promote smooth exhaust flow from your car, and that in turn will significantly enhance the performance of your automobile.
If your need for speed is unquenchable, then it wouldn't be a bad idea to go with these electric exhaust cutouts.
Faster in Other Useful Ways
It also helps that you won't have to spend that much time installing these cutouts on your car.
The manufacturers designed them for "in-line" installation. What that means is that they are meant to fit in seamlessly into your car and that should cut down on significantly on the time needed for installation.
The valve switch is also highly responsive, enabling you to quickly switch from stroll mode to race mode almost instantaneously.
An Aluminum-Aided Boost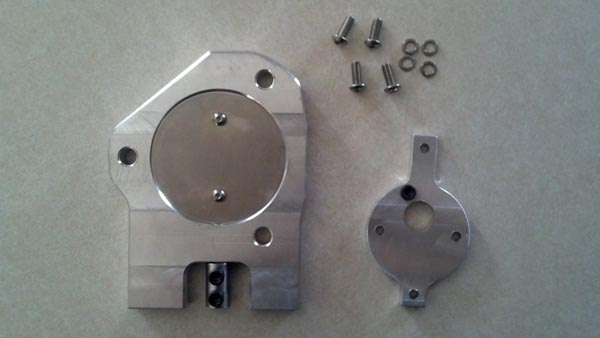 Instead of stainless steel, the folks at BadlanzHPE decided to use aluminum for their cutouts, and that's a decision that presents its own list of pros and cons.
Because it's made out of aluminum, the electric exhaust cutouts from BadlanzHPE don't add that much extra weight to whichever car they're being installed on. Once again, if your goal is to bring out the maximum speed potential of your vehicle, this item would be a wise choice.
The Points Against
Aluminum is durable in its own right, but when compared to stainless steel, the former's longevity does not stack up as well.
The cutouts from BadlanzHPE are also more susceptible to corrosion for the simple reason that aluminum is not quite as resistant to that as stainless steel is.
Ultimately, you are sacrificing some long-term durability for a slight speed boost, and if that's okay with you, then you'll be pleased with what the BadlanzHPE electric exhaust cutouts bring to the table.
Key Features:
Lightweight compared to many other currently available electric exhaust cutouts
Easy installation – can be completed within minutes
Significantly improves exhaust flow
Sizing & Models Available
| PART# | DESCRIPTION | MORE INFO |
| --- | --- | --- |
| - | Electric Cut-Out 3 ½" Pair | |
| - | Electric Cut-Out 3 ½" Single | |
| - | Electric Cut-Out 3" Pair | |
| - | Electric Cut-Out 3" Single | |
| - | Electric Cut-Out 2 ½" Pair | |
| - | Electric Cut-Out 2 ½" Single | |
| - | Electric Cut-Out 2 ¼" Pair | |
| - | Electric Cut-Out 2 ¼" Single | |
Recommendation:
Pass – When compared to other electric exhaust cutouts, the slight speed boost you get from this item is not enough to justify choosing it over the alternatives, especially given the durability cost you will have to pay.
Buyer's Guide
Electric exhaust cutouts are products that not many people are familiar with and the way they work can be an even bigger mystery. This buyer's guide will serve to shed more light on what these items are, so that you, the consumer, are fully aware of what you are getting.
How Do Electric Exhaust Cutouts Work?
It was mentioned earlier that electric exhaust cutouts are typically added to a car in order to bring out its maximum speed potential, but how exactly do they work?
Exhaust cutouts function by first connecting themselves to the exhaust pipe already found on the car. Typically, one of the segments of the cutout aligns with the pipe, but then the other segment is free to essentially let the exhaust out into the air.
When left uncapped, the exhaust cutout greatly enhances the flow and boosts the operating power of the automobile. When it is capped, the power is reduced, but so too is the noise produced by the car. That will allow its driver to use it even in quiet neighborhoods without fear of disrupting the people in the area.
What Makes an Electric Exhaust Cutout Special?
Electric exhaust cutouts differ from their conventional counterparts in terms of what needs to be done in order to either cap or uncap it.
Instead of the driver having to remove or place the cap manually, a switch included with exhaust kit allows for the more convenient operation of the cap.
Removing or sealing the cutout may only take a few seconds using the switch.
Should I Be Worried about Leaks When Using Exhaust Cutouts?
For the most part, the top electric exhaust cutouts on the market are not highly susceptible to leaking, and even when that issue does emerge, it can still be easily addressed.
Exhaust leaks can pose a danger to a person's health if left unaddressed for too long because of the carbon monoxide fumes involved, but there are ways to spot a potential problem early on.
Drivers on the lookout for an exhaust leak will want to check if there is a loud rumbling noise being produced by the vehicle. They can also keep tabs on how much gas they need to put into their cars. If that went up suddenly, then it's another indicator of a possible leak. Lastly, a vibrating gas pedal is another sign pointing to there being an exhaust leak.
Car owners are encouraged to have their vehicles checked right away if they suspect a leak as doing so can prevent the onset of more serious issues.
Once you've invested a good amount of money into your car, you want to know that you are getting the most out of it. However, that is not always possible if you don't make some necessary adjustments.
Among those necessary adjustments is adding an electric exhaust cutout to your car. After doing that, you should quickly notice an uptick in performance.
Hopefully, this article has helped you figure out which electric exhaust cutout will work best for your car and that soon, you too will be able to tap into the full operating potential of your vehicle.