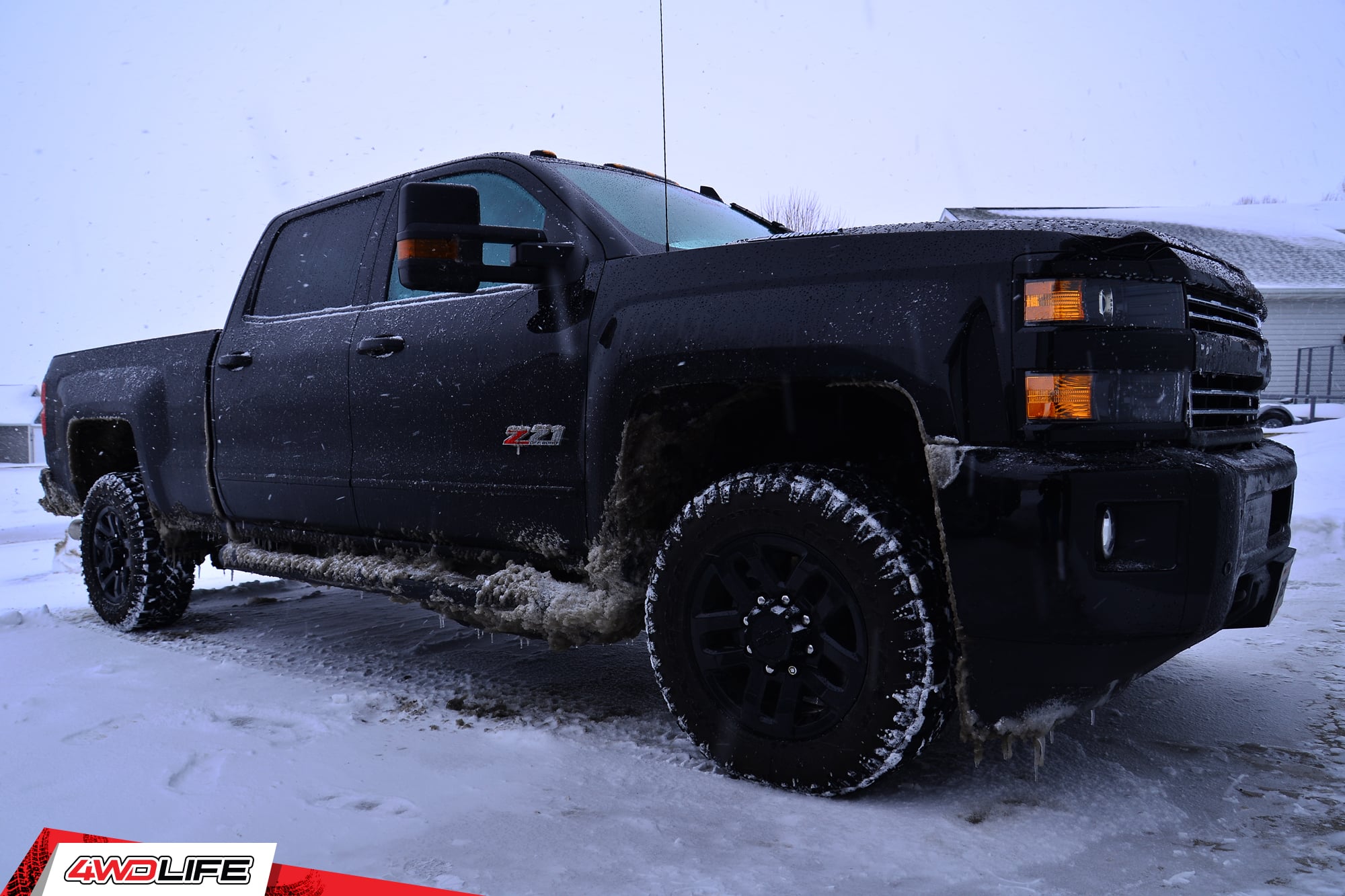 Most vehicle owners focus on raw performance, storage capabilities, and looks when upgrading the Chevy Silverado 1500, and very few think about how to improve braking performance, arguably the most important feature to work on on a pickup truck that's going to be used for tough hauling tasks. Unfortunately, choosing top-quality brake kits isn't simple to do and no one kit is right for every use-case. Below is a comparison of different leading brake kits and a buyer's guide explaining how to choose the right kit for your needs specifically. Hopefully, it helps make your truck safer and more effective overall.
At A Glance: Our Top 5 Picks for Brake Pads and Rotors for Silverado 1500
Best Brake Pads and Rotors for Silverado 1500
Below are some of the top recommendations for Silverado brake kits and brake pads split up between different use-cases. Compare the different features, benefits and the major differences between the products to decide which braking set is the most effective overall.
IMAGE
PRODUCT
DETAILS
 

Our Top Pick

Power Stop K6560-36 Z36 Truck

Dust-free braking performance
Stainless steel
Carbon fiber and ceramic brake pads
Drilled and slotted rotors

CHECK PRICE →
EBC S5KF1470 Stage-5 Superstreet Brake Kit

High Efficiency
Wide Aperture G3000 Slotted Rotors
Aramid fiber brake pads
Slotted and cross-drilled rotors

CHECK PRICE →
Power Stop Z23 Evolution Brake Kit

Dust-free braking performance
Noise-free braking
Rubberized brake shims
Drilled and slotted rotors

CHECK PRICE →
Hawk LTS Brake Pads

Excellent fade resistance
Long pad and rotor life
Rubberized brake shims
Covered by a lifetime warranty

CHECK PRICE →
Budget Brake Kits

Premium materials
Increased strength
Beveled edges
Two cooling grooves

CHECK PRICE →
Power Stop Z36 Truck and Tow Brake Kit
Carbon fiber and ceramic brake pads
Zinc-coated rotors
Drilled and slotted rotors
Stainless steel brake shims
The Power Stop Z36 brake kit is a premium performance brake setup designed to stop vehicles quickly and reliably. The kit comes equipped with thick ceramic brake pads that are reinforced with carbon fiber for enhanced stopping power and enhanced durability. The pads don't squeak during use like some ceramics do either which is a nice change. The rotors in the kit are formed from thick cast gray iron and protected with a thin zinc coating on top for corrosion protection. The kit also comes with stainless steel brake shims which is a nice touch that should help the shims hold up over long-term use compared to the cheap shims that come with most standard kits available today.
When used, this kit stops towing or hauling trucks faster and more consistently than standard level brake kits. It also doesn't suffer from brake fade as much during extended braking while towing on a downhill section of road.
EBC S5 Kits Yellowstuff Sport Brake Pads and Black GD Rotors
Rotors come with a Thermic black protective coating
Slotted and cross-drilled rotors
Brakes come with red break-in coating
Aramid fiber brake pads
Brake pads with beveled edges and two slots
The EBC S5 Yellowstuff sport brake pad kit is designed for tough braking performance that's normally meant for racing enthusiasts. These brake kits can work well for towing applications as well though. The pads themselves are made from a mid-hardness Aramid fiber for lasting brake performance and a hard bite for fast stops. The pad is beveled and features two cooling slots to help prevent fade during use. These pads are slightly less dusty than semi-metallics during use, but noisier than ceramics are. This EBC kit features a pair of thick slotted and cross-drilled rotors that are meant to offer optimal cooling during use. In performance, they seem to stay cooler than standard rotors do during repeated braking. The rotors also look pretty cool with their black finish.
Power Stop Z23 Evolution Brake Kit
Carbon fiber and ceramic brake pads
Rubberized brake shims
Drilled and slotted rotors
Zinc plated rotors
The Power Stop Z23 Evolution brake kit is a like a more lightweight version of the Z36 kit. It features carbon-fiber reinforced ceramic brake pads and drilled and slotted gray iron rotors that are protected with a zinc coating. The kit still offers tough stopping power, but not at the same level as the Z36 kit. The whole Z23 kit is lighter and slows the vehicle less aggressively. This is what makes this kit better for everyday driving conditions with occasional towing and hauling. The pads and rotors in the kit are long-lasting and very quiet for a ceramic pad setup, which is another reason drivers enjoy the Z23 kit for everyday use. This kit is designed with standard-sized equipment and doesn't require any modifications to install and start using it.
Hawk LTS Brake Pads
Just brake pads without rotor upgrade
Center grooved pads
Fade-resistant design
Covered by a lifetime warranty
Ferro-Carbon brake pad construction
Hawk LTS brake pads are performance brake pads alone that are designed to offer superior stopping power over stock pads and even upgraded ceramic pads. These brake pads are made from a Ferro-Carbon material and slow vehicles more quickly than most ceramic blends do. They also create more dust during use than most ceramic pads do. These Hawk LTS pads have a central groove for improved  . They come protected by a Lifetime Warranty as well, to make them into a long-term solution. These pads serve as a good upgrade for Silverado owners looking to do heavy towing without suffering from brake fade because Ferro-Carbon pads are known for staying cool and not suffering from much fade during extended brake presses. The Hawk pad sets don't come with rotors though and are pricey compared to other brake pad sets.
QuietCast™ Premium Disc Brake Pads
Affordable brake pads
Ceramic brake pads
Two cooling grooves
Beveled edges
The QuietCast premium brake pads from Bosch are designed for quiet street performance for the everyday driver. These pads are thick and offer a good stable ceramic compound that includes some added friction metal for reliable stopping. The stopping power of these pads is less than what's offered by the performance products above but still good enough for most everyday solutions. Buyers interested in upgraded from their OEM brake pads to a slightly more capable solution will likely be happy with these pads. They feature a pair of dual grooves for added cooling and less brake fade and would pair nicely with a set of slotted and cross-drilled brake rotors for dependable performance over time.
Buyer's Guide
Choosing the right brake kit for a Silverado 1500 is all about knowing what the truck is going to be used for and what sort of braking is most likely. Truck owners that will tow regularly and go up and down long and steep hills are going to want different brake setups than truck owners that just want to drive to and from the hardware store on a mostly flat surface. When choosing these kits it's important to choose between solid and slotted and cross-drilled rotors and to choose the composition of the brake pads included in the kits. These two decisions will largely determine how the kits perform and what the brake kits will work best for overall.
Choosing the Right Brake Pad Material
One of the most important decisions is what material your brake pads should be made out of. The material determines the stopping force, cold-weather stopping, noise and dust generation, and durability. Semi-metallic pads are one of the most affordable types, and also one of the most effective for fast stops. These pads generate the highest amount of noise, the most dust and wear out the most quickly, making them a good short-term solution when fast stops are important but less reliable for long-term use.
Ceramic pads generate next to no noise, and very little brake dust, but stop more slowly than semi-metallic pads do. They also perform at a lower level in freezing temperatures and are more costly than semi-metallic pads. They don't suffer from brake fade as much though, so work well when used for repeat stops.
Ferro-Carbon pads like the ones found on the Hawk brake pad sets listed up above offer more stopping force than standard semi-metallic pads without wearing rotors down any faster. They're for extreme stopping power when you need to slow down immediately. They are louder than ceramics and cool more slowly, but perform at the same level as other semi-metallics in that regard.
Truck owners should also consider the Aramid compound brakes like the ones found on the EBC Yellow Stuff brake kits. This compound is softer than traditional semi-metallic pads for less wear on rotors, while still offering good reliable stopping power at the regular highway and town driving speeds. The pads hold up well over time  and are quieter than semi-metallics but louder than ceramics. They are also in the middle for heat dissipation.
Choosing the right brake pads is about deciding what is most important to you. Decide whether you want the best stopping power, the quietest brakes, the longest-lasting performance or something in between all those options to help with picking the very best pads overall.
Standard Rotors Versus Slotted and Cross-Drilled
When picking brake kits there are kits that feature basic solid rotors and others that come with cross-drilled and slotted rotors. The solid rotors offer the very best burst brake force, while the slotted and cross-drilled rotors work better for repeated stops or brake presses.
Solid rotors offer a continuous braking surface so brake pads can generate as much friction as possible when slowing down. Slotted and cross-drilled rotors are missing sections which means less friction is generated for stopping power. The slots and cross-drilled holes help air to circulate through and around the rotors though, which cools them off effectively during use. Solid rotors get very hot when used to stop a vehicle repeatedly, eventually overheating the brake pads and causing them to stop working as effectively, this is known as brake fade.
Slotted and cross-drilled rotors are generally considered to be upgrades from solid rotors and cost more. They work better for extended braking sessions for something like traveling downhill while towing because they don't overheat as much. Solid rotors are the better option for flat driving conditions where a single brake press is all that's normally necessary.
There is no best brake kit for the Chevy Silverado 1500 pickup truck, but there are best pads for specific use-cases. Drivers looking for affordable braking performance would do well with a good set of budget semi-metallic or ceramic pads and basic rotors. Drivers looking to tow or haul regularly would benefit from upgraded slotted and cross-drilled rotors along with some performance brake pads. Choose a kit that fits your needs and enjoy the superior braking performance as a result. 
Related – Shocks For Silverado 1500