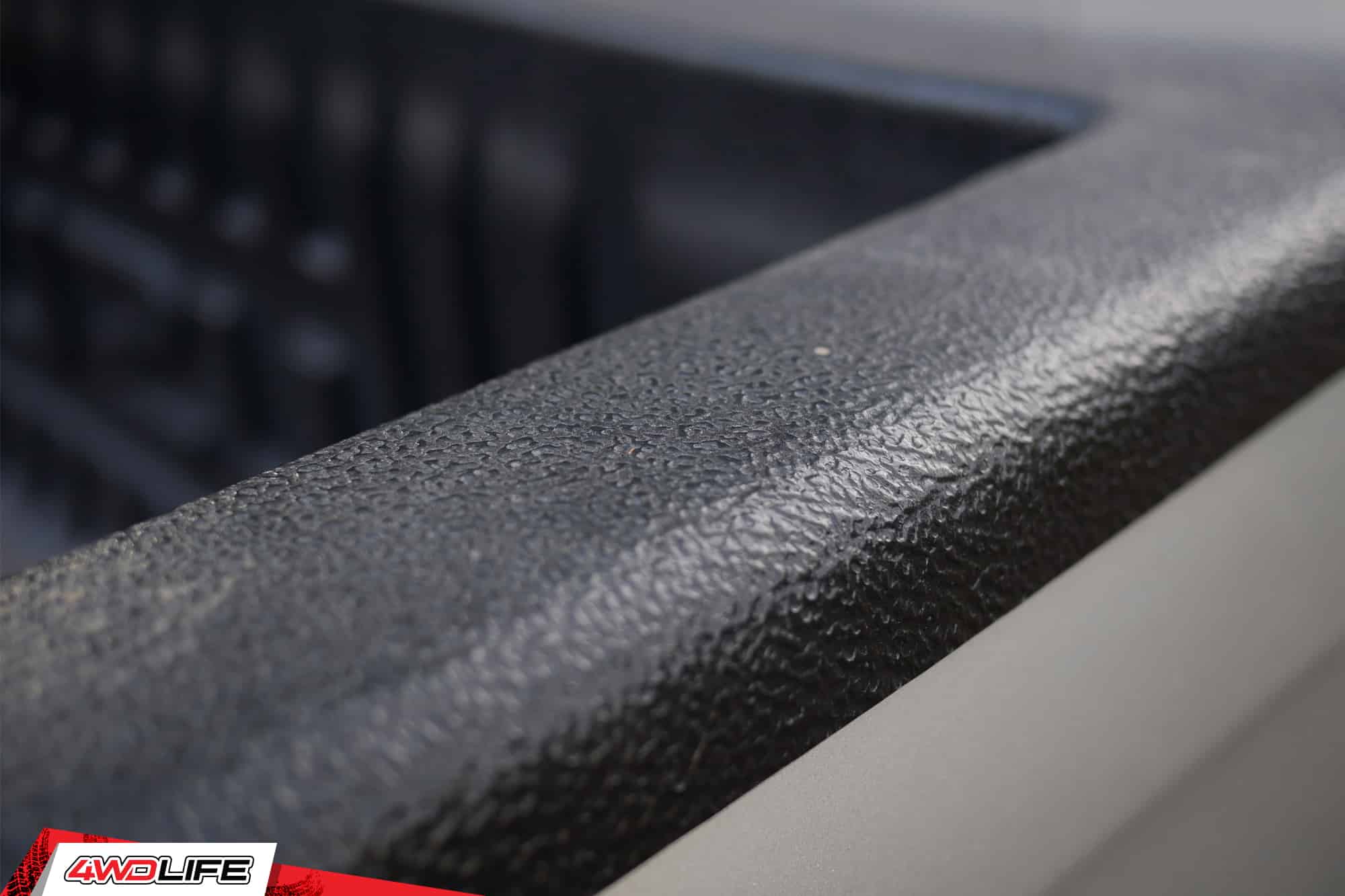 Whether you're into four wheeling, hot rods or just want to preserve a cherished classic, protecting your vehicle's exterior carries just about the highest priority. Sheet metal, undercarriage, floors and beds are all areas that just can't be protected too much. Dents, dings and scratches are vulnerable spots that will quickly give way to rust.
Nowadays, there are lots of ways to protect your vehicle's body from trail, track or parking lot damage. One of those ways is the application of bedliner to your favorite ride. Today, we're taking a look at an industry leading product in this field, Raptor Liner. What is this modern miracle and how is it used? Does it really make much of a difference or is this class of products just a lot of hype?
What Raptor Liner Really Is
| Code | Size/Pack | Color | Check Price |
| --- | --- | --- | --- |
| UP0820 | 1 US Gallon Kit National Rule | Black | Check Price |
| UP0820V | 1 US Gallon Kit 2.6 VOC | Black | Check Price |
| UP0825 | 1 US Gallon Kit 1.7 VOC | Black | Check Price |
| UP0821 | 1 US Gallon Kit National Rule | Tintable | Check Price |
| UP4807 | 1 US Gallon Kit National Rule | White | Check Price |
Raptor Liner is a spray-on, elastic, rubber-like bedliner that forms a textured, hard coated surface over your vehicle's sheet metal. This is a logical evolution of the older, drop-in plastic bedliners you may be familiar with. While those big plastic boxes do a good job protecting the bed of a truck, they have serious drawbacks, including large size, degradation in the weather and the possibility of breakage or theft.
Spray on bedliners mitigate these factors. Since they are applied out of a paint can instead of a box the size of a pickup bed, they take up less room, lowering shipping costs and storage hassles. Applied as a liquid directly to the vehicle, they can be used to protect other surfaces besides just a truck bed. Breakage and theft issues are eliminated entirely, because the final product becomes part of the vehicle and can neither break nor be stolen.
Spray on bedliner is often used on applications like Jeep fenders, bumpers and side rails, hardware and lighting. I've even used spray on bedliner as body undercoating on musclecar restorations that have set records at auction. The original undercoating used on the classics of the past was simply a wax-based solution of asphalt oil, sprayed or brushed on hot, then allowed to cool.
Here is our review of the best DIY Bedliners
Modern spray on bedliners are far superior to classic undercoating in their consistent thickness, conform well to irregular shapes found on automotive applications, flow into hard-to-reach corners and offer a nearly identical appearance to the original undercoating on these old classics.
How Does Raptor Liner Protect Sheet Metal?
Raptor Liner deadens noise, slows temperature changes and protects against impact dents and scratching. It's made from urethane materials that withstand weather and UV damage for a much longer time than typical plastic drop in bedliners. U-pol, the manufacturer, recommends 7-10 mil thickness per coat with a minimum of two coats. Their specification calls for at least an 18.5 mil thickness overall.
That's about four times the thickness of a heavy tarp or billboard cover. This is really thick, tough stuff that provides unparalleled protection for sheet metal. In addition to the characteristically thick layer of material, it's bonded to the metal with epoxy primer and its urethane composition resists denting to an amazing level.
One desert racing team I have worked with had a tool box mounting bracket come loose while running between stages with their service truck. Time is of the essence in off-road racing, so they weren't able to stop. After running over 35 miles of Mexican dirt roads at high speed, they finally had a chance to see what that tool box was doing to the bed of the service truck.
Amazingly, the only damage from these extreme conditions was a few dings. No scratches and no major dents of any kind. These results are due to the heavy thickness and hard, yet elastic nature of the product. Urethane materials in this type of application can spread impact energy across a much larger area, reducing dent damage and scratches significantly.
This is not to say that Raptor Liner and similar products (our comparison of raptor liner with other DIY bedliners) can't be harmed at all, of course. They certainly can be chipped and scraped to the point of scratches and flakes. If any moisture is trapped under the coating, rusting and blistering can result. But when applied properly, even cases of chipping or scratching will result in far less damage than unprotected sheet metal would normally incur.
Uses For Raptor Liner
Protecting truck beds may be the intended use for Raptor Liner, but it's certainly not the only use for it. Because it can be applied to any metal or painted surface, it's often used to protect farm equipment, outdoor machinery such as pumps, lifts and gates and on construction tools and equipment. One propane company in Gallup, New Mexico even uses it on the decking around its tanks and fuel dispensing equipment.
What Do You Get?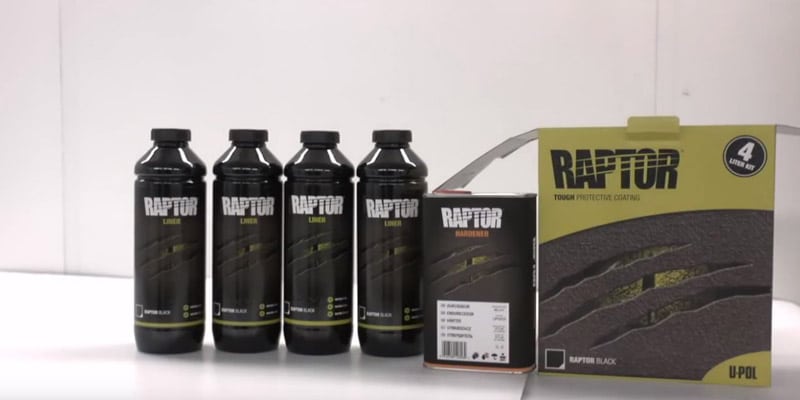 U-pol offers Raptor Liner in packages ranging from a single aerosol can, to one quart, one gallon and five to 20 liter kits and even entire 55 gallon drums. The kits contain almost everything you'll need to put Raptor Liner on your ride, with several bottles of liner, some sandpaper and a Schutz spray gun. They come in black, white and tintable shades.
The quart and gallon kits are pre-mixed. Each quart covers approximately 30 square feet and the gallon covers approximately 120 square feet, both as double coats to achieve full 18 mil thickness. The gallon size is enough to finish an entire pickup bed. The smaller size is for touching up or for application to smaller areas like bumpers and fenders.
The bulk packages are designed to be mixed at a 3:1 ratio. To be clear, that's three parts Raptor Liner to one part hardener.
| Code | Size/Pack | Color | Check Price |
| --- | --- | --- | --- |
| UP0820 | 1 US Gallon Kit National Rule | Black | Check Price |
| UP0820V | 1 US Gallon Kit 2.6 VOC | Black | Check Price |
| UP0825 | 1 US Gallon Kit 1.7 VOC | Black | Check Price |
| UP0821 | 1 US Gallon Kit National Rule | Tintable | Check Price |
| UP4807 | 1 US Gallon Kit National Rule | White | Check Price |
U-pol also offers a complete range of surface preparation solutions such as surface etcher, primer, cleaner and the like.
Applying Raptor Liner
Raptor Liner can be applied with an automotive spray gun, from a spray can or even using a paint roller. Like any paint, you'll need to follow the usual four-step process of surface prep, masking, mixing and/or tinting, then spraying or rolling. You're going to need more sandpaper than what's included in the kit.
You'll also be needing some tools like sanding blocks and boards, maybe an orbital sander or jitterbug and if you're going to use the spraygun method, a medium to large compressor, suitable for spray painting. Airless sprayers can also be used, but may present a problem in cleanup or produce a smoother finish with less texture than is customary for this treatment.
Because this is a urethane mix, you need protective gear. A respirator is a must, as are goggles and a hood. These pieces are inexpensive at most paint stores, auto parts shops and Harbor Freight.
Surface Preparation and Masking
Preparing the surface to be treated requires the same steps as painting. If you need to do any bodywork, make sure to sand the existing finish down, fill or pound out any dents, then prime the surface to be painted. If the metal is already straight, with good paint, all you need to do is sand the paint down to a dull finish to provide a good surface for the Raptor Liner to grip.
Next, you need to clean the surface thoroughly with paint cleaner, degreaser, prep solvent or surface etch. Once the body has been cleaned, rinsed and wiped down thoroughly so there's no dust, you can move on to masking the areas you don't want to paint. Make certain windows, mirrors, lights and trim are completely covered with paper and masking tape.
Decide where the break line where the Raptor Liner ends is going to be, and carefully run masking tape down the line. Ensure the entire edge is down tight against the surface. To run a straight edge, you can roll out a couple of feet of tape, hold it where you want it with a thumb or finger, then position the part you've rolled out and carefully smooth along your sighted line.
Mixing and Tinting Raptor Liner
Once the body is surface prepped and masked, you're ready to mix and tint your Raptor Liner. If you're going with black or white, no tinting is necessary. If you're using a pre-mixed kit in the quart or gallon sizes, mixing is also unnecessary. U-pol emphasizes in its product literature that when purchasing automotive tints at the paint shop, you should request that no binders are included so that the pigments are more intense.
Mixing the color you're looking for is beyond the scope of this article, but lots of good information is available online. Don't be afraid to ask for advice from more experienced friends, family members or local shop owners.
Let Us Spray
If you're using the Schutz gun included in the Raptor Liner pre-mixed kit, it screws into the top of your spray bottle. Attach your compressor's air line to the back and you're ready to go. Body shop pros emphasize keeping the gun the same 12-16 inch distance, perpendicular to the surface throughout your sweeps of the surface.
It's easy to move the gun in an arc, closer in the middle of the sweep and farther from the surface at the ends. Make sure each sweep overlaps the previous one. Apply one thin coat, wait 15-20 minutes and apply the second coat.
U-pol recommends a gun pressure of 50 psi for the customary rough finish. Running higher pressure creates more of an orange peel effect. Running lower pressure allows the Raptor Liner to flow more evenly for painting trim.
Is Raptor Liner Recommended?
We absolutely, without reservation recommend Raptor Liner for any non-high temperature application where a tough, impermeable and impact resistant finish is needed.
U-pol states that at temperatures above 210 Fahrenheit, Raptor Liner becomes soft, making it unsuitable for exhaust, engine blocks or sheet metal on firewalls and floor pans near these parts.
Another consideration from U-pol is that Raptor Liner is resistant to fuel and lubricants, but cannot withstand constant immersion in these products or it will soften.
In our experience, Raptor Liner is priced reasonably, is easy to apply and its performance as a bedliner or undercoating is outstanding. You can't do better for this kind of protection at this kind of price, and you can tint it any color you want. That's a winning combination, in our book.
| Code | Size/Pack | Color | Check Price |
| --- | --- | --- | --- |
| UP0820 | 1 US Gallon Kit National Rule | Black | Check Price |
| UP0820V | 1 US Gallon Kit 2.6 VOC | Black | Check Price |
| UP0825 | 1 US Gallon Kit 1.7 VOC | Black | Check Price |
| UP0821 | 1 US Gallon Kit National Rule | Tintable | Check Price |
| UP4807 | 1 US Gallon Kit National Rule | White | Check Price |