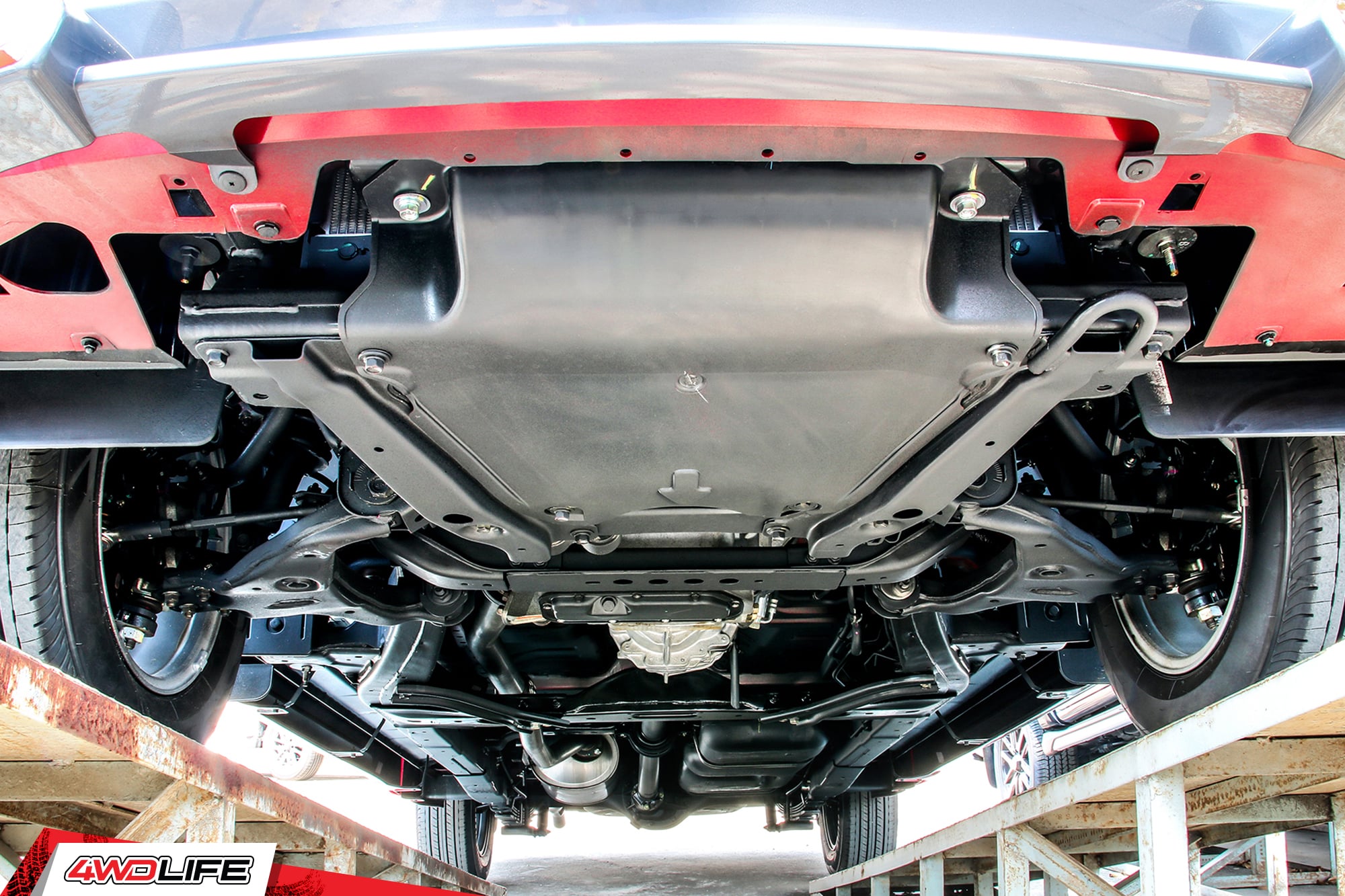 Your truck's chassis acts like a skeleton. It holds your vehicle together structurally. When exposed to the elements, especially with regular off-roading activities, your vehicle's frame can be vulnerable to unwanted rust. So, it's pretty important to inspect it regularly for faults and corrosion.
Over time, rust can damage the frame, affecting the chassis' integrity. To beat corrosion, your truck can certainly use a high-quality truck frame and chassis paint.
We've got our five picks in this buying guide for the best chassis and truck frame paints.

IMAGE
PRODUCT
DETAILS
 

Best Overall

Magnet Paint Co Chassis Saver

Prevents rust and corrosion with an Active Guarding feature
Resistant to harmful material and chemicals (acid, rain, ice, etc.)
Highly durable, will protect the chassis for up to 10 years
Black paint job can fade over time with sun exposure

CHECK PRICE →

Runner-Up

RUST BULLET Automotive Rust Inhibitor Paint

Rust Bullet holds two patents in the USA
Specially designed for automotive use
UV resistant formula
Thinner consistency than other industrial formulas

CHECK PRICE →

Most Reliable

POR-15 Gloss Black Rust Preventive Paint

Suitable for both home and professional use
Cures better with moisture exposure
Lead-free
Needs a top coat to prevent sun damage

CHECK PRICE →
KBS Coatings 4501 Gloss Black RustSeal

Cost-effective and will last for a very long time
Withstands extreme temperature changes
Becomes stronger with repeated moisture exposure
May not dry as quickly as other truck frame paints

CHECK PRICE →
Melrose T-Top Int. Chassis Black Paint

Finish looks similar to original GM formulation (classic, close to OEM)
Features UV resistant elements
Provides excellent coverage
30-minute drying time

CHECK PRICE →
The Best Chassis and Frame Paint: Magnet Paint Co Chassis Saver UCP99
True to its name, the Chassis Saver UCP99 is a direct-to-rust chassis paint that can save your frame from rusting. It stops corrosion in its tracks with its unique rust conversion and prevention properties.
Although sensitive to sunlight, the product is extremely resistant to most external rust-causing substances. It's also effective in all weather conditions, guaranteeing corrosion prevention for up to ten years.
What Are the Best Chassis and Truck Frame Paints?
Our pick for the best chassis paint is the Magnet Paint Chassis Saver UCP99 from Magnet Paint. It provides near-unbeatable value as a high-performing industrial rust converter.
You can use this frame and chassis paint to stop rust with only minimal surface preparation. Once you've cleaned the rusted surface with a hand scraper or wire brush, you can then apply the product directly over stubborn corrosion without using a catalyzer or activator. However, the manufacturer does recommend sandblasting the surface for optimal results.
The Magnet Paint Chassis Saver UCP99 is resistant to damage under most conditions, but the black truck frame paint is susceptible to sunlight wear. Despite that, the protective coating has metal-isolating properties to ensure oxygen and moisture are kept out of your truck's chassis.
This formulation also makes the product resistant to rain, ice, rust, acid, toxic chemicals, and other harmful elements.
CHASSIS SAVER Pricing:
Designed for automotive use, the Rust Bullet Automotive Rust Inhibitor Paint serves as a reliable truck frame paint that can fight off rust for years. The highly-acclaimed chemical formulation boasts two patents in the USA – one for eliminating corrosion and another for keeping rust away.
This user-friendly chassis paint contains no chromates, zinc, or other harmful ingredients. Rust Bullet is also highly resistant to the elements, giving your truck chassis ample protection against paint chipping and cracking. The metallic gray finish dries quickly and protects against UV rays.
In our experience, however, its scent can be unpleasant. Rust Bullet says that this is easily remedied by working in a well-ventilated area when applying the truck frame paint.
RUST BULLET Pricing:
The POR-15 Rust Preventive Coating is a high-performance truck chassis rust-preventative paint. This product is widely used by DIY enthusiasts and professionals alike. It works to remove existing rust and prevent corrosion by forming a strong barrier against moisture, toxic chemicals, and other contaminants.
What we found out that makes this truck frame paint different is that it cures better when exposed to moisture. That's as opposed to other products that work best when dried through evaporation.
The manufacturer designed the coating for direct application over rust, but the best results require sandblasting. You might also need a top coat to protect the initial layer from harmful UV rays.
More than that, the POR-15 Rust Preventive Coating impresses with extreme heat resistance. It can withstand temperatures of up to 450°F for 10 hours. Once set, you can be sure this lead-free product stays on the surface and provides ample protection for a long time.
We have checked out the POR-15 in a previous head-to-head paint comparison. You can take a look at our take for a more in-depth discussion about our pick for the most reliable truck frame paint.
POR-15 Pricing:
If you're looking for a cost-effective anti-rust solution, KBS Coatings RustSeal might be up your alley. It's a ready-to-use rust preventive coating designed to prevent rust and seal off corrosion permanently. RustSeal locks out air and prevents oxidation, assuring years of ample rust protection for your truck.
Using premium quality materials with high solids content, RustSeal gives users a flexible coating that withstands expansion and contraction. It's also waterproof and comes in a variety of colors. The formula even gains strength with repeated moisture exposure.
RustSeal dries fairly quickly, often in less than 15 minutes. It may dry a little slower than its competitors, but the product also sticks to surfaces as few others could. That also means it's challenging to remove from surfaces once set.
KBS Coatings RustSeal Pricing:
If you want to restore your truck chassis to its original look, the Melrose T-Top Int. Chassis Black Paint could be your choice. This product is preferred by vehicle restorers worldwide for its factory-like satin finish. Furthermore, the chassis paint applies easily and features top-notch coverage qualities.
As a single-stage paint, this truck frame rust converter solution dries in as little as 30 minutes and can last for years. It won't chip, fade, or crack for a long time, either. It's also more affordable than many of its competitors.
Perhaps the only drawback is that the manufacturer recommends a double coat for best results. Depending on how large the surface area of your chassis is, you would need more supply of the product. Still, the Melrose T-Top Int. Chassis Black Paint is an excellent choice for achieving that OEM-like finish.
Melrose T-Top Pricing:
Truck Frame Paint Buying Guide
Most buyers focus on price when choosing among the best chassis and truck frame rust-preventative paints. But, it shouldn't be the only thing to consider when buying truck frame paint. Check out these other factors before making your pick.
Application Method
The method used to apply truck frame paint varies from product to product. It can spell all the difference in overall experience in your chassis paint application.
Most paints can be applied using either a small roller or brush or a spray paint gun. Each method has its advantages and disadvantages.
For example, hand-brushing might take longer to do, but it typically wastes less chassis paint. Meanwhile, the spray paint method may consume less time but use more paint while also spreading unwanted fumes.
Regardless, you should also consider using personal protective equipment when handling paints.
Surfaces
Chassis materials may vary from truck to truck, but most modern vehicles use steel alloys. By nature, these alloys can rust. Truck frame paints are generally formulated for these materials. However, the general condition of the exterior surface also matters when painting.
The best chassis and truck frame paints can be applied directly over exterior surface corrosion, and others need more preparation before use. You will have to prepare the chassis surface if truck frame painting with specific brands. Manual scrubbing away surface rust using a wire brush often suffices but sandblasting still provides the best results.
If you want to skip this process, buying a single-stage paint could be the way to go. If you wouldn't mind being thorough with surface preparation, then you can choose from a wider variety of chassis and truck frame paint.
Number of Coats
Another factor to consider when choosing a truck chassis paint is how many coats you'd need to apply. Many manufacturers recommend two coats for best results, with some suggesting a top coat as an additional precaution.
Rust remover truck frame paints vary in consistency, as some are thicker than others. Following the manufacturer's guidelines will do much to ensure the coating lasts for years on your vehicle chassis.
You may be tempted to apply only a single coat on your truck frame to save money. But, it's a bad idea to skimp on rust prevention. Rust can eat away at your truck's chassis and seriously affect its integrity. You don't want to be driving around with a weakened truck frame.
Drying Time
Most truck chassis paints dry in under 30 minutes. Some products claim a drying time of as fast as 15 minutes.
Choose a paint depending on how you work and your project timeline. Using a product that dries slower means spending more time working on the paint job for your truck frame.
Most products also require multiple layers of protective coating for optimal rust prevention. It's best to dry the first coat thoroughly before applying the next. So, you should also consider this when accounting for the overall drying time of your paint job.
Protect Against Rust and Corrosion With the Best Chassis and Truck Frame Paints
We've highlighted some of the best truck frame paint options for your chassis. It's a strong shortlist of chassis paints that provides great results. Now, all that's left is for you to choose one for your vehicle's chassis.